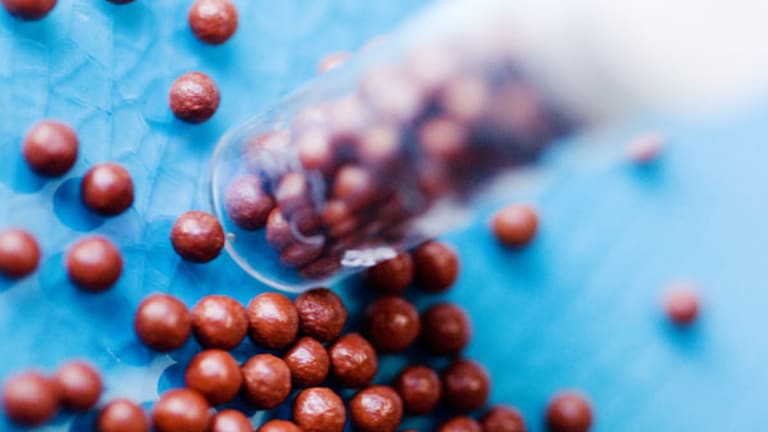 Biotech Stock Mailbag: Navidea, Celsion, Raptor and Threshold
Biotech columnist Adam Feuerstein answers readers' questions about health-care companies
BOSTON (
) -- This week's Biotech Stock Mailbag is open for business.
@shakes2222 asks,
"Why no follow-up after Navidea's conference call yesterday Tuesday? Do you have an opinion on FDA approvability of Lymphoseek? Timeline?"
Lymphoseek would have been approved this week had it not been for an unresolved problem at the third-party manufacturing facility that makes the lymph node mapping agent for
Navidea Biopharmaceuticals
(NAVB) - Get Navidea Biopharmaceuticals, Inc. Report
. From what I heard Tuesday, FDA doesn't appear to have any issues with Lymphoseek's efficacy or safety, a positive. A rule of thumb is to allow six months for manufacturing issues to be resolved, so Navidea has a shot at Lymphoseek approval in the second quarter of 2013.
Let's discuss the bad news now. Lymphoseek is supposed to be a "better" radio-labeled sulfur colloid that doctors will want to use eagerly during imaging procedures that track the spread of breast cancer and melanoma to surrounding lymph nodes. The problem, however, is current sulfur colloids do this important job just fine today. Doctors aren't clamoring for a better radio-labeled sulfur colloid, which means Lymphoseek is trying to solve a problem that doesn't exist.
Even assuming Lymphoseek does garner significant use, the market is too small to justify Navidea's current $400 million market value. Let's run some numbers:
There are about 300,000 lymphatic mapping procedures done each year in the U.S. -- mostly breast cancer and melanoma with some head-and-neck cancer thrown in. Navidea hasn't announced Lymphoseek pricing but let's assume $400 per patient, which is the high end of the expected range. That works out to a $120 million commercial market for lymphatic mapping agents.
Cardinal Health
(CAH) - Get Cardinal Health, Inc. Report
controls about 60% of the U.S. market with its current radio-labeled imaging agents. Cardinal will be selling Lymphoseek for Navidea. If Cardinal replaces all its current imaging sales/market share with Lymphoseek, sales will total $72 million. Of that $72 million, Navidea receives half, or $36 million.
That's the rosiest scenario. What happens if, more realistically, Cardinal doesn't cannibalize 100% of its existing cancer imagine agent sales in favor of Lymphoseek, which it must share revenue with Navidea? If you assume Lymphoseek grabs half of Cardinal's existing market share -- 30% overall -- total end-user sales would total $36 million. That's $18 million to Navidea.
These estimates represent peak sales, so reachable in 2015-2016 but not 2013.
Navidea has 100 million shares outstanding but you really need to add another 50 million shares to account for convertible stock, warrants and stock options. This gives Navidea a market value of $400 million.
Stick a sky-high (and totally unjustified) 10-times sales multiple on Lymphoseek revenue of $36 million and you still can't justify Navidea's current market value. The valuation story deteriorates if you use more realistic Lymphoseek peaks sales estimate and a lower multiple.
Obviously, Navidea paints a far rosier picture of Lymphoseek's commercial potential, mainly by significantly upsizing the number of lymphatic mapping procedures performed annually. The company believes use of Lymphoseek can expand well beyond just breast cancer and melanoma patients into lung, colon and prostate cancers. There are more than 1 million patients with cancers that could benefit from lymphatic mapping, says Navidea.
Reaching a market potential that big, however, will require Navidea and Cardinal convincing doctors to use imaging agents like Lymphoseek in cancer patients where they've never been used before. Large clinical trials will be needed. Not an easy task.
Analysts covering Navidea, as a group, project approximately $48 million in Lymphoseek sales to Navidea in 2013.
This was before the FDA rejection, so this estimate may be lower now.
This implies $90 million in end-user sales, or 240,000 procedures (still assuming $400 per patient.) If there are only 300,000 procedures performed annually, analysts are implying Lymphoseek captures 80% market share in its first year on the market.
Unrealistic? Seems so.
Pamela L. asks,
"You attended a conference in Boston recently but I never saw you write anything about it. Did you see any companies that you liked?"
You're correct. I did spend a couple of days at the Stifel Nicolaus healthcare conference and saw a few promising company presentations. In no particular order:
Sarepta Therapeutics
(SRPT) - Get Sarepta Therapeutics, Inc. Report
: I've written enough about eteplirsen already. This was my first opportunity to see CEO Chris Garabedian present the Duchenne muscular dystrophy data and the overall story in person. I walked out impressed and optimistic about the Oct. 11 presentation of the 48-week eteplirsen data.
Clovis Oncology
(CLVS) - Get Clovis Oncology, Inc. Report
: The CO-101 phase III study in pancreatic cancer is expected to report top-line results before the end of the year. My colleague Nate Sadeghi discussed
at length last February. He also recommended caution because prior data on CO-101 is thin, making it hard to predict the phase III results with any confidence. I agree with Nate on that point and he was right not with his call not to own the stock since February, down 15%. But I can see the stock running higher into the phase III data (it's already doing so) and I'm more willing than Nate to take the leap of faith necessary to believe in a positive outcome from the phase III study. Clovis has a great management team, too.
Raptor Pharmaceuticals
(RPTP)
: This is a controversial selection. Raptor is the orphan disease stock you probably know little about. Its drug, RP103, is an extended release version of Cystagon, approved in 1994 for the treatment of nephropathic cystinosis, a rare lysosomal storage disorder that affects about 2,000 kids worldwide.
In order to be effective, Cystagon must be taken on a strict every six-hour schedule. The drug also causes gastrointestinal side effects. Raptor's RP103 works just as well but can be taken twice a day and may cause fewer side effects.
Given a choice, docs and cystinosis patients will prefer RP103 because it's more convenient and tolerable. Better convenience translates into higher compliance which can mean better outcomes for patients.
Here's the rub, however: Cystagon costs $10,000 per year. Raptor can't make any money on RP103 with such the tiny number of cystinosis patients unless it jacks up the drug's price to orphan disease levels. Raptor won't say what it wants to charge for RP103 but a good guess is around $200,000 per year.
You're not alone if Raptor's strategy reminds you of
KV Pharmaceuticals
( KV.A) and the obscene price hike it tried to push through for the premature labor drug Makena. For KV, that effort ended disastrously.
Can Raptor avoid KV's fate? That's the controversy. What makes Raptor's price hike more palatable (possibly) is the support the company is seeking from doctors and cystinosis patients. If Raptor can convince this crucial constituency that the benefits of RP103 are worth the huge price hike over Cystagon, then Raptor wins where KV lost.
Tim P. asks,
"I don't know how familiar you are with Celsion (CLSN) - Get Celsion Corporation Report and their ThermoDox treatment in conjunction with RFA (and other approaches) for certain kinds of cancerous tumors. At any rate, they have a Phase III trial (HEAT) testing ThermoDox in conjunction with RFA for HCC (liver cancer). They are expecting results late 2012 or early 2013. Do you think that the Feuerstein/Ratain rule applies here?"
The
stipulates that the outcome of a phase III cancer study is directly correlated with the market value of the company running the study. A small market value equates to a low probability for success (or a high risk of failure.) The reverse also applies: Big market cap equals higher odds for study success.
Mark Ratain, an oncologist at the University of Chicago, and I found that for companies with market value below $300 million, the odds of a successful cancer drug clinical trial were zero. Celsion has a market value of $160 million. If the Feuerstein-Ratain rule is true, Celsion's Thermodox study will fail.
Before Celsion fans flood my inbox with hate mail, let me say that the Feuerstein-Ratain rule was developed using retrospective data. Our thesis was confirmed once prospectively with the failure of
Keryx Pharmaceuticals'
(KERX) - Get Keryx Biopharmaceuticals, Inc. Report
colon cancer drug perifosine. Thermodox is another good, prospective test of the rule, so we'll see what happens.
Celsion has a very small following among Wall Street's institutional investors. I worry about that because the commercial opportunity for Thermodox in liver cancer, if the phase III study works and the drug is approved, is substantial. That's particularly true in Asia where liver cancer is much more prevalent. Celsion is tremendously undervalued if Thermodox succeeds, yet big investors show little interest. Could Celsion be one of those rare under-the-radar stocks? Perhaps. But it may also be one that Wall Street has looked at closely and passed on.
I'm perfectly OK with saying that I can't predict the outcome of the Thermodox phase III study. There's nothing wrong with, "I don't know." If you're looking for evidence to support a positive result, I suggest browsing through the
maintained dutifully by investor Siavoche Siassi. He's more on top of all things Thermodox than anyone I know.
George writes,
"You are ignorant, a fraud and quite ugly. Bet you were one of those guys that were made fun of every day in childhood and you never got over it, pencil- Bleep.
Thanks for speaking your
addled mind, George.
@marianluxury asks,
"Updated efficacy and OS data for TH-302 in pancreatic cancer potentially at ESMO, Sept 28-Oct 2. $THLD any opinion?"
Threshold Pharmaceuticals
(THLD)
will present overall survival data from the TH-302 phase II study in pancreatic cancer at the European Society of Medical Oncology (ESMO) meeting on Sept. 29. The research abstract previewing these new TH-302 data will be made available by ESMO on Monday, Sept. 17.
Check the
ESMO2012 web site
for the abstracts.
Threshold has said, however, the TH-302 data contained in the abstract coming Monday are old and won't be updated until Sept. 29. Keep that in mind.
This phase II study enrolled 214 pancreatic cancer patients and randomized them to treatment with TH-302/gemcitabine or gemcitabine alone. Treatment with TH-302/gemcitabine led to a two-month improvement in progression-free survival of 5.6 months compared to 3.6 months for gemcitabine alone. The benefit in PFS was statistically significant.
Approximately one-third of patients in the gemcitabine arm "crossed over" to receive TH-302 after tumor progression. How this impacts the overall survival results we'll get later this month isn't clear.
To put the upcoming TH-302 survival data in perspective, Tarceva in combination with gemcitabine is approved for the treatment of pancreatic cancer based on a phase III study that showed a median overall survival of 6.4 months versus 6 months for gemcitabine alone.
The most significant knock against the TH-302 PFS benefit observed in the phase II pancreatic cancer study to date is that there were some imbalances in patients' baseline criteria that favored TH-302 and could have skewed results. Sally Church of Pharma Strategy Blog had a good post last April
describing the TH-302 data and the concerns
. Definitely give Sally's perspective a read.
When it comes to Threshold and pancreatic cancer, also keep in mind that
Celgene
(CELG) - Get Celgene Corporation Report
is expected to announce results soon from a phase III study comparing Abraxane/gemcitabine versus gemcitabine alone. I mentioned Clovis' study above, too.
Saul K. asks,
"Good morning, sir. Do you see any future or hope for Aeterna Zentaris (AEZS) - Get Aeterna Zentaris Inc. Report or Keryx Biopharmaceuticals? So far, you have been right in your predictions."
With the dissolution of the perifosine partnership, you can now look at Aeterna and Keryx as separate stocks now.
Aeterna has no future. I'm not talking about the stock trading pennies up or down based on press releases or speculation. Sure, that's going to happen. But from a fundamental perspective, Aeterna is a dead end. The company's drug pipeline has produced one failure after another. What would lead anyone to believe that Aeterna is capable of breaking out of its drug development slump?
Keryx Pharmaceuticals may get a near-term trading bump if results are positive from the phase III long-term study of Zerenex, its phosphate binder for use in dialysis patients.
Data expected in the fourth quarter.
Zerenex is going to be commercial dud, however. Keryx will find it exceedingly difficult to find any dialysis centers willing to buy Zerenex in a Medicare fee-bundled reimbursement environment. Others have tried and failed. Remember Amag Pharmaceuticals?
Mahoney writes,
"You are pathetic. You are either intelligent and use that to provide garbage to your idiot followers and profit on the market's reaction which should be illegal and you in jail with Big Bubba, or you are just plain ignorant... PPHM"
Wow, run-on sentence!
@Atip4 asks,
"Rumor spreading $EXEL's cabo will be approved for thyroid this week. Have you heard anything?"
No, although I may have played a role in propagating the speculation. I mentioned
Exelixis
(EXEL) - Get Exelixis, Inc. Report
and its thyroid cancer drug cabozantinib as possible early approval candidates in a column last week. My reasoning? Not much more than FDA seems to be approving drugs with alacrity in recent weeks and the agency did cancel an advisory panel meeting for cabozantinib that was scheduled for Nov. 9.
If I were a betting guy, I'd say
Ariad Pharmaceuticals
(ARIA)
has a better shot winning early approval for its leukemia drug ponatinib than Exelixis does with cabozantinib. Ponatinib better fits the profile of a drug that FDA could fast track through the review process.
While on Exelixis, make sure you read
on how to trade the stock using options.
--Written by Adam Feuerstein in Boston.
>To contact the writer of this article, click here:
Adam Feuerstein
.
>To follow the writer on Twitter, go to
http://twitter.com/adamfeuerstein
.
>To submit a news tip, send an email to:
.
Follow
TheStreet
on
and become a fan on
Adam Feuerstein writes regularly for TheStreet. In keeping with company editorial policy, he doesn't own or short individual stocks, although he owns stock in TheStreet. He also doesn't invest in hedge funds or other private investment partnerships. Feuerstein appreciates your feedback;
to send him an email.