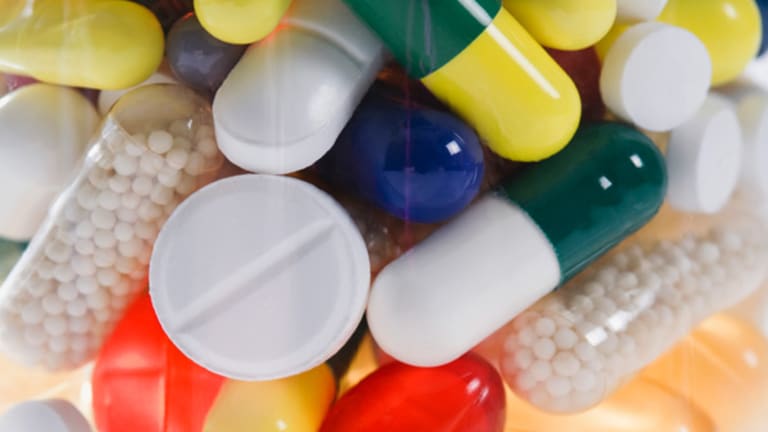 Biotech Stock Mailbag: Myriad Genetics
Our biotech columnist updates the Mailbag Readers' Portfolio and answers questions about Myriad Genetics and other stocks.
BOSTON (TheStreet) -- In a landmark ruling this week, a federal judge invalidated patents on two genes linked to breast and ovarian cancer held by Myriad Genetics (MYGN) - Get Myriad Genetics, Inc. Report. The company relies on exclusive access to these genes for the basis of its profitable breast cancer testing business, so the judge's decision immediately threw into question Myriad Genetics' long-term value.
Tyler R. asks, "Thoughts on Myriad Genetics' stock in the low $20s in the wake of this decision?"
Myriad's breast cancer testing business was already rife with problems before this week's patent ruling. Revenue growth has slowed significantly because Myriad's penetration into the oncology market has peaked and the company is having trouble convincing OB/GYNs to offer the breast cancer test to women who don't have breast cancer.
About 85% of Myriad's revenue comes from its breast cancer test. To boost sales, Myriad has to ratchet up marketing costs, which is going to squeeze operating margins. Lastly, Myriad will start paying income taxes next year, which is going to take a bite out of net income and earnings per share.
Despite these operational challenges, Myriad trades a premium valuation compared to other diagnostic companies, which seems unjustified to me. I realize most of the analysts covering Myriad have buys and higher price targets on the stock. I just think they're being blindly bullish.
At $24, Myriad trades at five times fiscal year 2011 sales, compared to a price-to-sales ratio of just under 3 for the diagnostic testing group. Assuming Myriad can meet expectations for fiscal year 2011 revenue (not an entirely safe bet) and valuing the stock at 3.5 times sales (still a premium, but smaller), Myriad Genetic is worth about $19-20 a share.
You can get a similar valuation by applying a reasonable price-to-earnings ratio of 12-14 on taxed earnings of $1.20 to $1.30 a share.
Note that I'm arguing that Myriad is over-valued today (not by a lot, but still a bit pricey) before the uncertainty created by this week's patent ruling. Now, investors need to be concerned that Myriad might lose its key patents, which would allow other companies to introduce competitive -- and possibly cheaper -- breast cancer tests.
Myriad plans to appeal the judge's decision to invalidate the gene patents, so the entire case could take years to resolve. Meantime, Myriad's business continues without competition. I get all that. But what I don't understand is a situation where investors completely discount the new patent risk. Somehow, Myriad's premium valuation has to take a significant hit.
Put another way, investors have refused to value
Gilead Sciences
(GILD) - Get Gilead Sciences, Inc. Report
at a premium to the rest of the big biotech group because of concerns that patents on key HIV drugs expire in 2017-2018. Nevermind that Gilead's business today -- and for the next 3-5 years -- is growing gangbusters and that the company is developing new HIV drugs which could totally replace, if not augment, growth that it may lose when the older drug patents expire. Investors don't seem to care about any of Gilead's positives; instead they're fixated on patents expiring in seven years.
Why should Myriad Genetics be treated differently? I'd argue that the risk to Myriad's core business is much higher due to patent issues than Gilead's ever will be. Yet, investors value Gilead at a discount, while Myriad still gets a premium.
And now for an update to the
Biotech Stock Mailbag Readers' Portfolio
(BSMRP), which is in serious need of a pick-me-up.
One quarter since inception, the BSMRP is down 8% compared to an almost 9% increase in the benchmark iShares Nasdaq Biotechnology ETF. (I tracked performance through the close of trading on March 30.)
Frankly, that's lousy stock picking, my dear readers, especially considering how hot the biotech sector has been this quarter. The cause of the problem is easy to diagnose: The BSMRP is overweight too many high-risk, small-cap biotech stock picks that have blown up.
BSMRP component
GenVec
(GNVC)
is down 54% after a futility analysis forced the company to halt its
phase III study of pancreatic cancer drug TNFerade
. The GenVec loss is even more painful because the stock had been the best performer in the portfolio with a return exceeding 70%.
The other big losers in the portfolio:
Cell Therapeutics
(CTIC) - Get CTI BioPharma Corp. Report
is down 47% following the negative FDA panel vote for its
;
MannKind
(MNKD) - Get MannKind Corporation Report
is down 34% on
more approval delays for its inhaled insulin device
; and
Novelos Therapeutics
(NVLT.OB)
is essentially a corpse, down 89%, after its
lung cancer drug failed a phase III study
.
Recall, the
BSMRP is a portfolio of 20 biotech and drug stocks
chosen by readers of the Biotech Stock Mailbag. The 20 stocks in the portfolio were winnowed from a master list of 93 different stocks nominated by readers in December and January.
Finalizing the BSMRP stocks was a bit of a subjective exercise on my part, but for the record, GenVec and MannKind were among the stocks most highly recommended by readers.
The BSMRP is far from perfect. It's a static portfolio, so I'm not swapping stocks in and out, nor am I trading, hedging or using any other portfolio management tricks to maximize returns. The BSMRP also contains no shorts because readers didn't suggest any, even though I asked for short-sale recommendations.
This is not to say we can't learn a thing or two from the BSMRP. The poor performance to date underscores the risk inherent in small-cap biotech. The BSMRP was compiled as small-cap biotechs were en fuego. My bet is readers got a bit too cocky.
Not all is bad with the BSMRP.
Ariad Pharmaceuticals
(ARIA)
is up 42% and
Celldex Therapeutics
(CLDX) - Get Celldex Therapeutics, Inc. Report
is up 34%.
Dendreon
(DNDN)
continues to perform well, up 26%.
A bunch of BSMRP stocks now trading flattish are poised to run higher on positive news. These include
Vivus
(VVUS) - Get VIVUS, Inc. Report
,
ImmunoGen
(IMGN) - Get ImmunoGen, Inc. Report
,
Allos Therapeutics
( ALTH) and
Human Genome Sciences
( HGSI).
The BSMRP has dug itself into an early hole, but let's see how the second quarter turns out before panicking. Perhaps I'll ask for more reader feedback mid year to swap out some of the under-performing stocks for new picks.
Moving on to some quick emails:
Ross M. writes, "I was hoping you might comment on
Adeona Pharmaceuticals'
( AEN) massive, recent run on no news. It seems to me that this is a 'buyer beware' situation as it has been with previous Adeona runs."
Adeona is the reincarnation of the old
, which was run into the ground by
, a
volatile
and incompetent manager with one of the worst track records in biotech. I don't believe in absolute truths in biotech, but I do know for sure that smart investors steer well clear of any biotech stock connected to Kanzer.
A quick glance at Adeona's web site shows a new crop of drugs in development that replace the last crop of duds, including Coprexa, which was rejected by the FDA in 2008. The revolving door in the company's executive suite also seems to be spinning at full speed, another trait common in any Kanzer-tainted operation.
A bogus rumor earlier this week that
Pfizer
(PFE) - Get Pfizer Inc. Report
was going to buy Adeona appears to have lifted the stock temporarily, but shares were selling off Wednesday.
Via Twitter, @soldieborsa asks, "What is the next ODAC panel you will follow live blogging?"
The live blog of the
on March 22 was a big hit, so I'm definitely planning similar coverage of upcoming FDA advisory panels. The next FDA Oncologic Drugs Advisory Committee (ODAC) meeting on the calendar is July 20-21, but the FDA hasn't established the meeting agenda yet.
On April 22, FDA is convening an advisory panel to review
Acura Pharmaceuticals'
(ACUR)
abuse-resistant pain drug Acurox. On May 6, an FDA panel will review
Questcor Pharmaceuticals'
(QCOR)
drug Acthar for infantile spasms. Finally, on July 15,
Vivus'
(VVUS) - Get VIVUS, Inc. Report
obesity drug Qnexa will take its turn under the FDA advisory panel microscope.
I will definitely live blog the Vivus panel in July; if you want me to also cover the Acura or Questcor panels, send me an email and I'll consider it.
My
Tuesday prompted a few readers, including Gary P., to say I missed one.
"You may want to look at the best company for your story,
AVI Biopharma
( AVII)," emailed Gary.
My mistake. Here's a quick summary:
Company: AVI Biopharma
Lead Drug: AVI-4658 for Duchenne Muscular Dystrophy
Partners: U.S. Department of Defense for some bioterrorism vaccine programs.
Status: Interim data from a phase I/II study of AVI-4658, conducted in Europe, were announced last December.
Upcoming Milestones: AVI expects to seek FDA permission to begin U.S studies of AVI-4658 in the second quarter. The company will also release additional efficacy data from the ongoing AVI-4658 study in the second quarter.
Lastly, some fan mail, both flavors:
"Atlasfirewood" writes, "Your
sic just a weasel
Bleep. Just to inform you, your cyber presence is a
Bleeping joke. I wonder how many times you got the snot knocked off your little weasel bald head? Man, I'd love to have dinner in the same restaurant so I could spit on you and the pig your
sic with. Hind sight
Bleep-bite. What a low life piece of
bleep you are.
Bleep yourself."
Meantime, Jon R. writes, "I just wanted to drop a quick note of thanks for what you do. Keep it up. I cannot understate how rare and valuable it is that a journalist would delve into the ugly details and report the unvarnished truth. What happened to that kind of reporting anyway? Journalists like that just don't exist anymore, and the public no longer has trusted resources to get the facts."
And Keith R. says, "Thanks, Adam. Your articles and research have saved me a boatload of money. Always enjoy reading the hostile emails you get , too. You truly have grown a second spine to deal with all the idiots that bash you."
Happy Passover and Easter.
-- Reported by Adam Feuerstein in Boston.
Follow Adam Feuerstein on
.
Adam Feuerstein writes regularly for TheStreet.com. In keeping with TSC's editorial policy, he doesn't own or short individual stocks, although he owns stock in TheStreet.com. He also doesn't invest in hedge funds or other private investment partnerships. Feuerstein appreciates your feedback;
to send him an email.