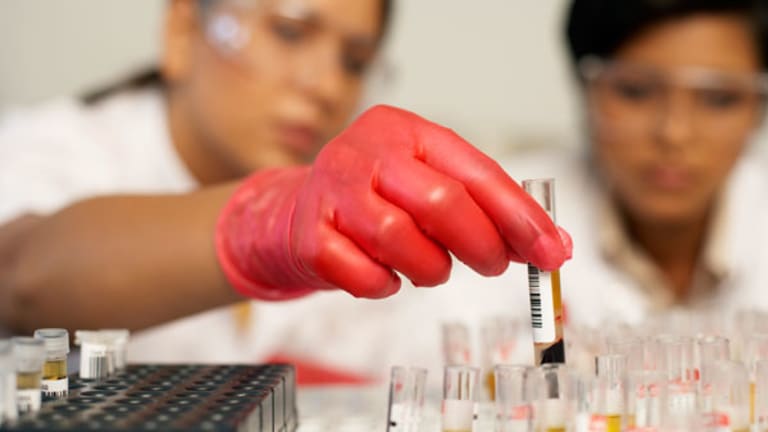 Biotech Stock Mailbag: Most Important Events for 2012
Biotech columnist Adam Feuerstein answers readers' questions about health-care companies.
Biotech columnist Adam Feuerstein answers readers' questions about health-care companies.
BOSTON (TheStreet) -- Happy holidays and welcome to the last Biotech Stock Mailbag of 2011. Let's look ahead to see what our little corner of the investing world has in store for us in 2012.
Howard M. writes:
"Adam. Thanks for all you do, especially the live blogs which are great. What are you looking at when it comes to biotech stocks in 2012?"
I'm just wrapping my head around 2012 now and will certainly have more to say in January after I spend a week in San Francisco immersed in biotech at the JPMorgan Healthcare Conference (Jan. 9-12). Stay tuned for wall-to-wall coverage.
Like in previous years, the release of clinical results from phase III and selected phase II studies in 2012 will probably produce the most significant volatility in biotech stock prices.
Meaningful clinical trials results in 2012 to start thinking about now include two phase III studies of cancer immunotherapies, or "vaccines." These are
Oncothyreon's
(ONTY)
Stimuvax in non-small cell lung cancer (data in first quarter) and
Vical's
(VICL)
Allovectin in melanoma (data mid-year.) I've already
but obviously plenty of people disagree and believe one or both of these therapies will succeed. Differences of opinion are what makes markets.
Keryx Pharmaceuticals
(KERX) - Get Report
is expecting phase III data on perifosine in colon cancer in the first quarter. The outcome of the study will also affect the value of
Aeterna Zentaris
(AEZS) - Get Report
because it owns ex-U.S. rights to the drug. (Again, I'm
.)
Alzheimer's disease returns to Wall Street in 2012 with data likely from phase III studies of
Eli Lilly's
(LLY) - Get Report
solanezumab and
Johnson & Johnson's
(JNJ) - Get Report
bapineuzumab. (
Pfizer
(PFE) - Get Report
and
Elan
(ELN)
also have financial interests in bapineuzumab.)
Celgene
(CELG) - Get Report
: Phase III studies of oral apremilast in psoriasis and psoriatic arthritis due in the second half of the year. In Europe, Celgene is awaiting a very important decision from regulators about front-line approval for the multiple myeloma drug Revlimid.
Gilead Sciences
(GILD) - Get Report
will find out if its $11 billion acquisition of
Pharmasset
(VRUS)
was worth it with results from several studies of Pharmasset's lead hepatitis C drug PSI-7977 expected in 2012.
Looking at phase II studies, I'd pay attention to
Threshold Pharmaceuticals
(THLD)
and its mid-stage study of TH-302 in pancreatic cancer. Results expected mid-to-late February.
Celldex Therapeutics
(CLDX) - Get Report
will have data from a phase II study of CDX-011 in breast cancer ready in the first half of the year.
Amgen
(AMGN) - Get Report
raised some eyebrows when it acquired tiny
Biovex
for $425 million in early 2011. Biovex is developing a viral-based melanoma therapy in phase III, with data expected in the second half of 2012.
Aveo Pharmaceuticals
(AVEO) - Get Report
will have results from the phase III study of tivozanib in kidney cancer in early 2012.
On the FDA front, the drug approval decisions I'm most intrigued by include
Amylin Pharmaceuticals
(AVEO) - Get Report
and
Alkermes
(ALKS) - Get Report
(Bydureon in diabetes),
Vertex Pharma
(VRTX) - Get Report
(Kalydeco in cystic fibrosis),
Cell Therapeutics
(CTIC) - Get Report
(pixantrone, non-Hodgkin lymphoma) and
Onyx Pharmaceuticals
(ONXX)
(carfilzomib multiple myeloma).
Of course, FDA will "weigh in" on the obesity drugs once again in 2012. Front and center will be
Vivus
(VVUS) - Get Report
, which will bring its weight-loss drug Qnexa back in front of an advisory panel on Feb. 22.
For a full listing of 2012 FDA drug approval decisions, check out the
calendar I published earlier this week
.
If you have suggestions for stocks or biotech events you'd like to me cover in 2012, please let me know in the comment section below the Mailbag.
Martin I. shares his predictions for 2012:
"Perifosine will satisfactorily meet its clinical end point, resulting in great anguish from Feuerstein and blow a big hole in his self-proclaimed rule and omnipotence."
Also,
"Amarin (AMRN) - Get Report will show a significant increase in share price, regardless of the patent situation (obviously greater with patent approval), as it gets approved on the first pass at FDA."
Tim P. writes,
"Saw your predictions for 2012. Fun stuff, regardless of how it turns out. It takes some guts to put these kinds of things out there. One question regarding Oncothyreon: You see it failing in a phase III cancer trial with a Big Pharma sponsor. But when you panned Keryx and perifosine, you noted that little biotechs always fail in these trials, while 21 out of 27 (78%) phase III studies sponsored by Big Pharmas were successful. So how come Oncothyreon is going to fail if there's a 78% chance based on data you felt was relevant for Keryx? You can't have it both ways, Adam. Explain yourself."
You're misinterpreting the
. We based our analysis of phase III success or failure on the
market value of primary drug sponsor
roughly three months prior to the release of the data. Partnerships or acquisitions by Big Pharma can play a role but only in that deals like these increase the market value of the primary drug sponsor.
Oncothyreon licensed its Stimuvax lung cancer vaccine to the German pharmaceutical company
Merck KGaA
, but Oncothyreon's market value today is still only $340 million. That's just north of the $300 million market value cut-off where odds of phase III study success are a dismal 0%, according to the stocks we analyzed.
The phase III success rate for companies with market values ranging from $300 million to $1 billion was 12%. You only get to the more confidence-inspiring 78% odds when market value exceeds $1 billion.
As my parting holiday gift, I want to share some of the wisest words ever written about biotech investing -- and they're not mine. The following list of
common mistakes made by inexperienced biotech investors
was compiled and posted on the
message board this week. I tweeted a link earlier but I wanted to reprint some of the rules here in the Biotech Stock Mailbag because they encapsulate so many of your questions and my responses over the past five years (!) this column has been published.
Enjoy, but remember,
these rules are mistakes, not truisms
:
1. If a drug from the same class succeeds, it means my company's drug will succeed too. Likewise, if a drug with the same mechanism of action succeeds, it means my company's drug will succeed too.
2. If a drug has Fast Track status, it means FDA approval is very likely. Likewise, if a drug has a priority review, it means FDA approval is almost certain.
3. If a company has a meeting with FDA staffers and doesn't issue a negative press release, it means the FDA agrees with everything the company is doing.
4. If the CEO says a company is talking to partners, it means a partnership is imminent.
5. If a company is preparing for a launch -- by advertising for sales reps -- it means its drug will surely be approved.
6. If a former executive from Big Pharma joins a small biotech company, it means the small company must be a winner!
7. If a company's scientific advisory board has one or two famous individuals, it means the company's drug candidates must work. These people would not align themselves with a failure!
8. If a well-known investor or hedge fund owns shares, it means the company will surely succeed.
9. Lastly, my favorite: If knowledgeable posters are bashing a stock, it means they are trying to "accumulate" shares, so I should increase my holding!
Happy holidays and see you again in 2012.
--Written by Adam Feuerstein in Boston.
>To contact the writer of this article, click here:
Adam Feuerstein
.
>To follow the writer on Twitter, go to
http://twitter.com/adamfeuerstein
.
>To submit a news tip, send an email to:
.
Follow
TheStreet
on
and become a fan on
Adam Feuerstein writes regularly for TheStreet. In keeping with company editorial policy, he doesn't own or short individual stocks, although he owns stock in TheStreet. He also doesn't invest in hedge funds or other private investment partnerships. Feuerstein appreciates your feedback;
to send him an email.