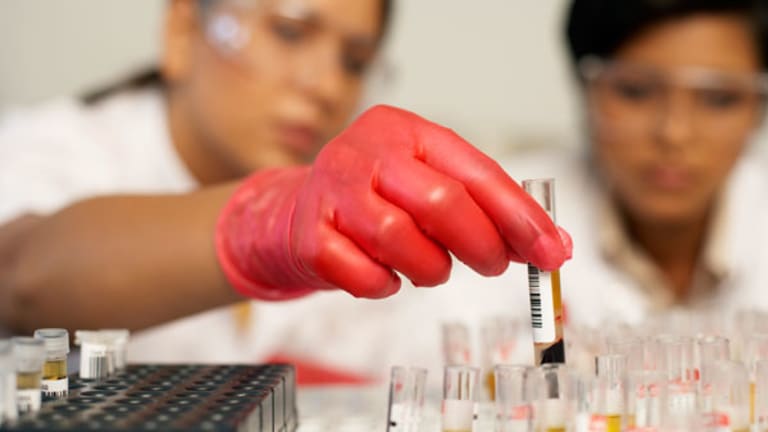 Biotech Stock Mailbag: Medivation, Targacept
Biotech columnist Adam Feuerstein answers readers' questions and concerns about health care and drug-related stocks.
BOSTON (
) -- This week's Biotech Stock Mailbag opens with good news.
Sepgeninvestor writes,
"Adam, I value your skepticism about biotechs in general. You saved me more times than I can count, but I wish you'd write more about the biotech stocks that you like. Are there any positive stocks you want to highlight for the end of the year?"
Valid criticism. Guilty as charged. I'm a glass-half-empty guy so focusing more on what's wrong in biotech is irresistible to me. In my defense, I will say that my early August call recommending
Celgene
(CELG) - Get Free Report
and
Alexion Pharmaceuticals
(ALXN) - Get Free Report
as a
safer haven for biotech investors
amid an ugly stock market turned out prescient and profitable.
Looking ahead, I'm most excited and optimistic about the prospects for
Medivation
(MDVN)
and
Targacept
(TRGT)
as each stock nears make-or-break releases of data from pivotal late-stage clinical trials.
Medivation's BIG EVENT is the fourth-quarter interim analysis of the phase III "Affirm" study of MDV3100 in advanced prostate cancer patients who have progressed after chemotherapy.
Positive results from the MDV3100 study propels Medivation's stock price into the high $20s or even $30s (depending on how good the data are.) Failure sends Medivation shares plummeting to around cash, call it $5-$6 a share.
I'm offering these guesses on stock moves with the assumption that a global recession doesn't completely obliterate the equity markets. Wishful thinking, perhaps.
The primary endpoint of the MDV3100 study is overall survival compared to a placebo, the gold standard for cancer drug stocks. Medivation designed the study to show an approximate 20% reduction in the risk of death favoring MDV3100, or about a three-month median survival advantage.
Another important benchmark for success, particularly as it relates to Medivation's stock price, is the 3.9-month survival advantage in the same prostate cancer patient population demonstrated by
Johnson & Johnson's
(JNJ) - Get Free Report
Zytiga.
Zytiga and MDV3100 will compete for the same prostate cancer patients, so investors will want to see similar efficacy between the drugs. Zytiga must be administered with a steroid that can cause side effects. That's a potential advantage for MDV3100, which doesn't require steroid co-administration.
A win in the MDV3100 study will also be a nice resurrection story for Medivation and its CEO David Hung following the
Dimebon -- Dimebomb -- Alzheimer's blow-up
. Hung has proven himself to be one of the best dealmakers in biotech, negotiating huge partnerships with
Pfizer
(PFE) - Get Free Report
and
Astellas
, but he needs a drug development victory to gild his reputation.
Targacept is waiting for its partner
AstraZeneca
(AZN) - Get Free Report
to take the wraps off results from the first of four phase III studies of TC-5214 in depression augmentation.
TC-5214, if approved, would be prescribed as an add-on therapy for patients who respond poorly to commonly used anti-depressants.
I won't rehash the details here, but the
main phase II study of TC-5214
done in 2009 was insanely good. TC-5214's efficacy was so strong that some investors thought the data were too good to be true, especially because the study was conducted largely in India.
AstraZeneca apparently believed in TC-5214 enough to
license the drug from Targacept in late 2009
for blockbuster terms. Since then, Targacept's stock price has largely drifted with the market as the phase III studies got up and running. Finally, those phase III studies are nearing completion, with data expected from the first study in the fourth quarter.
It's unrealistic to expect TC-5214 to repeat in the larger phase III studies the magnitude of benefit seen in the smaller phase II studies. But then the drug doesn't need to for the phase III studies to be positive -- which I think they will be.
I expect Targacept to be the exception to the "be scared of India clinical data" rule. The stock could double on positive results. If TC-5214 fails, Targacept will follow another tried-and-true biotech investing rule: A stock price chop of at least 50% if not more.
Two biotech stocks I like. Shocking, but true.
In my Monday column of
Sangamo Biosciences
(SGMO) - Get Free Report
and its
experimental SB-728 gene therapy for HIV
, I wrote about data on five patients who didn't benefit as much from treatment as did the one patient with an undetectable viral load highlighted by the company:
"Like the first patient, the remaining five all saw their viral loads increase after being infused with the modified T cells and the cessation of anti-retroviral therapy. After about six weeks, viral loads in these patients also began falling but never returned to baseline levels, meaning their viral loads were higher at the end of the study than when they started. Two of the five patients restarted taking their anti-retroviral medicines earlier than planned."
The disclosure prompted BuggyFunBuggy to ask,
"I've been looking at the various bits released by Sangamo, but don't find this. Is this only in the paper itself?"
The SB-728 data that I wrote about came from the slides used by the researcher during his oral presentation at the Interscience Conference on Antimicrobial Agents and Chemotherapy.
I asked Sangamo for the slides; the company has not made them available publicly -- at least not yet. Sangamo did not include the information in its press release.
A good biotech investing rule: Do not rely on company press releases for clinical trial data. Instead, whenever possible try to obtain the primary source of the drug data. That might be the slides used in an oral presentation, a poster or an article published in a medical journal. Sometimes, but not often, medical meetings will post this information on their web sites. You can usually buy individual articles from the web sites of medical journals if they're not available gratis. More often, you'll have to contact the company for the slides or posters. If that doesn't work, you can also have luck reaching out directly to the researcher who presented or published the data.
You're going to get a much more complete and accurate assessment of clinical data (and learn so much more) from presentation slides or posters than you will from a company's press release. I'm not accusing biotech companies of purposely misleading investors (although that's been known to happen) it's just that press releases are written to both inform and publicize/shape a company's message. For that reason, press releases tend to overstate the good and gloss over or completely omit the bad.
As a biotech investor evaluating clinical data, you need to know and understand the good and bad.
Rex is none too pleased with my warnings about
Apricus Biosciences
undefined
and the
"penile burning"
caused by the company's erectile dysfunction cream Vitaros:
"You notice their sic Is sic a real article on Saving Alpha Seeking Alpha? this morning called THE (TRUTH) ABOUT VITAROS. Nice try you coward you write an article and do not answer your critics and then you block them from posting COWARD! Think twice before you make up lies or streeeeeeeach sic the truth on APRI again. LOSER!"
I give Rex credit for one thing: He spelled "loser" correctly.
James K. asks,
"Apparently Jefferies comment are hammering Exelixis (EXEL) - Get Free Report. What are your thoughts on their assessment? I think it's excessively pessimistic. Thanks for your input."
Jefferies analyst Biren Amin initiated coverage on Exelixis on Tuesday with a hold rating and a $6 price target. His bearish view is fairly representative of the Exelixis short story that's been out there for quite some time.
To summarize: Exelixis bears don't believe FDA will allow the company to conduct a phase III study of cabozantinib in prostate cancer using pain reduction and bone scan resolution as the primary endpoints because neither are validated in a way that correlates with an overall survival benefit for patients.
Exelixis has proposed overall survival as a secondary endpoint of the phase III study.
Even if FDA does allow Exelixis to run a cabozantinib study using pain reduction and bone scan resolutions as primary endpoints, the bears believe FDA won't approve cabozantinib unless the study also demonstrates a survival benefit. That may be problematic because the study, as proposed, is relatively small.
Exelixis is nearing completion of a phase III study of cabozantinib in medullary thyroid cancer (MTC) with results expected next month. Some Exelixis bears think this study will fail due to under-powering; other concede the study will be positive but MTC is a niche cancer indication that will not generate meaningful revenue.
Oh yeah, Exelixis bears take a jaundiced view of the cabozantinib bone scan resolution data presented to date, believing the way Exelixis assessed and graded bone scans may have skewed the results and made them appear to be more clinical relevant than they really are. The bears also believe cabozantinib is too toxic a drug, particularly at the doses currently being studied.
That, in a nutshell, is the Exelixis short story. Whether you like, dislike or are indifferent to Exelixis, it's always good to know the bear thesis.
Exelixis filed a Special Protocol Assessment with FDA in June to reach agreement on the design of the phase III prostate cancer study of cabozantinib. The company expects to hear back from FDA in the fourth quarter, so if the SPA is cleared, the study could start either at the end of the year or early in 2012, per Exelixis' current guidance.
My view? I plead the fifth. I saw and was impressed by the
cabozantinib bone scan resolution data
presented at ASCO in June. The cabozantinib data looked real and clinically meaningful to me, and the safety profile was acceptable particularly in the context of other approved cancer drugs that cause just as many or more serious side effects.
At the same time, it is true that Exelixis' prostate cancer regulatory strategy is aggressive and could very well clash with FDA cancer drug reviewers who seem to be more conservative these days, particularly around the distrust of novel endpoints and the need for survival data.
@BrainMonkey tweets,
"Hey what's your take on $IMUC?"
ImmunoCellular Therapeutics
undefined
is a cancer "vaccine" stock trading on the bulletin boards. That's bad enough, but even worse is management's insistence on paying stock promoters for positive coverage, including articles published on
Seeking Alpha
.
Any company paying for positive media or research coverage disqualifies itself from being investable, in my book.
Immunocellular claims to have positive survival data for its ICT-107 vaccine in patients with brain tumors but it really doesn't. The phase I study is single arm with no comparator. The "survival" data comes from comparisons to historical controls, which is meaningless. A phase II study of ICT-107 -- placebo controlled -- is underway.
--Written by Adam Feuerstein in Boston
>To contact the writer of this article, click here:
Adam Feuerstein
.
>To follow the writer on Twitter, go to
http://twitter.com/adamfeuerstein
.
>To submit a news tip, send an email to:
.
Adam Feuerstein writes regularly for TheStreet. In keeping with company editorial policy, he doesn't own or short individual stocks, although he owns stock in TheStreet. He also doesn't invest in hedge funds or other private investment partnerships. Feuerstein appreciates your feedback;
to send him an email.