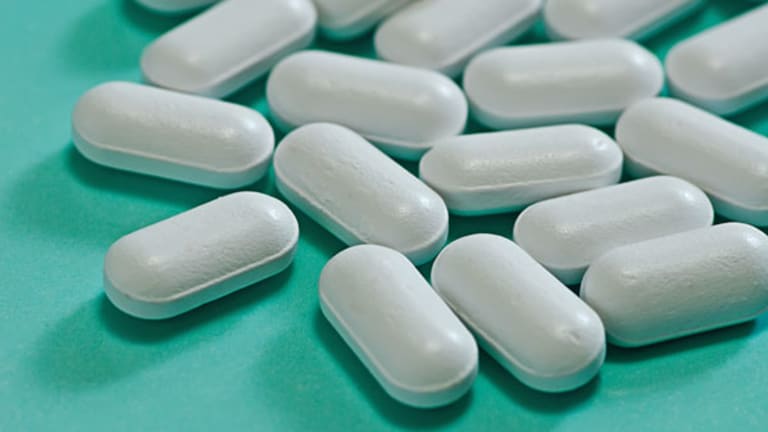 Biotech Stock Mailbag: MAP Pharma, Affymax
Biotech columnist Adam Feuerstein answers readers' questions about health-care companies.
Biotech columnist Adam Feuerstein answers readers' questions about health-care companies.
BOSTON (TheStreet) -- A question about MAP Pharmaceuticals (MAPP) and the FDA's rejection of its inhaled migraine drug, Levadex, leads this week's Biotech Stock Mailbag.
Via Twitter, @recervan asks, "Adam, have you ever seen a CRL like MAPP where the price goes up? Very weird."
Strange, indeed. FDA drug rejections typically cause significant and sudden stock declines. I can't say the MAP Pharma situation is unprecedented, but it's certainly unusual to see a stock fall just slightly following an FDA rejection, particularly for a one-product, cash-burning company like MAP Pharma. At one point on Tuesday, the first trading day after Monday night's FDA announcement, MAP Pharma shares traded briefly in the green.
Since then, the stock has started to weaken. On Thursday, MAP Pharma closed at $15.25, down 11% since Levadex was rejected.
Investors seem to be sticking with MAP Pharma because they believe Levadex's approval is now "de-risked." FDA's only lingering concerns are related to the manufacturing of the inhaler and the way it's used by migraine patients -- issues that are easily resolved. Importantly, FDA has no concerns about the efficacy of inhaled DHE (the active ingredient in Levadex) to treat migraines nor did the agency raise unaddressed problems with the safety of inhaled DHE, particularly when it comes to lung function or side effects, according to MAP Pharma.
Let me repeat that last bit with emphasis:
according to MAP Pharma.
You got that? It's important, of course, because only MAP Pharma knows the content of the FDA's complete response letter. We don't get to see the letter, which means you have to believe MAP Pharma executives are telling us the truth.
Which is a good segue into a comment from @shaneblackmon regarding my questioning of MAP Pharma's execs on Tuesday morning's conference call.
"@adamfeuerstein asking dumb questions about the SPA
Special Protocol Assessment. When the issues of the CRL have absolutely NOTHING to do with phase 3 trials. Moron."
The credibility of MAP Pharma's executives is important. If CEO Tim Nelson and his team are being straight with us about the simple requirements necessary to get Levadex approved, then the optimism that's buoying the stock is easier to justify.
But if Nelson is understating FDA's concerns, intentionally or not, then Levadex's approval is not "de-risked." That puts MAP Pharma's current stock price at great peril.
One way to assess credibility is by looking back at the truthfulness of previous statements made by management. When it comes to the Special Protocol Assessment for the pivotal Levadex clinical trial, MAP Pharma execs have offered contradictory and misleading statements to investors.
As far back as January 2008, MAP Pharma executives were saying FDA had agreed to an SPA for the Levadex clinical trials. The company continued to claim a Levadex SPA through March 2010. After that, however, the SPA claim disappears, replaced with this tortured, attorney-crafted spin job plopped into the company's regulatory filings:
"FDA communicated its agreement with the design, execution, and analyses for our pivotal Phase 3 trial, which we submitted to the FDA under the Special Protocol Assessment, or SPA, process and modified as suggested by FDA… In March 2010, we held a pre-NDA meeting with the FDA to discuss the clinical portion of our anticipated NDA filing. The FDA's minutes of that meeting state that, while the FDA did not have a record of a formal SPA, the FDA concurred with the selection of our coprimary endpoints and confirmed that a second pivotal efficacy study was not necessary if topline efficacy results were confirmed during the NDA review. We believe that our prior written correspondence and interactions with the FDA under the SPA process constitute an SPA with the agency. The FDA may take a different view and could request additional safety and efficacy studies without having to identify a substantial scientific issue with our Phase 3 trial that is essential to determining the safety and efficacy of LEVADEX."
Given an opportunity on Tuesday's conference call to explain these confusing, contradictory statements about the Levadex SPA, MAP Pharma executives chose instead to dissemble further.
Another example of MAP Pharma execs unwilling or unable to go off-script: when hedge fund manager Kevin Tang asked Nelson to disclose the number of pages in the FDA's complete response letter.
An easy question, yet MAP Pharma execs refused to answer!
But not before a long, awkward silence.
Tang's question was brilliant. The narrative MAP Pharma was pushing Tuesday (and admittedly, quite effectively) was that FDA's lingering Levadex concerns were minor and easily fixed. If that's true, the complete response letter was more than likely relatively short -- a few pages, give or take.
Why, then, wouldn't MAP Pharma disclose the number of pages in the complete response letter? If the FDA's letter was actually quite long and detailed, it goes against the "no worries" message the company was trying to push across to investors.
Ron56 emails, "Your questions to MAP were overly aggressive and smacked of unprofessionalism. It sounded like you were doing the bidding of the shorts."
"Biotech Toreador" writes, "Excellent questions! Glad to see real questions not asked by sycophants depending on banking handouts."
I can't please everyone, apparently.
Paul B. asks, "When do you think Levadex can be FDA approved now?"
It's hard to nail down a timeline but here's a guess: MAP Pharma first needs to meet with FDA to discuss the Levadex rejection. Let's say that meeting occurs in late May or June. If all goes well, MAP Pharma resubmits in July or August after which the FDA takes six months to review the new data, which pushes the next approval decision date to January or February 2013.
Broadly speaking, under the most ideal situation, Levadex's launch is delayed by a year from the second quarter 2012 to the second quarter 2013.
Color me skeptical. I'm still not convinced FDA is as sanguine about Levadex as MAP Pharma wants us to believe. The usability issues surrounding the inhaler could still trip up and significantly delay approval -- specifically, concerns about what happens to patients who may inadvertently take more than a single dose at one time.
Charles T. emails, "
Affymax
(AFFY)
gets approved but the stock trades down. Is this the normal reaction? What am I missing?"
Of the FDA decisions this week, Affymax's Omontys was the most likely to be approved, so you're definitely seeing some sell-on-the-news following Tuesday's mid-day approval announcement. At $12 per share, Affymax's market value has doubled this year.
I worked through
some sales projections for Omontys
in a previous Mailbag, which still hold true but are admittedly fairly conservative. A big unknown right now is the pricing advantage Omontys may have over
Amgen's
(AMGN) - Get Report
Epogen. Affymax announced wholesale Omontys pricing that's on par with Epogen but also said discounts and other cost savings (as yet undisclosed and unspecified) will make Omontys a better value for dialysis clinics. Investors want more details on Omontys' pricing advantage over Epogen.
--Written by Adam Feuerstein in Boston.
>To contact the writer of this article, click here:
Adam Feuerstein
.
>To follow the writer on Twitter, go to
http://twitter.com/adamfeuerstein
.
>To submit a news tip, send an email to:
.
Follow
TheStreet
on
and become a fan on
Adam Feuerstein writes regularly for TheStreet. In keeping with company editorial policy, he doesn't own or short individual stocks, although he owns stock in TheStreet. He also doesn't invest in hedge funds or other private investment partnerships. Feuerstein appreciates your feedback;
to send him an email.