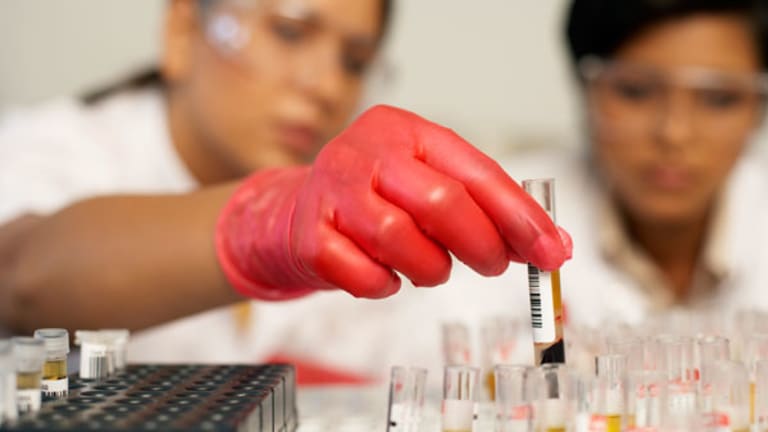 Biotech Stock Mailbag: MannKind, Osiris, BioCryst, Vical, Amarin
Biotech columnist Adam Feuerstein answers readers' questions about health care companies.
BOSTON (
) -- This is the "Catching Up With Stuff I Missed While On Vacation" Biotech Stock Mailbag.
The Afrezza data, as disclosed by
MannKind
(MNKD) - Get MannKind Corporation Report
last week, are:
1. Mediocre.
2. Incomplete.
3. "Positive" if one defines the term only as a drug that technically meets a study's primary endpoints but with data that are neither exciting nor groundbreaking. (See: Mediocre.)
4. Barely approvable, but only if 1) MannKind isn't hiding additional negative data, or 2) FDA doesn't give a crap and simply wants Al Mann to go away. (See: Incomplete.)
5. Insufficient to support MannKind's $1.7 billion market value. (Add in debt, options, warrants and restricted stock, MannKind's enterprise value is a voluminous $2.7 billion.)
In the AFFINITY-1 study of Type 1 diabetics (also known as Study 171), Afrezza delivered via the second-generation "Dreamboat" inhaler was numerically inferior to
Novo Nordisk's
(NVO) - Get Novo Nordisk A/S Report
Novolog in terms of A1c reduction, the study's primary endpoint. (-0.21% vs. -0.40% A1c reduction.)
The upper end of the confidence interval for the difference between Afrezza and Novolog was 0.36%, which didn't exceed the 0.40% difference that would have caused the study to fail. Therefore, MannKind can claim Afrezza Dreamboat is statistically non-inferior to Novolog -- hence a "positive" study -- but just barely.
Afrezza Dreamboat performed worse than Novolog in terms of the percentage of Type 1 patients achieving A1c levels of less than 7% or 6.5% -- important markers of glucose control.
Afrezza demonstrated a numerically lower severe hypoglycemic event rate than Novolog but the difference was not statistically significant. MannKind didn't disclose exact numbers.
An important goal of the AFFINITY-1 study was to demonstrate equivalence between the new Dreamboat inhaler and the older Medtone inhaler. Here, MannKind is being very opaque about results, stating only that the two devices were "comparable" with respect to lung function, as measured by FEV1. MannKind did not disclose any efficacy results from the Medtone arm of the study. The company clearly has the data, so why is it being withheld?
Both Afrezza inhalers cause decreased lung function in patients. MannKind says the lower FEV1 is not clinically significant, but of course, this will be a safety issue only settled by FDA and/or an advisory panel. Some 30% of the patients using the Afrezza Dreamboat inhaler reported cough as an adverse event.
Switching to the AFFINITY-2 study (Study 175) in type 2 diabetics, Afrezza's A1c reduction of 0.82% was superior to placebo's A1c reduction of 0.42%. (All patients were also treated with oral diabetes medications.)
The between-group difference in A1c of 0.4%, while statistically significant, was lower than the 0.5 to 1.0% difference MannKind hoped to achieve in this study. Again, MannKind has every right to declare the study positive because it met the primary endpoint, but Afrezza's performance still underwhelmed.
Afrezza also caused more weight gain among type 2 diabetics and the difference in fasting blood glucose between Afrezza and placebo was not statistically significant.
All in, Afrezza is mediocre insulin, with lots of data, particularly around lung function, still undisclosed. I give MannKind 50-50 odds, at best, for an FDA approval this time around. (FDA has already rejected Afrezza twice.) Even if approved, Afrezza is far from the blockbuster product MannKind supporters believe it is, making MannKind a very over-valued stock today.
Next up,
Vical
(VICL)
.
Steven B. emails:
Nice call on VICL. Your views on the prospects for the Allovectin trial convinced me to sell and saved me some money. I don't always agree but I certainly always consider and respect your position. Investors should do themselves a favor and stop taking opposing opinions personally and use them to test the strength of their own thesis. Thanks and all the best.
Thanks, Steven. And I agree with you about the importance of testing your investment thesis -- bullish or bearish -- against the opposite argument. Unfortunately, there will always be investors like Ken Luskin of Intrinsic Value Asset Management who, to their clients' detriment, only view the other side as the enemy.
Note the dates on Luskin's tweets. Here's what happened to Vical soon after:
VICL
data by
Next up,
Osiris Therapeutics
(OSIR) - Get Osiris Therapeutics, Inc. Report
:
No, Jason, you're not alone. Alexey Bersenev, who tweets under the handle @cell_nnm, collected
negative (smartly so) Twitter reactions
to the Grafix diabetic foot ulcer data.
On his blog, Bersenev also
questions Osiris' claim that Grafix is a true stem-cell product
:
To me, there is no any piece of evidence that Grafix indeed "stem cell product." Based on what Osiris is making a claim about it? Based on presence of MSC in the product? Well, let me tell you this - every piece of tissue mashed in a dish will contain some sort of stem cells and more likely they will be MSC or alike. Is it a valid reason to qualify product as "stem cell product"? NO! A drop of blood contains stem cells, but blood transfusion products are not "stem cell products." Donor organs for transplantation contain stem cells, but they are not "stem cell products."
Reality check on Osiris: CEO Randy Mills is making some ludicrous claims about Grafix and its wound-healing ability.
Grafix is not an FDA-approved drug or medical device. Grafix is a bandage embedded with unmodified and uncultured cellular tissue derived from human placentas and other growth factors. As such, Grafix is considered by FDA to be a human cells, tissue and cellular and tissue-based product, or HCT/P, which means it can be sold without regulatory review as a drug or medical device.
Grafix competes against many other, similar HCT/P products in the diabetic foot ulcer/wound-healing market.
MiMedx Group's
(MDXG) - Get MiMedx Group Inc Report
EpiFix is just one example. The most commercially successful wound-healing products --
Shire's
( SHHPY) DermaGraft and
Organogenesis'
Apligraf -- are actually classified as medical devices because they underwent formal FDA regulatory review.
Osiris' diabetic foot ulcer study compared Grafix to a plain bandage so the company cannot make any comparisons of Grafix to competing wound care products. In fact, all of these products are essentially the same and have similar wound-healing properties.
Osiris' Mills says Grafix is the best wound-healing product but this is just stock-promoting marketing blather. He has no data to back up his boast. In typical Osiris fashion, important details about the Grafix study, including baseline characteristics of the patients, wound recurrence and persistence of response data, have not been disclosed. The study has not been published or presented at a medical meeting yet. Osiris has a bad habit of using press releases to
promulgate half-truths about clinical trial results
, so there's no reason to believe last week's Grafix data announcement is any more transparent.
Dermagraft was approved in 2001 and only generates about $100 million-plus in annual sales. Apligraf sales are about the same. If you want to be highly optimistic and generous, assume Osiris is successful in obtaining Medicare reimbursement and bring in $50 million in annual peak sales of Grafix. That would be a remarkable achievement for Osiris given the company's poor commercial track record. A miracle, even.
Unfortunately, $50 million in revenue doesn't in any way justify a market value of $650 million.
The more likely scenario: Grafix flames out commercially just like Osiris' stem-cell therapy Prochymal has flopped. Remember Prochymal? Mills barely mentions the product anymore because more than a year after approval in Canada and New Zealand, sales are zero and attempts to file for U.S. approval have gone nowhere. Soon enough, Mills will also cease his over-exuberant Grafix spiels, to be replaced by the next
.
Moving on, Pelion has more of a lengthy comment than a question regarding
BioCryst Pharmaceuticals
(BCRX) - Get BioCryst Pharmaceuticals Inc. Report
and the market value ascribed to the early-stage hereditary angioedema (HAE) drug development program. I generally agree with him.
His take:
In this bubble environment we've seen stocks go wild on phase I data and even pre-clinical. In general I know you agree when stocks surge on phase I data it is seldom warranted but in some cases it is. Certain diseases are predictive of positive results at an early stage. Best example I can recall is Hep C when PSI-7977 phase 1 data came out and Pharmasset went thru the roof and never looked back.On the other hand, oncology companies that go up often come crashing down on phase I data.Biocryst is the latest example of a phase I trial propelling a stock and may make an interesting case study. The unrealistic positive sentiment in biotech is also a factor but Biocryst's stock price zoomed from $2 to $5 per share (July 18 - 24); its market cap increasing from $106 million to a high of $206 million based primarily on phase one pre-proof of concept data for their orphan drug indication HAE.  Note: Biocryst's market cap is now $310 million. In a less frothy climate, the market may have yawned but with the orphan drug sector hot, Biocryst went flying. It is an excessive reaction, in my opinion, when its HAE program still has to go through ph IIa, IIB and ph III studies. But is HAE a disease where early data is predictive? I don't know, but my gut says no. The early data may have validated plasma kallikrein as a drug target for HAE but the study was done on healthy patients. Not until Biocryst conducts ph IIB and III trials on patients with HAE can we learn to what extent BCX461 can reduce attack frequency.
Whether or not Biocryst is over-valued today is a subjective argument and shorting biotech stocks on valuation, particularly in this market environment, is silly bordering on suicidal.
With so little data, making a judgment call on BCX4161 in HAE is difficult. BCX4161 is a pill, so that's a potential advantage over
Viropharma's
(VPHM)
injectable Cinryze, but then, the pharmacokinetics of BCX4161 aren't exactly ideal. Right now, the drug must be dosed three times a day just to achieve therapeutic blood levels. Is a three-times-a-day pill really more convenient than an infusion every four days? I'm not sure, particularly if bad things happen to patients who fall out of compliance with that strict pill-taking regimen.
We'll know a lot more about BCX4161 after the next study -- the first in real HAE patients -- is completed.
Neeraj K. writes:
I love your articles, and was wondering about your thoughts on Amarin (AMRN) - Get Amarin Corporation plc Report. I read your article in early June, and am aware the stock is rising given some opinions that the FDA will come down with a favorable ruling. Do you disagree with said opinion? I'm curious as an investor, but also as a son with a parent currently taking Amarin's offerings. Any insight you could offer would be greatly appreciated, and I look forward to reading more of your work in the future.
You may have missed this if you don't follow me on Twitter, but here was my last thought on Amarin:
The stock offering in early July, which priced at $5.60 per share, was a profitable exit point for shorts, as I
. I have spoken to a few Amarin shorts who cashed out soon after this deal was announced. Victory, moving on, they said.
If Amarin fits the pattern of other biotech stocks, we should see a run-up into the October FDA panel. It sorta looked like Amarin was going to rally earlier this month, but the buying fizzled. Perhaps we'll see a stronger rally in September when summer vacations end.
I'm still negative on the FDA panel outcome, believing experts will want to see cardiovascular outcomes data from the REDUCE-IT study before Vascepa "Anchor" is approved.
-- Reported by Adam Feuerstein in Boston.
Adam Feuerstein writes regularly for TheStreet. In keeping with company editorial policy, he doesn't own or short individual stocks, although he owns stock in TheStreet. He also doesn't invest in hedge funds or other private investment partnerships. Feuerstein appreciates your feedback;
to send him an email.