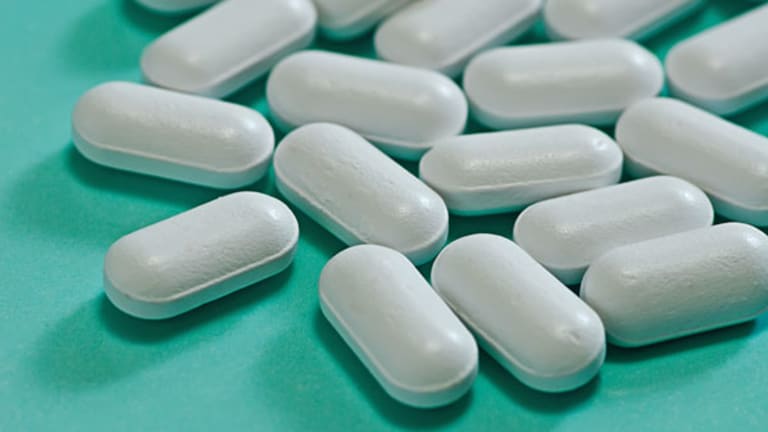 Biotech Stock Mailbag: MannKind, Ariad, Oncolytics Biotech
Biotech columnist Adam Feuerstein answers readers' questions about health-care companies.
Biotech columnist Adam Feuerstein answers readers' questions about health-care companies.
BOSTON (
) -- This week's Biotech Stock Mailbag opens with a tweet from eliasinthezone: "AF, what do you think about $MNKD? I hear a lot of good things but I haven't read yet an article from you on this stock."
The last time I wrote about
MannKind
(MNKD) - Get Report
was in November. I was asked
if the stock had found its bottom
. (It was trading just under $2 at the time.) I said I don't call bottoms but do recognize that MannKind could easily trade higher. Nonetheless, my bearish outlook on MannKind remains unchanged because Afrezza, if it's ever approved, will be a commercial flop. Results are expected this summer from the Afrezza clinical trials.
Sure enough, the run up into the Afrezza data is under way, with MannKind shares closing in on $4. Enterprise value is now a ridiculously high $1.2 billion. Stupid but no surprise given the retail investor cult still worshiping at the feet of company founder Al Mann.
MannKind expects to announce top-line results from the Afrezza phase III trials -- one each in type 1 and type 2 diabetics -- in the middle of August. If the studies are positive, the company says it can resubmit Afrezza to the FDA sometime in September or October. Assuming a six-month review, an FDA approval decision could occur in March or April 2014.
Frankly, I don't care if the Afrezza studies are positive or not. I'm more than happy to assume positive data. Even so, I'd say the odds of an FDA approval are a toss up, at best. Predicting FDA reviews of diabetes products today is a fool's errand. Seemingly out of nowhere, FDA rejected a long-acting insulin from
Novo Nordisk
( NOVO) in February, yet in March, the agency approved the first SGLT2 inhibitor, Invokana, from
Johnson & Johnson
(JNJ) - Get Report
.
FDA rejected a similar SGLT2 inhibitor from
Bristol-Myers Squibb
(BMY) - Get Report
and
AstraZeneca
( ZAN) last year.
For the sake of argument, let's be super optimistic and assume FDA approves Afrezza, allowing MannKind to introduce the second inhaled insulin device into the diabetes market. What happens next will not be pretty for MannKind or any investor silly enough to own the stock.
The fact is that Afrezza trips all the FDA red flags -- a new, unproven medical device, a diabetes drug that is inhaled into the lungs, two previous rejections, and a history of discord between MannKind and regulators. Good luck Al Mann-iacs because you'll need it.
I'll now hand over the Mailbag to David Kliff, a diabetes expert who runs the well-respected and widely followed
newsletter, to explain:
The major selling point for Afrezza is that it's a better form of inhaled insulin than Exubera. While there is some truth to this, the fact is Afrezza, should it come to market, will have to prove this point over and over. Physicians still associate inhaled insulin with Exubera and will need some major convincing that Afrezza isn't Exubera. This convincing will cost money that MannKind doesn't have. This is one of the most overlooked factors when investors, more like suckers, buy into the MannKind myth. Eli Lilly and Novo Nordisk have spent millions building brand awareness and formulary position for their short-acting insulins. So much so that when Sanofi tried to enter the short-acting market with Apidra, the company couldn't make a dent in the market. MannKind and whoever is dumb enough to partner with the company will have to spend millions just to have a chance at gaining share -- a task which will be even more difficult as Mann has consistently stated Afrezza would command a premium price based on the fact it's inhaled and not injected. He's also claiming Afrezza works better than the injectable competition, a belief not shared by everyone in the diabetes community, including Diabetic Investor.
But again, let's give MannKind the benefit of the doubt and assume by some miracle it does find a partner who likes to waste millions of dollars. Let's also assume Afrezza somehow finds its way onto insurance companies' formularies and physicians will actually recommend this unproven and unknown product to their insulin-using patients. What are the chances Afrezza will be reimbursed at the same rate as injectable short-acting insulin? Zero. Keep in mind, should Afrezza actually make it to market, it will launch around the same time biosimilar, short-acting insulins will also be arriving. Biosimilar insulins will cost less than the branded insulins and ultimately force the major players to either cut their prices or risk losing valuable market share. Even without a biosimilar, short-acting insulin, the major branded companies are already using price as a weapon to gain share. Insulin is becoming a commodity where price trumps performance.MannKind could find itself in a situation in 2014 similar to what Novo is facing today: Launching a premium-priced product into the market just when insurance companies are demanding further price concessions. Afrezza might receive reimbursement but that reimbursement will carry a higher overall price for the patient, who will be given a choice -- pay more out of pocket to use Afrezza or pay much less to stick with injectable short-acting insulin.Try as he might, Mann cannot get around the fact that when it comes to inhaled insulin, it doesn't matter if Afrezza is the best insulin ever invented (which it isn't.) Suckers who invest in MannKind believe Afrezza will be a blockbuster because it's inhaled rather than injected. Diabetic Investor doesn't necessarily fault Mann for his belief in Afrezza, after all he's invested nearly $1 billion of his own money into the company, so it makes perfect sense for him to make grandiose over-the-top statements about its potential. The fault lies with the investors who are dumb enough to believe the hype and buy into the inhaled insulin myth. Consider that Pfizer -- a company with far more resources than MannKind -- lost over $4 billion on Exubera.Diabetic Investor has tried to warn everyone that MannKind is nothing more than a disaster waiting to happen. It would be wiser to invest in lottery tickets than shares of MannKind. Yet just as there are baseball fans who believe the Chicago Cubs will win the World Series in the next century or so, there are also investors who believe in the inhaled insulin myth. As a good friend of Diabetic Investor likes to say, there is no cure for stupid.
Wow! David does not pull punches, which is why I admire him so much. If you invest in diabetes stocks, David's newsletter is a must read. You can
.
Moving on, Bruce Y. would rather stick his head in the sand than hear about the
on
Ariad Pharmaceuticals
(ARIA)
and its leukemia drug Iclusig.
Bruce writes, "You and
TheStreet
should, and hopefully will, be sued for your above referenced article. Because of your misleading story, many long-term investors in Ariad sold their shares at a greatly reduced price. This is a manipulative event which
TheStreet
has participated in. I now feel that my eyes have been opened to
TheStreet
and will never ever consider information for you or
TheStreet
to be of any value whatsoever."
Bruce, if you believe the bear thesis on Ariad is false, then the drop in the stock's price is a wonderful opportunity to buy the company at a more attractive price. Of course, while you're buying Ariad shares, CEO Harvey Berger intends to sell some of his holdings. He insists his pre-planned sales (via a 10b51 plan) have nothing whatsoever to do with faltering confidence in Iclusig or the rest of the company.
Berger, speaking Thursday:
"10b5 plans are plans for selling shares. What determines or limits my ability or any insiders' ability to acquire shares in the open market is our insider trading policy because you can either buy shares or sell shares possessing material inside information. If I could buy shares today, I would buy all the shares that I sold and ten-fold more. Today. But I can't because I know more than everybody else about what's going on in the company and what to expect. But there should be no doubt I would buy these shares in a second."
I hope Berger mispoke because 10b5-1 plans allow executives to buy or sell shares. He should know that. If Berger is so confident in Ariad, why is he selling any stock at all? Perhaps he can't buy more shares because he possesses inside information, but he could certainly terminate his 10b5-1 plan at any time. Berger isn't doing that. In my experience, CEOs have an uncanny ability to sell their shares at the top.
Laurence O. emails, "In view of the somewhat unexpected and
announced by
Amgen
(AMGN) - Get Report
, do you feel this calls for a reconsideration of your views regarding Reolysin of
Oncolytics Biotech
(ONCY) - Get Report
?"
Not yet, for a couple of reasons. First, Reolysin is a "dumb" cancer-killing virus. I know, that's not exactly a scientific description but what I mean is Reolysin is unmodified. Just like all viruses, Reolysin enters cells, hijacks the cell's replication apparatus and copies itself until the cell explodes. Oncolytics claims healthy cells have anti-viral capabilities to neutralize Reolysin. In some cancer cells, however, this anti-viral defense is turned off, which enables Reolysin to invade and destroy. Supposedly.
It's a neat trick, if it works. Unfortunately, Oncolytics has been more interested in
hiding Reolysin clinical data
(and altering clinical trials mid-stream) than producing results to demonstrate the oncolytic virus' efficacy.
Unlike Reolysin, Amgen's T-Vec is a "smart" virus, meaning it not only invades and kills cancer cells from within (like Reolysin) but it's also genetically modified to alert and strengthen a patient's immune system to fight the cancer. This added cancer immunotherapy capability may explain why T-Vec works but Reolysin does not.
On March 28, Oncolytics said it met the "primary overall statistical endpoint" in a
phase II study of squamous cell lung cancer patients
treated with Reolysin in combination with carboplatin and paclitaxel. Who cares? The study was single arm, so without a comparator, the Reolysin result -- an arbitrarily selected rate of partial tumor shrinkage -- is meaningless. (Nevermind that Oncolytics issued these same Reolysin squamous lung cancer data
.)
Alex C. asks, "Adam,
Seattle Genetics
(SGEN) - Get Report
has been on a tear in recent trading sessions and as a shareholder I'm not complaining, but I don't understand this move in the stock at all. A cursory look around the Internet makes me think it's one of the most un-followed biotech stocks of its size on Wall Street. Adcetris sales aren't spectacular, very limited data are available for the rest of its pipeline and what's supposed to be coming out won't for a long time. Can you shed some light on this a bit and if you can, offer your opinion of their pipeline, particularly ASG-5ME?"
Seattle Genetics shares rose 53% in the first quarter and 25% in March alone. The performance is nothing short of phenomenal. The stock is expensive. At $34 per share and a $4 billion enterprise value, Seattle Genetics trades at 18 and 14 times 2013/2014 revenue estimates, respectively. That's a significant premium to its peers given Adcetris market share for its approved indications is nearing the peak and sales won't grow much over the next two years.
The stock's EV/sales multiple is still high even if you believe Adcetris will grow more than expected due to European royalties and U.S. compendia listings this year and next.
Seattle Genetics is pricey but buyers keep piling in and the stock marches higher (much to the chagrin of short sellers.) How is this possible? Credit CEO Clay Siegall for attracting a core group of committed, long-term shareholders (the large health care fund Baker Brothers plus most of the mutual fund giants) who do not care about the short term. These investors own Seattle Genetics because they believe, like Siegall does, that expanded indications -- particularly front-line Hodgkin's lymphoma -- will eventually transform Adcetris into a billion-dollar plus drug. Throw in the pipeline (both internal and partnered) and the scarcity value of a proven antibody drug conjugate technology platform and Seattle Genetics is a core biotechnology holding with a stock that defies gravity. Siegall should bottle his secret sauce and sell it because whatever he's doing is clearly working.
Peter Stankowski, CEO of
Pharmepa
, writes: "Hi Adam, regarding your story
Steve Rosenman Says Amarin Has Sticky Web Eyeballs!
, I want to thank you for keeping Vascepa in the news. All this fuss regarding Vascepa has given a phenomenal boost to our sales. Our EPA (DHA free) Omega health supplements are virtually identical to Vascepa and have been available for years, thanks to all the press our sales have gone through the roof. Cheers."
You're welcome!
-- Reported by Adam Feuerstein in Boston.
Adam Feuerstein writes regularly for TheStreet. In keeping with company editorial policy, he doesn't own or short individual stocks, although he owns stock in TheStreet. He also doesn't invest in hedge funds or other private investment partnerships. Feuerstein appreciates your feedback;
to send him an email.