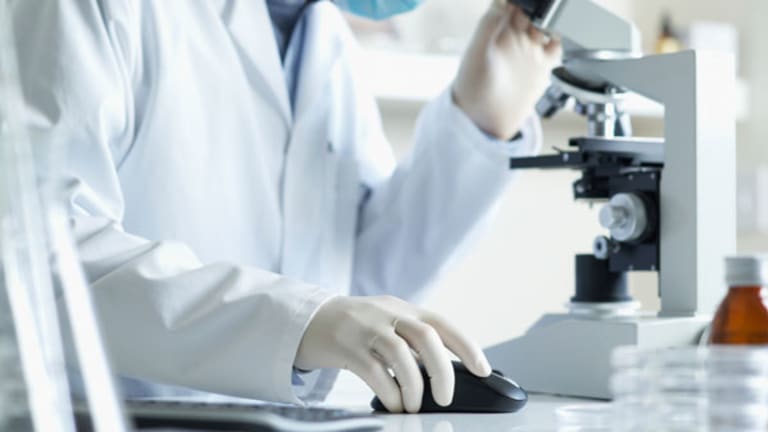 Biotech Stock Mailbag: Labopharm
Our biotech watchdog answers readers' questions and tweets about drug- and health care-related stocks.
BOSTON (TheStreet) --Pull up a six-month chart on Labopharm( DDSS) and you'd think something bad happened to the Canadian drug maker in early February. The stock went from around $1.40 last November all the way to a three-year high of just a penny under $3 on Feb. 3. But just as quickly, the stock round tripped under relentless selling pressure and is now back to around $1.60.
What happened in early February to trigger that much selling in Labopharm? Surprisingly, the U.S. Food and Drug Administration
approved
the company's new antidepressant Oleptro.
Yes, it was an FDA drug approval, not a rejection, which killed Labopharm's stock price. Confused? Many readers of the
Biotech Stock Mailbag
have been scratching their noggins over this one.
"I don't get it. Labopharm gets FDA approval and is about to launch a new drug into the multi-billion dollar anti-depression market but the stock is getting killed. Please explain what I'm missing here," writes Hank R.
Four Unique Stem Cell Therapies (Forbes)
Chris H. writes, "Could you do a piece on Labopharm? Do you think Labopharm is a buy at these levels? What kind of revenues do you see from their new depression drug?"
And "KIR465" pleads, "I bought Labopharm the day before the approval thinking it would go higher, but now I'm stuck. What should I do?"
Investors seem to be reacting to the approval of Oleptro as if the drug had been rejected because the commercial picture is very fuzzy. Oleptro is a once-daily formulation of trazadone, an anti-depressant and sleep aid that's been marketed since the early 1980s and is now generic and cheaply priced.
Oleptro is designed to be more convenient than the immediate-release form of trazadole currently prescribed by doctors, but is that enough to convince doctors to switch? And more importantly, will insurance companies reimburse patients who want to take Oleptro over a cheap generic?
The market has its doubts, which is why Labopharm's stock price plunged after Oleptro's approval. For its part, Labopharm has done little to assuage nervous investors. The company's approval was based on data comparing Oleptro to a placebo, which means there is little or no comparative data to demonstrate Oleptro's advantage over generic trazadone (other than convenience, which is a much tougher sell these days.)
Labopharm still has no marketing partner for Oleptro, even as the drug's third-quarter launch date approaches. More recently, the company has been dropping hints that it may launch Oleptro on its own using a contract sales force.
Doug Miehm, an analyst with RBC Dominion Securities, told clients recently that an Oleptro launch using a contract sales force has the potential to boost Labopharm's profit margin for the drug, since it will retain most of the drug's economics. But that only works if the drug launch is successful. However, the mere fact that Labopharm is considering selling Oleptro on its own -- and raised money through a stock sale after the drug's approval -- could suggest that potential marketing partners have sniffed around Oleptro but passed on it because the commercial prospects aren't lucrative enough.
Assuming Labopharm does launch Oleptro next quarter, investors should pay attention to the pricing and the level of acceptance of the drug by insurance companies. Will payors substitute Oleptro for generic trazadone? If not, how high of a co-pay will they require for an Oleptro prescription?
In terms of sales, the Canadian drug analyst at TD Newhouse says one measure of market acceptance for Oleptro will be $20 million in 2010 sales, which equates to about 5% market share. (For the record, the TD Newhouse analyst doesn't expect Labopharm to clear that sales hurdle, which is why he has a sell rating on the stock.)
Staying with the theme of commercial launches of newly-approved drugs, Jugdeep S. asks about Fanapt, the schizophrenia drug owned by
Vanda Pharmaceuticals
(VNDA) - Get Vanda Pharmaceuticals Inc. Report
that debuted in the market in January and is sold by marketing partner
Novartis
(NVS) - Get Novartis AG Report
.
"I am curious as to why you think we may need multiple quarters of Fanapt sales before we can understand where Titan and Vanda are going? If we hit big or lose big, wouldn't it justify a move along that route and why is it highly unlikely to see such moves," Jugdeep asks.
Novartis announced first-quarter Fanapt sales of $21 million Tuesday in conjunction with the drug firm's earnings report. Novartis didn't offer any commentary on the Fanapt sales performance during its conference call. Vanda and
Titan Pharmaceuticals
(TTNP.PK)
receive a royalty based on Fanapt sales by Novartis; Vanda reports first-quarter financials on April 29.
Given that Fanapt launched in January, assume that most of the $21 million in Fanapt revenue is actually wholesaler inventory stocking and not actual patient demand for the drug.
Prescription data from IMS bears this out. A total of 2,359 total prescriptions were written for Fanapt from January through the end of March, according to IMS Health. At a price of approximately $600 per prescription, that implies Fanapt end-user sales of $1.4 million. (I don't subscribe to IMS' prescription drug data, but the Fanapt numbers were provided to me by a fund manager who does.)
Two ways of looking at this situation: If you're a Vanda/Titan bull, the $21 million in Fanapt revenue for the just-completed quarter, even though most is inventory stocking, suggests that Novartis is gearing up for heavy end-user demand and the company believes that the Fanapt launch will go well.
If you're a bear on Fanapt and these stocks, you look at the IMS data and say patient demand for the drug is weak, and therefore, the next few quarters of sales must come from inventory de-stocking. This means the $21 million in quarterly sales will be a high water mark for the drug and won't likely be reached again for quite some time.
I received an email dump of epic proportions after my
dissection of the Serdaxin depression data
from
Rexahn Pharmaceuticals
(RNN)
this week. Most of the responses were the shrieking harpy variety, but not all, including Rex W. who writes, "I understand why you're focused on Serdaxin but the great thing about Rexahn is that it's working on lots of drugs. I think the stock moves higher as Rexahn gets ready to release data on its other big drug, Zoraxel for erectile dysfunction."
I have little doubt the penny stock promoters will be working overtime to move Rexahn higher in front of whatever Zoraxel data awaits, but be forewarned that Serdaxin and Zoraxel are the same drugs. The active ingredient in both is clavulanic acid, the old antibiotic-boosting agent.
I argued persuasively for why investors should look askance at the Serdaxin data in depression, so color me equally skeptical about Zoraxel in erectile dysfunction.
If and when Rexahn does provide investors with Zoraxel data, let's hope the company is more transparent than it was this week with the Serdaxin results.
Rexahn issued a press release last May announcing positive results of the phase II study of Zoraxel in erectile dysfunction. This is what the company said at that time:
"The study, which was designed to assess Zoraxel's safety and preliminary efficacy in male subjects ages 18 to 65 with ED, demonstrated a dose dependent treatment effect achieved by Zoraxel as assessed by the IIEF survey. Zoraxel was found to be safe and well tolerated, with no serious adverse events reported. Furthermore, subjects treated with Zoraxel demonstrated improved erectile function and significant improvement in the quality of life measures. Planning is underway for the Phase IIb trial, which will include the Sexual Encounter Profile (SEP) survey, IIEF and quality of life study endpoints."
It's been almost a year since Rexahn dropped that announcement, so what's taking so long for the company to provide the actual data from the study? Like with Serdaxin, Rexahn seems to prefer press releases over scientific publication or presentation at medical meetings.
A look at the
Zoraxel study on ClinicalTrials.gov
shows the phase II study enrolled 40 patients, randomized to one of three doses of Zoraxel (5 mg, 10 mg and 15 mg) or a placebo. The primary endpoints are scores on the International Index of Erectile Function (IIEF) and the Sexual Encounter Profile (SEP) -- both standard measures used in studies to assess erectile dysfunction.
Mark T. writes, "Thank you for all your wonderful insight into
Cell Therapeutics
(CTIC) - Get CTI BioPharma Corp. Report
. I was able to make some money on this stock because of your input. On another note, I am invested now in
Celldex Therapeutics
(CLDX) - Get Celldex Therapeutics, Inc. Report
. Have you ever written about them? Can you provide us with some of your insight here? Is it the next
Dendreon
(DNDN)
?"
Celldex's lead drug,
, is a cancer immunotherapy (so, a cancer "vaccine" cousin to Dendreon's Provenge) targeting glioblastoma multiforme (GBM) aka brain tumors as its lead indication. The data, to date, has been very promising albeit from small, uncontrolled studies, with median overall survival going out to 23-24 months.
CDX-110 is partnered with
Pfizer
(PFE) - Get Pfizer Inc. Report
, which refers to the drug as PF-04948568.
It's too early to tell if Celldex is the next Dendreon, but interim data from an ongoing, phase II study of CDX-110 in newly diagnosed GBM patients will be presented on Saturday, June 5 at the
American Society of Clinical Oncology's
annual meeting. This study, known as ACT-III, treats GBM patients with CDX-110 in combination with radiation and the chemotherapy drug temozolomide.
Looking at the Celldex chart, it appears the stock has already started to move in anticipation of the ASCO meeting. The ACT-III data are a key catalyst for the stock moving forward, so they're something for investors to focus on.
ASCO will post online research abstracts for the annual meeting on May 20 at 6 p.m. EDT. I don't know how much of the ACT-III data, if any, will be contained in the abstract.
I'm still putting my ASCO stock list together. Celldex is on there, so is
Arqule
(ARQL) - Get ArQule, Inc. Report
. Others in contention are
Pharmacyclics
(PCYC)
,
Celgene
(CELG) - Get Celgene Corporation Report
,
Sunesis Pharmaceuticals
(SNSS) - Get Sunesis Pharmaceuticals, Inc. Report
and
Bristol-Myers Squibb
(BMY) - Get Bristol-Myers Squibb Company Report
. This isn't an exhaustive list. Let me know your favorite ASCO stock.
Speaking of Cell Therapeutics, I was pleasantly surprised to read so many supportive emails in response to my column suggesting that
CEO Jim Bianco should resign for the good of shareholders
. I'm still waiting for him to take my advice.
George P. writes, "The Bianco piece is the best article that you have ever written. It should get a Pulitzer."
Phil O. agreed. "Well done, Adam. Never owned the stock but appreciate the call to an incompetent CEO. We need more of this."
Harry asks, "Out of curiosity, what is your beef with Cell Therapeutics if you don't own or short this stock? ... It seems you want to slime the guy with as much punch and venom as possible. Without reading the garbage on the message boards, let's hear it from you -- what's your beef?"
I'm trying to prevent biotech investors from throwing their money away in a bad stock. Emails like this one from Gerald P. are the reason I write about Cell Therapeutics.
"Great report, Adam. I watched my father lose most of his savings on this stock because a broker told him to buy in 2006 and buy hard. I have watched it over the years and it is frustrating. I hope your article saves some people some of their hard-earned money."
Me too, Gerald. And thanks for your email.
-- Reported by Adam Feuerstein in Boston.
Follow Adam Feuerstein on
.
Adam Feuerstein writes regularly for TheStreet.com. In keeping with TSC's editorial policy, he doesn't own or short individual stocks, although he owns stock in TheStreet.com. He also doesn't invest in hedge funds or other private investment partnerships. Feuerstein appreciates your feedback;
to send him an email.