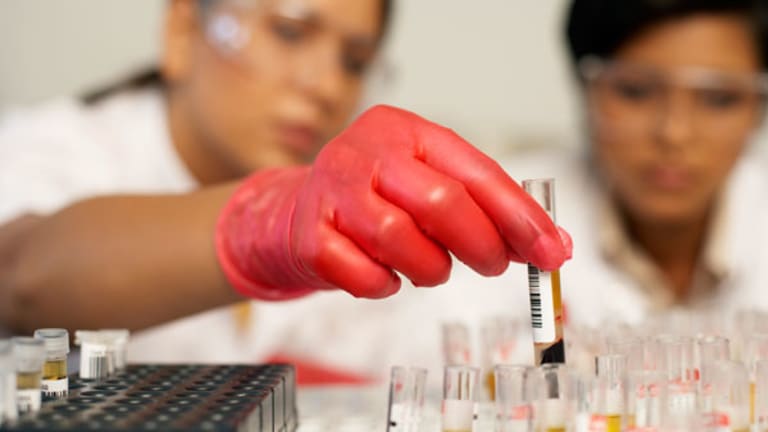 Biotech Stock Mailbag: Keryx Biopharmaceuticals
Columnist Adam Feuerstein reports on fan mail, hate mail and readers' queries about Keryx and other biotech stocks.
BOSTON (TheStreet) -- Let's kick off this week's Biotech Stock Mailbag with a tweet rather than an email.
Via Twitter, @bobbandera asks, "
Any opinion on the Keryx Biopharmaceuticals (KERX) - Get Keryx Biopharmaceuticals, Inc. Report data released for its colon cancer drug?
"
The Keryx cancer drug in question is perifosine and much of the data presented this week are not new, but first released last May at the American Society of Clinical Oncology (ASCO) annual meeting. Here's what I
about the perifosine data last May:
"The data presented on perifosine at ASCO came from a small, randomized phase II study in patients with second- or third-line metastatic colon cancer. Patients treated with a combination of perifosine and the chemotherapy Xeloda reported that it took 28.9 weeks before their tumors started growing again. That's more than double the 11 weeks for patients treated with Xeloda alone.
"Twenty percent of patients in the perifosine arm of the study reported tumor shrinkage compared to 7% for patients in the Xeloda-alone arm. Perifosine patients were also living longer, although survival data is not yet mature."
On Monday, Keryx presented an update to this perifosine trial. Importantly, the now-mature survival data looks strong, with median overall survival of 18 months for the perifosine-Xeloda patients compared to 11 months for the Xeloda-alone patients. The survival benefit was statistically significant in favor of perifosine. The rest of the efficacy data -- response rate and progression-free survival -- remained unchanged from when the data were first presented last May.
These data are certainly encouraging, but as I
, this phase II study was small, with only 38 patients enrolled. And only half the patients in the study received prior treatment with Erbitux or Vectibix, the two colon cancer drugs from the EGFR inhibitor class marketed by
Eli Lilly
(LLY) - Get Eli Lilly and Company Report
and
Amgen
(AMGN) - Get Amgen Inc. Report
, respectively, that are commonly used in second- and third-line colon cancer patients.
On the side effect front, anemia and hand-foot syndrome -- at 15% and 30%, respectively -- seem to be the most worrisome adverse events related to perifosine.
The updated perifosine data hasn't had much impact on Keryx's stock price this week, which closed Thursday at $2.76. The fact that much of these perifosine data were previously known could account for the muted stock price reaction.
Keryx was the third-best performing biotech/drug stock in 2009, so clearly investors are taking an interest in the development of perifosine. (The drug is also being studied in a phase III study of late-stage multiple myeloma patients.) Investors who bought Keryx after the data were
last spring have done exceedingly well.
On a cautionary note, be aware that there's a certain level of wariness or mistrust about Keryx among some of Wall Street's professional biotech investors. Mention Keryx to a gang of biotech hedge fund guys and many of them will roll their eyes and mutter, "Ugh, isn't that a Paramount Capital spinoff?"
Paramount Capital, now defunct, was a biotech merchant bank/hedge fund that earned a rather dubious reputation in the late 1990s and early part of the aughts for privately funding (and ultimately spinning out publicly) biotech companies with pipelines stocked full of old or junky drugs that never worked. Often times, Paramount-funded companies would buy other Paramount-funded companies to boost their market value.
Genta
(GETA.OB)
was probably Paramount's most famous (or infamous) creation.
Keryx is also a Paramount spinoff and perifosine is an old drug. Its provenance dates back to the U.S. government labs of the National Cancer Institute, where the drug was tested in a bunch of early-stage trials but never really moved forward.
In 2002,
Access Oncology
, a privately held drug firm also created by Paramount Capital, acquired U.S. rights to perifosine. In January 2004, Access Oncology was acquired by Keryx. (Perifosine's ex-U.S. rights are owned by
Aeterna Zentaris
(AEZS) - Get Aeterna Zentaris Inc. Report
.)
Keryx's management team, past and present, has ties to Paramount. Michael Weiss was a managing director of Paramount who also founded and served as CEO of Access Oncology. He then became chairman and CEO of Keryx and held those reins when the company blew up in 2008 after the phase III trial failure of a drug for diabetic nephropathy.
Weiss eventually left Keryx, replaced by current CEO Ron Bentsur, whose previously job was CEO of
XTL Biopharmaceuticals
(XTLBY.PK)
, another failed Paramount-funded company. XTL Biopharma went bust in November 2008, also after a major clinical trial failed. Bentsur was chief executive of XTL at that time and Weiss served on the company's board.
The perifosine data in colon cancer are impressive and not easily debunked or dismissed because they're derived from a randomized, controlled study (albeit a small one). But you should know that professional investors with long memories have seen similar promising mid-stage drug data from Paramount-seeded biotech companies before, ones that failed to survive pivotal phase III trials. This is a stigma, rightly or wrongly, that Keryx needs to overcome.
How does it do that? Positive results from the perifosine phase III study in multiple myeloma would do the trick. So would a partnership for the drug with a well-regarded company. (One possible hiccup for a partnership: perifosine's composition of matter patent expires in 2013. Even a possible patent extension to 2018 makes the drug a bit long in the tooth.)
Keryx has come a long way since last spring, and with an enterprise value of about $115 million, there's definitely upside if the company can continue to execute well.
Tim K. writes, "
After listening to the presentation by Dr. Robert Lodder of Spherix (SPEX) - Get Spherix Inc. Report during the OneMedForum, I'm intrigued by the potential of D-tagatose as a treatment alternative for Type 2 diabetes. The low market cap, lack of debt, positive interim Phase III results as well as proven safety profile suggests to me that Spherix is ready for a dramatic upswing in 2010 as it gets ready to file its New Drug Application. What do you think of Spherix, and with so many different diabetes treatment options being developed out there, what would be the likelihood of a major company being interested in a partnership or buyout after final Phase III results are out?
"
Spherix faces many difficult challenges. D-tagatose isn't really a drug as we generally think of them. It's a naturally occurring, low-calorie sugar that has already been approved (deemed safe) by regulators as a food ingredient. Efforts by other companies to find a commercial market for tagatose have not been successful.
Spherix owns intellectual property rights to use tagatose -- which it calls Nutralose -- as a treatment for Type 2 diabetics. Early studies have shown some limited promise and the company is proceeding with a phase III study. Spherix announced the completion of patient enrollment in this study on Jan. 12.
At best, the phase III study of Nutralose is successful but I doubt whether this "new" sugar is going to demonstrate anything more than a modest benefit for Type 2 diabetics. That's the limitation that non-drug drug treatments for diabetes -- and there are a lot of them out there -- carry.
Spherix has other problems. The company raised some money in November but still can't commercialize Nutralose on its own. In fact, it doesn't even have a reliable supplier of raw material tagatose. Finding a partner willing to take a shot at marketing a "nutraceutical" for diabetes is made more difficult because Spherix's key tagatose patents expire in 2012. (An extension might be granted if the product is approved, but long enough to justify an investment? I doubt it.)
I can understand why the Spherix story would be intriguing, but the realities of the drug business make this company's success a huge long shot.
Ron L. writes, "
In your Medivation (MDVN) story this week, you didn't mention that the stock has been taking a beating since the beginning of the year. I appreciate your optimism but it seems like the market is saying otherwise. Can you comment on why you think the market is wrong?
"
Medivation is down about 13% since the beginning of the year, but let's remember that the stock has also more than doubled in value over 2009. I'm not surprised to see Medivation's price fall as we get closer to the Dimebon phase III trial results. Investors who have made money in this stock over the past year are wise to take profits. I heard that a lot of the recent selling was tied to a single big seller.
I am boldly predicting a win for Dimebon, but I'm not reckless either. Alzheimer's disease studies are high risk, Dimebon's included. This is one of those binary events in biotech in which investors who want to play need to be hedged in some way.
On a related note, via Twitter, @rabmanduky asks,
"Are you worried about the insider selling in Medivation? The CEO, CFO and directors are selling."
The selling should be watched, but it doesn't bother me too much. Medivation's executives all have 10b5-1 trading plans in place, which is supposed to preclude them from selling on insider information.
If the Dimebon study fails, @rabmanduky, please send another tweet reminding me that I should have been more worried.
Tobie M. has some words for me about
GenVec
(GNVC)
:
"I can't tell you how much I think your take on biotech stocks is just so wrong to me, the most recent being that of GenVec. You wrote an article in November 2008 stating that the 184th event should happen in late 2009 and basically wrote the article with a bias towards TNFerade not working, people dying etc. Well, the 184th event just happened last week -- that would be in 2010 -- weeks, possibly months, after this event was supposed to happen. In your new response recently, you seem to retract a bit of what you have said in the past, admitting some fault, but still keep the window open for the positive aspects of TNFerade.
"Ok, let me ask you, don't you think months of survival is better than dying right away? TNFerade obviously works, or else the event would've happened when you said it was going to, back in 2009. I can't wait to see your thoughts when positive results come out in a few weeks.
"
Gaming "events" -- we're really talking about patient deaths -- in a clinical trial using survival as the primary endpoint is tricky business. Companies can make educated guesses on how quickly patients will die, but it's impossible to predict with pinpoint accuracy.
That's why investors need to be very careful before drawing conclusions about the outcome of survival trials based simply on whether or not the death events needed to analyze the study are coming in on time, early, or later than expected.
With Genvec, specifically, the 184th death event in the TNFerade pancreatic cancer trial is later than expected, but not by much. A few weeks? A month? And Tobie, don't be so sure that it's TNFerade patients living longer -- it might be the placebo patients. I don't think the first look at the data from the TNFerade trial offered anything to be encouraged about, but that doesn't preclude a turnaround in opinion from Look No. 2. We'll know soon enough.
This is probably corny and unnecessary, but it's nice to get complimentary notes from folks like John H.:
"
I have been reading the comments that readers have given you on the recent Cell Therapeutics (CTIC) - Get CTI BioPharma Corp. Reportarticle, and want you to know that there are more people who are with you than those who are against you. You are covering one of the most wickedly volatile sectors in all of stock investing, and making even the smallest negative comment on a company is like calling someone's baby ugly. People who invest in the biotech sector are essentially signing up for bronco-billy stocks, and there is absolutely no way you will please everyone with the articles you write. Please do not let the harsh responses deter you, because there are many out there in the investing world that want and need your research and opinions. Thanks for your hard work!
"
And then there are guys like Jim J.:
"Dude! It's ok. I understand completely where you were coming from. Don't take it hard on yourself. People don't realize you're drunk half the time at these conferences and you aren't really listening to them, just pretending to. You've bashed so many stocks and it's just sad with your incorrect information you post. But I give you applause for them because even after people think you're such a BLEEP, you never go away, like cockroaches. Well buddy, keep up the poor work.
"
And so it goes...
-- Reported by Adam Feuerstein in Boston
Follow Adam Feuerstein on
.
Adam Feuerstein writes regularly for TheStreet.com. In keeping with TSC's editorial policy, he doesn't own or short individual stocks, although he owns stock in TheStreet.com. He also doesn't invest in hedge funds or other private investment partnerships. Feuerstein appreciates your feedback;
to send him an email.