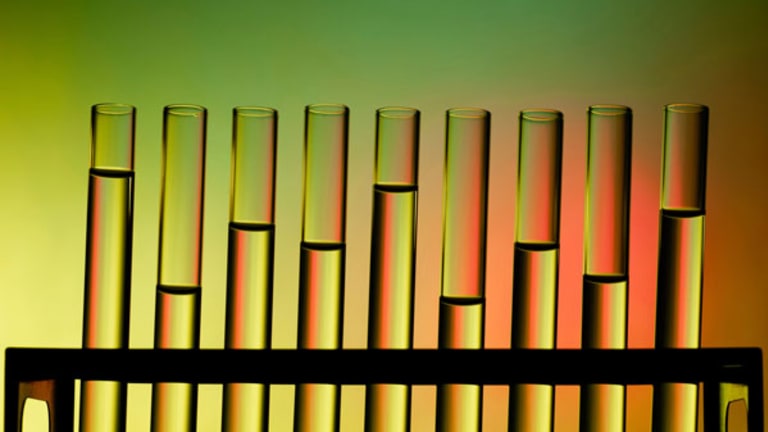 Biotech Stock Mailbag: Intercept Pharma, Inovio
Biotech columnist Adam Feuerstein answers readers' questions about health care companies.
BOSTON (TheStreet) -- Let's kick off this week's Biotech Stock Mailbag with a discussion about human foie gras.
"Velop45" asks: "Adam, I appreciate you keeping us on top of biotech events but I was hoping to hear more from you about Intercept Pharmaceuticals (ICPT) - Get Report. Do you have any predictions about how the NASH study will turn out?"
I don't have a prediction but I can set the stage for the "FLINT" study so you have a better sense of Wall Street expectations and what investors will be looking for in the data (whenever Intercept and the National Institutes of Health get around to making the announcement, hopefully later this summer or early fall.)
Let's rewind a bit. The "FLINT" phase II enrolled 283 patients with nonalcoholic steatohepatitis (NASH). Patients suffering from NASH have excessive fat collecting inside their livers. This fat causes liver cells to become inflamed and "balloon" or enlarge. As NASH progresses, the liver becomes more damaged and scar tissue -- fibrosis -- forms. Think of NASH as a waypoint on the downward spiral from obesity to cirrhosis and liver failure. NASH severity is measured by the NAFLD Activity Score (NAS). There are three components to the NAS -- fat accumulation, inflammation and ballooning. The NAS scale goes from 0 to 8, with a higher score indicating more severe disease.
The NASH patients in the FLINT study all had NAS scores of 4 or more at baseline. They were then randomized to receive Intercept's experimental drug OCA or placebo for 72 weeks. The study's primary endpoint is improvement in NAS, defined as reduction in the NAS score by at least two points with no worsening of liver fibrosis. The study has a bunch of secondary endpoints as well, most importantly NASH clearance, change in fibrosis and change in cholesterol levels.
Last January, Intercept and the NIH surprised everyone by announcing the early stop of the FLINT study because OCA demonstrated a statistically significant benefit on the NAS primary endpoint. The news sent Intercept shares soaring. Since then, Intercept's stock price has returned to earth somewhat, in part because OCA appears to have safety issues. The NIH also stopped the FLINT study early because OCA-treated patients were experiencing worrisome increases in cholesterol. We also later learned about a numeric imbalance in cardiovascular events going against OCA.
Without real data from the FLINT study, it's very difficult to assess OCA's potential as a new (perhaps the first) NASH treatment, which is why we're all waiting anxiously for the details to be presented. A guide for what to look for:
1. NASH clearance: It's not enough for a patient's NAS to fall from 6 to 4 because that means fatty liver is still present. It's much more clinically meaningful for patients to achieve a NAS of 0, which means full clearance of NASH. When we see the FLINT study data, pay attention to the number of patients who achieve NAS 0. Wall Street will react well if there's a statistically significant improvement in NASH clearance favoring OCA. A NAS 0 score will also indicate a strong response to OCA across all three components of the NAS score -- fat accumulation, inflammation and ballooning.
2. Liver fibrosis reduction: This is controversial. To meet the study's primary endpoint, OCA only has to stabilize fibrosis i.e. no worsening. However, many people believe a truly effective NASH therapy should reduce liver fibrosis along with elimination of fat in the liver. Intercept management has warned investors away from expecting a statistically significant reduction in fibrosis, mainly because the FLINT study's 72-week treatment schedule is too short. The sell-side bulls have been parroting this message in research notes previewing the FLINT data, urging investor clients to lower expectations on fibrosis. No worsening is a win, the analysts say. Perhaps, but again, this is a controversial subject that might not be resolved until FDA weighs in on the clinical requirements for getting a NASH drug approved. On the flip side, it would be a huge win for Intercept if the FLINT study does demonstrate a significant reduction in fibrosis favoring OCA. That would really be a home run result.
3. Cholesterol: We know already that OCA was associated with increases in LDL (bad) cholesterol and decreases in HDL (good) cholesterol during the course of the FLINT study. We don't know the magnitude of the cholesterol-level change, nor if the adverse changes worsened or improved over time. These are all very important details which should be disclosed in the full presentation of the FLINT study data. The cholesterol safety data are important because higher LDL raises the risk for cardiovascular adverse events -- heart attacks, strokes, etc. And remember, NASH patients are overweight, many suffer from diabetes, so they're already at higher risk for heart-related problems. Getting any drug approved requires a favorable balance of efficacy and safety. If OCA causes a significant elevation in LDL and only marginally improves NAS score, the FDA might require a successful cardiovascular outcome study as a pre-condition for approval. That would be a disaster for Intercept. However, if the OCA-derived LDL increase is small or goes away over the course of the study, FDA could be more lenient and allow Intercept to seek approval based on a phase III study using a NAS clearance primary endpoint alone. That's what the Intercept bulls are hoping for.
4. Cardiovascular events: Intercept's 10-K disclosed 10 serious cardiovascular events in seven patients enrolled in the FLINT study. More of the cardiovascular events occurred in OCA patients, although investigators deemed none of the events definitely related to the drug. We need to see more details about these cardiovascular events, and learn if any new events were reported.
Moving on, my skeptical take on Inovio Pharmaceuticals (INO) - Get Report and the VGX-3100 study results set the Hostile React-o-Meter spinning round and round. Eli K. emails:

To call you a dopey moron would be a major compliment. You're the king of spin!!!, which woman with a CIN 2/3 prognosis would not chose to take this vaccine to improve her chances by 60% of not contracting cervical cancer. Inovio is a straight shooter, there is not one iota of evidence that there was any spin, the SPIN is ALL YOURS, trying to once again prove that you're right when totally wrong and clueless, stick to political science dopey moron ( yes I just gave you a compliment), stay out of the lives of do good biotechs that are trying hard to find solutions to improve the human condition by solving complex diseases.
Even if you believe Inovio's brief description of the VGX-3100 study results (
I don't, but you knew that already
), the vaccine's ability to regress high-grade cervical dysplasia is woefully inadequate relative to current treatments. Wednesday's data are just another reminder of Inovio's decades-long failure to develop robust DNA vaccines.
If a woman is diagnosed with high-grade (CIN 2/3) cervical dysplasia today, the most common treatment is outpatient surgery, which has a 90%-plus success rate. Don't take my word for it, here's an informational article on cervical dysplasia treatments posted on the University of Maryland Medical Center web site:

Surgical removal of abnormal tissue is the most common method of treating cervical dysplasia. Ninety percent of these procedures can be done in an outpatient setting. These procedures include:

Cryocauterization -- Cryocauterization uses extreme cold to destroy abnormal cervical tissue. This is the simplest and safest procedure, and it usually destroys 99% of the abnormal tissue. Cryocauterization is frequently performed without anesthesia.

Laser therapy -- Lasers destroy abnormal cervical tissue with less scarring than cryocauterization. Lasers are more costly than cryocauterization, are performed with local anesthesia, and have a 90% cure rate.

Loop electrosurgical excision (LEEP) -- During a LEEP, a thin loop wire excises visible patches of abnormal cervical tissue. LEEP is performed with local anesthesia and has a 90% cure rate.

Cervical conization -- During a cervical conization, a small cone-shaped sample of abnormal tissue is removed from the cervix. Cervical conization requires general anesthesia and has a 70 - 98% cure rate, depending on whether cancer cells have spread beyond the cervix.
Even if you account for the small added risk of surgery, Inovio would have to demonstrate a success rate of 90% in order for VGX-3100 to be clinically relevant. Wednesday's result showing a 49.5% clearance rate for VGX-3100 doesn't even come close. And that was from a small, phase II study in which you'd expect much better results than you'll ever see when Inovio conducts a larger, phase III study.
Inovio has you fooled into believing a comparison between VGX-3100 and a placebo is important. It's not because current treatments for high-grade dysplasia are already so effective. Companies like Transgene and Advaxis (ADXS) - Get Report have tried to develop non-invasive treatments for cervical dysplasia but have failed because they can't match the efficacy of simple, outpatient surgery. Inovio will fail, too, it's just going to take more time because the company needs to advance VGX-3100 in order to raise more money and promote its stock price.
Adam Feuerstein writes regularly for TheStreet. In keeping with company editorial policy, he doesn't own or short individual stocks, although he owns stock in TheStreet. He also doesn't invest in hedge funds or other private investment partnerships. Feuerstein appreciates your feedback;
to send him an email.