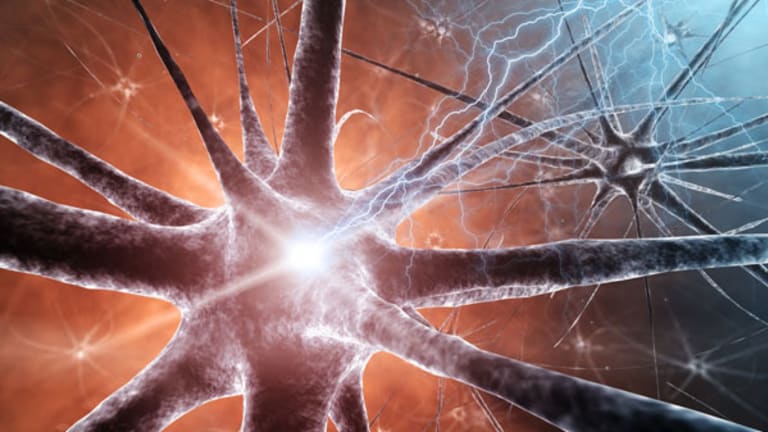 Biotech Stock Mailbag: Immunomedics
Our biotech watchdog answers readers' questions and tweets about drug- and health care-related stocks.
Our biotech watchdog answers readers' questions and tweets about drug- and health care-related stocks.
BOSTON (
) -- The Biotech Stock Mailbag went AWOL last week. My apologies. I'm back and kicking off this week's Mailbag with an email from EK Watt on
Immunomedics
(IMMU) - Get Report
and its experimental lupus drug.
EK asks, "Can Immunomedics be the competitive killer in lupus to
Human Genome Sciences'
( HGSI) Benlysta?"
Human Genome's Benlysta has about a three-year head start on Immunomedics' epratuzumab (e-mab, for short), so EK's question is difficult to answer. Data from a phase II study of e-mab in lupus patients will be presented at a European rheumatology conference on June 19. The Belgian drug firm
UCB
is running the e-mab lupus program under a license from Immunomedics.
The
research abstract for the e-mab phase II lupus study
was made available online Wednesday night. Lupus patients treated with 2,400 mg of e-mab reported a 43% response rate compared with a 21% response rate for patients treated with placebo. Response was measured after 12 weeks of treatment. E-mab doses of 200 mg, 800 mg and 3,600 mg also were studied.
Here are two views of the data contained in the abstract, first from a health care fund manager who is long Immunomedics. (His firm's compliance rules bar him from speaking publicly.)
"The data look pretty good and interesting with three caveats -- the highest dose was dead negative, did nothing, not even a trend. Also, the statistics are post-hoc (UCB never had a statistical analysis plan since this study was dose-ranging). The original press release
issued in August 2009 had no p values and Immunomedics was criticized for this, so they did some albeit post-hoc. Finally, these results are driven by small numbers of patients.
The study is a very simple design -- get standard of care and then either e-mab or not. The drug appears to work more quickly than Benlysta -- 13 weeks and well-tolerated. The highest dose, though, is a head scratcher... I think the data are overall positive and I think the data are real -- but very little comfort when predicting the phase III data since such small numbers."
Avik Roy, health care analyst with Monness Crespi Hardt, presents the bear story on Immunomedics and the e-mab lupus data. Roy has a selling rating on Immunomedics and he lowered his price target to $1.50
after
the e-mab lupus research abstract was posted Wednesday night.
> > Bull or Bear? Vote in Our Poll
From his Thursday research note:
"No correlation between dose and response. Critically, the performance of the highest dose of epratuzumab, 1800 mg every other week
3,600 mg total, was indistinguishable from that of placebo. In the placebo group, 8 of 38 patients achieved a response (21%), whereas in the 1800 mg Q2W group, 9 of 38 patients did (23%). Typically, an active drug generates more responses as the dose goes up. In trials where the response goes down as the dose goes up, the positive signal is usually the product of statistical noise, rather than of a true biological effect."
More from Roy's note:
"P values are meaningless. The EULAR abstract discloses p values for the performance of the 600 mg weekly and 1200 mg every other week arms of the study relative to placebo--0.03 and 0.07, respectively--but these p values are unadjusted, post hoc analyses. That is to say, they are not adjusted for the fact that the companies gave themselves 5 shots on goal. Statistically speaking, one must handicap these p values in proportion to the number of "shots" one gives oneself; the EULAR abstract concedes that the authors are not assigning themselves this handicap. Therefore, it is important to note that these p values are not statistically significant."
UCB has already announced plans to begin two, phase III studies of e-mab in lupus, pending final sign off from regulatory authorities in Europe and the U.S.
Moving on, Robert P. emails, "I'm surprised you didn't write anything about
Cytori Therapeutics
(CYTX)
and its stem-cell studies in cardiac disease patients, especially after you
previewed the Celution Systems data
. Judging by your last story, I suspect you're skeptical but I still want to know what you think."
I wouldn't say I'm skeptical as much as I'm cautious and realistic about the limited conclusions that can be drawn from Cytori's current efforts to treat heart disease patients with adult stem cells.
Previously published research from other stem-cell studies have shown similar results -- positive improvements in certain surrogate measures of heart function at six months or even 12 months. Yet when patients are followed for longer time periods, these benefits aren't sustained and the stem cell "repairs" to the heart don't result in patients living longer or having fewer future heart attacks, strokes or re-hospitalizations -- the only measures of efficacy that really matter in cardiac studies.
Cytori's Celution System device harvests adult stem cells from a patient's own belly fat. In the Apollo study, these stem cells were injected back into patients after a heart attack. After six months of follow-up, Cytori says the adult stem cells reduced the size of the heart injury, increased the amount of blood supply to the heart muscle and boosted the heart's blood-pumping ability compared to treatment with a placebo.
Those are all positive findings, but not unexpected or clinically meaningful -- yet.
In May 2007, researchers published in the
Archives of Internal Medicine
a meta-analysis of 18 studies in which heart disease patients, including heart attack patients, were treated with bone marrow-derived stem cells. The analysis, encompassing almost 1,000 patients found that stem-cell therapy improved certain measures of heart function above currently available therapies, but the benefits to patients were "modest" and faded over longer follow-up.
The authors of the meta-analysis concluded that, "These results support conducting large randomized trials to evaluate the impact of BMC
bone marrow-derived cells therapy versus the standard of care on patient-important outcomes."
In another study, published in June 2009 in the
European Journal of Cardio-thoracic Surgery
, Turkish researchers treating heart disease patients with bone marrow-derived stem cells also reported improvements in certain heart function measures compared to a control group. Yet when both groups of patients were followed for five years, there was no difference in survival.
Again, the Turkish researchers concluded that the question of whether or not stem cells repair damaged heart tissue and benefit patients could only be answered by data from large, long-term randomized clinical studies.
Cytori's Apollo heart attack study treated just 12 patients (nine patients with stem cells) for six months and didn't assess efficacy with the types of endpoints that matter most to regulators and doctors.
In the week since the Apollo data were announced, Cytori's stock price fell then rebounded but remains essentially flat. This muted reaction speaks to the equivocal nature of the data.
Health care analyst Kevin McNamara with BioLogic Equity Research, a Cytori bear, issued a more scathing review of the Apollo study on Thursday, describing the data as frivolous and the conclusions reached spurious.
"Nonetheless, based on the results of the 14-patient single-dose 'dose-ranging' study that included only 9 treated patients, Cytori purports to be finalizing the design and protocol for a 150-200 patient European pivotal study expected to begin in late 2010 or early 2011. If the trial were to enroll at a rate similar to that of the first dose cohort (14 patients in 16 months), the study would be completed by 2030," writes McNamara, reiterating his sell rating.
You want the bull side of the argument? Steve Brozak of WBB Securities described the Apollo data as a "heartbeat away from a stem cell breakthrough" and upped his price target on buy-rated Cytori to $16.
@sqwii tweets, "You have to look into
Acadia Pharmaceuticals
(ACAD) - Get Report
in the coming weeks. This one is about to go, big news coming soon and a fundamental good company."
Acadia has been dead money since September 2009 following negative results from a phase III study of the company's lead drug pimavanserin in patients suffering from Parkinson's disease psychosis. The failure of this study sent Acadia shares plunging from $6 to $2, where they remain.
The stock closed Wednesday at $1.48, which means Acadia is trading close to the value of its cash on hand.
Wall Street has lost confidence in pimavanserin, but Acadia and its partner, the Canadian drug maker
Biovail
( BVF), persevere. The companies recently announced plans to begin a new phase III study of pimavanserin in Parkinson's disease psychosis. Patients in this new study will be treated with pimavanserin at a higher dose that demonstrated a signal of efficacy in the failed phase III study.
Acadia and Biovail are also moving forward with plans to study pimavanserin in schizophrenia and Alzheimer's-induced psychosis.
If Acadia is about to "go" because big news is coming soon, as @sqwii suggests, I can't find it. The next slug of pimavanserin data is still a ways off because the new phase III study in Parkinson's is only just beginning. Acadia is a catalyst-challenged and cash-burning stock for the moment.
Again, via Twitter, @NY_UnratEdition asks, "Nothing about
Cyclacel Pharmaceuticals
(CYCC) - Get Report
? I'm disappointed!"
@NY is referring to the absence of Cyclacel from my
watch list of stocks for the upcoming American Society of Clinical Oncology
annual meeting.
No reason other than space constraints explains the exclusion of Cyclacel from my ASCO list. At the ASCO meeting, Cyclacel will be presenting another update from an ongoing phase II study of its experimental drug sapacitabine in patients advanced myelodysplastic syndrome (MDS). Patients in this study were previously treated with either Vidaza or Dacogen, two currently approved MDS drugs marketed by Celgene and Esai, respectively.
Cyclacel is awaiting Food and Drug Administration approval on the final design for a phase III study of sapacitabine in elderly patients with acute myeloid leukemia.
Next up, Mark M. emails, "I recently invested in
Rexahn Pharmaceuticals
(RNN)
and made a couple bucks and I still own shares, but after two of your recent article comments I'm quite put off with Rexahn. I've been listening to Mr. Garza over at
BiomedReports
, but now after reading what appears to be
well thought out arguments on your part concerning Rexahn
products I am very confused, and worried.
Honestly, you sound quite knowledgeable and researched and I don't know why you'd have a grinding axe. Regardless of my making some money recently, I'd expect you'd have me walk away from Rexahn, correct? You've very nearly convinced me, in fact, I don't expect much more good news forthcoming based on your input. I do appreciate your articles and would appreciate your comments."
Rexahn announced plans Thursday to begin a phase IIb study of Zoraxel in patients with erectile dysfunction (ED). Rexahn says a new, larger (approximately 225 patients) mid-stage study of Zoraxel is supported by positive data from a smaller, 40-patient phase IIa study in ED conducted last year.
The data from the
have never been disclosed. Rexahn issued a press release in May 2009 claiming Zoraxel was effective in treating ED without offering any details. One year later, Rexahn chooses to keep these Zoraxel data in a lockbox, essentially telling investors to "trust us" while the next phase II study gets underway.
Sorry, but that's not acceptable. Rexahn's track record when it comes to clinical data transparency is spotty at best. As Mark points out, I
dissected Rexahn's last stab at data disclosure with the anti-depressant Serdaxin
and found a disturbingly large number of omissions and red flags.
On a related note, @guatama315 asks regarding Rexahn and the new Zoraxel ED study, "Does that mean
Rexahn's phase IIa study was approved by FDA to start the phase IIb?"
No! The only way FDA would have intervened in Rexahn's decision to start a new Zoraxel study is if the drug's safety data put patients at potential serious risk of harm. Absence a serious safety issue, FDA doesn't endorse or approve efficacy data from phase II studies. The decision to start a new Zoraxel study without disclosing data from the old study was made by Rexahn alone and does not come with an FDA endorsement.
More email. Alex J. writes, "Thank you for your great articles and in particular, your great work on the upcoming ASCO event. Just wanted to quickly ask for your thoughts on the
Labopharm
( DDSS) partnership. Market did not seem to care much, Oleptro has some challenges moving forward as with any drug rollout in a somewhat crowded space with generics, but it seems like they could grab some market share. The $1.50-ish price just doesn't seem justified, do you agree?"
Labopharm is a show-me stock that isn't going to regain significant traction with investors until the company can put up strong sales numbers for Oleptro, the once-daily formulation of trazadone, an anti-depressant and sleep aid that's been marketed since the early 1980s and is now generic and cheaply priced.
When I last wrote about
, the company was still in search of a marketing partner for Oleptro. Since then, a deal was struck with the Italian drug firm
Gruppo Angelini
, which will form a 50-50 joint venture with Labopharm to sell Oleptro in the U.S.
The Angelini joint venture sounds like a less-than-best way to sell Oleptro but perhaps the only deal that Labopharm could get. Angelini sells trazadone in Europe so it knows the drug, but the privately held firm has no commercial presence at all in the U.S. Not an ideal situation, especially for a drug like Oleptro that lacks a lot of data differentiating itself from generic trazadone.
Labopharm's stock price has fallen further since the Angelini deal was announced, which just tells you again that investors are skeptical.
Lastly, Mitch K. writes, "Where's the
Delcath Systems
(DCTH)
love? Am I insane or does this stock look grossly undervalued in the face of pretty convincing headline data. How about some insight?"
You're not insane. The top-line data reported by
Delcath from the phase III study of its liver tumor system
looked great. Important details from the study will be presented next month at the American Society of Clinical Oncology annual meeting. That's going to be an important event for the company and the stock.
Is Delcath grossly undervalued? I don't think so. Delcath's current $500 million market cap seems more than fair, perhaps even overly generous. The company has yet to file for approval with the FDA, and if approved, the commercial launch will be as complicated, perhaps even more so, than what's facing
Dendreon
(DNDN)
in the coming months.
I like Delcath, don't get me wrong. It's just not a stock I'd be chasing in the mid- to upper teens. It becomes much more attractive on a pullback closer to $10 or below.
-- Reported by Adam Feuerstein in Boston.
Follow Adam Feuerstein on
.
Adam Feuerstein writes regularly for TheStreet.com. In keeping with TSC's editorial policy, he doesn't own or short individual stocks, although he owns stock in TheStreet.com. He also doesn't invest in hedge funds or other private investment partnerships. Feuerstein appreciates your feedback;
to send him an email.