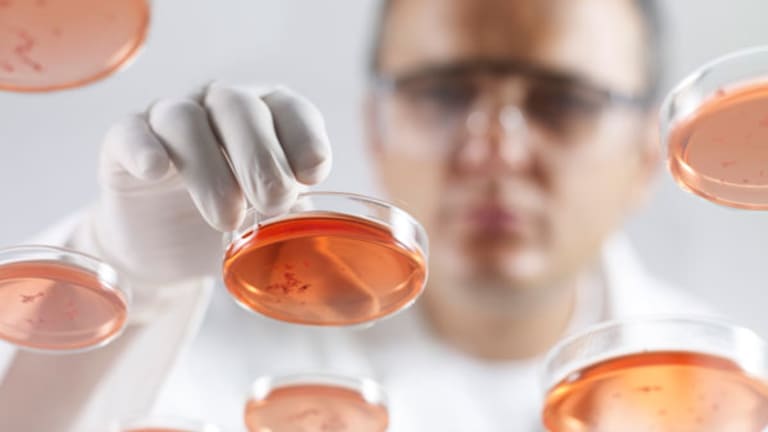 The Biotech Stock Mailbag is back, starting with an email from Ken C., who asks, "Do you have any strong inclinations either way on
Immunomedics
(IMMU) - Get Immunomedics, Inc. Report
?"
Not really. Immunomedics has been pursuing development of a monoclonal antibody known as epratuzumab for blood-related cancers for a long time, with results that aren't particularly inspiring or differentiated from a host of similar drugs from competitors.
Another of the company's pipeline drugs, veltuzumab, hopes to compete directly against
Roche's
Rituxan -- a blockbuster blood cancer drug. That's a tall chore.
Immunomedics' partner
UCB
is studying epratuzumab in lupus, which has been a disease impervious to new drug development for 30 years.
At $3 and with an enterprise value under $200 million, Immunomedics isn't an expensive stock, and I guess you can make a viable argument that the stock is undervalued given the phase II and phase III status of its drugs. (This is the bull case made by the analyst at Brean Murray Carret. She has a buy and an $8 price target on the stock.)
I've been around biotech for a while, however, so I remember that
Amgen
(AMGN) - Get Amgen Inc. Report
gave back development rights to epratuzumab in 2004, and since then, Immunomedics hasn't done much with the drug.
One more thing. Immunomedics' CEO Cynthia Sullivan is married to Chairman David Goldenberg. Who cares, you say? Well, one of my simple rules for biotech investing is to be wary of companies that employ family members, or where executives are married to each other.
Cell Therapeutics
(CTIC) - Get CTI BioPharma Corp. Report
,
Telik
(TELK)
and
Genta
(GETA.OB)
all fit this category, and investors have done well to avoid all three over the years.
Dave W. writes, "How about a report on
Discovery Labs
(DSCO)
and your thoughts about the future... partner or buyout?"
I've consistently recommended that investors avoid Discovery Labs until the company could prove capable of convincing the FDA to approve its infant lung drug Surfaxin.
Surfaxin's chances for approval now appear to be dead, following a June 2 meeting between Discovery and the FDA. This was the company's third or fourth attempt at getting a Surfaxin approval (so many tries, I've lost track.)
Discovery shares now trade below 40 cents, an all-time low.
Is there anything to salvage from this disaster? Perhaps. The company has some underlying technology and second-generation products that may be of interest to a potential partner or acquirer.
In some ways, Discovery reminds me of
Encysive Pharmaceuticals
, which also tried and failed repeatedly to get a drug approved but was eventually acquired by
Pfizer
(PFE) - Get Pfizer Inc. Report
for a dirt-cheap price.
Discovery management has proven to be among the most inept in all of biotech, so let's hope someone there wakes up and just sells the company in a distressed asset sale. If that happens, perhaps the final the sale price will be higher than 40 cents a share.
David L. asks, "Could you do an update on where you would cut
AMAG Pharmaceuticals
(AMAG) - Get AMAG Pharmaceuticals, Inc. Report
loose, or would you continue to add on weakness?"
The "buy the Feraheme approval, short the Feraheme launch" trade on AMAG has been the winning ticket so far, but I'm still confident in the company's ability to pull off a successful product launch.
Hopefully, the announcement of a Feraheme supply contract with
Davita
(DVA) - Get DaVita Inc. Report
, one of the largest dialyis service providers, will help ease the concerns of investors.
I'm sticking with AMAG.
I received two anti-Semitic emails Monday from the same person. Apparently, one hateful email wasn't enough, so this fellow followed up with a second just a minute or so later. From what I can gather, my stories on Cell Therapeutics and
Hemispherx Biopharma
(HEB)
were what prompted his response.
I won't reprint the anti-Jewish slurs here. They were fairly pedestrian, nothing I haven't seen before. This may or may not surprise you, but anti-Semitism is alive and well in this country. And sadly, it appears to be on the rise, at least judging by the increasing amount of Jew-bashing email I receive. Is this due to Bernie Madoff? I'm not sure, all I do know is that I'm no longer surprised when I receive an email from someone expressing his disappointment that Hitler didn't finish the job he started.
On a happier note, the guy who sent me the hate mail Monday isn't exactly a genius. I know this because he used his personal email address, which I was able to trace back to East Carolina University. It took me about 3 minutes to look up his real name using the school's online student directory.
I reported the student's identity and sent copies of his emails to an official in the school's Office of the Dean of Students, who told me that disciplinary action would be taken.
Perhaps the brainiac will think twice next time he decides to spew hate in an email.
Anyone who spends their days writing online -- whether they're a professional online journalist or an amateur blogger -- knows what it is like to be on the receiving end of hostile smears, insults and threats. Online communication fosters anonymity, and anonymity allows people to write or express feelings or thoughts they'd never say in person.
I've been a business journalist for 20 years, almost 10 of those spent writing exclusively online. In that time, I've built up a very thick skin, so none of the hate mail or threats or anti-Semitic slurs sent my way bother me. I laugh it off, because as regular readers of the Mailbag know, most of it is pretty funny stuff.
But once, just once, I'd like to see someone out there be courageous enough to attach a real name to one of these hate-filled emails. If you despise Jews or want me dead, why hide behind the cloak of an anonymous email? Be man enough to stand behind your words. That's what I do every day.
If you can't or won't, you're nothing more than a coward.
On a related note, here's a first. I received hate mail in French from CVB, a reader in Belgium, who is also displeased with my coverage of Hemispherx.
"Arrete ton char sac à merde tu commences à nous faire chier à etre aussi partial..."
I used Babble Fish to translate but it didn't make sense (although even I, with my high school French, know what "sac à merde" means). If I have a fluent French speaker in the audience, please drop me an email with a good translation.
Adam Feuerstein writes regularly for TheStreet.com. In keeping with TSC's editorial policy, he doesn't own or short individual stocks, although he owns stock in TheStreet.com. He also doesn't invest in hedge funds or other private investment partnerships. Feuerstein appreciates your feedback;
to send him an email.