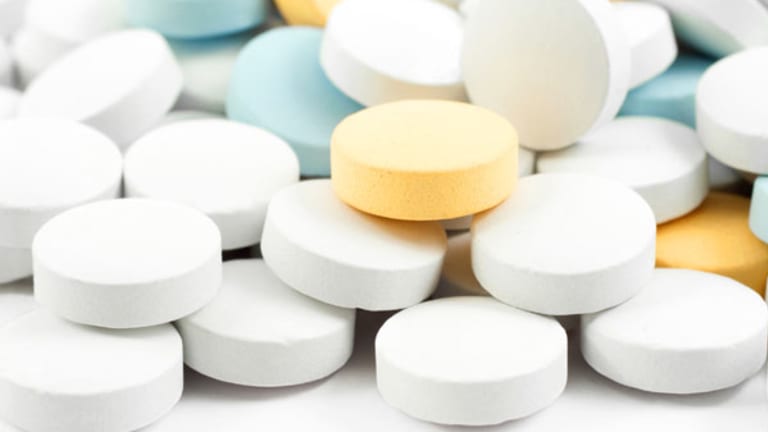 Biotech Stock Mailbag: Idenix Pharma
Biotech columnist Adam Feuerstein answers readers' questions and concerns about health care and drug-related stocks.
BOSTON (
) --Before I get to your emails and tweets, a reminder to join me at 12 p.m. ET today for this month's Biotech Stock Live Chat. You'll find the live link later today on our Web site. I'll be discussing biotech investing and answering your questions on biotech stocks for 90 minutes, so please join me.
In my
Wednesday, I mentioned that Brookside Capital Management, a longtime backer of
Vertex Pharmaceuticals
(VRTX) - Get Vertex Pharmaceuticals Incorporated Report
and its hepatitis C drug Incivek, had also acquired a significant, 9 million-share position in
Idenix Pharmaceuticals
(IDIX)
during the second quarter.
This prompted @chasingthealpha to comment,
"I really don't get the thesis of buying into $IDIX. IDX184 seems like damaged goods at this point. Still no word from FDA..."
Idenix and
Pharmasset
(VRUS)
are both developing "nucleotide" drugs against hepatitis C. Investors are smitten with Pharmasset's "nucs," particularly PSI-7977, which is why Pharmasset sports a $4 billion market value even while its Hep C nucs are still in phase II clinical trials.
Idenix's nuc is a bit further behind in clinical development, but the company's market cap is just $460 million. That dramatic valuation gap between Pharmasset and Idenix is what makes the latter stock attractive.
As Mr. Alpha Chaser points out correctly, there are legitimate reasons for why Pharmasset should be worth more than Idenix today. The FDA has a partial clinical hold on IDX184 due to liver toxicity that cropped up in a study that combined '184 with another Idenix Hep C drug known as IDX320. Idenix believes that this safety signal was caused by '320 and development of that drug was shelved.
Importantly, Idenix believes that '184's safety profile, alone, is fine. The company is conducting a short-phase IIb study of '184 right now, with interim data expected in the fourth quarter. If the safety profile of '184 comes back clean, the FDA should be persuaded to lift the partial clinical hold.
If that happens and '184's safety is exonerated, investors are going to look more favorably at the drug's potential. That should narrow the valuation gap between Pharmasset and Idenix -- the two leading developers of Hep C nuc drugs. Idenix's valuation is likely to rise.
@riotcookie asks,
"What you think about the approval for SGEN?? Aug 30th??"
Translation: Do I believe the FDA approves
Seattle Genetics'
(SGEN) - Get Seagen, Inc. Report
lymphoma drug Adcetris on Aug. 30, the drug's approval decision date."
Yes, I do.
The only risk to approval on Aug. 30 is if Seattle Genetics and the FDA cannot reach agreement or have a major falling out about the design of a confirmatory study for Adcetris. Recall, this was a big overhanging issue at what was otherwise a
positive advisory panel meeting for Adcetris
in July.
Seattle Genetics has said these discussions with the FDA have gone well, without providing details.
My sense is investors largely expect Adcetris' approval. Less certain is the language in the drug's label, which could impact the way the drug is used. The FDA and the advisory panel seemed to lean toward restricting Adcetris to more advanced, or sicker, lymphoma patients like those who have previously failed a stem cell transplant. Seattle Genetics is hoping Adcetris' label is more inclusive to encompass patients who may not have had a previous transplant.
Last December, I wrote a column with
15 predictions for the biotech and drug sectors
in 2011. One of my Twitter followers reminded me last week to check on how the predictions have panned out so far, eight months into the year.
Prediction 1: "
Cell Therapeutics
(CTIC) - Get CTI BioPharma Corp. Report
will increase its share count to 2 billion, followed by a 1:60 reverse stock split. Pixantrone still isn't approved."
OK, so the reverse split was actually just 1:6, but so far, the rest holds true. Cell Therapeutics claims Pixantrone is up for European approval by the end of the year. I still believe that decision, if it comes, will be negative.
Prediction 2: "At least one leading U.S. academic medical center will bar its doctors from consulting with Wall Street investors. Soon after, one or more health care-focused expert networks will shutter operations."
While the outcry about expert networks and doctors consulting with Wall Street has grown louder this year, I still haven't heard of a U.S. academic medical center barring doctors from entering into these consulting relationships. And while the expert network firms are bruised, they're still in business.
3. "
Dendreon
(DNDN)
will experience a temporary disruption in Provenge sales due to a problem at one of its manufacturing plants."
Yowsa! I was
for the wrong reason. Can I take half credit?
4. "By the end of the year, one or more of these companies will be gobbled up in an M&A deal:
Amarin
(AMRN) - Get Amarin Corp. Plc Report
, Seattle Genetics,
Human Genome Sciences
( HGSI), Pharmasset,
Onyx Pharmaceuticals
(ONXX)
,
Biomarin Pharmaceuticals
(BMRN) - Get BioMarin Pharmaceutical Inc. Report
."
My dismal record of predicting takeovers continues. I still have four months to be proven right -- hopefully. And in my defense, the biotech M&A market has been relatively quiet this year.
5. "
Arena Pharmaceuticals
(ARNA) - Get Arena Pharmaceuticals, Inc. Report
will end 2011 still trying to convince the FDA to approve its weight-loss drug lorcaserin."
True.
6. "One of the large-cap biotech companies will begin paying a dividend."
Thank you,
Amgen
(AMGN) - Get Amgen Inc. Report
!
7. "
Sequenom's
(SQNM)
attempt to commercially launch a fetal DNA test for Down's syndrome will be stopped bythe FDA, which decides to enact stronger regulatory control over all genetic tests."
Incomplete. The verdict on this prediction won't be written until Sequenom launches the Down's test. I'm not as confident about being right as I used to, mainly because I expected the FDA to have taken more definitive, restrictive actions against genetic testing by now.
8. "Legislation will be introduced to allow Medicare and/or the FDA to consider drug pricing in regulatory approval and reimbursement decisions."
This hasn't come to pass yet, but potential cuts to Medicare spending have been a part of the budget and deficit discussions in Washington.
9. "European regulators approve
InterMune's
(ITMN)
pirfenidone for idiopathic pulmonary fibrosis."
I nailed this one even before 2011 started.
European regulators approved pirfenidone
last December, right after I published my prediction list.
10. "After a series of Wikileaks rocks the agency, the FDA decides to make complete response letters (i.e., drug-rejection letters) public."
This won't happen this year, but it should.
11. "An outraged and unhinged investor physically threatens an expert sitting on an FDA advisory panel, prompting the agency to radically change procedures for future advisory panels. The FDA adds security and does away with definitive "Yes/No" votes for or against drug approvals."
No, this hasn't happened either, but the FDA is considering loosening conflict-of-interest rules for the experts who sit on its advisory panels. That's a good thing, in my opinion. The quality of the panels has suffered under the existing rules, which are too restrictive.
12. "
Discovery Labs
(DSCO)
finally -- finally! -- receives FDA approval for Surfaxin."
Not going to happen, but then, I was joking.
13. "
Cel-Sci
(CVM) - Get CEL-SCI Corporation Report
ends 2011 still searching in vain for the first head-and-neck cancer patient to enroll in the Multikine phase III trial."
Wrong, but not by much. Cel-Sci still isn't shooting straight with investors about the progress with the Multikine study, including the pace of patient enrollment.
14. "A Chinese pharmaceutical company makes an unsolicited bid for a large U.S. biotech firm. Or, a large U.S. biotech firm acquires a Chinese pharmaceutical company."
Not yet, although the importance of the Chinese market to U.S. drug companies is growing. That's undeniable. Managing the marriage of U.S.- and Chinese-based drug businesses does seem to be more challenging than predicted, judging by problems encountered by companies like
NeoStem
(NBS)
and
Radient Pharmaceuticals
(RXPC)
, and the forced delisting of
Jiangbo Pharmaceuticals
by Nasdaq.
15. "A senior
Johnson & Johnson
(JNJ) - Get Johnson & Johnson Report
executive resigns after a drugstore surveillance camera captures him trying to self-initiate another unofficial recall of children's Tylenol from store shelves."
Could still happen!
Buylow40 comments,
"Adam, I fell into the Adventrx Pharmaceuticals (ANX) pump-and-dump. I doubted you in each analysis and coverage on this company. However, given the fact Adventrx can't get a simple reformulation approved by the FDA, I think they are dead in the water. Why are so many people so bullish on Adventrx after it wasgiven the death sentence of a non-approval of ANX-530? Is there something I'm missing here?"
No, you're spot on. It's the other people who are still misguided.
Susan L. asks,
"Hi Adam -- Remember when InterMune was in the teens a year ago, after that first collapse, and it seemed like the next move up would be FDA reappraising things? Then came the European approval, and it seemed the FDA didn't matter. I'm wondering if this is the third (and maybe last) chance to get InterMune cheap -- that suddenly FDA does in fact reverse its negative decision. Is there any way to know when and if this will happen, or could they just suddenly decide to do it? Or, has InterMune just totally given up doing anything to change FDA's mind?"
It would be a major shocker if the FDA reversed course and approved InterMune's Esbriet (pirfenidone) without positive results from the just-started "ASCEND" phase III study. Intermune is running this study specifically to provide the clinical data that FDA asked for when it rejected Esbriet last year. This makes it unlikely in the extreme to think FDA will suddenly approve the drug without data from the "ASCEND" study.
InterMune is gearing up to launch Esbriet in Europe where it was approved. The drug is expected to launch first in Germany in September, with other European country launches rolling out in 2012.
I'm on vacation next week, so the Biotech Stock Mailbag will return on Sept. 2.
--Written by Adam Feuerstein in Boston.
>To contact the writer of this article, click here:
Adam Feuerstein
.
>To follow the writer on Twitter, go to
http://twitter.com/adamfeuerstein
.
>To submit a news tip, send an email to:
.
Adam Feuerstein writes regularly for TheStreet. In keeping with company editorial policy, he doesn't own or short individual stocks, although he owns stock in TheStreet. He also doesn't invest in hedge funds or other private investment partnerships. Feuerstein appreciates your feedback;
to send him an email.