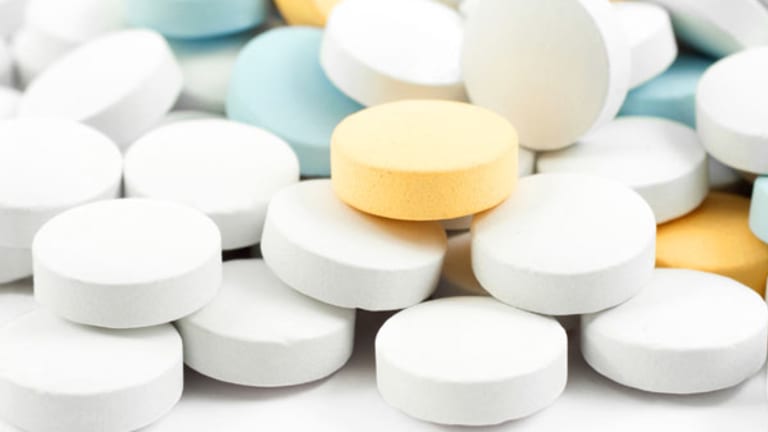 Biotech Stock Mailbag: Hep C Stocks to Watch
Biotech columnist Adam Feuerstein answers readers' questions about drug and health care-related firms.
BOSTON (
) -- Before I get to your emails and tweets for this week's Biotech Stock Mailbag, I want to remind everyone that I will be live-blogging the FDA advisory panel reviewing
Arena Pharmaceuticals'
(ARNA) - Get Arena Pharmaceuticals, Inc. Report
obesity drug lorcaserin. The panel (and my live blog) take place Thursday, Sept. 16 starting at 8 am ET.
I'll be covering all the action from Arena's FDA panel in real time, similar to what I've done in the past for FDA panels covering drugs from
Vivus
(VVUS) - Get VIVUS, Inc. Report
,
Cell Therapeutics
(CTIC) - Get CTI BioPharma Corp. Report
and
Jazz Pharmaceuticals
(JAZZ) - Get Jazz Pharmaceuticals Public Limited Company Report
.
I hope you'll be able to tune in (it's free of charge), and of course, please post comments and questions. I want the live blog to be a truly interactive event. You can sign up below to receive an email reminder about the Arena FDA panel live blog:
This week's Mailbag opens with an email from S.T.:
"Do you think the acquisition of Zymogenetics( ZGEN) by Bristol-Myers Squibb (BMY) - Get Bristol-Myers Squibb Company Report signals more consolidation or takeout activity in the hepatitis C space? I know there are other partnerships out there already, but can we expect to see more deals?"
Great question. This was a rather busy week in Hep C land, with Bristol buying partner Zymogenetics for $885 million, or $9.75 a share (and at a whopping 84% premium, no less),
Idenix Pharmaceuticals
(IDIX)
putting its two lead
(temporarily, it's hoped) and
Vertex Pharmaceuticals
(VRTX) - Get Vertex Pharmaceuticals Incorporated Report
releasing the final phase III clinical data supporting the strong efficacy of
telaprevir in helping treatment-resistant patients
achieve a cure.
Investors should think about the evolving Hep C drug market like a buddy system. Everyone, meaning every company developing a new Hep C drug, needs a buddy, a partner, a wing man. Partnering is essential because in five or 10 years, maybe sooner, doctors will be treating Hep C patients with various combinations of drugs -- i.e. drug cocktails -- in many of the same ways that doctors treat HIV patients today.
The current standard of care for treating Hep C is a 48-week, two-drug regimen consisting of long-acting interferon (either
Roche's
Pegasys or
Merck's
(MRK) - Get Merck & Co., Inc. Report
PEG-Intron) plus the generic medicine ribavirin.
If Vertex and/or Merck are successful in getting their respective direct-acting antiviral drugs approved next year, a third drug will be added to the Hep C treatment cocktail. If that add-on drug is Vertex's telaprevir, for instance, newly-treated Hep C patients will take telaprevir plus interferon-ribavirin for 12 weeks, followed by another 12 weeks of interferon and ribavirin. Total treatment time, just 24 weeks or six months. Based on what we know today about telaprevir, cure rates of 75% will be achieved compared to about 40% today with standard of care alone.
The goal of much of today's Hep C research is to eliminate interferon and/or ribavirin from the treatment regimen because the side effects of both drugs are nasty. The hope is that two- or three-drug combinations of new direct antivirals will be equally or more effective in eliminating the Hep C virus. Perhaps these antivirals could one day be combined into a single pill that patients would take once daily -- thus simplifying treatment vastly.
To reach this utopian state of Hep C treatment, experimental drugs -- mostly developed by separate companies -- need to be studied in combination. Roche is partnered with
Pharmasset
(VRUS)
and
InterMune
(ITMN)
for that purpose. Vertex is partnered with
Johnson & Johnson
(JNJ) - Get Johnson & Johnson Report
, although Vertex also bought a private company to gain control of another direct antiviral to combine with telaprevir.
Those small companies without partners today need to buddy up soon lest they miss out. Most prominently (for investors, at least), the list of "singles" includes Idenix,
Achillion Pharmaceuticals
(ACHN) - Get Achison, Inc. Class A Report
and
Anadys Pharmaceuticals
( ANDS). (More on Idenix below.)
Pharmasset is an interesting case: The company has a deep stable of Hep C drug candidates and a strong partnership with Roche that many people believe will ultimately lead to Roche buying Pharmasset outright. That seems like a totally plausible scenario to me -- in fact, I'm a bit surprised it hasn't happened yet.
Getting to T.S.' last question, yes, I do think we will see more consolidation and deal making among the Hep C drug makers. Whether the Bristol-Zymogenetics deal is the start of a new wave or just the continuation of an ongoing trend probably doesn't matter a whole lot.
What is undeniable, however, is that the next year or so is going to bring unprecedented -- and positive -- change for Hep C patients. Two new Hep C drugs from Vertex and Merck are likely to be approved and the potential (or lack thereof) of a host of other drugs in earlier stages of testing will come into better focus.
Matt K. asks,
"Can you please tell us how long the SPA process usually takes? I've been listening to Cyclacel Pharmaceuticals (CYCC) - Get Cyclacel Pharmaceuticals, Inc. Report CEO Spiro Rombotis tell investors about 'SPA coming soon' for nearly eight months now."
Matt is not the only Cyclacel investor I've heard from who is frustrated by what seems to be an interminable wait for Cycacel and the FDA to hammer out a Special Protocol Assessment (SPA) agreement for the design of a pivotal phase III study of the experimental drug sapacitabine in elderly patients with acute myelogenous leukemia (AML).
Cyclacel has told investors that it plans to start the phase III study before the end of the year, pending agreement with the FDA on the SPA for the trial. The sapacitabine SPA process began in February and seems to be taking a really long time.
Corey Sohmer, Cyclacel's director of corporate finance, had nothing new to tell me when I emailed him for an update last week.
"There has been no further update at this time," he said.
That's probably not the answer Matt is looking for.
FDA regulations do stipulate that the agency tries to evaluate and respond to SPA requests within 45 days. From my read of the
FDA's guidance on SPAs
, the 45-day response window can be extended if the agency has issues or concerns with a company's SPA request.
Perhaps that's what is going on with Cyclacel and its SPA request for the sapacitabine study. The company isn't saying much to clarify, unfortunately.
Tony T. writes,
"I read that Avanir Pharmaceuticals (AVNR) filed for a mixed shelf registration for $75 million. Doesn't this mean the company plans to issue more shares and dilute the stock price? Have you spoken with their management or investor relations? Do biotech companies tend to do this prior to critical FDA decisions?"
Biotech companies, or any publicly traded company for that matter, file shelf registration statements with the Securities and Exchange Commission in order to sell additional equity and/or debt to investors. Having a shelf registration on file and accepted by the SEC doesn't mean a company has to, or will, sell stock (and dilute current shareholders), but it certainly gives the company the freedom to do so.
For Avanir, the filing of a $75 million shelf on Sept. 2 comes as the
FDA is reviewing the company's drug AVP-923 as a treatment for pseudobulbar affect
. The FDA approval decision date is Oct. 30.
Rightfully, Avanir shareholders are a bit twitchy about the FDA decision and they worry that a financing before Oct. 30 would signal management's lack of confidence in AVP-923's approval.
Avanir, naturally, won't tell anyone if or when it plans to sell more stock, but the shelf could have easily been filed now to allow the company to raise more money after AVP-923's approval. It should surprise no one to see Avanir raise money if FDA approves AVP-923.
Howard C. emails,
"What is the likelihood that Idenix Pharmaceuticals can get its hepatitis C drugs off the FDA's clinical hold list?"
From the limited information available today, it seems like Idenix's lead Hep C drug IDX184 is not the cause of the liver toxicity signal. That leaves two possibilities: IDX320 has a safety problem on its own or there is something about the interaction between '184 and '320 that caused the liver toxicity signal to occur in three patients.
(A third possibility, but not one I'd necessarily count on, is that the safety signal is just a random fluke.)
Idenix believes it can provide FDA with the data the agency needs to lift the hold on '184 relatively quickly. Studies performed to date, including three-month animal studies in two species and a 14-day study in hepatitis C patients, have not shown any liver toxicity signal. In fact, liver function tests improved in patients treated with '184.
If the FDA lifts the clinical hold on '184, Idenix will be able to move ahead with finding a partner for the drug as planned, according to Idenix CEO Jean-Pierre Sommadossi, who spoke with me Tuesday.
Idenix has less data collected on '320 -- three days' dosing in humans and a one-month animal safety study. Sommadossi says no liver toxicity signal was picked up in these limited studies, but he concedes that a longer follow up will have to be done before the FDA will have what it needs to lift a clinical hold. Again, Idenix is not sure if the potential problem is with '320 alone or caused when patients are exposed to '320 and '184 together.
The need for more safety studies is going to slow down Idenix's plans to study combinations of both drugs in hepatitis C patients, and until the company has data clearing '320, that drug will sit on the sidelines.
In terms of timelines, Sommadossi says Idenix plans to submit all available data on '184, '320 and the '184-'320 combination to the FDA by the end of the month. The company will also proactively begin a one-month combination study of '184 and '320 in monkeys, knowing the FDA will ask for such a study regardless.
Idenix is hoping that the clinical hold on '184 can be lifted by the end of the year, and if so, the company would move ahead with a 12-week study of '184 in combination with current standard of care in hepatitis C patients. Further clinical studies of '320 will depend on the outcome of the safety analysis.
Via Twitter, @mromero323 asks,
"I think you said this already, but why wouldn't Sanofi-Aventis (SNY) - Get Sanofi Report just buy someone like BioMarin Pharmaceuticals (BMRN) - Get BioMarin Pharmaceutical Inc. Report?"
BioMarin and Genzyme are both successful developers of drugs to treat unique and rare genetic disorders. (The companies actually partner on one such drug, Aldurazyme, for the treatment of MPS1.)
Sanofi's interest in Genzyme and not BioMarin is due, in part, to size. Genzyme is bigger and more profitable than BioMarin and would therefore have a more material impact on Sanofi's business.
BioMarin is very well-run company, which I think of as a mini-Genzyme without the manufacturing problems. That makes BioMarin a good takeover candidate for someone. When? No clue.
Chuck S. writes,
"Thank you for the article on the FDA calendar for new drug approvals. Do you have any insight on the Vertex Pharmaceuticals and MELA Sciences (MELA) approvals? Most of the limited analyst statements are fairly positive on these approvals."
The approval of Vertex's Hep C drug telaprevir next year is as close to a sure thing as you'll ever see. (I can just see Vertex executives flinching as they read this, but c'mon, the drug works without question.)
Of course, just about every investor who follows Hep C drug development knows that telaprevir will be approved, which is why Vertex already carries a $7 billion-plus market value, which prices in not only telaprevir's approval but a good chunk of sales as well. That makes the stock tougher to own at these levels. (In its favor, I will say pay attention to Vertex's cystic fibrosis drug program, which runs a bit under the investor radar screen so could be a upside surprise.)
I'm
not a fan of MELA Sciences and its skin cancer detection device
for detailed reasons I laid out in a column in June. The FDA has already found the MELAFind device to be "not approvable" once. I do not believe MELA has been able to come up with enough data to satisfy the agency's concerns, so another rejection letter is inevitable.
Before that happens, MELA will be bringing the MELAFind device in front of an FDA advisory panel on Nov. 18.
--Written by Adam Feuerstein in Boston.
>To contact the writer of this article, click here:
Adam Feuerstein
.
>To follow the writer on Twitter, go to
http://twitter.com/adamfeuerstein
.
>To submit a news tip, send an email to:
.
Adam Feuerstein writes regularly for TheStreet.com. In keeping with TSC's editorial policy, he doesn't own or short individual stocks, although he owns stock in TheStreet.com. He also doesn't invest in hedge funds or other private investment partnerships. Feuerstein appreciates your feedback;
to send him an email.