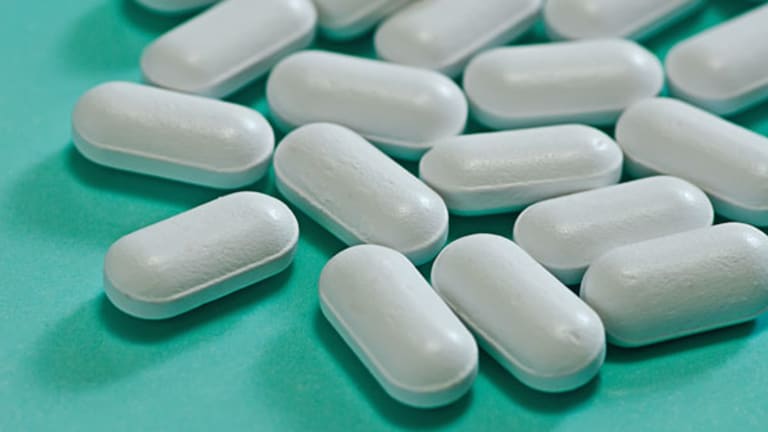 Publish date:
Biotech Stock Mailbag: Health Discovery
Our senior biotech columnist answers readers' questions about Health Discovery, Discovery Labs and other newsworthy healthcare stocks.
Our senior biotech columnist answers readers' questions about Health Discovery, Discovery Labs and other newsworthy healthcare stocks.
BOSTON (TheStreet) -- This week's Biotech Stock Mailbag opens with an email from Edward M. with a question about Health Discovery Corp (HDVY.OB) .
"
Health Discovery Corp. recently received a bullish write-up by Biomedreports that said certain undisclosed actions would be taken very soon to implement the company's urine-based test for prostate cancer. Did you see this report and if so, what is your position? If Health Discovery Corp.'s urine-based test works it could become the gold standard for prostate cancer and replace PSA tests because those don't work at all and doctors want something else
."
Health Discovery (HDC) is working on a urine-based genetic test for prostate cancer, along with partners that include
Quest Diagnostics
(DGX) - Get Quest Diagnostics Incorporated Report
,
Clarient
( CLRT) and
Abbott Labs
(ABT) - Get Abbott Laboratories Report
. That much from
Biomedreports'
recent coverage of the company is true.
Unfortunately, more of what was reported by
Biomedreports
about HDC contained factual omissions and exaggerations that distort both the timeliness of the company's prostate cancer test as well its near-term commercial potential.
HDC's urine-based test doesn't appear to be close to clinical validation or commercialization, according to checks I made with HDC's partners. And even if a convenient and accurate urine-based gene test for prostate cancer was launched soon, it would not replace the widely used, if flawed, PSA blood test -- certainly not right away, according to cancer experts.
Trading in Health Discovery (HDC) surged on Jan. 29, triggered by a
Biomedreports
alert to its paying subscribers that morning:
"... speculation centers on news surrounding the company's new gene-based molecular diagnostic test for prostate cancer -- which has successfully completed its phase III double-blind clinical trial and is now ready for commercialization. The new prostate cancer test will be performed at Clarient's clinical laboratory in Aliso Viejo, Calif. HDC will receive 30% royalty on each test performed," the
Biomedreports
alert stated.
By the close of trading on Jan. 29, HDC's stock price rose 6 cents, or 27%, to 28 cents a share. The intraday high reached 31 cents. More than 12 million shares traded hands, 12 times the average daily trading volume in the stock.
This "news" was more than a year old! HDC announced a
tissue-based
genetic test for prostate cancer ready for commercialization in the fall of 2008 after the completion of a phase III study earlier that year. This test requires a piece of a patient's prostate obtained through a biopsy, and looks for the presence of four genes that HDC claims signals the presence of aggressive prostate cancer cells.
Clarient, one of HDC's partners, launched this tissue-based prostate cancer test in January 2009 as a so-called "homebrew" or in-house laboratory test, which doesn't require approval from the U.S. Food and Drug Administration.
A year later, however, sales of the HDC-Clarient prostate cancer test are "immaterial," according to Clarient spokesman Matt Clawson.
The HDC prostate cancer test is a "very small part of our business and we don't spend a lot of time talking about it," added Clawson.
On Feb. 1,
Biomedreports
published a more detailed, follow-up report on HDC available for free on its web site. This story suggested that HDC was about to announce a major development with a urine-based prostate cancer test and quoted an unnamed HDC executive who said the company wouldn't be able to say very much for "at least a few days" because of some "very sensitive non-disclosure agreements that are in place with both existing and potential partners."
"Speculators appear to be betting that HDC's new prostate cancer test is not only about to be commercialized, but that it has a very good chance of replacing the current PSA test for multiple reasons, including the fact that HDC's urine-based prostate cancer test is non invasive (only requiring a urine sample) while the PSA test requires an invasive blood collection procedure," according to
Biomedreports
.
That report helped push shares of HDC to an intraday high of 38 cents on Feb. 5, again, on larger-than-average volume.
Quest Diagnostics, one of the country's largest laboratory testing companies, confirmed for me that it did license from HDC last year the rights to develop a urine-based aimed at detecting aggressive or clinically significant prostate cancer. Quest is also working with technology from other companies to accomplish the same thing.
Quest spokeswoman Wendy Bost declined to say how close such a test is to reaching the market but she did say that any urine-based test for prostate cancer from Quest would not replace the PSA test.
"Our research and development activities center on developing new techniques, employing urine and tissue specimens, that can complement, not replace, PSA testing. PSA testing plays an important role in the detection of this cancer. This role could be more powerful if the results of other validated biomarkers are available to physicians for assessing, in concert with a PSA result, a patient's likelihood for malignancy prior to biopsy or surgery," said Bost, in an email.
Abbott Labs spokeswoman Adelle Infante, likewise, confirms the company is working with HDC's urine-based prostate cancer screening technology, but "we are still early in the development process," with initial studies only underway, she said. Any test coming out of Abbott's labs will have to first be approved by the FDA before it reaches the market, she added.
Clarient also has rights to develop a urine-based prostate cancer test based on HDC technology, but any such test is "not ready for commercialization," said spokesman Clawson.
HDC won't say much about the timelines for a urine-based prostate cancer-screening test, nor does the company have any clinical data to share on such a test. HDC spokesman Tom Gallagher said the company is restricted by confidentiality agreements with its partners.
Gallagher declined to provide details about any clinical trials specifically investigating the accuracy of a urine-based prostate cancer test that relies on the HDC-discovered genes that allegedly signal aggressive tumors. On several occasions, Gallagher promised to connect me with HDC CEO Stephen Barnhill, but he never followed through.
Researchers working on behalf of HDC did publish a paper in the journal
UroToday International
last year on the company's tissue-based test, but no details about extending the technology to urine-based screen were included, nor has the FDA reviewed the data.
Other companies and research groups are busy working on developing urine-based tests for prostate cancer. The diagnostics firm
Gen-Probe
(GPRO) - Get GoPro, Inc. Class A Report
already sells a urine test for prostate cancer in Europe. The company is now running clinical trials in the U.S. with plans to get the test approved here.
A need does exist for a better way to screen patients for prostate cancer because the current PSA test is not specific enough, which means it doesn't do a good job of distinguishing between non-cancerous conditions like an enlarged prostate and serious, aggressive cancers, says Dr. Otis Brawley, medical director of the American Cancer Society.
But any new prostate cancer test that is developed will need to be reviewed and approved by the FDA. Then, it will take years of follow-up data before doctors are comfortable replacing the PSA test completely, Brawley says.
"This is not something that is going to happen overnight," he added.
Meantime, HDC issued Tuesday what has to be the most far-fetched and ridiculous press release I've seen in a long time. The company announced it was completing a mobile phone application that will allow anyone to take a picture of a suspicious mole on their bodies, email the photo to HDC, then immediately receive back a report outlining a risk assessment for melanoma.
Any company that claims to be able to diagnose skin cancer based on an emailed cell phone snapshot is acting completely irresponsibly, even recklessly, because it puts peoples' lives at risk. Hopefully, the FDA learns about this nonsense and orders HDC to cease and desist before someone gets hurt.
By the way,
Biomedreports
described the mobile phone app for skin cancer as "impressive" and "good news." I'm gobsmacked. Is there anything
Biomedreports
won't do or say to promote penny biotech stocks?
Mike V.E. writes,
"What do you make of the FDA's response to Discovery Labs (DSCO) that they need only perform pre-clinical work instead of a limited clinical trial to gain approval of Surfaxin? You and I have talked about what a miserable management team Discovery has previously, but with former CEO Robert Capetola gone, do you think buying now at 73 cents a share makes sense? The only risk I see now is that, if they can't get a financial partner, they have to hit their shelf and dilute again, but given the short nature of the FDA required pre-clinical work, I'm thinking this looks pretty attractive right now. Am I missing something?
"
I hope anyone considering buying into Discovery pulls up a three- or four-year chart and notices all the little spikes in the stock price, followed by a steep drop. Before you, Mike, countless other investors thought Discovery finally had the Surfaxin approval figured out. Sadly, they were wrong. When it comes to FDA approval decisions, Discovery has a perfect record -- for rejections.
Maybe this time really is different. After another meeting with regulators, Discovery says it can run an animal study in preemie lambs to satisfy the FDA's last request for Surfaxin stability data. The company estimates that its Surfaxin resubmission could be filed with FDA before the end of March 2011.
That's good news, I guess. But here are some issues I'd think about. What happens if the lamb study doesn't turn out so well? A March 2011 FDA filing is still more than a year away. What if the FDA is still unsatisfied and delays Surfaxin again? (Don't say it can't happen, just look at the past!!!!) Discovery needs money, but where are the promised partnerships for the rest of its pipeline? And yes, Capetola is gone and good riddance, but I've seen no evidence to suggest current management is any better.
Update: I wrote this item on Wednesday, just hours before Discovery announced it was, indeed, raising $16.5 million through a secondary offering of common stock and warrants.
PJ writes, "
In regards to your ongoing coverage of Adventrx Pharmaceuticals (ANX) , can you give an update as to the recent renewed activity of Carl Icahn and his appointment of Dr. Odysseas Kostas to the board. I know you mentioned previously that Icahn was not active but that seems to have changed in the last few weeks.
"
Nothing has changed. Icahn controls an Adventrx board seat as part of a financing completed years ago at a far higher stock price. Icahn's right-hand man Alex Denner left Adventrx's board, replaced by Kostas. I don't see how this one-for-one director swap represents renewed activity or interest in Icahn's part. In Icahn's portfolio, Adventrx is hardly a rounding error.
Mike M. emails to ask about why
Amgen
(AMGN) - Get Amgen Inc. Report
sold off after announcing positive results from the latest cancer study involving its bone drug denosumab.
Sell on the news. Amgen shares traded higher going into the Feb. 8 announcement, so when the "d-mab" data were released demonstrating that the drug works better at delaying and reducing the risk of bone fractures compared to Novartis' Zometa in patients treated for prostate cancer, investors took profits. The positive results from this d-mab study were very much expected.
If you're following Amgen, here are some important dates and events to keep in mind:
The U.S. Centers for Medicare and Medicaid Services is holding an advisory committee meeting on March 24 to discuss guidelines for the use of anemia drugs to treat chronic kidney disease patients.
In early second quarter, Affymax (AFFY) is expected to release results from a series of phase III studies of its potentially competitive anemia drug Hematide.
Sometime in the third quarter, Amgen will announce results from an important study of d-mab investigating whether the drug can prevent bone metastases in prostate cancer patients.
-- Reported by Adam Feuerstein in Boston
Follow Adam Feuerstein on
.
Adam Feuerstein writes regularly for TheStreet.com. In keeping with TSC's editorial policy, he doesn't own or short individual stocks, although he owns stock in TheStreet.com. He also doesn't invest in hedge funds or other private investment partnerships. Feuerstein appreciates your feedback;
to send him an email.