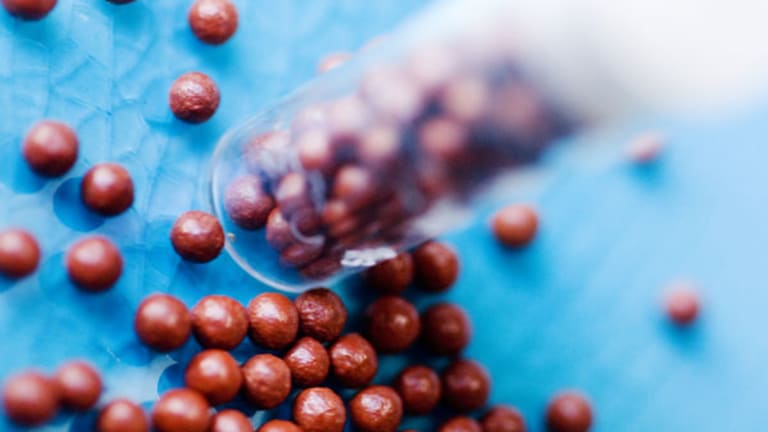 Publish date:
Biotech Stock Mailbag: Geron, Oculus, BioSante
Geron, Oculus, BioSante, Gilead Sciences and Sequenom are among readers' stocks of interest in this special edition mailbag.
Geron, Oculus, BioSante, Gilead Sciences and Sequenom are among readers' stocks of interest in this special edition mailbag.
BOSTON, Mass. (
) --Readers have been generous with their emails lately. Thank you! And keep your questions coming. I can't answer every email I receive, but I decided to open the Biotech Stock Mailbag early this week in an attempt to whittle down the backlog.
Check back again Friday for the regularly scheduled Mailbag. One more thing: I'm taking a much-needed vacation, so the Mailbag will be on a short hiatus until the first week in September.
Let's get started with an email from Robert B., who writes, "I was wondering what your reaction is (if any) to the FDA's hold on
Geron's
(GERN) - Get Report
spinal cord therapy. I own some, and not sure how to take the news."
The first thing I did after reading Tuesday's announcement was laugh because the delays and missteps in Geron's over-hyped embryonic stem cell trial for severe spinal cord injuries are pretty much working out the way I thought they would.
Ever notice how Geron does a great job of heralding the prospect of scientific achievements and breakthroughs, yet never seems to actually deliver on its promises?
In this case, Geron promised to enroll the first paralyzed patients into its stem cell trial during the summer. That announcement was made in January. Yet August is rolling toward a hot and humid finish here in the Northeast, and the study is nowhere close to starting. Last month, the company told investors that car airbags were partly to blame for the delay. (Airbags protect drivers and passengers in accidents, making it hard to find traffic accident victims with paralysis severe enough to be eligible for the clinical trial, or so Geron CEO Tom Okarma said on his company's quarterly conference call.)
Then Tuesday, Geron announced an FDA clinical hold on the study as the agency reviews newly submitted data from a nonclinical animal study. The company didn't disclose any details about the new data, why it was submitted or how long the clinical hold will last.
Investors reacted by felling Geron shares Tuesday by 10% to $6.49.
To be fair, the FDA's clinical hold on Geron's stem cell trial may be routine and not suggestive of any newly discovered safety issue.
but probably do not rise to a level where FDA wouldn't let Geron conduct the study. And Geron is trying to get FDA permission to loosen the eligibility restrictions in order to make it easier to enroll patients.
My beef with Geron is the company's chronic under-achievement, except when it comes to spending shareholders' money. Some may say (and they do) that just getting to the starting line of the first embryonic stem cell trial in paralyzed patients is a notable accomplishment. Fine, but I'd say the company's $500 million-plus market value (more than $700 million earlier this year) more than rewards Geron for that feat.
And yes, I am aware of Geron's cancer drugs in clinical trials, but those programs are even slower and more delayed than the stem cell work!
The FDA will lift its clinical hold and Geron will enroll the first patient in its stem cell trial - one of these days. I'm sure the company will get a mighty PR boost when that happy day occurs and the stock will almost surely go up because that's what happens to stem cell stocks with news (legitimate or not.) After that, however, the wait for data will drag on and on. With this latest delay, results from the study are probably not going to be released until deep into the second half of 2011.
John T. forwarded me a link to a penny stock-pumping Web site that posted a hilarious "story" (and no, it wasn't intended to be funny) on
Oculus Innovative Sciences
(OCLS)
, my favorite purveyor of
. The Monday night post included this passage:
"According to my sources, within the next day or so, the company will be announcing some news in regards to marketing efforts related to this new Rx product which is indicated for use by health care professionals to manage the debridement of wounds such as stage I-IV pressure ulcers, diabetic foot ulcers, post-surgical wounds, first- and second-degree wounds, grafted and donor sites."
Well, wouldn't you know it, but Tuesday morning, Oculus issued a press release on this new magical prescription diluted bleach water product, which included this passage:
"The professional product is indicated for use by health care practitioners to manage the debridement of wounds such as stage I-IV pressure ulcers, diabetic foot ulcers, post-surgical wounds, first- and second-degree wounds, grafted and donor sites."
Uncanny! I wonder who the stock pumper's source is? I can't even begin to guess!
On a related note, Tuesday morning also brought new analyst coverage of Oculus from Dawson James, the Boca Raton "investment bank" which canvassed Florida's retirement communities last month in a valiant effort to sell Oculus stock.
Dawson James' corporate slogan: When even Rodman & Renshaw won't raise money for you, just call us and we'll do it!
The Dawson analyst slapped a buy rating on Oculus. Surprise, surprise!
Onward. Francine M. writes, "What are your thoughts on
BioSante Pharmaceuticals
(BPAX)
?"
I used to be a big fan of BioSante and its main product LibiGel, a not-yet-approved testosterone gel for women suffering from female sexual dysfunction. You can read some of my old stories on Biosante that date back to 2004 by clicking
here
. Sadly, most were written when BioSante's stock price was much higher. All these years later, I still think LibiGel has a good shot of approval, assuming positive data from the ongoing phase III studies. (I have no reason to think LibiGel doesn't work or is not safe.)
My biggest issue with BioSante today, and I've told CEO Stephen Simes this repeatedly, is that the company desperately lacks a deep-pocketed marketing partner for LibiGel. When
Proctor & Gamble
(PG) - Get Report
gave up on a competing female sexual dysfunction testosterone product, it sent a message to the marketplace, deliberate or not, that an FSD product (think female Viagra) would have a tough time commercially.
BioSante can change that perception if and when the company lands a Big Pharma partner eager to spend huge bucks on the all-encompassing consumer advertising campaign that will be required to launch and market a product like LibiGel.
But so far, Simes hasn't landed his big fish. Instead, the company is perennially short of cash. It's buying defunct Cell Genesys to siphon off that company's remaining monies and is doing pipsqueeak direct offerings of stock just to live hand-to-mouth and keep the phase III studies alive.
C'mon Stephen. Prove to us that LibiGel is a viable, perhaps even a blockbuster, product. I want to believe in BioSante, but this company dies on the vine if it remains single.
Emiko H. writes, "Could you please comment on
Gilead Sciences
(GILD) - Get Report
? The last mention from you was around July 23. I'd like to know why the stock has gone down so much."
I'm very close to giving up on Gilead. The stock has been an incredible source of frustration this year, down about 14% year to date.
The stock is under pressure because investors are freaked out about what happens to the company's growth rate when patent protection for some of its key HIV drugs starts running out in 2017.
Yes, I know, 2017 seems like a long time from now, but what can I say, this is the debate that investors and analysts are now having about Gilead, and it's killing the stock.
Personally, I think the bear arguments are a tad overplayed, but apparently the market does not and has not for some time now. Are you getting a good sense of my frustration here?
Another problem with Gilead, I'm sad to report, is a noticeable decline in the Street's confidence with company management. This is tricky and harder to gauge accurately, but let me just say I hear an increasing number of health care fund portfolio managers and analysts expressing their belief that Gilead's senior executives seem out of touch or somehow less engaged with the business and the Street.
The collective strength of Gilead's management team has always been one of the reasons to own the stock, so perhaps these guys are just going through a rough patch. I hope so, and I also hope they get back to their A game in a hurry.
Jim C. has a beef with some of my
of genetic test maker
Sequenom
(SQNM)
.
"You use the phrase "data fabrication scandal," he writes, but "there is no evidence or report anywhere of data fabrication with regards to Sequenom's SEQureDx. Please be more responsible."
Sequenom is in the midst of a data fabrication scandal because that's exactly what's going on. Sequenom prefers to say that data supporting its SEQureDx genetic test for Down syndrome was "mishandled."
Right, and I always believe my daughter when she tells me that our dog Max ate her homework.
Some soft criticism from Jack E.:
"I am not really a fan of yours but today your post was very useful. You have no reason to bash companies that invested 20-25 years to develop meds so we all can live a better life. Most R&D companies do not survive it since they have no products to sell for a long many years. I am an R&D engineer (hip and knee implants) it is a tough life here, but we are the developers of such devices and have dedicated our life to the better of all others. Please consider to do the same, and remember that many people read your posts so be kind and that will go a long way for you. No hard feelings."
I'm often criticized for being skeptical about drug and biotech stocks - "bashing" in Jack's parlance. Jack is rather polite in his criticism, but others often interpret my glass-half-empty outlook as somehow reveling in misery and disease, going as far as accusing me of a deliberate effort to somehow stall or stymie efforts to develop new drugs.
Well, that's simply ridiculous. The reason I "bash" drug stocks is because drug development is hard and ends in failure way more often than success. I assume people invest in drug and biotech stocks to make money. If that's true, then a heaping dose of skepticism is not only warranted, it's absolutely essential. When there's something positive to say, I'll be the first to say it.
I doff my hat to folks like Jack who work to develop new medicines or devices that cure disease or better the life of others. But that's not what this column, or any of my work at
TheStreet.com
, is about.
-- Written by Adam Feuerstein in Boston
Adam Feuerstein writes regularly for TheStreet.com. In keeping with TSC's editorial policy, he doesn't own or short individual stocks, although he owns stock in TheStreet.com. He also doesn't invest in hedge funds or other private investment partnerships. Feuerstein appreciates your feedback;
to send him an email.