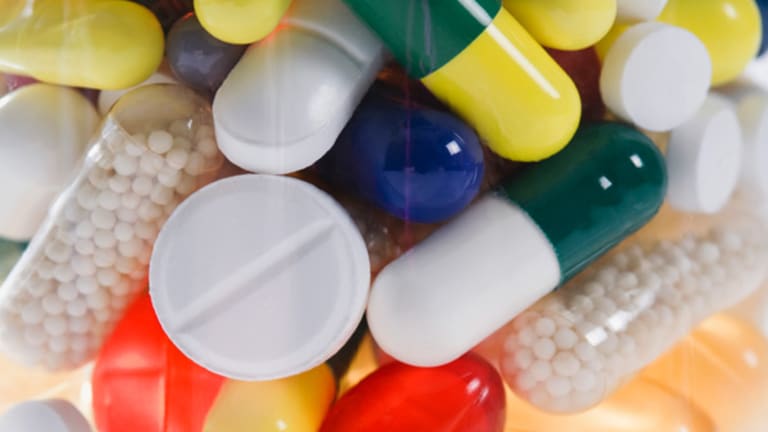 Biotech Stock Mailbag: Generex, Part II
Biotech columnist Feuerstein answers readers' questions about Generex, Cell Therapeutics and other stocks.
BOSTON (TheStreet) --The more I dig into Generex Biotechnology (GNBT) and its insulin spray for diabetics, the more preposterous the story becomes.
I wasn't planning to spend a lot of time writing about this penny stock after last week's
, but then the angry emails and comments came flooding in. On Tuesday, Generex issued a press release demanding I retract my "false and misleading" article. At the same time, I received a punchy letter from Generex CEO Anna Gluskin, via her attorney, in which she called me "malicious."
The Hostile React-o-Meter went to 11!
For a veteran reporter and columnist like myself who enjoys nothing more than exposing the modern day snake oil salesmen of the biotech age, Generex's all-bluster-no-bite protestations are a huge red flag.
As I burrow into
, it becomes apparent almost immediately that the company is using science and the quest to develop an alternative insulin delivery method not to actually help diabetics but as a ruse to perpetuate a 15 year-long stock promotion scheme. In the process, investors are getting fleeced while Generex management earns millions of dollars in compensation.
Gluskin was paid $1.15 million in total compensation for the company's 2008 fiscal year.
I spoke with Gluskin briefly on Wednesday to ask her about Generex and Oral-lyn but she didn't want to comment without her lawyer on the phone. I agreed but they never called me back.
In a comment posted to last week's Mailbag, RJS9787 wrote, "Interesting take on Generex, Adam. Your two premises are completely false. First there have been numerous peer reviews for Oral-lyn dating back to the early part of this decade... In 2010, the two main independent researchers studying Oral-lyn, Dr. P. Raskin and Dr. P. Pozzilli, published the latest update for Oral-lyn's clinical development and this appeared in the peer-reviewed journal
Diabetes, Obesity and Metabolism.
All of the studies concluded by showing zero serious adverse effects attributed to Oral-lyn and that buccal spray insulin is non inferior, and often superior, to regular injectable insulin."
The February 2010 review article on Oral-lyn authored by Raskin and Pozzilli titled "Review of Clinical Trials: Update on Oral Insulin Spray Formulation" is helpful, but not in the way that RJS contends. Far from vindicating Oral-lyn, the article actually demonstrates quite clearly the lack of any credible clinical data to support the insulin spray's efficacy or safety.
An abstract is available for free
but it's best to purchase the entire article, lest you succumb to spin jobs from Generex supporters like RJS.
Generex has conducted clinical studies of Oral-lyn, but most, if not all, of these trials were poorly designed and enrolled just a handful of patients. Raskin and Pozzilli, in their review article, summarize two studies of Type 2 diabetics conducted in Ecuador that enrolled 21 patients and 23 patients, respectively. Treatment in the studies lasted no more than 10 days. Diabetes patients in the studies were also being treated with other medications, including regular insulin, which makes interpreting results difficult, if not impossible.
Other studies of Oral-lyn in Type 1 diabetics reviewed by the authors in the
Diabetes, Obesity and Metabolism
journal enrolled 18 patients, 10 patients and six patients, respectively.
Nowhere in the article do Raskin and Pozzilli conclude that Oral-lyn is safe or effective, although they discuss data from the tiny, short studies that appear to show Oral-lyn having a faster onset of action and shorter duration of action when compared to regular insulin given by injection.
Regular insulin is slow acting and isn't used by diabetics around mealtime, which makes the Oral-lyn data irrelevant.
Raskin and Pozzilli, in their article, write, "A key limitation to this review is the lack of studies that compare oral insulin spray with rapid-acting analogue insulin; none of the published studies (to date) have provided this comparison. Given the relatively common use of rapid-acting analogues...studies comparing the activity and efficacy of oral insulin spray with these insulin analogues would provide a more robust assessment of the clinical utility of the oral formulation."
The authors go on to say, "The clinical implications of these findings may be quite significant... However, because of the small number of subjects studied in these trials, it is too early to generalize the effects and benefits of oral insulin spray in larger diabetic populations."
Generex isn't interested in seriously developing an oral insulin spray. That should be clear to anyone who watches the company pass off studies conducted in Ecuador on less than two-dozen patients as clinically meaningful science. Nonsense!
A phase III study of Oral-lyn is underway that is supposed to enroll 750 diabetic patients and might offer a clearer picture of the product's efficacy and safety. Yet even here, Generex plays stupid games aimed at misleading investors, something that totally undermines the legitimacy of the study.
On March 10, 2009, Generex issued a press release announcing "successful phase III study data" for Oral-lyn, even though the study enrolled only 300 patients, just 60 of which had been on treatment for the requisite six months called for in the study's design.
On past conference calls, Generex has claimed it will file for Oral-lyn's approval with the U.S. Food and Drug Administration as long as the outcome of this single phase III study is positive.
Good luck with that. Never mind that the FDA almost always requires a minimum of two positive phase III studies for drug approvals; in diabetes, the regulatory bar is usually much higher.
Consider
MannKind
(MNKD) - Get MannKind Corporation Report
, which conducted 44 studies of its inhaled insulin device Afrezza before seeking FDA approval. MannKind tested Afrezza in 5,300 patients total, including multiple phase III studies enrolling hundreds of patients each.
Amylin Pharmaceuticals'
( AMLN) phase III program for long-acting diabetes medicine Bydureon consists of six studies that enrolled more than 2,300 patients.
And Generex thinks it's going to get the FDA to review Oral-lyn based on some shifty Ecuadorian studies and a single phase III study?
Ha!
Moving on, Charles D. writes, "As a former
Cell Therapeutics
(CTIC) - Get CTI BioPharma Corp. Report
long holder and now interested observer, would you please look into the rumor of
Novartis
(NVS) - Get Novartis AG Report
buying Cell Therapeutics at $2 per share? I find the very notion to be preposterous and laughable, but someone has generated enough momentum that it appears plenty of suckers are buying in. Unless hell freezes over and swine grow wings, I do not see this happening, and thousands are being duped (again, like I was) out of their hard-earned money. I enjoy your writing, especially when you twist the dagger. More journalists should have the same edge."
Novartis is not going to buy Cell Therapeutics for the reasons I outlined quite clearly Wednesday when I detailed the company's
fiscal crisis and pixantrone's dwindling commercial potential
.
At $2 a share, Novartis would be paying more than $1.2 billion for Cell Therapeutics! And what would Novartis get for that mountain of cash? A me-too chemotherapy drug just body-checked into oblivion by the FDA and its advisory panel? How about a reformulation of a generic chemotherapy drug that has failed multiple phase III trials and was rejected by European regulators last year?
Oh, how enticing!
Big Pharma tends to get suckered into dumb deals, but no one, Novartis included, is that stupid.
Update
: Cell Therapeutics held a conference call Thursday night. All I'll say about the call is that it robbed me of 30 minutes of my life that I'll never get back.
ARoy emails, "What do you feel about the prospects of
Spectrum Pharmaceuticals
(SPPI) - Get Spectrum Pharmaceuticals, Inc. Report
? It's been a while since you've have written about the company. Do you consider Spectrum shares are currently undervalued or at least fairly valued?"
Spectrum has traded relatively sideways since late last year because investors still aren't sure if the company is going to turn the
into a profitable drug.
Monday, Spectrum said it was delaying the release of financial results for the fourth quarter and full year 2009 because it needs more time to complete its accounting work. Spectrum said it will post a higher net loss in 2009 than the previous year, but that's not a surprise at all.
More important for Spectrum and its stock price are sequential quarterly sales gains for Zevalin. Third quarter sales totaled $4.7 million, up 42% from the second quarter. Spectrum doesn't have enough analyst coverage to compile a good consensus, but Morgan Joseph's analyst is looking for fourth quarter Zevalin sales of $5.6 million.
Don't expect Spectrum's stock to surge even if Zevalin posts healthy sequential growth in the fourth quarter. That would be nice, but I think Spectrum is under the gun to produce consistent
Zevalin sales growth over a longer time period
before all the doubts about the drug and its commercial potential are lifted. Investors also want evidence that doctors are using Zevalin in more patients and that sales growth is not just coming from price increases.
The FDA label for first-line use in non-Hodgkin's lymphoma granted last September was a big help in that effort, but it's still up to Spectrum to generate meaningful sales.
Dan M. writes, "I am wondering if you can revisit your analysis on
Vanda Pharmaceuticals
(VNDA) - Get Vanda Pharmaceuticals Inc. Report
and
Titan Pharmaceuticals
(TTNP.PK)
. With initial Fanapt sales numbers due form Novartis in about one month, patent extension granted past 2020 on the injectable depot formulation and a likely rest-of-world partnership coming this year, I would like to know if your opinions or views of Vanda and Titan have improved, or if you still view them with a negative tilt."
I'm still skeptical about Novartis' ability to sell
Fanapt into a crowded schizophrenia treatment market
in the U.S. Vanda and Titan receive royalties on Fanapt sales from Novartis, so their valuations hinge almost entirely on the success or failure of the drug's commercial launch. I don't think any of the other factors mentioned by Dan matter more than Fanapt sales at this point.
At $12, Vanda's stock price is right where it was in October when the Fanapt partnership with Novartis was announced. By my reckoning, Vanda's stock price is already baking in $200 million to $400 million in Fanapt sales.
The Fanapt sales launch began in early January, so hopefully Novartis will say something about the effort on its first quarter conference call. But like Spectrum, it's going to take more than one quarter's worth of sales to get a clear picture of Fanapt's health in the market.
-- Reported by Adam Feuerstein in Boston.
Follow Adam Feuerstein on
.
Correction: In last week's Mailbag column, the name of Generex' Oral-lyn was misspelled. It has been corrected. Also, it should be noted that Oral-lyn has been discussed in medical journals and presented at medical association meetings over the last ten years. TheStreet.com regrets the error.
Adam Feuerstein writes regularly for TheStreet.com. In keeping with TSC's editorial policy, he doesn't own or short individual stocks, although he owns stock in TheStreet.com. He also doesn't invest in hedge funds or other private investment partnerships. Feuerstein appreciates your feedback;
to send him an email.