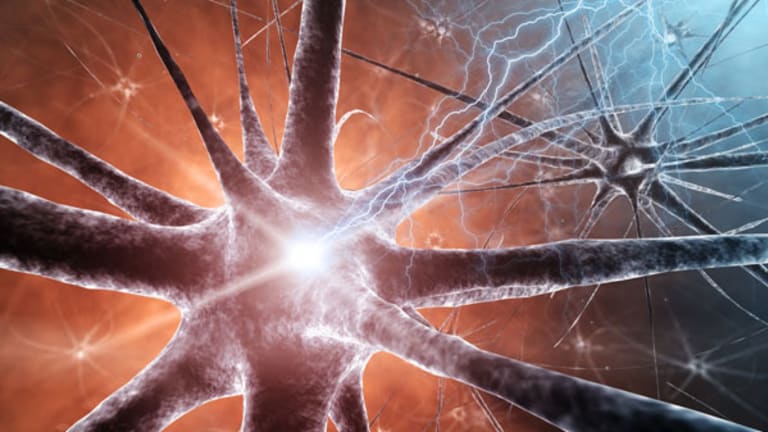 Biotech Stock Mailbag: Generex
Columnist Feuerstein talks about alternative insulin-delivery devices and answers readers' questions about Generex and other biotech firms.
Correction: In an earlier version of this article, the name of Generex' Oral-lyn was misspelled. It has been corrected. We'd also like to note that Oral-lyn has been discussed in medical journals and presented at medical association meetings over the last ten years. TheStreet.com regrets the error.
BOSTON (
) --Do diabetics hate insulin injections so much that a more convenient alternative to needle sticks could be commercially lucrative?
Pfizer
(PFE) - Get Pfizer Inc. Report
found the answer to be a resounding "No" when the launch of its Exubera inhaled insulin device crashed and burned soon after hitting the market in 2006. Diabetes patients found the insulin dosing required for Exubera to be confusing, concerns about lung problems lingered, and the design of the Exubera device was embarrassingly bad. It looked exactly like a medium-sized bong -- not exactly something diabetics wanted to carry around with them.
MannKind
(MNKD) - Get MannKind Corporation Report
is also developing an inhaled insulin device called Afrezza that is much smaller, easier (and less embarrassing?) to use than Exubera, the company claims. Whether the U.S. Food and Drug Administration agrees and approves
, however, is a matter of significant debate that got murkier this week after
Tuesday.
If the utility of inhaled insulin is still in doubt, what about an orally-delivered insulin? Why can't diabetics simply pop an insulin pill or spray some insulin in their mouth?
Oral insulin technology was on the mind of Randall P, who writes, "I just finished reading your article on FDA's decision on Mannkind's inhaled insulin. Do you happen to follow
Generex Biotechnology
(GNBT)
and its oral insulin product called Oral-lyn? If so, do you have any idea if the FDA will ask Generex for similar data? I would like to see what you think of Generex in a article for TheStreet.com."
Also referring to Generex, Nader S. emails, "I came across this company as it's been quite frequent with news of late and there has been much buzz. What are your thoughts?"
I think Generex is a total bust. Here's why:
Generex's Oral-lyn is an insulin mist that patients spray into their mouths. The insulin is supposed to be absorbed buccally (through the lining of the mouth) and into the bloodstream.
Nifty technology, except none of the Oral-lyn data collected by Generex has been peer-reviewed in credible medical journals, nor has it been presented at the top-flight diabetes meetings.
Common sense should tell you that an insulin spray like Oral-lyn is more fiction than science. If Oral-lyn was real, Big Pharma would have snatched up the technology a long time ago. Instead, Pfizer lost millions with an insulin bong, and Al Mann, billionaire healthcare entrepreneur and MannKind's founder, is spending hundreds of millions of dollars of his own money to build another inhalable insulin device. For that kind of money, Mann could have bought Generex several times over. He didn't.
Dr. Paul Robertson, a diabetes expert affiliated with the Pacific Northwest Research Institute in Seattle and the past president for medicine and science at the American Diabetes Association (ADA), is a skeptic because absorption of insulin through the lining of the mouth is too erratic and potentially dangerous.
"If a diabetes patient has a sore throat, for instance, the insulin will be absorbed faster than if the patient's throat is normal," he says. "Having a consistent and known rate of insulin absorption is very important because without knowing when to take insulin or how much, the patient runs the risk for hypoglycemia."
David Kliff, a diabetic himself who runs the well-respected
Diabetic Investor
newsletter, has followed Generex for years and is more succinct in his appraisal. "Generex is full of crap -- always."
Oral-lyn is approved as an alternative to insulin injections in Ecuador, India, Lebanon and Algeria, claims Generex, although the company has not yet recognized revenue from the product.
Perhaps Oral-lyn will start producing revenue for Generex when it's approved in Syria and Iraq? I'm not making this up, by the way. Generex is trying to get Oral-lyn approved in Iraq and actually touts Oral-lyn's approval in these other countries as proof that it works.
A phase III study of Oral-lyn is enrolling patients at centers in the U.S. and Canada, although it looks like most of the patients hail from Eastern Europe. In two years, Generex has only been able to enroll about half of the study's planned 750 patients.
Generex does claim to have an agreement with the FDA to allow Oral-lyn to be used by U.S. diabetes patients who can't tolerate insulin injections. Generex has never disclosed how many patients might fit under that definition.
Diabetic Investor's Kliff says the number of patients who meet that condition is tiny and meaningless. Generex still needs to get Oral-lyn approved by the FDA before it can fully market the drug in the U.S.
The ADA's Robertson says the only people who worry about insulin injections are people who don't have diabetes. "Oral insulin, respiratory insulin, buccally delivered insulin are all marketing driven technologies, they are not driven by the real need of diabetes patients."
Generex shares trade for around 60 cents. I know that looks cheap but don't bother with an oral insulin delivery technology that's not going anywhere.
I had a mini debate on Twitter this week with a @jimcollins, a
Sequenom
(SQNM)
bull who was exacerbated by what he considered to be an unjustified
following Monday's quarterly conference call.
"I didn't hear anything on the conference call to cause a 20% drop," wrote @jimcollins. In a later tweet, he remarked, "Did people expect Harry
Hixson, Sequenom's CEO to say, 'If we don't get a Down's Syndrome test I will commit seppuku!?'"
In response to @jimcollins, I said the problem was not with the conservative and cautious comments made Monday by Hixson regarding Sequenom's effort to resurrect its gene-based Down's test, nor was it a surprise that he declined to offer financial guidance. The problem was that a lot of momentum-fueled
Sequenom investors expected too much, too soon
.
On a related note, David N. emails, "I am a shareholder influenced from the Cantor Fitzgerald report with a $16 price target. How can that report differ so much from your report?"
They don't call it sell-side research for nothing. Analysts like those at Cantor are selling you (investors) research in the hope that you (investors) will buy the firm's stock-trading services. The investment bankers who work at shops like Cantor use the research penned by the firm's analysts to woo companies to become investment-banking clients.
Sequenom needs to raise money, so it's no coincidence that Cantor upgraded
Sequenom to a buy with a $16 price target
. Cantor wants a piece of Sequenom's inevitable financing deal and it hopes favorable research coverage will help land the business.
(Yes, I know, there's supposed to be a very high and impenetrable Chinese Wall between sell-side research and investment banking. Has anyone seen my winged pig? I'm flying to the moon to buy some green cheese tomorrow.)
The lesson here: Don't rely too much on any single sell-side analyst! On Thursday, Cantor's Pamela Bassett lowered her Sequenom price target to $13 from $16 to reflect the impact of future stock dilution. Really? That only became obvious to Bassett after Monday's conference call? Everyone else knew that Sequenom needed to raise money soon, but apparently, Bassett didn't get the memo.
By the way, Bassett has Sequenom earning 63 cents a share on $279 million in revenue in 2011. The analyst from Stephens who covers Sequenom (with a sell rating) has the company losing $1.23 a share on total revenue of $54 million in 2011.
Thinking about Monday's FDA panel meeting for
Cell Therapeutics'
(CTIC) - Get CTI BioPharma Corp. Report
lymphoma drug pixantrone, @upstateChris on Twitter asks, "Bold enough to make a guess on the outcome?"
Yes. FDA panels can be unpredictable, so I'll generously give pixantrone a 25% chance of receiving a positive vote for approval from the FDA's outside cancer experts. That means I'm 75% certain that pixantrone gets a negative vote.
I covered the seven reasons for being
bearishly inclined towards pixantrone
going into Monday's panel meeting.
A housekeeping note: The FDA panel Monday is discussing Cell Therapeutics' pixantrone during the morning session, which means a vote should come around between 11 am and noon. I expect Cell Therapeutics to be halted for trading during its session. I will be live-blogging the panel meeting, so check back for the excitement.
Steve M. writes, "I was reading one of your articles about important biotech dates and remember that there was a pay site you can subscribe to get theses dates. I failed to write down the name of the site. Would it be possible to send it to me?"
I like Sagient Research and its
web site, which provides a comprehensive and updated database on drugs in development, including key FDA approval decision dates and clinical trial timelines. It's a great service geared more for institutional investors in terms of pricing (unfortunately), but it's still something that I think an active retail investor could find very useful.
Changing gears: Do geographical differences matter when it comes to the validity of clinical trial data? For
Medivation
(MDVN)
and its Alzheimer's drug Dimebon, a positive phase II study from Russia looks foolishly deceptive in the face of
negative Dimebon results
from a phase III study done in Europe and the U.S.
Eric B. writes, "I know that
Targacept
(TRGT)
had a small number of U.S. patients for their Phase II depression study (single digit percentage). The vast majority were in India. Is India more reliable than Russia? Yes, but it sure would have been nice if Targacept had disclosed the results by geography. Targacept says that any such comparison wouldn't be statistically significant because of the small number of U.S. patients. Huh? It's not about statistical significance. It's about seeing if the U.S. results raise questions... Bottom line, Targacept's Phase II results are worth less than they would be if they were 100% from the U.S."
I'm a fan of
Targacept and its depression drug TC-5214
, but I'll concede Eric's point. The fact that the phase II study was conducted primarily in India probably is an overhang and may be one reason why the Targacept's stock price isn't higher. (The lack of near-term
, including a
long weight for phase III data
, weighs on the stock, too.)
I ran Eric's comment by a hedge fund analyst source who focuses on neuro-psych drugs. He can't be quoted by name, but he's also a Targacept bull.
"I think India has more experience conducting clinical trials and is better equipped to handle the issues that eventually turned Dimebon into a false hope, but until we see corroboration of the data elsewhere (or a publication/presentation splitting geography), the question will be outstanding," he says.
Kevin C. emails, "Adam, I would like to get your opinion on
Somaxon Pharmaceuticals
( SOMX). They will receive an FDA decision by March 20th and the stock has been running the past month. What do you believe are the odds of approval this time, and what do you believe is the market potential of Silenor if approved?"
Oops. I'm a tad late since the FDA approved Silenor as a new treatment for insomnia on Thursday. The positive news, helped along by a small float and few shares to short, sent Somaxon's stock price into orbit. At Thursday's close, Somaxon was up 133% to $9.21 a share on colossal volume of 47 million shares.
Would anyone believe me if I said I was going to predict 100% odds that Silenor would be approved? Probably not. Well, then suffice to say that I was fairly agnostic about Silenor's approval chances, but I'm definitely leaning bearish on the drug's market potential.
Silenor, a very low dose of the old and generically available anti-depressant doxepin, enters the insomnia market at a time of increased competition, especially from low-cost generics. Silenor has not been deemed a controlled drug substance by the U.S. Drug Enforcement Agency because it doesn't have abuse potential. The drug may also cause fewer next-day residual effects. Whether these attributes are enough for Silenor to find a niche in the insomnia market is not clear.
Somaxon only has about $4 million in the bank once it pays $1 million to its licensor for Silenor. The company has no sales force, no partner ready to market Silenor.
Once the speculation and momentum in Somaxon shares fades, the real work on finding a place for Silenor in the insomnia market will begin. That's going to be a difficult challenge.
Reader David M. is a Silenor skeptic: "Yet, another case of FDA approval plus creative verbiage leading people to believe Silenor is actually something new. Touting the drug as not a controlled substance and won't have the usual problems (addiction potential, next day sleepiness etc) associated with other hypnotics is kind of a joke. Even if it did, the dose is so small that it likely wouldn't. And tonight, doctors all over the world can prescribe 10mg doxepin generic for 20 cents a piece. This is a product line not a valid business model in my opinion."
He's probably right. The problem for shorts, however, is that finding Somaxon shares to borrow is extremely tough. And the few shares that are available are expensive, with borrow rates over 30%, according to a couple of hedge fund investors who went looking today after Silenor's approval.
The availability of Somaxon shares will loosen up if/when the company sells stock to raise much-needed capital.
Via Twitter, @xiefrank asks, "
Sepracor
was bought for billions of dollars, so why not Somaxon?"
True, Sepracor, marketer of the insomnia drug Lunesta, was acquired by Japanese drug maker
Dainippon Sumitomo Pharma
for $2.6 billion in September 2009.
Yet Lunesta sales were already falling at the time of the deal. Dainippon bought Sepracor because the firm wanted to have a U.S. commercial presence so that it could start selling its drugs in the U.S., including a schizophrenia drug nearing FDA filing. Sepracor provided Dainippon an established U.S. salesforce and a pipeline of other experimental drugs.
Can I rule out entirely the possibility that Somaxon and its insomnia drug are acquired in the near future? A trader friend and I debated this question Thursday afternoon. I think an acquisition, even a partnership, is unlikely. My trader friend thinks there are no shortages of dumb companies out there willing to make a deal for any approved drug.
We bet $10 (to be used to buy a six-pack of our favorite beer) on whether Somaxon lands a partner by Nov. 1.
-- Reported by Adam Feuerstein in Boston.
Follow Adam Feuerstein on
.
Adam Feuerstein writes regularly for TheStreet.com. In keeping with TSC's editorial policy, he doesn't own or short individual stocks, although he owns stock in TheStreet.com. He also doesn't invest in hedge funds or other private investment partnerships. Feuerstein appreciates your feedback;
to send him an email.