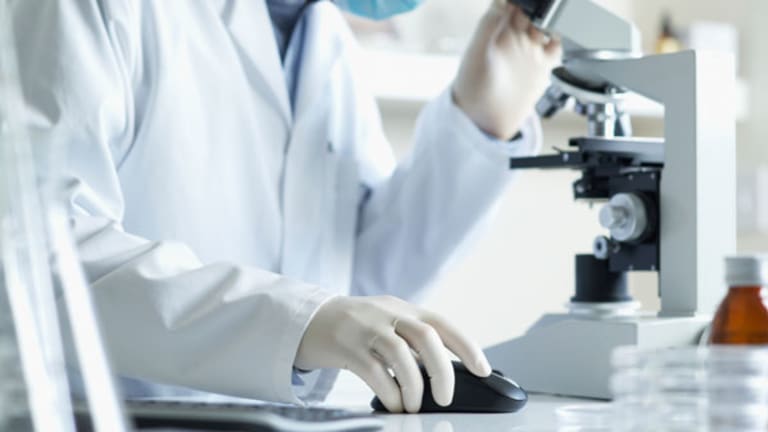 Biotech Stock Mailbag: Galectin, Keryx, Navidea, Cytori
Biotech columnist Adam Feuerstein answers readers' questions about health care companies.
NEW YORK (
) -- Let's kick off this week's Biotech Stock Mailbag with a few questions about
Galectin Therapeutics
(GALT) - Get Galectin Therapeutics Inc. Report
, which until recently (and quite surprisingly) was one of the best-performing drug stocks this year.
On Oct. 25, Galectin announced an "At The Market" equity sales agreement through which the company's broker MLV & Co. will sell up to $30 million in stock. These ATM stock sales are opaque -- the timing of sales and the number of shares sold is known only by the company and its broker. Galectin is only obligated to disclose ATM sales in its quarterly SEC filings.
Galectin's ATM was announced a week after the stock hit an all-time high of $12.45 per share. You could say the company is being smart and opportunistic, but the market tends to view the dilution and opacity of ATMs bearishly. At Thursday's close, the stock is down 28% from its high. Galectin shares are under added selling pressure because its largest shareholder, 10X Fund, has been exercising warrants.
The fund exercised 200,000 warrants on Nov. 1 on top of an warrant exercise in October.
I happened to have spent an hour on the phone with Galectin Co-Founder/Executive Chairman Jim Czirr and CEO Peter Traber on Oct. 25, the same day (but hours before) the ATM was announced. Neither executive mentioned the ATM but Czirr -- also a partner in 10X Fund, by the way -- did tell me he'd been fielding phone calls from "marquee" institutional investors.
Czirr didn't identify the names of these investors, but he assured me they were interested in Galectin as a successful turnaround story and the potential of the company's experimental liver fibrosis and cancer immunotherapy drugs.
Galectin's current cash runs out in the second quarter of next year. Czirr was upfront about the company feeling a sense of urgency to raise more money soon but he was definitely trying to sell me a rosy story with hints that a traditional follow-on stock offering was in the works with some A-list (B-list at a minimum) investors. Instead, Galectin decides to dribble out shares via an ATM.
Institutional investors own just 5% of Galectin, according to S&P CapitalIQ. Wall Street disinterest in owning Galectin is a significant risk factor.
AndersPLV asks:
I haven't read anything by you about Galectin so I wonder if you could share your opinion on their drugs and outlook for the future. Thank you.
Two years ago, Galectin was known as
Pro-Pharmaceuticals
, a troubled and almost bankrupt penny stock developing drugs made from fruit pectins. These drugs are supposed to bind to and block galectins -- a family of glue-like proteins thought to be associated with various diseases when found at elevated levels in the body.
I'm being kind to describe Pro-Pharma as irresponsibly promotional and scientifically inept. During the mid-2000s, the company tried to develop its lead galectin inhibitor known as Davanat as a boosting agent for the chemotherapy 5FU in colon cancer. Despite a series of phase 1 and phase II studies which showed little clinical activity, Pro-Pharma claimed in June 2007 it was in the process of seeking FDA approval for Davanat.
Pro-Pharma continued to spin the Davanat FDA submission story through the rest of 2007 and almost all of 2008. The charade ended in early 2009 when the company admitted FDA asked for a phase III study of Davanat in colon cancer to be conducted. Pro-Pharma spent the next two years stringing investors along about plans to conduct the Davanat phase III study, which never happened.
In 2011, Pro-Pharma changed its name to Galectin. This history lesson is relevant because Davanat also underwent a cosmetic make over. The failed colon cancer drug is now being developed by Galectin under a new moniker, GM-CT-01.
Same exact drug, different name, new story. The chemotherapy adjuvant hypothesis was pitched overboard. Galectin is now developing GM-CT-01 under the theory that it's a cancer immunotherapy capable of activating a patient's T cells to identify and eradicate tumors.
Cancer immunotherapy is a hot trend right now, so I'm not surprised to see Galectin glom on. Unfortunately, a proof-of-concept study of GM-CT-01 in melanoma patients has so far yielded no objective responses.
Galectin is also developing a second galectin inhibitor, GR-MD-02 as a treatment for liver fibrosis. A phase I study is underway, with interim results expected in January. GR-MD-02 shares many traits with another galectin inhibitor known as GCS-100, now owned by
La Jolla Pharmaceuticals
, a penny stock trading on the bulletin boards. GCS-100 was developed by two companies, each bankrupted, before landing in La Jolla's pipeline.
There's a chance Galectin wows us with phenomenal liver fibrosis data on GR-MD-02 in January, but the provenance of the drug and the company should make you wary.
No. I still believe investors are significantly under-estimating the risks involved with
Keryx Pharmaceuticals
(KERX) - Get Keryx Biopharmaceuticals, Inc. Report
. I'm not surprised to see Keryx shares higher following the release of the Zerenex pre-dialysis kidney disease data this week. Keryx today is where
Amarin
(AMRN) - Get Amarin Corp. Plc Report
was 18 months ago before reality set in and the stock blew up. The two companies are very similar.
Keryx has weak intellectual property protection for Zerenex and isn't likely to receive the market exclusivity or patent term extensions it needs. These are
important issues I wrote about last March
and are still very much in play.
Keryx CEO Ron Bentsur has shifted his position and now insists he can market Zerenex on its own. What this tells me is partners are scared off by the patent and market exclusivity issues.
I told you, Keryx is Amarin redux.
Did you know Keryx isn't alone developing an iron-based phosphate binder?
Vifor Pharma
, a unit of
Galenica Group
, has already submitted its own
iron-based phosphate binder PA21 for FDA approval
. The expected approval decision date is Dec. 1.
PA21 was developed in partnership with
Fresenius Medical Care
, which controls about one-third of the kidney dialysis market. If PA21 is approved, Fresenius isn't likely to put its own iron-based phosphate binder on the shelf in favor of Zerenex. That leaves Keryx in the difficult position of negotiating with
Davita
(DVA) - Get DaVita Inc. Report
, the other large dialysis service provider without much leverage.
Another interesting wrinkle: PA21 was designed specifically so the iron is not absorbed by the body, which means there is no effect on iron stores, hemoglobin or anemia. This is not a bug, but a feature of PA21.
Keryx will have you believe dialysis providers are clamoring for Zerenex because its iron is absorbed by the body and therefore has positive effects on hemoglobin and anemia and reduces utilization of IV irons.
Yet Fresenius chose PA21, even though Zerenex has been around forever.
Lastly, there's this week's study results in which Keryx re-packages Zerenex for kidney disease patients not yet on dialysis.
A much larger commercial market than kidney dialysis. Now, Zerenex is no longer a phosphate binder, it's an alternative iron therapy! Why? Because FDA won't approve phosphate binders in non-dialysis kidney disease patients without positive outcomes data. Genzyme went down this route with its phosphate binder Renagel but failed. I see no reason to expect a better ending for Keryx and Zerenex.
Returning to my Amarin analogy, Keryx's pursuit of the kidney dialysis market for Zerenex is akin to Amarin's "Marine" indication for Vascepa -- a relatively easy approval but much tougher to sell, especially solo without a partner. The Zerenex non-dialysis opportunity is to Keryx what the Vascepa "Anchor" indication was for Amarin.
We know how disastrous that turned out for Amarin. Keryx is walking the same footsteps.
Navidea Pharma
(NAVB) - Get Navidea Biopharmaceuticals, Inc. Report
is in serious trouble when typically table-pounding Ladenburg analyst Kevin DeGeeter cuts his price target in half to $3.50 and writes the following:
On 11/6/13, NAVB reported 3Q13 financial results in line with our forecast and disclosed Norgine BV as the European marketing partner for Lymphoseek. While we believe it is still too early to draw conclusions regarding the U.S. launch of Lymphoseek, we are lowering our PT on shares of NAVB from $7.50 to $3.00 based on concerns regarding the European growth model and NAVB's governance structure. Specifically, after an extended negotiation process we were disappointed by the selection Norgine as the European partner for Lymphoseek. While we view Europe as a significantly smaller market opportunity we are concerned Norgine, which does not have any prior experience selling to radiology departments, does not have adequate commercial presence to drive optimal reimbursement and distribution of Lymphoseek. As such, we are cutting our peak gross EU sales forecast from $35M to $12M. Additionally, we, and other investors, in our view, continue to struggle with the terms and structure of NAVB's September $30M financing. Given that NAVB already had a single large shareholder with the potential to exert significant influence over corporate governance, we question the wisdom of placing $30M with a single (new) institutional investor and further accentuating shareholder concentration.
Lymphoseek revenue in the September quarter was a miniscule $144,000. As I explained more than a year ago, this
product is not going to perform well commercially
. Navidea's pipeline offers nothing of value and its balance sheet/shareholder structure are a mess.
Navidea is trading at a three-year low.
Greg F. writes:
I saw your article on Cytori Therapeutics (CYTX) . The biggest problem with Cytori is their technology sucks. It has small capacity, low yields, FDA concerns and it is old technology. They spent over $400 million developing a technology that doesn't work and will not be FDA approved. Tell that to the shareholders. It looks to me like they found a buyer that was sold a lot of hype. Regardless of his experience in the stem cell field, it's going to fail simply because the technology is terrible.
Agreed. I've long maintained Cytori's biggest problem is that the stem cell "soup" spun out of its belly-fat liposuction machines isn't an effective therapy for anything. This is why Cytori is shut out doing business in the U.S. -- FDA won't approve its stem-cell processing device because the company hasn't run clinical trials demonstrating patients benefit from the stem cells. Cytori seems to be migrating to Asia now where regulatory standards are more lax.
-- Reported by Adam Feuerstein in Boston.
Adam Feuerstein writes regularly for TheStreet. In keeping with company editorial policy, he doesn't own or short individual stocks, although he owns stock in TheStreet. He also doesn't invest in hedge funds or other private investment partnerships. Feuerstein appreciates your feedback;
to send him an email.