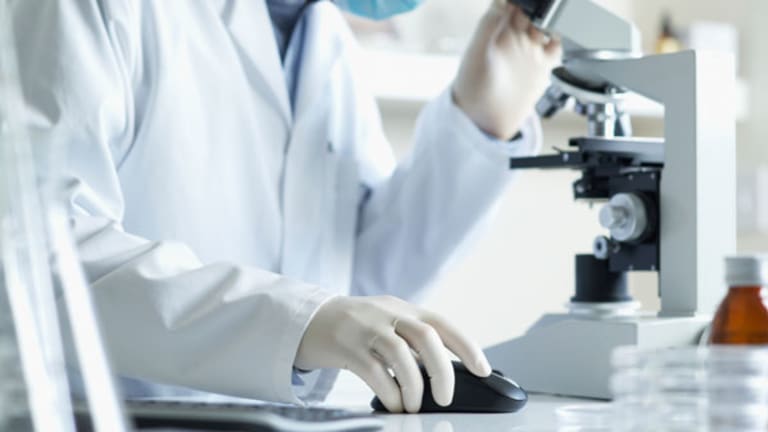 Biotech Stock Mailbag: Exelixis, Protalix, Arena
Biotech columnist Adam Feuerstein answers readers' questions about health-care companies.
Biotech columnist Adam Feuerstein answers readers' questions about health-care companies.
BOSTON (
) -- David Sobek, political scientist, amateur biotech investor and widely followed Twitter commentator (@dsobek) writes that
Exelixis
(EXEL) - Get Report
is an
under-appreciated and under-valued biotech stock
, particularly given some updates on the prostate cancer drug cabozantinib expected at the American Society of Clinical Oncology (ASCO) annual meeting in June.
"
Exelixis represents both a long-term value play and has a good chance to surprise investors with their data presentations at ASCO,"
Sobek at
Seeking Alpha
.
I appreciate Sobek's perspective on Exelixis but told him (
) that he's fighting against Wall Street biotech investors and their generally dim view of cabozantinib's potential. That makes it tough for Exelixis bulls like Sobek to win.
Exelixis shares were trading around $12 in the run up to last year's ASCO meeting but have since slumped to less than $5. To help explain why Exelixis has fallen and isn't getting up anytime soon (say the bears), I've asked a veteran Wall Street biotech investor -- and a longtime source -- to lay out his negative thesis for cabozantinib in this week's Biotech Stock Mailbag. His job prevents him from going on the record, so let's just call him Bio-investor X. And while he's not short Exelixis, you can assume that he's in the short-selling camp on this stock.
Remember, every stock -- biotechs included -- has a bull and bear thesis. You can't make an informed investing decision without knowing what the other side thinks.
As background, Exelixis is conducting two phase III studies of cabozantinib ("cabo" for short) in advanced prostate cancer. The company's plan is to use data from both studies to seek regulatory approval.
Study 306 is designed to assess durable pain reduction, currently enrolling prostate cancer patients with progressive disease (bone pain) after treatment with Taxotere and either
Johnson & Johnson's
(JNJ) - Get Report
Zytiga or
Medivation's
(MDVN)
MDV3100 . The study's targeted enrollment is 236 patients who are randomized 1:1 to receive either cabo or mitoxantrone/prednisone.
Study 307 is the survival trial and will enroll the same type of prostate cancer patient (post Taxotere and either Zytiga or MDV3100), randomized 2:1 to receive either cabo or prednisone. Target enrollment is 960 patients. An interim analysis of survival will be conducted after 387 deaths, a final analysis at 578 deaths.
Top-line data from both studies is expected in late 2013 or first half 2014, says Exelixis.
Here are the bullet points summarizing the Exelixis bear thesis of Bio-investor X:
Exelixis will miss trial enrollment timelines, especially since on top of Zytiga, Amgen's (AMGN) - Get Report Xgeva and Dendreon's (DNDN) Provenge (all approved and competing for prostate cancer patients), Algeta's Alpharadin and MDV3100 will be approved soon and also have compassionate-use programs in place.
The trials are mis-modeled; the assumptions for survival in the control arm of study 307 are too low. This will make timing of events (deaths) slower and hamper cabo's ability to beat the control arm (survival benefit) by 30%.
Study 307 is being conducted at an unproven lower dose of cabo than previously tested, which is likely to reduce the drug's efficacy and make it difficult to win on survival benefit (especially if the control-arm patients live longer than expected.)
The pain trial, study 306, is of no value on its own for a cancer drug. FDA recognizes three endpoints for prostate cancer drugs -- survival, quality of life and pain reduction -- but if you don't get a survival claim, forget about premium pricing.
Bio-investor's main beef with Exelixis is Study 307, which he predicts is more likely to fail to demonstrate a survival benefit favoring cabo. Without a survival benefit, FDA will not approve cabo, he says.
I turn the Mailbag over to Bio-Investor X:
"Exelixis and the analysts supporting the company say study 307 will take a year to enroll, with top-line data ready about a year after full enrollment. This timeline is unrealistic.
"Algeta's phase III study of Alpharadin
another prostate cancer therapy took 36 months from the start of enrollment to the reporting of interim data. The study enrolled 900 patients, with median survival of Alpharadin reaching 14 months compared to 11.2 months for the control arm.
"Johnson & Johnson's Zytiga study took one year to enroll 1,150 patients (with no competition) and 22 months from the start of the trial until interim results. Survival in the Zytiga arm was 14.8 months versus 11.9 months in the control arm.
"Medivation's MDV3100 trial took 26 months to enroll 1,165 patients and reach the interim look. Survival in the '3100 arm was 18.4 months compared to 13.6 months in the control arm.
"With the timelines of these three prostate cancer trials in mind, it seems aggressive to expect Exelixis' study 307 to enroll 960 patients and gather enough events for a top-line data analysis in two years, especially since the competitive environment will be tougher for them. Of course, Exelixis will try to speed up enrollment by seeking patients outside the U.S., but it will still be difficult to find patients that meet the study's enrollment criteria (more so than the three trials mentioned above) and who aren't too sick to tolerate a toxic drug with a narrow therapeutic window like cabo. Who would enroll in this trial ahead of taking Alpharadin or MDV3100, both of which have survival, pain palliation and quality-of-life data?
"Let's turn to an explanation of how Study 307 is mis-modeled. Exelixis designed the study with the assumption that the control arm (patients treated with prednisone) will live an average of 7 months. But look at the post-progression survival for MDV3100 (10.1 months) and for Zytiga (9.2 months). Is it realistic to expect dosing beyond progression? I say no, it isn't. A blend of 10.1 months and 9.2 months is unlikely to give you 7 months survival. The patients in the control arm of Study 307 will live longer than Exelixis modeled.
"With Zytiga approved and MDV3100 and Alpharadin going to be filed for approval soon (and both available already under compassionate-use programs), Exelixis will have a tough time enrolling patients in Study 307. If we assume the trial starts now, I don't expect the company to have data until the first half of 2015 at the earliest, and that assumes a lightning-fast enrollment pace and an early halt for efficacy. How likely is it that the cabo trial can be halted early for efficacy? Not so much because cabo has yet to show any survival benefit to date. The drug is being studied at a new, lower dose and at every turn, it seems inferior to the competition. On pain, Alpharadin and Zytiga are better; on survival MDV3100, Provenge, Alpharadin and Zytiga win; and on quality of life, Alpharadin and Amgen's Xgeva win.
"I see two possible outcomes: Exelixis is forced to resize the trial, i.e. add more patients, which means more cost and more time; or Exelixis moves forward with the current trial size, setting up a very high-risk event that is more likely to fail."
Thank you, Bio-investor X.
Porter M. writes, "I want you on the record with a prediction for the Arena Pharmaceuticals panel. With all your negativity, you shouldn't be able to weasel out of being wrong when the panel votes to approve."
Not a problem. I predict Thursday's FDA advisory panel vote will be negative, meaning the recommendation will be for FDA to reject lorcaserin a second time. I don't have a guess on the actual vote count. I'm sure some of the experts will vote in lorcaserin's favor, just not enough. Recall, the first FDA advisory panel in September 2010 voted 9-5 against lorcaserin.
That's my prediction, on the record. If I'm wrong, you won't have to wait long for me acknowledge my error publicly. I will be live-blogging the lorcaserin FDA advisory panel, so please tune in. And don't worry, Arena will get fair treatment from me on the live blog.
Haley W. asks, "Isn't FDA adding many obesity experts to the Arena panel a good thing? Why would these people not want a new weight-loss drug to be approved?"
A surfeit of obesity experts on the panel could swing the outcome either way. They may look at lorcaserin's weak efficacy and safety risks and vote against the drug; or they might take a sympathetic view, as Haley theorizes, and decide they want more pharmacological options to treat obesity. If that happens, lorcaserin could get a positive vote.
I've observed all of the obesity drug panels over the past two years and I haven't seen much doe-eyed sympathy expressed by obesity experts. On the contrary, they're a tough crowd to please, scarred by the troubles and scandals of previous weight-loss drugs, eager not to repeat the same mistakes.
While Thursday's panel is about lorcaserin, I suspect Vivus' Qnexa will play an indirect role in the deliberations. These panel experts and FDA know that Qnexa is likely to be approved soon, which means the need for a pharmacological option to treat obesity is not unmet for long. This raises the regulatory bar on lorcaserin.
@torams asks, "Hi Adam, what's your opinion on ALXA FDA approval."
Alexza Pharmaceuticals
(ALXA)
is expected to hear from FDA later today on the approval decision for Adasuve, an inhaled therapy for the treatment of agitation in patients with schizophrenia.
My guess: FDA rejects Adasuve.
Update:
After this column was written, FDA rejected Adasuve due to unresolved manufacturing problems.
While on the topic of FDA Drug Approvals, I want to formally congratulate the winners in my
. As you may recall, 60 contestants battled over the past four months to see who could most accurately predict the results of 15 FDA drug approval decisions.
Taking the top prize with an astonishing 14-1 record was Clay, a Texas accountant and avid biotech investor.
He prefers his last name not be disclosed because he's afraid the paparazzi will be camped outside his house. He is on Twitter, handle @cbhwatch.
Clay's only mis-step in the contest was getting the
Vivus
(VVUS) - Get Report
Qnexa decision wrong. He predicted approval but as we know, FDA delayed the decision by three months. He may end up being right, but rules are rules, so Clay has one tiny blemish on what is still an amazing achievement. Well done!
Second place, with a 13-2 record, goes to Adam Burden, a secondary school teacher in Auckland, New Zealand. He's also the founder of
, a web site which tracks drug and regulatory catalysts.
Adam's mistakes: The Vivus Qnexa decision wrong (he predicted approval) and
Discovery Labs'
(DSCO)
Surfaxin. He guessed rejection but the drug was approved. You can find Adam on Twitter at @crusadernz.
Finally, a tie for third place between Patrick Crutcher and Joseph Lee. Both gents compiled a 12-3 record. Patrick is a statistics PhD candidate at UCLA and co-founder of
, a subscription-based biotech investing web site. He's on Twitter at @chasingthealpha.
Joseph is also a graduate student but in San Francisco and the founder of
, a web site focused on analyzing FDA drug approval decisions.
Hence, his strong showing in the contest. Joseph's Twitter handle: @fda_tracker.
Congrats to all the winners and a big THANK YOU to everyone who participated in the contest. I'll definitely organize another one soon.
Oh, if you're wondering how I performed in my own contest, well, I'm proud to say I finished with an 11-4 record, tied with several others for fourth place.
Dave B. asks, "How much value should we place in
Protalix's
(PLX) - Get Report
pipeline? Seems like these rare treatments are the new moneymakers. Gaucher first, then others next? Is this a solid long-term buy?"
The business of developing new therapies for orphan (rare) diseases is exploding, agreed. These drugs treat relatively small numbers of patients but do so at super-premium prices with no reimbursement risk. But if you're interested in investing in orphan disease stocks, look at
Alexion Pharmaceuticals
(ALXN) - Get Report
and
BioMarin
(BMRN) - Get Report
, perhaps
Synageva Biopharma
(GEVA)
, before Protalix.
Protalix is the me-too orphan drug company. By that I mean Protalix's pipeline is filled with drugs that are late to the market. Elelyso, approved this week for Gaucher disease, faces competition from currently marketed therapies Sanofi's Cerezyme and Shire's Vpriv.
The next drug in Protalix's pipeline is PRX-102, a therapy for Fabry disease but again,
Sanofi
(SNY) - Get Report
already sells Fabrazyme and
Shire
(SHHPGY)
sells Replagal for the same disease. PRX-102 is still in preclinical development, meaning it's years from the market, if ever.
Protalix is also developing a bio-defense drug and a biosimilar version of the rheumatoid arthritis drug Enbrel. The former might be interesting although bio-defense drugs only have fickle, budget-constrained governments as customers; the latter will almost certainly run headfirst into generic competition and growing market share for the emerging class of rheumatoid arthritis pills.
Contrast Protalix's R&D efforts to Alexion which is hugely profitable and growing through expanded uses for its main drug Soliris. BioMarin is developing therapies for novel orphan disease with multiple, significant clinical trial catalysts later this year.
Protalix does have a unique technology platform in which plant cells are engineered to produce therapeutic proteins. Perhaps a larger company (Pfizer?) could do a better job unlocking the value there.
--Written by Adam Feuerstein in Boston.
>To contact the writer of this article, click here:
Adam Feuerstein
.
>To follow the writer on Twitter, go to
http://twitter.com/adamfeuerstein
.
>To submit a news tip, send an email to:
.
Follow
TheStreet
on
and become a fan on
Adam Feuerstein writes regularly for TheStreet. In keeping with company editorial policy, he doesn't own or short individual stocks, although he owns stock in TheStreet. He also doesn't invest in hedge funds or other private investment partnerships. Feuerstein appreciates your feedback;
to send him an email.