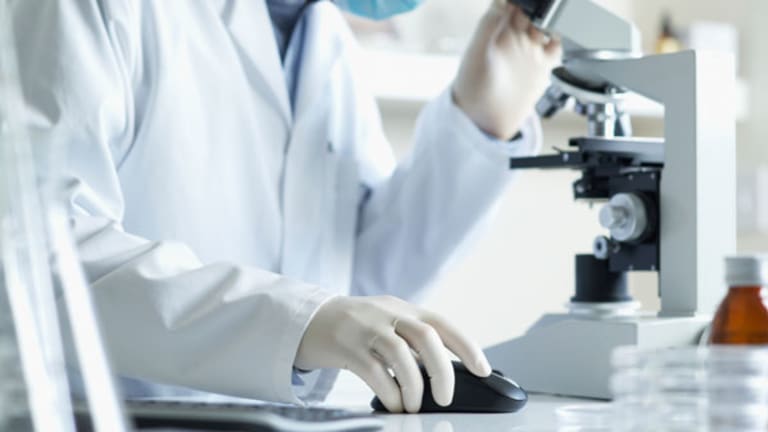 Biotech Stock Mailbag: Exelixis
Biotech columnist Adam Feuerstein answers readers' questions and concerns about health care and drug-related stocks.
Biotech columnist Adam Feuerstein answers readers' questions and concerns about health care and drug-related stocks.
BOSTON (
) -- Welcome to this week's Biotech Stock Mailbag. @biotechbaumer asks,
"Do you know timeframe when FDA expected to make decision on SPA for $EXEL to use bone mets as primary endpoint in CRPC?"
I'll translate that tweet: He's asking if there is a time frame for when the Food and Drug Administration and
Exelixis
(EXEL) - Get Report
are expected to reach agreement on a special protocol assessment (SPA) nailing down the design of the first pivotal, phase III study of Exelixis' prostate cancer drug cabozantinib.
Exelixis has said publicly that it expects to begin the phase III study of cabozantinib ("cabo") before the end of the year. In order to meet that timeline, the company must reach agreement with FDA on the SPA. It's nearly November, so clearly, the SPA agreement, if one is agreed to, will be coming soon.
Thursday night, Exelixis said it expects that FDA feedback "shortly."
Exelixis is proposing a phase III study for cabo that will use a composite primary endpoint of bone lesion clearance and pain resolution. Patients enrolled in this study will have advanced, metastatic prostate cancer that no longer responds to the standard chemo regimen of Taxotere or newer drugs like
Johnson & Johnson's Zytiga
(JNJ) - Get Report
and
Sanofi's
(SNY) - Get Report
Jevtana. These are very sick prostate cancer patients with significant prostate cancer-related pain who have few or no treatment options left.
This cabo study design is a point of controversy for investors (and an overhang on the Exelixis' stock price) because Exelixis is choosing not to use overall survival as the primary endpoint. All recently approved prostate cancer drugs -- Zytiga, Jevtana and Dendreon's Provenge -- used a survival benefit as the basis for approval. Still, experimental prostate cancer drugs from
Medivation
(MDVN)
and
Algeta
both employed overall survival in their respective phase III studies.
Exelixis believes demonstrating cabo's ability to shrink or eliminate the spread of prostate cancer to bone, which causes patients a lot of pain, is a clinically significant benefit and enough to convince FDA to approve the drug. To support their position, Exelixis points to the FDA's own guidance stating prostate cancer drugs can be approved on the basis of pain resolution. Mitoxantrone was approved for prostate cancer using a pain reduction endpoint in 1996.
Exelixis also fully intends to later expand cabo's use in prostate cancer with two additional phase III trials, one of which will definitely use overall survival as the primary endpoint.
Doubter and skeptics argue that mitoxantrone is an old, rarely used prostate cancer drug reflecting outdated thinking. FDA more recently has required new prostate cancer drugs to demonstrate a survival benefit and cabo should be no exception. Proving a survival advantage will be an extreme challenge for Exelixis, the bears say, because the patients the company plans to enroll in the initial phase III study have advanced disease and cabo is not an easy drug to tolerate from a side-effect perspective.
Dr. Daniel George, a prostate cancer expert at Duke University and an investigator in previous cabo studies, said focusing the initial pivotal study on pain relief takes advantage of the drug's strength and is clinically meaningful to these advanced prostate cancer patients.
"I think the FDA will find it hard to ignore since none of the other
prostate cancer drugs have a very good track record with respect to pain," he said.
If Exelixis is right and FDA clears an SPA with a bone/pain endpoint (without requiring a survival benefit), Exelixis' stock should move higher.
The more interesting, uncertain and evolving story, in my mind, is how the efficacy and safety of Exelixis' cabo stacks up against Algeta's Alpharadin in a similar prostate cancer patient population. Algeta will be seeking U.S. approval soon with a study that demonstrated a survival benefit.
Leighton H. writes,
"Wow! You have been silent in regard to Cell Therapeutics (CTIC) - Get Report lately. No comment about the confirmation of the significance of the PIX301 trial by the independent radiological review, or the upcoming EMA decision on pixantrone, or the reconsideration of the FDA decision in regard to pixantrone. Last I heard from you were comments to your blog some months ago where, when asked about your thoughts on the chances of approval of pixantrone by the FDA, you stated '0%chance.' Do you still hold the same opinion?"
I do, although I believe the question to me dealt with Cell Therapeutics' chance of winning pixantrone approval based on the appeal of the FDA's 2010 rejection. This is what I wrote about the
pixantrone appeal last December
:
"The FDA appeal is a desperate Hail Mary that is highly unlikely to succeed. I also fail to see a scenario by which European regulators reach a more positive conclusion about pixantrone compared to their U.S. counterparts at FDA."
I don't see any reason to amend that prediction, a year later.
Cell Therapeutics' CEO Jim Bianco needs retail investors to buy into his story that pixantrone has a shot at FDA approval because the company must raise more money. Cell Therapeutics runs out of cash in the first quarter of next year -- that's before FDA will issue a second approval decision in April.
Bianco raises money by selling discounted company shares to fast-money funds rounded up by Rodman & Renshaw. These funds, which don't give a rat's posterior about Cell Therapeutics or pixantrone, make quick profits by selling their discounted shares at market price to mostly retail investors who naively and wrongly believe the rags-to-riches story that Bianco sells so well.
Cell Therapeutics is very good at raising money but is very, very bad at developing drugs.
Pixantrone is, and always will be, a me-too chemotherapy drug for lymphoma with marginal efficacy and a questionable safety profile. No one is clamoring for pixantrone. FDA rejected the drug in April 2010, one month after an advisory panel voted unanimously to recommend against its approval. Let's repeat that: An entire panel of cancer experts -- people who treat cancer patients for a living -- didn't think pixantrone was good enough for approval. Not a single expert on the panel supported the drug.
Cell Therapeutics will tell you FDA biased the panel against pixantrone by insisting incorrectly that the phase III study upon which the drug was being reviewed was a statistical failure. Part of this appeal process entailed Cell Therapeutics convincing FDA that the pixantrone study was not a statistical failure and deserved another review.
The more relevant question is whether pixantrone provides a clinically meaningful benefit to lymphoma patients. The problem facing Cell Therapeutics in this "do-over" review is that the pixantrone data have not changed for the better even if the study's statistical significance might have improved. Let's not forget that the "PIX301" study only enrolled 140 of a planned 320 patients. Twenty-eight clinical sites in the U.S. managed to enroll just eight patients. None of these U.S. patients responded to pixantrone.
"Results were not robust," is how the FDA summarized, or should we say dismissed, the pixantrone phase III study during the first review. The agency raised safety concerns about the drug too, pointing to sharply higher rates of neutropenia (low white blood cell counts) and evidence of pixantrone-induced cardiac toxicity, including heart failure.
Last year, FDA suggested to Cell Therapeutics that it study pixantrone in combination with other cancer drugs before initial approval. That's what Cell Therapeutics is doing right now with the new, ongoing phase III study, which combines pixantrone with Roche's Rituxan.
Given pixantrone's many shortcomings and the overwhelming rejection last year, it would be shocking and unprecedented for the FDA to reverse course and approve the drug without new clinical data.
A couple of more tidbits: On the third-quarter conference call Tuesday, Bianco let it slip that enrollment in the new pixantrone study was slower than expected. That's another Bianco boast busted. Earlier this spring, Bianco said demand from U.S doctors to enroll patients in the pixantrone study was unprecedented, which would help the company reach full enrollment in record time. I guess not.
Second, Cell Therapeutics followed up its third-quarter report by filing a new $100 million shelf registration statement with the
SEC
. Like I said before, it's always about raising money for Bianco and Cell Therapeutics.
@yemoko asks,
"Is the dream over for Fanapt? What do you make of their new hire?"
I have a hunch
Novartis
(NVS) - Get Report
is getting ready to give up on the schizophrenia drug Fanapt due to rock-bottom sales, leaving partner
Vanda Pharmaceuticals
(VNDA) - Get Report
with a major headache.
I'm just speculating, admittedly, but hear me out. On Monday, Vanda announced the hiring of a chief commercial officer. On Tuesday, Novartis announced third-quarter financial results, which quite conspicuously excluded any mention of Fanapt sales.
Vanda owns Fanapt but licensed U.S. marketing rights to Novartis in exchange for royalties on sales. Vanda sells no drugs on its own and isn't close to being in a position to sell drugs, so why is the company hiring a chief commercial officer?
Unless Vanda knows that Novartis is about to abandon Fanapt at its doorstep.
It's not like Novartis is making any money selling the schizophrenia drug. Fanapt sales during the third quarter were so inconsequential that Novartis didn't even disclose a specific revenue figure. Instead, Fanapt was thrown into a catch-all "other" bucket.
In the second quarter, Novartis reported $7.4 million in Fanapt sales. If Novartis' disclosure policies remained consistent, it's reasonable to assume third-quarter Fanapt sales fell meaningfully below $7.4 million. If not, Novartis probably would have released the actual sales amount this week.
Novartis began selling Fanapt in January 2010 after paying Vanda $200 million upfront to license the drug for the U.S. schizophrenia market. Seven quarters of dismal sales later, it's probably dawning on Novartis that recouping its Fanapt investment won't happen any time soon, if ever. The drug is a money-loser at a time when Novartis is laying off employees and cutting costs.
A Vanda spokesperson told me its new chief commercial officer Bob Repella was hired to oversee launch preparation for tasimelton, an experimental sleep drug currently in phase III for patients with non-24-hour sleep wake disorder. Repella will also work to market Fanapt globally. The drug is currently under approval review by European regulators.
Working on the launch of tasimelton, an old drug with a checkered past of disappointing clinical trial results, seems a bit optimistic given the risk involved with the ongoing phase III study. More likely, Repella was brought on to figure out how Vanda can best salvage Fanapt in the U.S. when Novartis bails.
If Vanda chooses to sell Fanapt on its own, the company will receive 100% of the revenue (minus a small royalty paid to
Titan Pharmaceuticals
(TTNP) - Get Report
.) Vanda's operating expenses will increase drastically, however, because the company will need to hire and maintain a sales force, something it doesn't do now. Add in marketing costs tied to selling a drug, too.
Maybe Vanda will try to find a new marketing partner for Fanapta. Given Novartis' experience, that's going to be a tough job (made tougher by the U.S. approval this week of a generic version of the top-seling schizophrenia drug Zyprexa.)
-- Written by Adam Feuerstein in Boston
>To contact the writer of this article, click here:
Adam Feuerstein
.
>To follow the writer on Twitter, go to
http://twitter.com/adamfeuerstein
.
>To submit a news tip, send an email to:
.
Follow
TheStreet
on
and become a fan on
Adam Feuerstein writes regularly for TheStreet. In keeping with company editorial policy, he doesn't own or short individual stocks, although he owns stock in TheStreet. He also doesn't invest in hedge funds or other private investment partnerships. Feuerstein appreciates your feedback;
to send him an email.