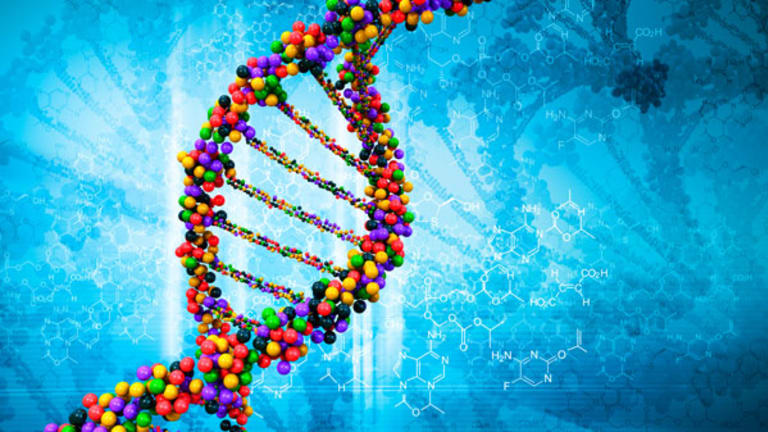 Biotech Stock Mailbag: Exact Sciences, Rexahn, Advaxis, Peregrine
Biotech columnist Adam Feuerstein answers readers' questions about health care companies.
Biotech columnist Adam Feuerstein answers readers' questions about health care companies.
NEW YORK (TheStreet) -- Welcome back to the Biotech Stock Mailbag. Let's get started with an email from Dapo A., who wants an update on Exact Sciences (EXAS) - Get Report:
The next significant event for Exact Sciences should be publication of the Cologuard pivotal "Deep-C" validation study in a medical journal before the FDA advisory panel on March 27.
Exact Sciences announced top-line results from the Cologuard study last April, showing a 92% sensitivity to detect colon cancer and a 42% sensitivity for the detection of pre-cancerous lesions (the best and most important data from the study.) The specificity in the Deep-C trial was 87%.
We should get more details on Cologuard's stool-based colon-cancer screening performance from the journal publication, including specifics on the comparison to fecal immunochemical testing (FIT). Exact has already told investors Cologuard was superior to FIT for cancer and pre-cancer sensitivity, but we haven't seen the FIT sensitivity numbers yet.
On March 26, an FDA panel will review the blood-based mSEPT9 colon cancer screening test developed by Epigenomics. mSEPT9 is potential competition to Cologuard but sensitivity is weak -- 48% for cancer and 11% for (pre-cancerous) adenomas. mSEPT9 was most accurate in detecting stage IV colon cancer (77% sensitivity) but the benefit for patients is catching colon cancer early when it's most treatable, preferably when lesions are still pre-cancerous. The Epigenomics blood-based screen is convenient but doesn't appear to be particularly useful.
On March 27, the same FDA panel will review Cologuard. Unless there are major, hidden problems with the Deep-C data (I don't expect there will be), the panel should be uneventful and positive with a recommendation to approve Cologuard.
Two potential Cologuard controversies which may crop up at the March 27 panel: The appropriate testing interval, meaning how frequently should the Cologuard test be used. From a compliance and commercial standpoint, Exact Sciences would prefer a longer testing interval like once every three years. Anything shorter, like a recommendation that patients be screened every year, could be seen as a negative by investors.
The other potential hiccup would be pushback or criticism from the panel experts about the clinical significance of a 42% sensitivity for pre-cancerous lesions. The Cologuard detection rate for pre-cancerous lesions is superior to any currently available screening tests, but perhaps panel experts will find a nit to pick.
All in, I don't see a lot of downside risk in Exact Sciences going into publication of the Deep-C data or the FDA panel. (Knock on wood.) I also don't expect the stock to move significantly higher if the panel votes to recommend Cologuard's approval.
The bull-bear debate over Cologuard is focused -- appropriately -- on the commercial launch later this year. I'm an Exact Sciences bull and believe Cologuard will be a commercial success, but convincing people to poop in a bucket is going to be a challenge. Some investors are skeptical about Cologuard for this reason, understandably so. 
Robert K. asks, "Adam, how does something like Rexahn Pharmaceuticals (RNN) happen?"
Ha! I take it you mean, how does a company with a long history of drug development failure, abandoned by investors, somehow resurrect itself and become one of this year's top stock performers?
Rexahn "happens" because the biotech stock bubble has an amnestic effect on a lot of investors. They buy what they think is a shiny new stock, when in fact, it's just a throwaway vamped up with new paint.
Take Rexahn's lead cancer drug Archexin. In January, the company announced the start of a phase II study in patients with advanced kidney cancer.
Um... Rexahn tried this before unsuccessfully. A phase II study of Archexin in kidney cancer was abandoned in 2009:
From Rexahn's 2009 10-K:
Archexin is currently in Phase II clinical trials for the treatment of pancreatic cancer with patient enrollment underway. Archexin's Phase II clinical trial protocol for the treatment of renal cell carcinoma (RCC) was accepted by the FDA, but issues with enrollment have delayed the trial. Such enrollment issues were primarily due to the fact that there is a small number of patients that have been diagnosed with RCC and such patients are often treated with surgery instead of drug therapies. After further consideration of the trial design and the limited number of patients, there was a reallocation of resources and Rexahn reprioritized Archexin to pursue studies in pancreatic cancer and ovarian cancer.
Mediocre (and frankly, unreliable) results from that phase II study of Archexin in pancreatic cancer were released in August 2012. Last September, Rexahn admitted Rexahn's development path in pancreatic cancer was futile. 
Sell-side analysts like H.C Wainwright's Andrew Fein are telling investors to buy Rexahn today with nary a mention of Archexin's troubled history. Surprise, surprise.
Rexahn and its enablers like Fein are also playing selective disclosure with a second cancer drug candidate. "Management indicated that RX-3117 partnership discussions have been ongoing and are confident of a deal by mid-2014," Fein wrote in a January research note.
Left unsaid: Rexahn had a partner for RX-3117. Teva (TEVA) - Get Report signed on to fund early development of the drug in 2009. Last August, Teva gave the drug back to Rexahn.
Robert K. emails: "If you get a chance could you take a quick look at Advaxis (ADXS) - Get Report. Something just isn't adding up. Thanks for your time."
Advaxis lead product ADXS-HVP is a "cancer vaccine" consisting of listeria bacteria engineered to produce antigens that are supposed to stimulate the patient's immune system to recognize and kill cancer cells associated with HPV.
Last fall, Advaxis announced results from a phase II study of ADXS-HVP in patients with recurrent cervical cancer. The study was randomized but not in a way that allows for the best assessment of the vaccine's efficacy: 110 women with recurrent cervical cancer were all treated with ADXS-HVP but half the women were also administered the chemotherapy drug cisplatin.
What you'd rather see in this phase II study is half the cervical cancer patients treated with ADXS-HVP plus cisplatin and the other half treated with cisplatin alone as a true control arm.
The results: No difference in overall survival between the two arms of the study, with median overall survival of 8.5 months. At 12 months, 36% of patients across both arms were alive; at 18 months, 28% of patients were alive. The overall response rate for all 110 patients was 11% -- again, no difference between the two treatment arms.
Advaxis described these phase II data last November as "encouraging" and supportive of moving ADXS-HPV into more advanced clinical trials. The reason given for optimism was a comparison of the ADXS-HPV data to a 2004 phase III study by Moore et al which compared cisplatin to cisplatin and paclitaxel in patients with recurrent cervical cancer.
The Moore study reported median overall survival of 8.9 months for cisplatin versus 9.9 months for cisplatin/paclitaxel -- a difference that was not statistically significant. Response rates were 19% for cisplatin and 36% for cisplatin/paclitaxel.
An objective comparison between these two studies doesn't exactly justify the optimism which Advaxis claims to see in the ADXS-HPV data. If the vaccine were truly effective, we should be seeing a stronger synergistic effect between ADXS-HPV and cisplatin. Instead, we see a median overall survival of 8.5 months for ADXS-HPV plus cisplatin in the Advaxis study compared to 8.9 months for cisplatin alone in the Moore study. Not exactly confidence inspiring.
One more important distinction between these two studies: Advaxis conducted its phase II study of ADXS-HPV entirely in India, while the Moore study was conducted in the United States by leading academic institutions. The latter study has more credibility.
Unfortunately, I'm not sure Advaxis' next step with ADXS-HPV will tell us much more about the vaccine's efficacy. An ongoing, U.S.-based phase II study is set up to enroll only 67 patients with recurrent cervical cancer. The study isn't randomized and has no control arm.
Mike R. writes:
I know one of the companies that you have written on in the past, Peregrine Pharmaceuticals (PPHM) , seems to be making some significant inroads in the immunotherapy market. They received Fast Track status on their current phase III drug trial. I know there was a lot of pain after a faulty phase II trial recall of test results. Do you have any current thoughts on this company and have they turned the corner? I was surprised they received Fast Track approval by the FDA.
Inflating the importance of FDA Fast Track status is a common mistake made by retail investors inexperienced with the regulatory process. Companies such as Peregrine Pharma issue press releases about the their drugs gaining a Fast Track designation because it's usually good for a quick bump in trading volume and stock price. From a clinical standpoint, Fast Track means nothing. The status doesn't infer anything about a drug's chance for success in clinical trials or approval.
Peregrine's bavituximab failed to demonstrate any benefit for second-line lung cancer patients in a phase II study. Peregrine chose to ignore the negative bavituximab data and move ahead with a phase III study in the same second-line lung cancer patient population. Why? Because the company has nothing else of value in its pipeline, so pushing ahead with bavituximab is the only way for Peregrine's executives to keep cashing paychecks.
This phase III study of bavituximab will fail just like the previous phase II study failed, in my opinion. I even have my doubts about Peregrine's ability to fully enroll the 582-patient study given that doctors and lung cancer patients are scrambling to enroll in ongoing studies of anti-PD-1 "checkpoint inhibitors" like Bristol-Myers Squibb's (BMY) - Get Report nivolumab.
On Feb. 19, Eli Lilly (LLY) - Get Report announced positive results, including a statistically significant survival benefit, from a phase III study of ramucirumab in second-line lung cancer. Details of the study remain undisclosed until a medical meeting (likely ASCO in June) but the results definitely place another significant hurdle in front of bavituximab.
I've covered Peregrine for many years so I remember when management claimed bavituximab worked by disrupting the growth of blood vessels. This was back when Genentech's Avastin, which works similarly, was new and exciting for investors. In the ensuing years, Peregrine management has changed the story of bavituximab's possible mechanism of action to align with whichever oncology story was buzz worthy Today, the hot trend is immuno-oncology and checkpoint inhibition, so naturally, Peregrine now claims bavituximab has magical immune-boosting qualities. The bavituximab story will change. It always does.
What doesn't change is the fundamental inevitability of bavituximab's failure. The only uncertainty is timing. If you day-trade Peregrine, as many people apparently did this week, don't be the guy left holding the stock when it collapses again.
-- Written by Adam Feuerstein
 Follow Adam Feuerstein on Twitter.
Adam Feuerstein writes regularly for TheStreet. In keeping with company editorial policy, he doesn't own or short individual stocks, although he owns stock in TheStreet. He also doesn't invest in hedge funds or other private investment partnerships. Feuerstein appreciates your feedback;
to send him an email.