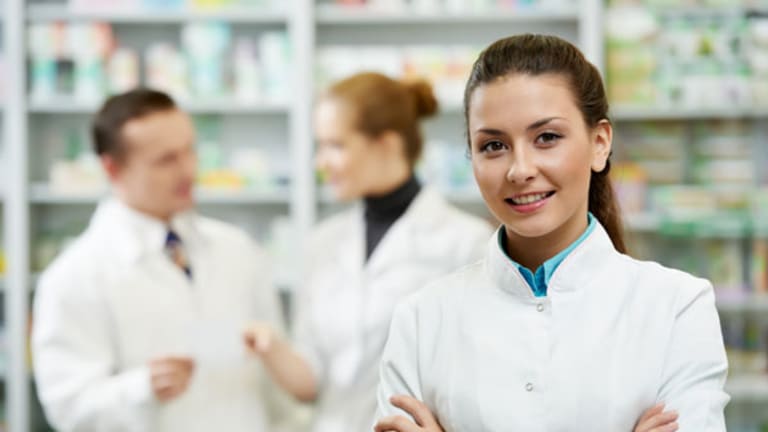 Biotech Stock Mailbag: Exact Sciences
Biotech columnist Adam Feuerstein answers readers' questions and concerns about health care and drug-related stocks.
BOSTON (
) -- Let's kick off this week's Biotech Stock Mailbag with an update from
Exact Sciences
(EXAS) - Get Free Report
.
Helene T writes,
"I understand you missed seeing Exact Sciences at the BIO meeting last week but I was hoping you had a chance to circle back and get an update. Any thoughts?"
Yes, I spoke with Exact CEO Kevin Conroy on Tuesday. Conroy assured me the company will release updated validation data for its Cologuard colon cancer-screening test at some point this year. He's being purposely coy about timing, in part because he wants to avoid repeating last fall's "sell the news" reaction to the initial Cologuard validation data.
For those who need a refresher of the previous data,
Cologuard detected 85% of colon cancers and 64% of early pre-cancers
. The pre-cancer sensitivity, in particular, was especially strong, surpassing the company's goal of detecting 50% of pre-cancerous lesions. Patients benefit most when cancer is detected as early as possible, which is why Exact Sciences is engineering Cologuard to be especially sensitive to pre-cancerous lesions in the colon. Existing colon-cancer screening tests don't do a good job of picking up early-stage cancer.
Exact Sciences is working on improving Cologuard's performance and reaching final agreement with the Food and Drug Administration on a phase III study design.
"I'm very happy with the way we came out of last year, especially achieving our goals for cancer and pre-cancer sensitivity," said Conroy. "We're tuning the assay to make it more specific and sensitive, and I'd say we're about 80% of the way through these enhancements and should be finished in the near term."
Conroy says Exact Sciences is on track to start the phase III study in the third quarter, as previously forecast. The study intends to enroll between 8,600 and 12,000 patients who are at average risk for colon cancer. Enrolling average-risk patients (as opposed to only high-risk patients, for example) sets a higher performance bar for Cologuard, but it will also yield the strongest and most "real world" assessment of the test's performance. With these data, Exact Sciences can make a very compelling case for higher pricing and more comprehensive insurance coverage -- all of which translates into (hopefully) higher Cologuard peak sales down the road.
Exact Sciences' biggest enemies today are time and a lack of short-term catalysts to get attention-addled investors interested in the stock right now. The phase III study won't begin until the spring and will take about 12 months to fully enroll, which means we won't see results until the back end of 2012.
That's why I was happy to hear Conroy say that Exact Sciences does have plans to release additional Cologuard validation data this year. New data equal to or better than what was released last year should remind investors again that Exact Sciences is a strong and underappreciated early-cancer detection investment story.
Linda M. emails,
"I'm interested in your thoughts on the long or short-term growth story of OncoGenex (OGXI) ."
OncoGenex suffers from the same dearth of short-term catalysts as Exact Sciences. OncoGenex and partner Teva are running twin phase III studies of OGX-011 in prostate cancer, but neither company has offered specific guidance for when data will be ready for release. The best guess I've seen is late 2012.
New drugs to treat prostate cancer drugs are hot with investors right now (witness the attention being paid to
Exelixis
(EXEL) - Get Free Report
,
Medivation
(MDVN)
and, of course,
Dendreon
(DNDN)
.) OncoGenex seems to be missing the party. The stock, at $16, trades for about half its value in 2009 after the OGX-011 phase II data were released and presented.
OncoGenex CEO Scott Cormack, in an interview Wednesday, says his company's stock price suffers because he can't offer investors a near-term clinical catalyst to play. He also battles lingering misperceptions that Teva was a bad choice for an OGX-011 partnership, he says. Teva, of course, is best known as a generic drug powerhouse, not a big player in new oncology drug development.
"Teva was probably not the partner that most investors expected us to choose ... but they are a very smart group and good drug developers," said Cormack in an interview Wednesday. "We were the first deal signed by Teva after they announced plans to branch out into branded oncology drugs so the market didn't quite get it."
Most importantly, Teva has put significant financial resources behind OGX-011, Cormack adds, including paying for most of the costs of the two phase III prostate cancer studies and funding a third phase III study in lung cancer that is expected to start soon.
OncoGenex today sports a $110 million enterprise value with less than 10 million shares outstanding. That's not very expensive for a company with a late-stage cancer drug, even one that's already partnered.
OGX-011 is designed to inhibit a protein known as clusterin that plays a role in cell survival. By knocking out clusterin in tumors, OGX-011 makes cancer cells more vulnerable to chemotherapy and other tumor-killing drugs.
OGX-011 is being developed in prostate cancer as an add-on to Taxotere, the chemotherapy drug considered standard of care for patients with advanced disease. In a phase II study enrolling 82 patients and presented in 2009, the
median overall survival for the men treated with OGX-011 plus Taxotere was 23.8 months
compared to 16.9 months for men treated with Taxotere alone -- an improvement in survival of 6.9 months favoring OGX-011. Expressed another way, treatment with OGX-011 reduced the risk of death by 39% compared to treatment with Taxotere alone.
While this result was not statistically significant, the strong trend favoring a survival benefit for OGX-011 was compelling because the data came from a randomized, controlled trial.
Doubts cast upon the reliability of the phase II data centered mainly around the fact that OGX-011's survival benefit came despite the drug having little or no measurable effect on tumor progression compared to Taxotere alone. Fifty-eight percent of men treated in the OGX-011 arm reported a PSA response compared to 54% of men in the Taxotere-alone arm. PSA is a commonly used biomarker for prostate tumor growth. Progression-free survival was 7.3 months for the OGX-011-treated men compared to 6.1 months for the men treated with Taxotere alone.
Whether OGX-011 can pull a phase III "Provenge" and produce a statistically significant survival benefit in the absence of objective tumor response is a question that won't be answered until late next year.
The stellar cystic fibrosis data announced Wednesday by
Vertex Pharmaceuticals
(VRTX) - Get Free Report
from a phase III study of the company's drug XV-770 prompted investors and analysts to forecast potential peak sales.
My article on the VX-770 data pegged the drug's revenue potential in the $400 million to $600 million range
, which, in turn, prompted a skeptical @carterkeller to tweet:
"Pulmozyme is not cheap and doesn't clear $300M US with everyone eligible and chronic therapy for life. Path to $600M?"
The sales math on VX-700 is fairly simple but it is built on assumptions, so kudos to Carter for being skeptical.
Start with an estimate of 70,000 cystic fibrosis patients worldwide, of which 4-7% have the G551D genetic mutation that will most benefit from treatment with VX-700. That leaves you with an addressable patient population of between 2,800 and 4,900 patients.
For argument's sake, let's be conservative and assume 2,800 patients is the addressable patient population. Cystic fibrosis is an orphan disease and the small subset of G551D patients is an orphan indication within an orphan disease. This should give Vertex wide latitude on pricing. Translation: Vertex could charge upwards of $200,000 or more per year for VX-770 -- similar to the cost of treatment for rare, genetic diseases offered by Genzyme, Alexion Pharmaceuticals or BioMarin.
Do that math (2,800 patients x $200,000 per treatment) gets you a peak sales potential of $560 million. No drug achieves 100% market share, of course, but it's not unreasonable to assume 60-70% share, which works out to VX-770 peak sales in the range of $336 million to $392 million -- so call it $400 million.
Upside: More cystic fibrosis patients treated with VX-770 and/or higher pricing. The downside, naturally, is lower pricing and fewer patients or lower penetration rates. It's difficult (impossible?) to accurately predict VX-770 sales right now, but guesses like a $400 million to $600 million sales range seem to be backed up with reasonable assumptions.
VX-770, if approved (another assumption) is potentially more of a game-changing drug in cystic fibrosis compared to
Roche's
Pulmozyme because the former targets an underlying cause of the disease. Pulmozyme, by comparison, loosens mucus or treats a symptom of the disease.
More tweets. @drive_gt3 asks,
"Do you think a White Knight appears for Clinical Data( CLDA)? Just can't see it being gobbled up at $30 + the possible milestone $6."
I'm assuming R.J. Kirk, Clinical Data's chairman, largest shareholder and chief dealmaker, didn't purposefully leave a better offer for the company on the table. If
Eli Lilly
(LLY) - Get Free Report
, for instance, had bid $45 a share for Clinical Data, Kirk would have had no qualms declining
Forest Labs'
(FRX)
$30-a-share proffer. That makes sense, right? Sure, a higher white-knight bid is possible, but likely? I don't think so.
Sounds like the
terms offered by Forest were the best Kirk could get for Clinical Data
, so that's the deal that got done. Kirk, his affiliates and the rest of the Clinical Data board control more than half the company's shares and have accepted Forest's tender offer. With a head start like that, it's going to be almost impossible for any outside shareholder group to derail this deal. The class-action lawyers are kvetching, of course, but they're just blowing hot air.
And besides, Clinical Data at $30 is a double from where the stock traded before Viibryd was approved. That's nothing to complain about.
@MedRedDad tweets,
"I'm surprised to see $MNKD holding so well above $3.50. Any chance mgmt tries to squeeze in an offering pre-FDA meeting?"
MannKind
(MNKD) - Get Free Report
needs money badly so I'm sure management would jump at the chance to sell stock. The company's problem is not supply but demand i.e. finding investors willing to own newly minted MannKind shares at the moment. Two FDA rejections of Afrezza and tons of uncertainty about the product's future don't exactly make MannKind a must-own stock these days.
Joan B. emails,
"Hey Adam, now that there is nothing left for Transcept Pharmaceuticals (TSPT) but to wait for the FDA decision on July 14, 2011, you don't need to write at length about it, I just want to know your odds about its approval knowing that all the information about Intermezzo is out, come on just state for the record your odds on this one."
You want a number? OK, I say Intermezzo, the middle-of-the-night sleeping pill, has a 65% chance of being approved on July 14. I might be willing to pump up that probability to 70-75% except the middle-of-the-night dosing -- a method of administration for a sleeping pill never before approved by FDA -- adds another level of risk.
Transcept appears to have compiled all the data needed to respond to FDA concerns raised last year. That's comforting, but then, this is the safety-crazy, reverse-course, goalpost-moving FDA we're talking about, so really, anything can happen.
Mark B. knows how to rile me up, writing,
"Adam, your favorite company just issued a letter to shareholders."
Yes! The
Cel-Sci
(CVM) - Get Free Report
shareholder letter, authored by CEO Geert Kersten and Chairman Maximilian de Clara, is an instant classic. Hey guys, any chance of getting a personalized copy? I'd love to frame it for my Biotech Wall of Shame.
Geert and Max devote most of the letter discussing the phase III clinical trial of Multikine in head and neck cancer patients. "We have started the study in the U.S.," the men say. Yet, nowhere in the letter does it explicitly state that patient(s) have been enrolled and are receiving treatment. "Starting" the Multikine study is OK, but certainly not as important as enrolling real patients. Has that happened yet? If so, why can't Cel-Sci simply and directly inform investors?
A quick check of ClinicalTrials.gov still shows just one medical center in the U.S. signed up to enroll patients in the Multikine study. Just one? No matter, say Geert and Max in their letter, because the phase III trial will "enroll patients from nine countries in three continents. This gives the data a lot of weight and allows us to apply for marketing approval in many places in the world."
News flash: International clinical trials are standard practice these days. No big deal. Left unsaid by Cel-Sci's management is that the company had to go overseas to find patients because demand for Multikine in the U.S. is probably tiny due to the underwhelming efficacy data coming out of the drug's phase II study.
My favorite part of the Cel-Sci shareholder letter, however, is the part where Max and Geert talk about how "games of greed" played by former directors, hedge funds and anonymous Internet rumor-mongers threaten the company's success.
"We believe that the results of the Phase III study will ultimately dictate our success, and we further believe that, given the huge amount of value our new cancer therapy would create, the games of greed will continue during the Phase III study. We are already seeing lies being spread on the internet about our study and our Company. People claim to know that the study was halted, that production of Multikine was halted, that patients were having problems, all falsehoods designed to influence others. We are dedicated to proving that Multikine works and that is our answer to those lies."
Like I said, an instant classic.
--Written by Adam Feuerstein in Boston.
>To contact the writer of this article, click here:
Adam Feuerstein
.
>To follow the writer on Twitter, go to
http://twitter.com/adamfeuerstein
.
>To submit a news tip, send an email to:
.
Adam Feuerstein writes regularly for TheStreet.com. In keeping with TSC's editorial policy, he doesn't own or short individual stocks, although he owns stock in TheStreet.com. He also doesn't invest in hedge funds or other private investment partnerships. Feuerstein appreciates your feedback;
to send him an email.