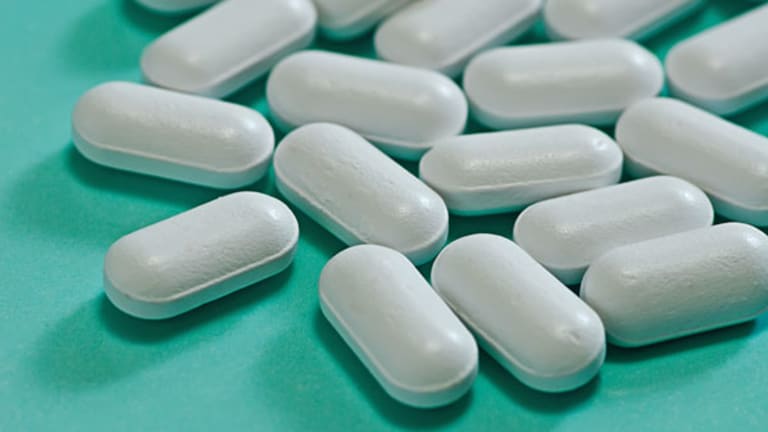 Biotech Stock Mailbag: Enteromedics, ARCA Biopharma, Keryx Pharma
Biotech columnist Adam Feuerstein answers readers' questions about health care companies.
BOSTON (TheStreet) -- Before I open this week's Biotech Stock Mailbag, I want to remind everyone to vote for the Best Biotech CEO of 2013 award.
This year's nominees are Francois Naper of NPS Pharma (NPSP) , Tony Coles of Onyx Pharma, Bristol-Myer Squibb's (BMY) - Get Bristol-Myers Squibb Company Report Lamberto Andreotti, Bob Hugin of Celgene (CELG) - Get Celgene Corporation Report and Ligand Pharma's (LGND) - Get Ligand Pharmaceuticals Incorporated Report John Higgins.
Vote! Twice, if necessary. This year's nominees for Worst Biotech CEO of 2013 will be unveiled on Monday.
I also want to thank David Sable and David Shaywitz for my new nickname -- the Colonel Jessep of biotech and drug stocks. I will try to live up to the new moniker below.
Arthur H. asks:
Adam, have you looked at the new Enteromedics (ETRM) data issued this week? I'd like to know if you think this will lead to an FDA approval? I know you don't like the obesity pills but Enteromedics device could be a better alternative for people. I'd appreciate hearing what you have to say. Thanks.
Enteromedics is a complicated story but I'm going to try to simplify things, starting with a question:
How much weight did obese patients lose after being implanted with the Enteromedics VBLOC Therapy device?
Enteromedics announced results from the 12-month VBLOC phase III study last February (the study failed) but numerical or even percentage weight loss by patients was not disclosed. This week, Enteromedics announced an 18-month update from the phase III study with only a brief -- and cryptic -- disclosure about actual weight loss.
I found it odd that a company seeking FDA approval for a surgically implanted weight-loss pacemaker would be so coy about disclosing weight loss data, so I asked Enteromedics CFO Greg Lea. Here are the weight-loss data from the VLBOC "Recharge" study:
Patients with active VBLOC Therapy devices lost an average of 9.2% (23 pounds) of their body weight after one year. Patients with implanted devices that were not turned on -- the control arm of the study -- loss 6% (15 pounds) over one year.
This means average VBLOC Therapy weight loss was 3% (8 pounds) adjusted for the control.
Is 8 pounds of weight loss over one year clinically meaningful? That's a question FDA must decide but seems dicey to me given the VBLOC pacemaker must be surgically implanted and treatment requires patients to wear a control belt around their waist for 9-12 hours per day.
Enteromedics' Lea argues that the control arm from the study should be disregarded because patients were surgically implanted with an inactive device. These are not real "placebo" patients, he says, so it's more meaningful to look at the weight loss derived from active VBLOC Therapy on its own.
Fine. A year's worth of VBLOC Therapy resulted in an average 9% weight loss, which is equivalent to the weight loss patients get with a year's worth of Vivus' (VVUS) - Get VIVUS, Inc. Report Qsymia, minus the surgery, the belt, and the hours upon hours of electrical zaps to your vagus nerve.
I don't find Lea's argument persuasive, but again, it's the FDA's call.
The agency is expected to bring VBLOC in front of an advisory panel during the first quarter of next year, Lea said.
I said Enteromedics is a complicated story because the company prefers to talk about VBLOC efficacy in terms of "excess weight loss," which confused a lot of investors, and even the few analysts who cover the company.
Excess weight loss (EWL) is a calculated as a percentage equal to total weight loss in the study (the numerator) divided by the difference in baseline weight and "ideal weight" using a BMI of 25 (the denominator.)
So, when Enteromedics tells investors that VBLOC Therapy patients achieved excess weight loss (EWL) of 25% after 18 months of treatment, as it did this week, this does NOT mean patients lost 25% of their baseline weight.
At 18 months, VBLOC Therapy patients lost 9.5% of their baseline body weight, or 23 pounds. The control arm patients lost 4.4%, or 11 pounds. That's a difference of 5% or 12 pounds.
It looks like VBLOC efficacy increases over time, from 12 months to 18 months. Be careful about making that assumption because the results likely overstate efficacy. The 18-month analysis issued by Enteromedics this week encompasses 159 of the 239 patients enrolled in the study and analyzed at 12 months. What you're seeing here is likely selection bias from patients who respond and continued the trial beyond 12 months. Patients who don't respond well are not represented.
David C. writes:
Arca Biopharma (ABIO) - Get ARCA biopharma, Inc. Report was flagged for a potential breakout. I'm wary however. I like the street articles but have found that many take stock in your opinion (pun)?
It's amazing what you find digging deep into the archives of my 13 years covering biotech stocks, like this story from September 2008 about Arca and its plans to resurrect a very old and failed beta blocker bucindolol using a genetic test to identify a subset of heart failure patients in which the drug would be particularly effective.
I was skeptical about Arca's bucindolol strategy back then, which proved to be a good call. Arca traded at $53 in September 2008, adjusted for reverse stock splits. Today, Arca shares can be bought for $1.60 and the company has only reached the starting line for the phase III study of bucindolol in heart failure.
I don't see why a dubious drug development idea more than five years ago is any wiser today, but biotech bull markets often put investors into a state of blissful amnesia. Zacks analyst Jason Napodano has been recommending Arca recently. I encourage you to read his bull thesis. I like Jason very much but I don't know if he appreciates how stale the bucindolol story really is.
One more thing: The composition of matter patents on bucindolol have expired, so to commercialize the drug (if it ever gets to that point), Arca will need to rely on method of use patents covering the genetic testing. These are the tests which Arca claims will identify just the heart failure patients who can benefit from the drug.
Just my opinion, but I find it hard to believe Arca will find a Big Pharma partner willing to take on bucindolol with a sketchy intellectual property strategy. Big Pharma makes lot of bad investment decisions but they don't usually screw up on IP.
It's true. Whenever I explain the risks involved with Keryx Pharmaceuticals (KERX) - Get Keryx Biopharmaceuticals, Inc. Report and its iron-based phosphate binder Zerenex, the stock goes higher. Keryx shares will probably rise today, too, because it's easy to kick the Zerenex risks down the road without worrying too much about getting hurt. The FDA won't decide on Zerenex's approval until next June. That's when Keryx's problems become impossible to ignore.
So, until then, you're welcome. Just don't be the last guy holding the stock. Amarin (AMRN) - Get Amarin Corporation Plc Sponsored ADR Report shares peaked on the day Vascepa received FDA approval. Keryx is just like Amarin.
While we were feasting on turkey and mashed potatoes last week, the FDA approved Velphoro (PA21), a competing iron-based phosphate binder developed under a joint venture between Galenica and Fresenius Medical Care (FMS) - Get Fresenius Medical Care AG & Co. KGaA Sponsored ADR Report.
I'll give you five reasons why Velphoro's approval is a negative for Keryx and Zerenex. You're free to ignore these risks now but remember where you heard them when they're realized.
1. The FDA approved Velphoro but did not grant the drug marketing exclusivity as a new chemical entity (NCE) because its active ingredient (moiety) is ferric iron, which is already the active ingredient in drugs previously approved by FDA. [A Galenica spokesperson confirmed no Velphoro NCE.] The active ingredient in Keryx's Zerenex is ferric citrate, which is chemically identical to ferric iron.
If FDA didn't grant NCE status to Velphoro, Zerenex won't get the NCE designation either. Without NCE and burdened by weak patents, Keryx won't find a marketing partner for Zerenex. Sounds a lot like Amarin, doesn't it?
2. Velphoro is a chewable tablet taken three times a day by kidney dialysis patients (at each meal.) Currently approved phosphate binders require patients to swallow up to 12 pills per day. A daily dose of Zerenex is 6-9 pills. Compliance i.e. making sure patients take their phosphate binders is a big problem. Doctors and patients will favor the convenience of Velphoro, which also works just as well as Sanofi's Renagel, the current market leader among phosphate binders.
3. Fresenius gets 45% of the profits from Velphoro. Fresenius controls one-third of the dialysis treatment market in the U.S. Which phosphate binder do you think Fresenius will use in its dialysis clinics? Hint: It won't be Zerenex.
4. Keryx claims Zerenex (unlike Velphoro) will reduce the use of IV iron and EPO thereby saving dialysis clinics money. Perhaps, but keep in mind Davita and Fresenius, which control two-thirds of the dialysis market, already receive discounts on EPO, which would cut into the cost savings from Zerenex. And biosimilar EPO is coming to the U.S. as early as next year, which will further cut costs. In 2016, the Medicare "bundle" will include oral drugs like phosphate binders for the first time, again reducing the demand for premium priced products like Zerenex. [Velphoro might be okay because, again, Fresenius derives profits from the drug's use.]
5. Lastly, think about this: Fresenius is the world's largest dialysis treatment provider, which I'd say makes the company an unequaled expert in the field and its economics. Interesting, then, that Fresenius chose to develop an iron-based phosphate binder -- Velphoro -- which does not have an effect on IV iron or EPO use. Zerenex and its iron-boosting data have been around for years. I'm sure Keryx CEO Ron Bentsur would have gladly hooked up with Fresenius had the phone rang. Yet Keryx remains all alone with Zerenex while Fresenius -- dialysis experts -- move forward with Velphoro.
I keep coming back to the Keryx-as-Amarin analogy because it's so fitting. Amarin bulls scoffed at all the Vascepa risks before approval. How many times did we hear Amarin bulls insist, "NCE doesn't matter! Our patents will make Vascepa a blockbuster!" We know what happened to Amarin. Ignoring the Vascepa risks worked for awhile but in the end, the strategy was financially ruinous.
Keryx is driving down the same road.
-- Reported by Adam Feuerstein in Boston.
Follow Adam Feuerstein on Twitter.
Adam Feuerstein writes regularly for TheStreet. In keeping with company editorial policy, he doesn't own or short individual stocks, although he owns stock in TheStreet. He also doesn't invest in hedge funds or other private investment partnerships. Feuerstein appreciates your feedback;
to send him an email.