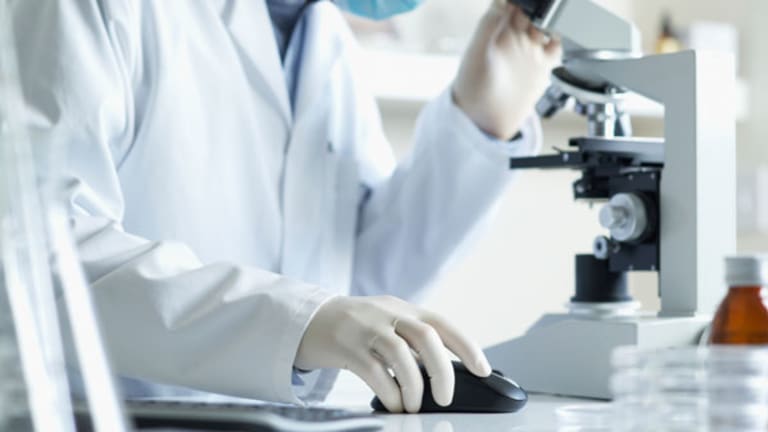 Biotech Stock Mailbag: Enanta, Vanda, Pharmacyclics, Top 2014 Stock Catalysts
Biotech columnist Adam Feuerstein answers readers' questions about health care companies.
Before I open this week's Biotech Stock Mailbag, I'd like to remind readers to submit your nominations for Best and Worst Biotech CEO of 2013. You can submit your picks to me via email or on Twitter using the hashtags #BestBioCEO and #WorstBioCEO
@adamfeuerstein Adam, when is article on $ENTA coming out? After today's data, no reasonble person can say regimen isn't competitive in GT1. Roy Friedman (@DewDiligence) November 19, 2013
Roy is correct. The Abbvie (ABBV) - Get AbbVie, Inc. Report-Enanta Pharma (ENTA) - Get Enanta Pharmaceuticals, Inc. Report all-oral regimen for hepatitis C has delivered a 96% cure rate for treatment-naive, genotype 1 patients. From an efficacy perspective, Gilead Sciences (GILD) - Get Gilead Sciences, Inc. Report doesn't have much room to beat when it reports the cure rate for its own all-oral regimen soon.
If both regimens are equally effective against hepatitis C (and I consider cure rates in high 90-percent range to be basically the same), then convenience and pricing will be how Abbvie-Enanta and Gilead Sciences compete for patients.
Gilead has the convenience edge because its direct-acting antivirals sofosbuvir and ledipasvir are co-formulated into a single, once daily pill. Assuming ribavirin is part of the treatment regimen, patients will take 2 pills in the morning and one in the evening. Three pills per day.
For patients on the Abbvie-Enanta regimen (and assuming ribavirin is necessary), treatment consists of three pills in the morning (ABT-333, ABT-450r/ABT-267 and ribavirin) and two pills in the evening (ABT-333 and ribavirin). Five pills total.
Gilead bulls believe doctors and patients will choose fewer pills, enabling the company to capture upwards of 70-80% of the hepatitis C treatment market and $5 billion-plus in revenue in 2015. Gilead's incredible stock performance (and $110 billion market value) reflects the consensus view that it will dominate the all-oral hepatitis C treatment market.
But the hepatitis C "crumbs" left for Abbvie are still substantial. And if you believe convenience is less important, particularly for a treatment which only takes three months to complete, then Abbvie and Enanta have more upside potential than Gilead.
Enanta, in particular, doesn't seem to be getting much credit today for its share of the coming hepatitis C treatment bounty. Enanta is still eligible for $195 million in payments for regulatory milestones, which is not much less than the company's current $260 million enterprise value. Enanta will also receive double-digit royalties on sales of ABT-450, which is the drug it developed and licensed to Abbvie.
Roughly speaking, Enanta will receive royalties on one-third of the total price of Abbvie's three-drug regimen
past year. You have to consider Enanta's performance a bit underwhelming, particularly against the higher returns of so many other small- and mid-cap drug stocks with a lot more risk. ENTA data by YCharts
One healthcare hedge fund manager explained to me that, in his opinion, Wall Street generally finds "royalty stocks" like Enanta tough to get excited about because these companies don't control their own destiny. He doesn't own Enanta, partly for this reason.
Another investor I spoke with this week does own Enanta because he believes other investors will eventually recognize the stock's current value significantly discounts the low-risk hepatitis C revenue opportunity. This investor is not taking sides, however, because he also owns Gilead on the belief that next year's sofosbuvir launch will go extremely well.
@adamfeuerstein Adam, Im trying to do a post-mortem of of $vnda, I don't know how they could have voted yes, unless they through out rules rabmanduky (@rabmanduky) November 15, 2013
I'm still really surprised and bothered by the outcome of the FDA advisory panel which recommended the approval of Vanda Pharmaceuticals' (VNDA) - Get Vanda Pharmaceuticals Inc. Report "sleeping pill for the blind" tasimelteon.
I was wrong about the tasimelteon panel, of course, so it's fair to label me bitter. But I was also spot-on correctly identifying the myriad problems with the way Vanda conducted the tasimelteon clinical trials and analyzed the resulting data. My mistake was believing FDA and the experts on last week's panel would care. They didn't.
Kudos to Lazard Capital's Josh Schimmer, the sell-side's Vanda bull who made the right call on the tasimelteon panel. He said FDA would be okay with Vanda changing the design of the tasimelteon clinical trials 11 times, including the use of a response scale for the primary endpoint concocted on the fly and never validated. I thought Schimmer was crazy to believe Vanda would get a pass, turns out the crazy guy was me.
I can recall two other specific instances -- Cyberonics (CYBX) and Mela Sciences (MELA) -- in which dysfunctional FDA advisory panels voted to recommend approval for products despite reams of negative evidence. In both cases, the subsequent stock pop proved to be illusory or short lived.
I suspect the same fate will befall Vanda because tasimelteon provides very little benefit for blind people suffering from non-24 sleep disorder. Vanda's own study data shows the drug entrains (normalizes the circadian clock) only 20% of patients.
Vanda shares are down about 15% in the week following the FDA panel. If tasimelteon sales disappoint, as I expect they will, Vanda shares have farther to fall. The same thing happened to Vanda after receiving a surprise approval for its schizophrenia drug Fanapt in 2009 but then failing to deliver meaningful sales.
Hey @adamfeuerstein can you please give us a catalyst calendar for 2014? Alp Bugra Basat (@BasatsStockBag) November 14, 2013
I can certainly get one started, although isn't thinking about 2014 biotech catalysts now sort of like buying your Christmas tree before Thanksgiving?
The biggest clinical trial catalyst for 2014 belongs to Vertex Pharmaceuticals (VRTX) - Get Vertex Pharmaceuticals Incorporated Report and the mid-year results from two phase III studies of Kalydeco and VX-809 in cystic fibrosis patients with the f508del homozygous mutation. Huge.
I wrote about this above, but again, the approval and launch of oral hepatitis C drugs from Gilead Sciences and Abbvie (with an assist from Enanta Pharmaceuticals) will be a big investor focus in 2014.
We'll see a lot more late-stage data from the PCSK9 class of cholesterol-lowering drugs -- Amgen (AMGN) - Get Amgen Inc. Report, Regeneron Pharma (REGN) - Get Regeneron Pharmaceuticals, Inc. Report, Pfizer (PFE) - Get Pfizer Inc. Report.
InterMune (ITMN) results in the first quarter from the phase III study of Esbriet in idiophathic pulmonary fibrosis (IPDF). This is the study InterMune needs to resubmit Esbriet for U.S. approval. On a related note, Boehringer Ingelheim will announce results from a phase III study of its own IPF drug, Vargatef, in the same time period.
MannKind's (MNKD) - Get MannKind Corporation Report FDA approval decision date for the fast-acting inhaled insulin Afrezza on April 15. FDA might convene an advisory panel meeting sometime in 2014 as well.
Chelsea Therapeutics (CHTP) brings Northera in front of an FDA advisory panel on Jan. 14. The approval decision date for the orthostatic hypotension drug is Feb. 14.
Exelixis (EXEL) - Get Exelixis, Inc. Report is expected to have top-line results from two phase III studies of cabozantinib in prostate cancer during the first half of the year.
The FDA approval decision date for Keryx Pharmaceuticals' (KERX) - Get Keryx Biopharmaceuticals, Inc. Report Zerenex is June 7.
There are more biotech and drug catalysts for 2014 but this is a nice starting list.
Hey @adamfeuerstein Any love for $ONVO in the mailbag Fri? Yes I am short but I believe rightfully so... Ross Klosterman (@RossKlos) November 18, 2013
Nice call. ONVO data by YCharts
I don't have anything of value to add on Organovo Holdings (ONVO) - Get Organovo Holdings, Inc. Report other than agreeing with Richard Pearson's bearish take. I joked a lot on Twitter about Organovo being the biotech sector's Bitcoin, meaning it's hard to rationalize the movement of stocks (or faux currencies) in the midst of speculative trading frenzies.
@adamfeuerstein what's the bull and bear thesis for $pcyc ibrutinib CLL approval Gerard Norcia (@GerardNorcia) November 15, 2013
Pharmacyclics (PCYC) bulls believe Imbruvica (a 50-50 joint venture with Johnson & Johnson) will quickly become the dominant therapy for B-cell cancers, with consensus peak sales of around $6 billion. Deutsche Bank's Robyn Karnauskas speaks for the uber-bulls, who believe Imbruvica sales could reach $9 billion annually, which justifies her Street-high $170 per share price target.
Pharmacyclics bears basically believe the bulls are pigs. Imbruvica is a good drug but sales estimates are too high across the board. Competing B-cell cancer therapies like Gilead Sciences' idelalisib, Abbvie's ABT-199 and Roche's (ROG) - Get Rogers Corporation Report Gazyva will be stronger than expected.
"Lamnosucker" writes:
I don't know what you think you are. What I do know is that you and the crowd that you belong to at Street.com and SA are sooo good in spining sic anything in biotech, simply playing the "fliping sic the coin" odds, hope you are right sometime, and making your living at the cost of hundreds and thousands of unsuspecting small-time retail traders. You should be ashamed of yourself, and the least you can do is to apologize for your ignorance, incompetance sic and arrogance in your pronouncements of both VNDA and SRPT. I know...you have a VERY thick skin. I am curious..How do you sleep in the night?
In a bed with a warm, cozy blanket. I know, you probably think I sleep in a coffin.
Terry C. writes:
Adam, one of the reasons I read your column is your willingness to admit a mistake -- an increasingly rare trait.
Thank you, Terry. Much appreciated.
@biotechtoreador so did you win @adamfeuerstein stock contest? Stock Cat (@maniac8480) November 14, 2013
I can't believe I forgot to wrap up my 2013 FDA Drug Approval Contest. I'm really sorry. With the Sarepta Therapeutics (SRPT) - Get Sarepta Therapeutics, Inc. Report decision (negative) now in the can, I can announce the winner:
@Biotechtoreador!
The fine gentleman wins with an outstanding 12-1 record. His only mistake was believing FDA would approve A.P. Pharma's (APPA) APF530.
Congratulations.
In second place is a group of guys, all with 11-2 records. They are: Steve Sabba, Brice Foose, PRPCM and Ryan H.
In third place, with 10-3 records: Zzlangerhans, Stanley D'Andrea, Dawid, Jeffrey the Great and Adam Feuerstein. That last guy is a looser.
Thanks to everyone who participated. I'll put together another contest next year.
-- Reported by Adam Feuerstein in Boston.
Follow Adam Feuerstein on Twitter.
Adam Feuerstein writes regularly for TheStreet. In keeping with company editorial policy, he doesn't own or short individual stocks, although he owns stock in TheStreet. He also doesn't invest in hedge funds or other private investment partnerships. Feuerstein appreciates your feedback;
to send him an email.