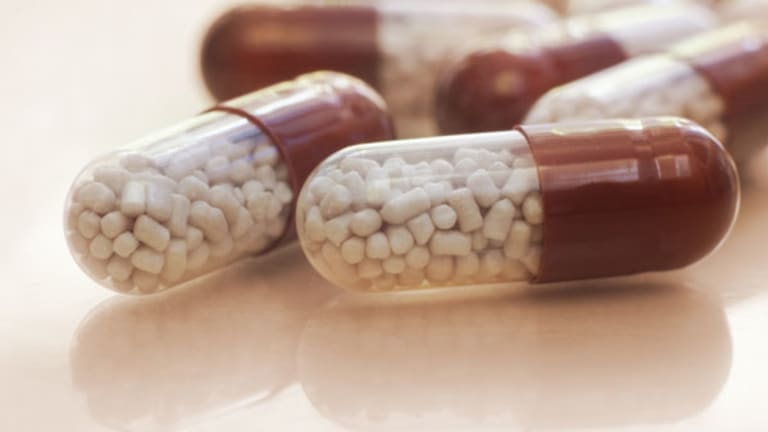 BOSTON (
) -- This week's Biotech Stock Mailbag opens with an email from Jack W., who wonders about the future of
Discovery Labs
(DSCO)
.
"I listened to Discovery Labs' conference call, and the CEO made it sound like the company was in a strong position to partner its drugs. Does this sound right to you? The stock looks cheap."
I listened to the conference call Wednesday, too, and I was gobsmacked by two things: first, that CEO Robert Capetola didn't use the call to announce his resignation. How is this incompetent CEO, a decimator of shareholder value, still in charge of Discovery?
Second, Capetola and his minions must be living in a fantasy world. How else to explain all the talk about Discovery's "revolutionary technology," "manufacturing expertise" and record of clinical success.
Really? Discovery has tried and failed three or four times to convince the FDA to approve its infant lung drug Surfaxin -- a record of futility that is unmatched.
This ignominious achievement has destroyed the company's stock price. The company has $23.5 million in the bank and will burn through $13 million in the second half of this year. On top of that, Discovery has a $10 million loan that comes due in April.
Yet, Capetola thinks potential partners are going to be knocking on his door eager to throw money at the company in exchange for rights to his lung surfactant technology?
Why wouldn't a partner, if any existed, simply wait until next year for Discovery to go bankrupt, at which point the company's assets can be picked up for nothing? It's not like Disovery has any negotiating leverage. The company is circling the drain!
Earth to Capetola: Resign in disgrace and let the board
sell the company
. You've hurt shareholders enough already.
Carlton A. writes, "Is
Micromet
( MITI) the next antibody company to be bought out now that
Bristol-Myers Squibb
(BMY) - Get Bristol-Myers Squibb Company Report
bought
Medarex
( MEDX)?"
I received a bunch of emails similar to this one right after Bristol announced its
of Medarex on July 23.
The thinking goes something like this: Companies like Medarex and Micromet that possess biologic antibody technology are in short supply and in demand by larger drug companies. With Medarex now spoken for, it's more likely that a Bristol competitor makes a takeout play for Micromet.
Sure enough, Micromet's stock price moved slightly higher on the speculation and the company used the new investor interest to raise $70 million in a follow-on stock offering priced Wednesday night.
I don't know if Micromet is, or is not, an imminent takeover candidate. The company owns a novel and interesting antibody technology platform. I wrote about interim data from a phase II study of the company's lead drug
in June.
Last March,
AstraZeneca
(AZN) - Get Astrazeneca PLC Sponsored ADR Report
returned North American rights for blinatumomab to Micromet, although AstraZeneca continued to manufacture the drug for Microment and retained a one-time option to reacquire rights to the drug upon its first regulatory approval.
However, Micromet is reportedly buying back AstraZeneca's remaining option on blinatumomab for $6 million, according to an investor who was briefed by Micromet during meetings this week tied to the follow-on offering. Furthermore, AstraZeneca will no longer manufacture the drug for Micromet, which is now contemplating plans to build its own facility to make the drug.
I asked Chrisian Itin, Micromet's CEO, about any changes to the company's relationship with AstraZeneca during a call Thursday morning. He wouldn't answer the question, stating only that as of now, the arrangement with AstraZeneca remains as it was.
It's hard to say what this all means. If blinatumomab were a great drug in the making, why did AstraZeneca relinquish North American rights last March?
Perhaps AstraZeneca's pipeline priorities changed and it could no longer devote resources to the drug. That's entirely possible, but then why would AstraZeneca also decide to accept just $6 million to further give up an option to reacquire the rights to the drug if it did turn out to be a big moneymaker sometime in the future?
If Micromet does buy out AstraZeneca completely, the company will own unencumbered worldwide rights to blinatumomab, which is being developed right now in two hematologic cancer indications. The company also has other drugs in earlier stages of development, some partnerned with other companies, and a platform to generate new antibodies.
Perhaps Wednesday night's money raise and the complete divorce from AstraZeneca is a precursor to a newer and more lucrative partnership or even an acquisition. Or, perhaps not.
A correction and further comment: When I filmed this week's
video
on
Biocryst Pharmaceuticals
(BCRX) - Get BioCryst Pharmaceuticals, Inc. Report
, I inadvertently described the company's flu drug as a vaccine. Peramivir is an antiviral used to treat patients infected with the flu virus; it is not a vaccine used to protect people from getting infected in the first place.
I knew this, of course, but sometimes the mouth doesn't follow the brain, especially when you're shooting video. Regardless, I apologize for the mistake.
Peramivir is a legitimate albeit still experimental flu drug, and the company has an initial, small development contract with the U.S. government, which apparently wants to stockpile peramivir in case vaccines fail and this country is plunged into a flu emergency.
But peramivir must be given intravenously, which limits its use to the hospital. There is the possibility of the drug being given in a doctor's office, but primary care doctors are generally not equipped to administer I.V. drugs.
I wasn't trying to be a total Biocryst bear in my video, but was merely pointing out that the stock's run from $4 to $10 bakes in a good amount of whatever peramivir stockpiles the government may purchase. Profit taking by investors, therefore, wasn't a bad idea.
Traders are having a party when it comes to flu stocks. Heck, take a look at the insanity around
Inovio Biomedical
(INO) - Get Inovio Pharmaceuticals, Inc. Report
this week for proof. But yes, I do think that a lot of this flu mania is hype, and that includes some of the more bullish estimates for the size and scope of peramivir stockpiling contracts that Biocryst bulls are betting on.
I won't be surprised to see the U.S. government buy some more peramivir as a "last line of defense" strategy to tackle whatever the flu delivers this winter. But peramivir has been around a long time -- still unapproved -- and I don't yet see the evidence that government officials see the drug as anything more than a minor part of their contingency plans.
Dave emails to add something I missed in my
this week discussing the recent weakness in
BioDelivery Sciences
(BDSI) - Get BioDelivery Sciences International, Inc. Report
and its cancer pain drug Onsolis.
"Keep in mind that you failed to turn up that one of the reasons for the sell off since June 15th is that Elliott Associates, which had 3.2 million shares have decided to sell down their stake," writes Dave. "They have done this bit by bit over five and half week now, and as of last week only had 265,000 shares left."
Last, I was pleasantly surprised to hear from "Big % Gains Ltd." last week after my
of
Cell Therapeutics'
(CTIC) - Get CTI BioPharma Corp. Report
recent fund-raising effort.
"Today you were fair and balanced. That's all I ask."
A Cell Therapeutics' investor is happy with me? We live in strange times, indeed!
-- Reported by Adam Feuerstein in Boston
Adam Feuerstein writes regularly for TheStreet.com. In keeping with TSC's editorial policy, he doesn't own or short individual stocks, although he owns stock in TheStreet.com. He also doesn't invest in hedge funds or other private investment partnerships. Feuerstein appreciates your feedback;
to send him an email.