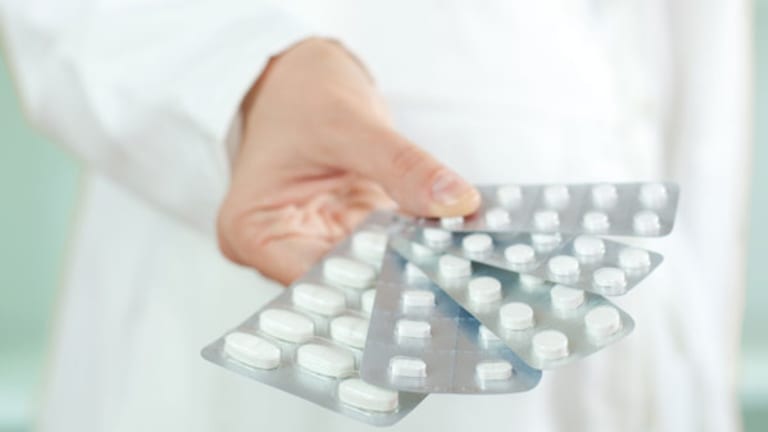 Biotech Stock Mailbag: Derma Sciences
Biotech columnist Adam Feuerstein answers readers' questions and concerns about health care and drug-related stocks.
BOSTON (
) -- I'll be attending the BIO CEO & Investor Conference on Feb. 14-15 in New York City. I'm planning live-blog coverage of the event, which will feature presentations from scores of small-cap biotech companies.
The
BIO CEO agenda is online
, so check it out and send me an email if there's a particular company you'd like to read about.
This week's Biotech Stock Mailbag opens with a tweet: "DSCI has some interesting foot news today."
Indeed,
Derma Sciences
(DSCI)
shares were up 33% to $8.88 midday Thursday trading on what looked like strong top-line results from a phase II study of the experimental wound-healing drug DSC127 in patients with diabetic foot ulcers.
I knew nothing about the company before Thursday, but a quick scan shows Derma has an established albeit money-losing wound-care business that brought in revenue of $41.7 million through the September quarter, a year-over-year bump of 20%.
Derma's balance sheet is weak, however, with just $409,000 in cash and $1.2 million available from a line of credit as of the end of the September quarter. On a conference call Thursday to discuss DSC127, Derma management expressed interest in partnering the drug and a reluctance to sell stock to raise cash now because it feels the company is undervalued. That might be true, but it's going to be difficult to negotiate a strong partnership with so little cash as a bargaining chip.
I won't be surprised to see Derma raise money soon, especially with Rodman & Renshaw research coverage. Rodman had two people on Derma's Thursday conference call, so you just know the firm is trying to line up a deal as you read this.
With that said, Derma has only 10 million fully diluted shares outstanding, so the company is no bloated pig.
As for DSC127, the phase II results, as presented in Derma's press release, certainly warrant attention. The double-blind study enrolled 80 patients with diabetic foot ulcers resistant to healing with best standard of care. The patients were randomized to one of two doses of DSC127 (applied daily as a topical gel) or a placebo gel and treated for four weeks followed by eight weeks of observation.
In the intent-to-treat analysis, 54% of diabetic wounds treated with the high dose of DSC127 reached 100% closure compared to 33% of patients treated with the placebo gel. The study was not powered for statistically significance, although Derma expected a 15% improvement in wound healing with the high dose of DSC127 compared to placebo. The actual 21% improvement was better than expected.
The wound-healing rate for low-dose DSC127 was 30%, below that of the placebo.
Derma didn't provide much detail on safety other than to say the drug was well tolerated and that no significant adverse events were reported. The company expects to report further data from the DSC127 study in the second quarter.
A drug that effectively closes and heals diabetic foot ulcers can probably bring in about $200 million to $300 million a year in sales.
Vince M. asks, "I'm surprised you haven't written about
Radient Pharmaceuticals
(RPC)
since its big move in December. What are your thoughts about Radient's cancer test? The stock has fallen back and looks more attractive at these levels, especially if the company can make millions of dollars from India."
I'm late to the Radient story not for lack of interest but because I've been waiting almost a month to schedule an interview with Radient CEO Doug MacLellan to discuss the company's Onko-Sure cancer screen. MacLellan canceled one interview with me. I tried to reschedule several times through Radient's media person with no luck, so I'll move ahead.
Radient is investing a lot of money into investor and media relations, which helps explain the mini stock-price bubble. Press releases are flying out the company's door filled with announcements about international distribution deals for the Onko-Sure cancer test. At the same time, MacLellan is granting interviews with a biotech stock promotions Web site claiming Onko-Sure is on the cusp of generating millions of dollars in revenue.
A fine line exists between optimism and delusion, and I'm afraid MacLellan might be on the wrong side of the divide. Past performance isn't necessarily an indicator of future results, but in Radient's case, it's a damn good proxy.
Onko-Sure sales for the first nine months of 2010 totaled $116,000, a 15% decrease from sales in the first nine months of 2009. Radient's loss from operations through the end of September 2010 was $6.7 million; add in losses from discontinued operations and business units Radient is trying to sell, and the total net loss was $38.4 million.
In early 2010, MacLellan told investors to expect Onko-Sure sales of $7.6 million by the end of the year with $3.2 million in net earnings. Radient was supposed to be cash flow positive at the end of the September 2010 quarter, MacLellan promised.
Clearly, MacLellan is having a difficult time making good on his bullish Onko-Sure forecast, although maybe Radient will surprise with a boffo fourth quarter. The company hasn't said when it will report full-year 2010 results.
Radient can't sell Onko-Sure because the test is a limited and not very reliable cancer screen, according to the clinical data assessing
Onko-Sure's performance available from the U.S. Food and Drug Administration
.
FDA cleared Onko-Sure for sale in the U.S. as an "an aid in monitoring the disease progression of patients who
have been diagnosed previously with colorectal cancer
. Results of DR-70 (FDP) testing should be used in conjunction with other clinical modalities that are standard of care for monitoring disease progression in these patients."
Emphasis mine.
DR-70 is the old name for Onko-Sure. To be clear, in the U.S., Onko-Sure doesn't diagnose colon cancer. What the test does is pick up an increase in blood levels of a biomarker known as fibrinogen degradation products (FDP) that can, but doesn't always, signal disease progression, aka tumor growth.
Measuring FDP levels in the blood isn't specific enough to give doctors clinically meaningful information about the condition of their cancer patients. That's because FDP levels can rise due to non-cancerous conditions. Even if Onko-Sure is correct in signaling cancer progression (or even the first instance of cancer), the test cannot tell a doctor where the cancer is located.
This isn't just my opinion of Onko-Sure's accuracy and reliability, the
FDA came to the same conclusion when it reviewed Onko-Sure data
submitted by Radient. Onko-Sure's sensitivity is 65%-66%, which means Onko-Sure accurately detects colon cancer progression 65%-66% of the time when a patient's colon cancer is actually progressing.
Onko-Sure's specificity is 67%-68%, which means the test correctly tells a doctor that colon cancer is not progressing 67%-68% of the time when a patient's colon cancer is actually not progressing. The specificity is also known as the false positive rate, meaning that in approximately 30% of the cases, Onko-Sure tells a doctor that colon cancer is progressing when in fact it is not.
Any test with relatively low accuracy and a high false-positive rate isn't very useful because doctors and patients can't rely on the results to be accurate. If a test like Onko-Sure comes back with a determination of cancer or cancer progression, doctors are going to backstop the result with other, more reliable tests. It's just not practical or cost-efficient to use Onko-Sure, which goes a long way toward explaining why Radient has never been able to generate meaningful revenue.
Onko-Sure is approved in Canada as a lung cancer screen, but like in the U.S., sales are nonexistent, probably for the same reasons the test doesn't attract users in the U.S.
According to Health Canada, Onko-Sure (known there as DR-70) is "useful as an aid in the detection of cancers of the lung and for monitoring changes in the level of the marker in response to treatment. The test should not be used in isolation to make screening, diagnostic, or prognostic decisions."
Radient's new plan is to push Onko-Sure as a general cancer screen in international markets. The first announced deal is an initiative in India in which a Radient partner will purchase and distribute Onko-Sure tests for use in an Indian public health cancer-screening program.
Radient claims this Indian initiative might result in Onko-Sure sales of $10 million in 2011.
That's a big number and would obviously be great news for Radient, but I don't see how Indian doctors will find Onko-Sure any more reliable or useful than doctors in the U.S. and Canada do. It's not like the test's performance has improved over time. Radient's track record of providing accurate financial guidance is poor, so I'd be very skeptical of any revenue estimates from Onko-Sure in India until the company puts up real numbers.
MKJ emails, "The lawsuits against
MannKind
(MNKD) - Get MannKind Corporation Report
are piling up. Do these have merit?"
A controversial and volatile stock plus an FDA rejection almost always attract the lawyers, so the lawsuits are not a surprise. I typically ignore litigation like this, but in MannKind's case, some of the allegations seem to have merit.
MannKind used very poor judgment by not halting the stock on Jan. 18 when it received the
FDA's rejection letter for the inhaled insulin device Afrezza
. Instead, MannKind said nothing about the FDA's decision until the next day, Jan. 19, when the company first halted trading in the stock and then hours later informed the public of the FDA's decision to reject Afrezza. Before the Jan. 19 stock halt, however, MannKind shares plunged from $9 to $6 on no apparent news and then rebounded back to $9 before trading was stopped.
Once MannKind announced the FDA's decision, shares fell to $5, where they trade today.
The FDA approval decision regarding Afrezza was clearly a highly material event for MannKind, and as such, management should have halted the stock as soon as FDA's letter crossed the company's transom. By choosing not delay the stock halt, MannKind opened itself to all kinds of questions and potential legal action, not to mention a possible SEC investigation.
No one knows for sure if the FDA rejection letter leaked or not, but the midday stock plunge on Jan. 19 is suspicious. Now, MannKind must deal with a bunch of investor lawsuits -- a big headache and a distraction that could have been easily avoided had MannKind done the prudent thing and halted the stock on Jan. 18.
The bigger looming question for MannKind is the company's ongoing viability following the FDA rejection letter.
David Kliff questions whether MannKind founder and CEO Al Mann will continue to fund the company. Mann has invested almost $1 billion of his own money in Mannkind, but Kliff thinks Mann is likely to turn the money spigot off, and he can't turn to the equity market for new capital either.
"Even a billionaire does not have unlimited resources and won't be a billionaire much longer if he continues to continually fund MannKind's operations," Kliff wrote to his
Diabetic Investor
newsletter subscribers recently. "Should he continue to fund MannKind, Mr. Mann will likely accomplish a different goal he has stated in the past, which was not to leave his fortune to his family. The way things are going with MannKind, not only will his family be left with nothing, his many charitable interests will also be left high and dry."
Kliff thinks the most likely scenario is that Mann steps down as MannKind's CEO and the board appoints a caretaker CEO with instructions to sell the company at a deep discount.
"The reality here is the company made several miscalculations with Afrezza from which they could not recover," Kliff adds. "Put simply, Afrezza wasn't the problem, it was how management handled Afrezza that created the problem. While Afrezza gets all the attention, the company does have some very intriguing technology and in the right hands could actually develop into something. The bottom line for MannKind is it was late to the party, stayed too long, drank too much and now is suffering a massive hangover that just won't go away."
Samir L. asks, "What's wrong with
NPS Pharmaceuticals
(NPSP)
? The study was positive but the stock acts like the drug failed. What am I missing?"
The data announced Monday from
NPS' phase III study of Gattex in short bowel syndrome
were quite strong. I haven't heard any quibbles or complaints about the quality of the data.
Analysts responded to the news by increasing their NPS price targets to $12-$16, which is what sell-side analysts do following positive phase III studies. Professional investors are usually less sanguine, which explains why NPS shares popped from roughly $7 to $10 but are now settling back into the $8 range. What you're seeing is hesitation in front of what might be a money-raising opportunity for NPS. Also factor in the lack of new catalysts given management's guidance that Gattex won't be filed for U.S. approval until the second half of the year. That suggests a 2012 approval decision, which is a relatively long wait.
Consider yourself lucky with this minimal backsliding. Had Gattex truly failed the phase III study, NPS shares would be trading around $4.
--Written by Adam Feuerstein in Boston.
>To contact the writer of this article, click here:
Adam Feuerstein
.
>To follow the writer on Twitter, go to
http://twitter.com/adamfeuerstein
.
>To submit a news tip, send an email to:
.
Adam Feuerstein writes regularly for TheStreet.com. In keeping with TSC's editorial policy, he doesn't own or short individual stocks, although he owns stock in TheStreet.com. He also doesn't invest in hedge funds or other private investment partnerships. Feuerstein appreciates your feedback;
to send him an email.