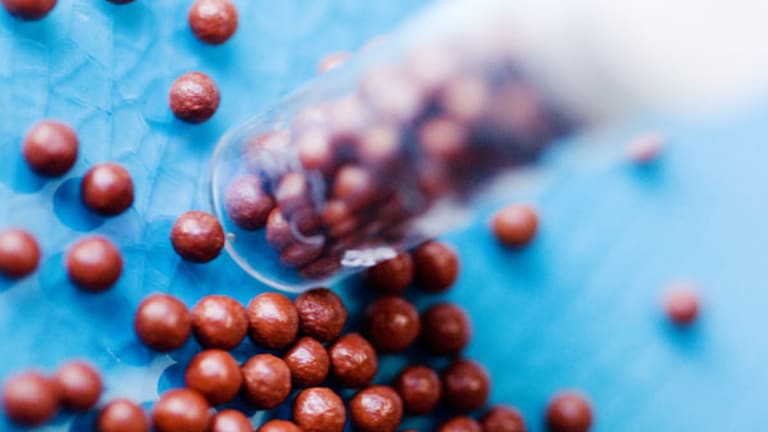 Publish date:
Biotech Stock Mailbag: Delcath, Navidea, Affymax, Ziopharm
Biotech columnist Adam Feuerstein answers readers' questions about health-care companies.
Biotech columnist Adam Feuerstein answers readers' questions about health-care companies.
BOSTON (
) -- The Biotech Stock Mailbag is open for business.
@BioPlays tweets, "Despite most of your voters forecasting a denial of DCTH at their AdCom and PDUFDA, I've yet to see/hear the bear case."
Fifty-four percent of contestants in the
believe
Delcath Systems
(DCTH)
will receive a negative vote from the FDA advisory panel May 2. A subsequent FDA rejection garnered 64% of votes.
I'll do my best to explain the Delcath bear case, as I see it.
And for the record, I also voted for a negative panel and FDA rejection.
Delcath's Melblez is a hybrid surgical-chemotherapy procedure in which the liver is isolated from the body's blood supply and bathed with high doses of the tumor-killing drug melphalan. Walling off the liver allows the melphalan to kill tumors without getting into the patient's blood stream and causing severe toxicity. Delcath is seeking approval for Melblez for the treatment of patients with unresectable ocular melanoma (skin cancer) that has spread to the liver.
Delcath conducted a single, phase III study of Melblez, randomizing 92 patients with ocular and cutaneous melanoma to treatment with Melblez or best alternative care (BAC.) The primary endpoint of the study was hepatic progression-free survival (hPFS), which measured the length of time before a patient's liver tumor began to grow again.
Results were first reported at the ASCO annual meeting in 2010. Melblez reduced the risk of liver tumor progression by 70%, which was highly statistically significant. At the median, hPFS was eight months for Melblez, compared with 1.6 months for BAC -- a difference of 6.4 months. The study met its primary endpoint.
A 2012 update from the trial showed a narrowing of the median hPFS benefit to 5.3 months (7 months vs. 1.7 months) and a 50% reduction in the risk of liver tumor progression -- but still statistically significant.
No survival benefit was reported. At the median, overall survival for Melblez patients was 9.9 months versus 9.8 months for BAC. Survival was confounded by 55% of BAC patients crossing over to receive Melblez therapy.
These data look pretty damn good, so why the negativity? The lack of a survival benefit raises concerns that the hPFS data are less than clinically meaningful. Patients treating with Melblez are not living longer. Delcath did conduct the Melblez study under a Special Protocol Assessment (SPA) agreement with FDA that OK'd use of hPFS as the primary endpoint. That works in Delcath's favor, but SPAs can be cast aside if the overall risk benefit is unfavorable. The lack of a survival benefit hurts Delcath, as does Melblez's inability to treat cancerous lesions outside the liver.
When Delcath designed the phase III study, it assumed patients treated with BAC would report median hPFS of about four months compared to about seven months for Melblez. Why did BAC underperform expectations so significantly? It will be interesting to read the FDA analysis of what constituted BAC in this study and whether the treatments used constituted a real comparator.
I'd also like to see the hPFS data excluding the 11% of patients with cutaneous melanoma since they're no longer being considered for approval under the amended Melblez application. I don't expect the results to change significantly but Delcath has never reported these data before.
I expect FDA and the advisory panel to raise significant concerns about Melblez's safety. Three patients out of 40 died due to Melblez during the phase III trial -- two from neutropenic sepsis and one from hepatic failure. That's a 7.5% mortality rate attributed to Melblez -- not the underlying cancer. Melblez is a risky procedure.
I also question the ability of the filters used in Melblez to keep melphalan from leaking outside the liver. Sixty-one percent of patients treated with Melblez reported serious (grade 3 or 4) neutropenia, 74% reported serious thrombocytopenia and 46% reported serious anemia.
Delcath changed out the filter in Melblez but the company hasn't disclosed any new safety data. (Although the company claims the "Gen 2" filter is better.) On a conference call Wednesday night, Delcath executives said the FDA advisory panel would spend considerable time reviewing the company's proposed risk-management plan for Melblez. To me, this is a tacit acknowledgment that Melblez's safety is a regulatory concern.
The road leading to the May 2 FDA advisory panel has been rough for Delcath. Remember, Melblez was first submitted for FDA approval in late 2010. FDA issued a refuse to file letter, requiring Delcath to re-submit with additional manufacturing and safety data. We have never seen these new safety data. Delcath has not been as transparent with Melblez data as I'd prefer, so I won't be surprised to see some unpleasantness aired by FDA when the briefing documents are posted publicly.
Outside the clinical data package for Melblez, Delcath management is displaying a significant lack of confidence with its non-stop dilution of shareholders via At-The-Market (ATM) equity offerings. The company announced another $50 million ATM on Wednesday night.
Allen N. asks, "Did you notice
Navidea Biopharmaceuticals
(NAVB) - Get Report
got OK'd by the feds today? Any comment?"
FDA approved Navidea Biopharmaceuticals' lymph node mapping agent Lymphoseek on Wednesday. The approval was expected but did come early. Navidea shares fell on the news, which caused some consternation and furrowed brows among the bulls. Any FDA approval is a positive, but Navidea fans fail to recognize Lymphoseek's small commercial potential relative to the company's super-sized market valuation. This disparity, more than anything, explains why Navidea is selling off on the Lymphoseek approval.
Lymphoseek is only going to generate $20 million to $40 million in revenue for Navidea, by my calculations. I realize the company's own revenue forecast is significantly higher, I just don't believe it. I discussed
Lymphoseek's commercial sales model in detail last September
.
On Wednesday's conference call, Navidea set Lymphoseek's price at $300, which is below the $400 I was assuming. That's still a significant cost premium to cheap blue dye, which is what doctors and hospitals use today for lymphatic mapping procedures in breast cancer and melanoma patients. Lymphoseek works, no doubt, but does it work that much better than blue dye or other similar lymph node mapping agents to justify a higher price? I don't believe it does. But, again, even if you assume wholesale switching from blue dye to Lymphoseek, the numbers still don't pencil out in Navidea's favor, especially given the revenue-sharing agreement with Cardinal Health.
Navidea may have been able to differentiate Lymphoseek from current standard of care had FDA approved it for "sentinel" lymph node detection. FDA, however, did not grant that broader approval.
For savvy investors, this was another reason to sell the stock Wednesday.
I rehashed a lot of my thinking about Navidea on Twitter Wednesday, which prompted a discussion with @bracketanalytix. He tweeted:
"Can't you even write something new? The hardest thing to detach from is your own beliefs."
My response:
"Since I already assumed Lymphoseek approval (which came today), why would the 'low sales' thesis change?"
@bracketanalytix retorted with,
"I get it. I don't expect you to ever change on $NAVB -- regardless of facts. Nothing changed in 6 mos?"
To which I tweeted:
"When facts change, investment thesis should change too. With $NAVB and Lymphoseek, facts haven't changed. Understand?"
To elaborate, the bear thesis on Navidea assumed Lymphoseek approval. FDA actually approving Lymphoseek on Wednesday was positive for Navidea, for sure, but it wasn't a surprise and doesn't change my thinking on the stock since I always assumed the product would reach the market. I will gladly change my view of Navidea if Lymphoseek is more successful than I predict, and I will admit being wrong. Nothing I've seen so far makes me want to change my mind.
@jasonMilano8 asks, "Is $AFFY a good buy here for a spec play? Or long-term hold?"
Affymax
(AFFY)
is up about 25% since I wrote:
But at $3 and change, Affymax shares are still down 80% since the anemia drug Omontys was pulled out of dialysis clinics in late February after reports surfaced of severe allergic reactions and deaths.
If you owned Affymax in February, you're still in a deep hole. If you bought it after the stock crashed, you're a lot happier.
Omontys is a dead product unless Affymax and partner Takeda can figure out the cause of the problem. And even if a cause is found and corrected, getting the drug back into dialysis clinics and used will be a real challenge. Is the price savings afforded by Omontys over other anemia drugs worth the safety risk? I stand by my Affymax headline until we get more information about Omontys.
Until then, we've certainly seen Affymax shares whipsawed by trading rumors, most of them false. Does that make the stock a good spec trade? I'll let traders decide on their own. My perspective is more fundamental, which means Affymax has a long way to go before getting back to $16.
Worth reading: David Sobek's provocatively titled
Sangamo BioScience: The Impending Failure in HIV
. Sobek is a
Sangamo
(SGMO) - Get Report
bull who believes, like I wrote last week, that the company is
wasting time and money on SB-728
.
:
Given the lofty expectations and concurrent run up in shares, it appears that expectations have gone too far. SGMO shares have more than doubled in the past several months and trade over $9 (roughly a $500 million market capitalization company). The key to Sangamo's long-term value, however, is its monogenic disease platform, but this is still pre-clinical. While the idea of a functional cure is exciting, the odds of success are very low. The most likely scenario is that the phase II trials will not meet the raised expectations and cause a revaluation of the company.
Coincidentally, I had a conversation with an institutional investor this week who's been buying Sangamo for the potential of its preclinical pipeline but is hesitant to add to his position until the HIV program is back-burnered. If the SB-278 phase II data disappoint and Sangamo shares fall, you might see significant weakness bought.
Ziopharm Oncology
(ZIOP) - Get Report
update: Following "close dialogue" with the FDA, palifosfamide will now be considered for full approval as a treatment for sarcoma based on a progression-free survival benefit, a company spokesperson told me. Previously, PFS was only being considered as the basis for accelerated approval with overall survival required for full approval.
The change is positive news for Ziopharm and should alleviate some of the regulatory concerns that have weighed on the stock as we get closer to the
data read-out from the palifosfamide study during the last week of March
.
TG Therapeutics
(TGTX) - Get Report
CEO Michael Weiss was unhappy with the way I
characterized his track record
with
Keryx Pharmaceuticals
(KERX) - Get Report
and as a lieutenant of health-care investor Lindsay Rosenwald. Many Wall Street investors look askance at companies with a Rosenwald-Weiss provenance. Weiss says he deserves a fairer shake:
With your piece on TG Therapeutics, you had an opportunity to set the record straight on my track record and use that as a positive reason for investors to look at TG Therapeutics. Unfortunately, you chose to continue to misrepresent me. Looking objectively with 20/20 hindsight, it's hard to dispute our success at Keryx. When I took over Keryx in December 2002, the company was in disarray and had zero enterprise value. I spent seven-plus years re-building and re-creating Keryx. I built a terrific team, a number of whom are with me now at TG Therapeutics, and together we built a strong product pipeline designed to make Keryx a company that had multiple opportunities to succeed. We inherited sulodexide, we later acquired ACCESS Oncology (a company I founded in 1999) with their lead product, perifosine, and we in-licensed Zerenex, which now has two positive phase 3 studies. With a .333 batting average, our record matches up to some of the most successful teams in biotech. I'd also like to say we got smarter over the years, and at TG we are applying what we learned, both positive and negative. We are very excited about TG-1101, an anti-CD20 monoclonal antibody with a market opportunity projected to exceed $10 billion. The clinical program for TG-1101 is under way. Similar to my approach at Keryx, my goal at TG is to build a company with multiple opportunities to succeed. To that end, we added TGR-1202, our novel PI3K delta inhibitor, to our development pipeline this summer. Our PI3K delta, as you correctly point out, is early in development. We know we have the right target, but do we have the right drug? Today that answer is unknowable. Stay tuned as we hopefully will know a lot more over the course of the year.
-- Reported by Adam Feuerstein in Boston.
Adam Feuerstein writes regularly for TheStreet. In keeping with company editorial policy, he doesn't own or short individual stocks, although he owns stock in TheStreet. He also doesn't invest in hedge funds or other private investment partnerships. Feuerstein appreciates your feedback;
to send him an email.