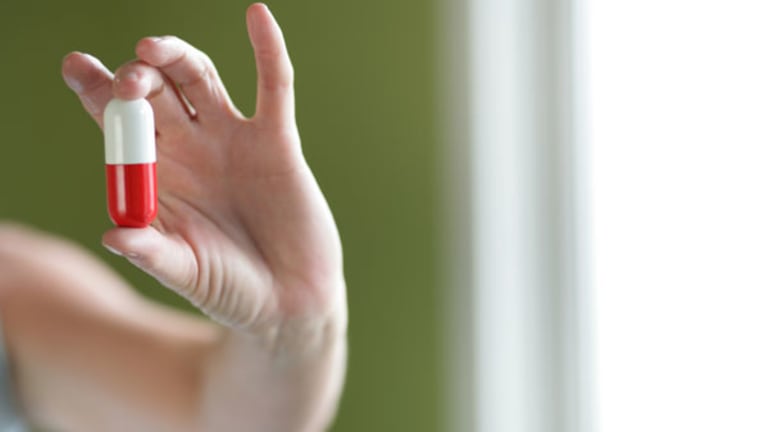 Biotech Stock Mailbag: Cyclacel Pharma
Biotech columnist Adam Feuerstein answers readers' questions and concerns about health care and drug-related stocks.
Biotech columnist Adam Feuerstein answers readers' questions and concerns about health care and drug-related stocks.
BOSTON (
) -- An email from John R. kicks off this week's Biotech Stock Mailbag:
"Hi Adam, what do you think of Leerink Swann's recent upgrade of Cyclacel Pharmaceuticals (CYCC) - Get Report to outperform with a $3 price target last month? Stock closed today at another new 52-week low (70 cents after hours.) Do you think it's even worth a look when it hits cash levels, or around $0.55? Or should this one should just be in the dumper? I have some free capital and was looking at possibly pulling the trigger."
It's entirely appropriate to tie together Leerink's July 12 initiation of research coverage of Cyclacel with an outperform rating and a $3 price target with the same bank's role in leading a financing of Cyclacel on July 1 that raised $9.3 million, net of fees and expenses.
I'm told that some of Cyclacel's existing institutional shareholders weren't happy with the latest financing and didn't participate as a result. The Leerink deal might have been easy money but it raised too little and did nothing to improve the quality or stability of the company's shareholder base. In fact, the Leerink financing probably did the opposite, which has contributed to the stock's accelerated decline in value this summer.
The market crash isn't helping, either.
Cyclacel still needs to raise more money, but will now be forced to go hat in hand to Wall Street with a weaker share price and less or no support from old shareholders who could have helped the company attract new shareholders.
Cyclacel is also saddled with a messy capital and governance structure that gives preferred shareholders too much control over the company's board. This is a legacy issue that Cyclacel should have fixed but hasn't.
I agree that Cyclacel's stock price is cheap and undervalued. Cyclacel should not carry an enterprise value half the size of competitor
Sunesis Pharmaceuticals
(SNSS) - Get Report
, for example. But Cyclacel's stock is stuck in the muck and merely pointing out a relative valuation discrepancy isn't going to get it unstuck. Investors view data from the phase III study of sapacitabine in elderly AML patients as too far away to matter right now. If management wants to fix its stock price today, they should start by landing a licensing deal for one of its drugs. The validation would be a big confidence boost and the money from a partner would be a big help, too. Fix the capital structure and do the hard work necessary to bring in a better base of long-term institutional shareholders.
What's a speculative biotech trader to do in the volatile and falling market like the one we're experiencing today?
I put the question to Mark Messier, co-founder
, a subscription investment service that specializes in short-term biotech catalyst trading. Messier has been very successful trading in and out of biotech stocks ahead of big events like FDA drug approvals or clinical trial results. This biotech trading style runs into problems when speculative money exits the market.
"The shift that has occurred in the past three weeks has left many shell shocked and staring at shattered portfolios. The speculative money that has been fueling the boom in biotechs has disappeared. Stocks are no longer trading based on clinical or regulatory catalysts, but on the overall fear and panic of the market," says Messier.
To adjust to the changing market, Messier says he's reduced his trading activity by about three quarters over the past month and is keeping a large cash position. He tries not be tempted by "cheap" biotech stocks because most likely the same stocks will be cheaper tomorrow.
"While I don't believe this is a 2008-type scenario, chasing stocks down while comparing them to the prices at their former glory is a dangerous game," says Messier. "During this tumultuous period I will be watching, waiting and most importantly researching. Once the market stabilizes and forms a new definable bottom, biotechs will once again trade based on legitimate clinical and regulatory catalysts and not overall market panic."
Even when the markets do return some sense of normalcy, Messier expects speculative-based biotech traders will remain gun shy for some time longer.
"Known junk biotechs like
Cell Therapeutics
(CTIC) - Get Report
and
Adventrx Pharmaceuticals
(ANX)
will not not run up simply because they have been assigned a regulatory catalyst. Traders will be forced to be more selective about their buys, focusing on pipeline market potential, cash on hand, and odds of approval."
You can follow Messier on Twitter at @BioRunUp.
Mike J. asks,
"Help!!! What the heck is wrong with Amarin (AMRN) - Get Report?"
Nothing is wrong with Amarin, unless you're trading the stock. The fundamental outlook for the company and its triglyceride-lowering drug AMR101 remains strong.
Patience, grasshopper.
On Wednesday, Amarin announced an agreement with the FDA on a Special Protocol Assessment for a study of AMR101 that will measure cardiovascular outcomes in patients with elevated triglyceride levels and heart disease or risk factors for heart disease. Getting this study started by the end of the year and substantially enrolled in 2012 should be enough to get the AMR101 data from the positive "Anchor" study included on the drug's label.
That's what Amarin investors want because "Anchor" data expands by 10 times AMR101's commercial opportunity to patients with "mixed" trigylceride baseline levels who were also on statin therapy -- above and beyond the narrower and more sick "high" triglyceride patients.
I wrote about the
positive results from the "Anchor" study
and why the data was a big win for Amarin previously so I won't repeat myself here.
The results of the outcomes study, which won't be ready for six years or more, are entirely secondary to the Amarin investment thesis. Having data showing that AMR101 can reduce heart attacks or lower the risk of cardiovascular events would be great, but doctors are likely to look at the "Anchor" data today and extrapolate a cardiovascular benefit, whether one exists or not.
We'll know for sure if AMR101 has a real cardiovascular benefit in six years, but by then, let's hope Amarin isn't a stand-alone company, having been acquired long ago.
Speaking of hopes or expectations for Amarin to be acquired -- relax. Stop speculating. A deal will happen when it happens. Amarin's stock price today undervalues the company significantly, even without a takeout.
Next up for Amarin, filing for AMR101's approval with FDA in the current quarter and presentation of the data from the "Marine" stud (patients with high triglyceride levels) at the European Society of Cardiology meeting on Aug. 29.
The patent issue with respect to AMR101 remains a risk overhang and may be impacting negotiations with prospective acquirers and/or partners. With that said, I still believe stands a good chance of winning patents which will extend exclusivity of AMR101 well beyond 2019-2020.
Thomas L. emails, "Now that
Neoprobe
(NEOP)
has filed for Lymphoseek's approval, can you give us your prediction? Who's right, the company or Martin Shkreli?"
Ha! Great question. You're putting me on the spot but I lean toward the company being right. I have respect for Shkreli, the hedge fund investor who is now rather famous (or infamous) for taking a
public stance on his Neoprobe short
, but in this case, I predict FDA will approve Lymphoseek as a new lymph node-mapping agent.
I think there is some merit to the regulatory concerns about how Lymphoseek was studied only against vital blue dye and not the true standard of care -- vital blue dye and a radio-labeled sulphur colloid. But FDA did recently approve another radio-labeled sulphur colloid from
Pharmalucence
based on data collected from historical studies that mainly compared sulphur colloid against vital blue dye alone. This FDA approval seems to support Neoprobe's contention that it conducted the proper studies of Lymphoseek by using blue dye as the only comparator.
Shrkeli disagrees and continues to short Neoprobe. He thinks FDA will reject Lymphoseek. In fact, he's trying to convince the agency that it shouldn't even review the lymph node mapping agent at all.
Neoprobe filed its approval application for Lymphoseek on Aug. 10. FDA has between 60 and 74 days to accept the filing for review, so we'll have an early indication of who's right or wrong by early to mid-October.
An FDA acceptance of the Lymphoseek filing does not guarantee final approval in June of next year, but it will be a positive signal and I'd expect Neoprobe's stock price to move higher.
Obviously, if FDA sends the Lymphoseek filing back to Neoprobe, i.e., issues a refuse-to-file letter, the company's stock price is going to take a hard hit.
MIF456 emails,
"I didn't see you comment at all on Avanir Pharmaceuticals' (AVNR) results. The stock is down so I wonder if you agree with that assessment or think that there is something good happening with Nuedexta. Thanks in advance."
The Avanir numbers for fiscal third quarter were better but still not good enough. Nuedexta gross sales were $2.2 million in the quarter, up substantially from the previous quarter and generally in line to slightly better than consensus expectations.
Although recall that fiscal third-quarter estimates were sharply lowered after
Avanir reported poor Nuedexta sales
in the fiscal second quarter.
Avanir lowered operating expense guidance for the year to a range of $67 million to $72 million from $70 million to $75 million. The company ended the quarter with $93.5 million in cash.
Nuedexta sales and prescriptions are growing but still too slowly relative to the amount of money Avanir has to spend promoting and marketing the drug, approved for the treatment of pseudobulbar affect (PBA), a neurological condition that causes involuntary emotional outbursts.
That's the big problem Avanir needs to fix for the stock to work. Management has to put up numbers showing that Nuedexta is really gaining traction with doctors and patients to overcome the belief among many investors that PBA affects too few patients to really matter commercially. So far, those Nuedexta numbers aren't there, although the drug launch is still early.
On its conference call, Avanir executives said doctors called on by the company's sales reps 12 times or more are three times more likely to write their first prescription for Nuedexta than doctors detailed six times since launch.
Avanir shared this statistic with optimism but doesn't it also suggest that doctors need constant haranguing by sales reps before writing a Nuedexta prescription? If the drug were so beneficial or PBA patients so prevalent, why would a doctor require a dozen visits from an Avanir sales rep just to write a single script?
The takeaway I got from the Avanir conference call was that the company has its foot jammed down on the sales and marketing gas pedal right now but is still only generating minimal sales. That's not a formula for success in the long term.
A reminder that the next Biotech Stock Live Chat is scheduled for Friday, Aug. 19 at 12 p.m. ET.
-- Written by Adam Feuerstein in Boston
.
>To contact the writer of this article, click here:
Adam Feuerstein
.
>To follow the writer on Twitter, go to
http://twitter.com/adamfeuerstein
.
>To submit a news tip, send an email to:
.
Adam Feuerstein writes regularly for TheStreet. In keeping with company editorial policy, he doesn't own or short individual stocks, although he owns stock in TheStreet. He also doesn't invest in hedge funds or other private investment partnerships. Feuerstein appreciates your feedback;
to send him an email.