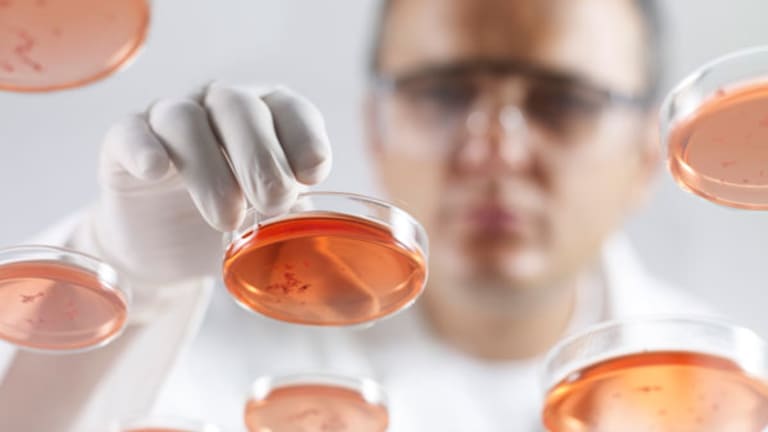 Publish date:
Biotech Stock Mailbag: Cyclacel Pharma
Adam details his whereabouts on Sept. 9 and tackles readers' questions about Cyclacel, Epicept and a few more familiar names.
Adam details his whereabouts on Sept. 9 and tackles readers' questions about Cyclacel, Epicept and a few more familiar names.
BOSTON (
) -- Welcome back to another edition of the Biotech Stock Mailbag.
Before I get to your emails, I want to let readers know that I'll be the featured guest on
TSC Live
next Tuesday, Sept. 22 at noon EDT. Go ahead and start sending in questions. You have four options: Email us at tsclive@thestreet.com; post them on our
page, facebook.com/thestreet;
@thestreet_news with #tsclive; or post them on the
live show page
in the comments section. Again, this happens at noon Tuesday, Sept. 22. Bookmark the
TSC live page
now so you don't forget.
All right, my promotional duties are satisfied. Pyper L. writes, "Do you see anything brewing with
Cyclacel Pharmaceutical's
(CYCC) - Get Report
Phase II studies?"
Cyclacel's lead drug sapacitabine is in midstage clinical trials focusing on older patients with blood-related cancers like acute myeloid leukemia (AML) and myelodysplastic syndrome (MDS).
The data to date from this oral drug have been quite promising, and the company is now in the process of designing a pivotal study for sapacitabine in elderly AML patients.
At this point, you should be saying to yourself, "A cancer drug for elderly AML patients? Where have I heard about this before?"
Remember that the Food and Drug Administration's cancer drug advisory panel met earlier this month and spent an entire day reviewing two drugs from
Genzyme
( GENZ) and
Vion Pharmaceuticals
(VION.OB)
, respectively, aimed at treating elderly AML patients. The advisory panel rejected both drugs in large part because the FDA was harshly critical and skeptical of the clinical data derived from single arm, uncontrolled pivotal studies.
Cyclacel is well aware of the outcome from the FDA advisory panel and understands the FDA's concerns. Cyclacel was leaning towards conducting a single-arm or uncontrolled pivotal study, but in light of recent developments, it seems as if the company is now considering the more conservative approach, which would be to run a randomized study pitting sapacitabine against best supportive care in elderly AML patients.
I hope that's the road Cyclacel chooses to travel. Sapacitabine has promise, so it would be a shame for the company to muck up its development by taking a clinical trial approach that the FDA frowns upon.
Oh no, someone let out the crazy. Seth O. writes, "You're a liar and so stupid you can't even cover your own tracks. You claimed to be in New York talking to
Hemispherx Biopharma
(HEB)
but your own article says you were in Boston! Care to explain that?"
Apparently, Seth's tin-foil hat is askew because he read my
in which I previewed the presentation of Hemispherx's CEO William Carter later that day at an investor conference in New York.
I actually wrote that column, including the Hemispherx item, on Sept. 8. It was posted to our Web site soon after midnight on Sept. 9. The column's tagline reads, "Reported by Adam Feuerstein in Boston" because that's where I work.
I boarded the Amtrak Acela train at Boston's South Station at 6 a.m. on Sept. 9, headed to New York City. While on the train, I updated my BioBuzz column at 7:28 a.m. with the news of Vivus' obesity drug results. Isn't technology grand? Using an iPhone, a blackberry and a laptop computer, I can actually write, send and post stories to TheStreet.com while traveling on a train. The column still had the "Reported by Adam Feuerstein in Boston" tagline because, well, I do work in Boston. Except when I'm traveling through Connecticut by train on the way to New York.
I arrived in New York around 9:45 a.m. and made my way to the Palace Hotel to listen to Hemispherx's presentation. I'm the guy asking the questions during the question-and-answer session. You can hear me on the webcast. After that, I walked up to Carter, introduced myself, and asked him some more questions.
I wrote all about it, including the news that Hemispherx still hasn't called FDA to inquire about the
.
So Seth, I hope this answers your questions. I worked from Boston, on the Acela traveling through Connecticut and in New York City all on the same day. Amazing, I know.
On a related note, Peter W. chimes in with an update on Carter's ludicrous claim that stock holdings of FDA Commissioner Margaret Hamburg's husband is preventing Ampligen from being approved.
"Adam I hope all is well. I am just getting a chance to read the
on Hemispherx. It was one of the best-researched biotech pieces I've ever read...period. We all know Carter has a shady track record at best. One thing I'd point out though, to the best of my knowledge, Renaissance is totally out of Hemispherx as of June 30, and they only held 34,500 shares. For a $20 billion dollar global fund, that's less then a drop in the bucket."
Staying with Hemispherx, Jen. B asks, "What is your take on Hemipsherx's announcement of their investment in their production facility?"
I think it's $4 million flushed down the toilet. Alferon, the company's only FDA-approved drug, isn't even sold anymore. Hemispherx let the drug's inventory expire and even gave up its product insurance. Alferon-LDO, an oral version of the same drug, is a liquid which patients "swish around in their mouths for a few minutes," according to Carter, which is somehow supposed to elminate the flu virus. Really? And of course, there's Ampligen. I've had my say about that do-nothing drug already.
From Eastern Erope, River U. writes, "The reason I am writing to you is
Epicept
( EPCT). This little biotech has been nightmare but somehow they managed to get approval to their orphan status cancer drug called Ceplene in Europe last fall. One would have expected a
Dendreon
(DNDN)
-like spike in stock price but nothing like this has happened.
"Management promised that a partnership will be in place in the end of 2008, then the end of the first quarter 2009... So the partnership is in the air and so are the future sales and earnings. Would be nice to hear your opinion about Epicept. Is it going to be success story or another failure?"
Epicept CEO Jack Talley told me earlier this month that the company got to the contract-terms stage with a European marketing partner, but the deal broke down because upper management at the partner company felt like Ceplene was not a big enough commercial opportunity to make economic sense for them.
Talley says he is now re-engaging with the other companies that expressed interest in Ceplene, and that he hopes to have a deal done soon. (Although I think his days of offering firm timelines are probably over -- and that's a good thing.)
Should you believe him? I think so. Ceplene is not going to be a huge drug, but when combined with an older medicine known as IL-2, it does significantly extend remission in patients with acute myeloid leukemia (AML).
The unknowns come down to deal terms of any partnership, including Epicept's royalty on sales. Also, the drug's regulatory status in the U.S. is still in limbo. Questions remain about whether it's really Ceplene or IL-2 that is benefiting AML patients. Talley is right when he says that historical studies of IL-2 alone in AML patients have all produced lackluster results. That makes it more likely that Ceplene, or more accurately, the combination of the two drugs, is responsible for the benefit observed.
The possible sticking point is whether or not the FDA will believe that enough to approve the drug here. European regulators did, which is why the drug is approved there. But FDA may be more stringent.
Epicept trades for under a $1, so it's not a bad speculative investment. Ceplene is an approved drug, so the regulatory risk is minimized. Commercially, the drug's potential is still unsure, but a marketing partner will hopefully clarify that.
Also pay attention to upcoming phase II data from a study of Azixa in patients with melanoma that has spread to their brain. Azixa is being developed by
Myriad Pharmaceuticals
(MYRX)
, which licensed it from Epicept. The phase II data is expected in November.
Getting back to well-worn turf, Donald C. asks, "You know, all the articles you write about
Cell Therapeutics
(CTIC) - Get Report
make it seem as if you broke up with somebody in the company. You obviously can't write fairly about them, as you seem to have a grudge. Maybe he
CEO Jim Bianco sold some stocks to donate to charities. Do you know for sure he didn't?"
Donald is right. Bianco and I were married for years, but he left me for another woman and now I'm bitter.
That's a joke, people.
I write about Cell Therapeutics when there is something interesting to write about, or when a reader asks me a question. (Which happens daily.) I have no grudge against Cell Therapeutics. I'm not angry or bitter. I don't take stocks personally.
On a related note, Scott D. asks, "Respectfully I ask this question. I know you are not a huge fan of Cell Therapeutics, it seems that every chance you get to knock the company you take it. The news that came out Wednesday regarding the 18-month follow up was pretty good, and yet you don't comment on it?
Scott is referring to 18-month follow up data from the pixantrone study in advanced, aggressive non-Hodgkin's lymphoma patients. And yes, data were good, showing that pixantrone patients continued to respond and even live longer after longer follow-up.
I hope Scott was sitting down. I know he wasn't expecting me to say something nice about pixantrone.
I didn't write about it Wednesday because I'd seen the follow-up pixantrone data earlier this month at the Rodman & Renshaw conference, so it wasn't entirely new. And while it's an incremental positive for pixantrone, the data from that study is already submitted to FDA and is under review. It doesn't change my fundamental view of pixantrone.
I'd consider the next important data for pixantrone to be from the phase II "Rapid" study that we're supposed to see at the American Society of Hematology annual meeting in December.
And then there's the ongoing review of the lung cancer drug Opaxio by European regulators, with some sort of initial opinion/decision expected before the end of the year.
John R. takes issue with my column mention of
Xoma's
(XOMA) - Get Report
with Goldman Sachs.
"Adam, why the negative spin? This is a great deal by Xoma. No debt, still has someroyalties... but the big issue is they can negotiate from strength the XOMA 052 partnership and maybe pull in $50 million plus in cash and maybe a deal worth from $500 to $1 billion... The only negative is if XOMA 052 fails Xoma has to start over. As an investor I'm willing to take that chance because the results so far look so outstanding."
I like Xoma, too, so my intent was not to be bearish. But the stock didn't react at all to the Goldman settlement, which is a bit worrisome.
Your expectations for deal terms from a XOMA 052 partnership are too high. Xoma CEO Steve Engle has already said that he doesn't expect to garner a big upfront milestone payment simply because XOMA 052 is still a very early-stage diabetes drug. What the company is looking for mostly is a nice royalty and the partner picking up the bulk of, if not all, future development costs.
Adam Feuerstein writes regularly for TheStreet.com. In keeping with TSC's editorial policy, he doesn't own or short individual stocks, although he owns stock in TheStreet.com. He also doesn't invest in hedge funds or other private investment partnerships. Feuerstein appreciates your feedback;
to send him an email.