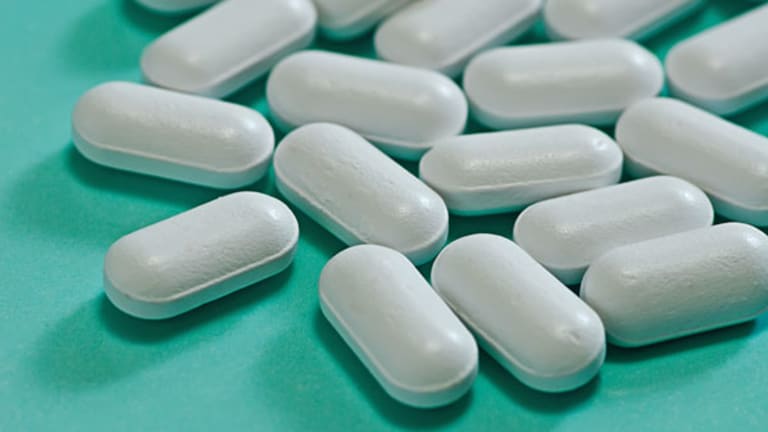 Biotech Stock Mailbag: Corcept Therapeutics, Reader Retorts
Biotech columnist Adam Feuerstein answers readers' questions about health-care companies.
Biotech columnist Adam Feuerstein answers readers' questions about health-care companies.
Updated with response from Osiris Therapeutics.
BOSTON (
) --Portman86 kicks off this week's Biotech Stock Mailbag: "
Corcept Therapeutics
(CORT) - Get Report
-- Approval or not?"
Not.
Corcept is seeking FDA approval for Korlym as a treatment for Cushing's Syndrome, a rare condition in which a tumor on an adrenal gland like the pituitary causes excess production of the hormone ACTH. Excess ACTH, in turn, causes the body to produce too much of the stress hormone cortisol.
Patients with Cushing's suffer from severe cardiovascular and metabolic disease that can be fatal. No drugs are currently approved in the U.S. to treat the disorder, but
Novartis
(NVS) - Get Report
recently received approval for the first Cushing's therapy in Europe.
Corcept's FDA approval decision date for Korlym is Friday, Feb. 17.
I'm predicting an FDA rejection. Here's why:
Corcept made a subtle but important change to the risk factor statements in its most recent 10Q filed with the Securities and Exchange Commission. The company now warns of "the possibility that the FDA may impose additional pre-approval requirements in regard to Korlym for the treatment of Cushing's Syndrome."
The addition of this important risk factor is hard to find. It's a new bullet point among many older bullet points included within the context of more expansive, cautionary language about Corcept's cash resources.
Look on page 25-26 of Corcept's 10Q filed Nov. 11, 2011.
Companies add risk factors to their SEC filings for a reason. Keep in mind that FDA accepted the Korlym filing for review in June of last year. Corcept filed its 10Q for the second quarter 2011 on Aug. 9 without this warning about the possibility of additional pre-approval requirements for Korlym. My guess is that something happened between last August and November -- an interaction or warning from FDA regarding the Korlym review -- that forced Corcept to add this new risk language in its latest 10Q.
I was already skeptical of Korlym's approval chances since FDA refused to grant the drug a priority, six-month review despite Cushing's being a serious, fatal disease with no currently approved U.S. treatments. FDA also decided not to hold an advisory panel, which is odd, even if the active ingredient in Korlym, mifepristone, is well known to FDA.
Mifepristone is also the active ingredient in the "abortion pill" RU-486.
Corcept's phase III study demonstrated Korlym's efficacy but safety issues and concerns -- low potassium levels, adrenal insufficiency, endometriosis in women and possible heart rhythm abnormalities -- will likely keep the drug from being approved on a first pass.
If you're curious, I'm not alone in predicting Korlym's rejection next week. Forty-seven percent of contestants in my
2012 FDA Drug Approval Contest
agreed with my assessment compared to 42% who believe Korlym will be approved. The remaining 10% predict a delay in an FDA decision.
Oncothyreon
(ONTY)
bull @given2tweet challenges me (an Oncothyreon bear) to refute some facts/assertions that he believes points to a positive outcome for the ongoing phase III study of Stimuvax in non-small cell lung cancer.
Merck KGaA
, which licensed Stimuvax from Oncothyreon, is running the lung cancer trial. Results from a second interim analysis are expected this quarter.
"Four new Stimuvax trials initiated in last four months -- breast, colorectal, colon and rectal,"
says @given2tweet.
"Why would Merck KGaA wait five-plus years to launch four phase IIs? Why didn't they do this 2007-2010? Further, Merck hired a cost-slashing CFO in 2011. He killed a dozen drugs in the pipeline last year. Why would he green light four phase IIs when we are months away from interim data and a year from top line?"
Is Merck obligated to invest in further Stimuvax-related R&D, per the terms of its license with Oncothyreon? I don't know, but it seems as reasonable an assumption to make as implying that investment in new Stimuvax studies today suggests that the lung cancer phase III trial is working.
Pfizer
(PFE) - Get Report
paid an upfront fee of $225 million to
Medivation
(MDVN)
to gain control of the latter's Alzheimer's drug Dimebon when it only had phase II data to examine. Pfizer then investing tens of millions of dollars more in several large phase III trials. Dimebon ultimately failed rather spectacularly, meaning Pfizer flushed a ton of money down the toilet.
My point is that large pharmaceutical companies take risks, start trials, invest big money all the time in experimental drugs where the ultimate outcome is uncertain. By your logic, Dimebon should have worked because Pfizer invested way more money in the drug than German Merck is doing with Stimuvax.
I checked
and I can't find four new phase II studies of Stimuvax. I found a rectal cancer study begun Jan. 6, 2012 and a prostate cancer study started Nov. 3, 2011. Both studies are small with exploratory immunological response primary endpoints.
Next, @given2tweets asks,
"Why is Stimuvax phase III trial taking so long with a known enrollment curve? Is there any point where the bears will admit that something is odd? If the trial hasn't reached top line till 2015 would you conclude maybe the drug works? Please tell us if this is ever a useful indicator."
You believe the Stimuvax lung cancer study is taking longer to complete than expected, which means patients are living longer i.e. Stimuvax is helping patients live longer. This is the same assumption made by followers and believers of
Cell Therapeutics
(CTIC) - Get Report
,
Novelos Therapeutics
and
Genvec
(GNVC)
, among others. Each of these companies conducted phase III cancer drug studies with survival endpoints that ran longer than expected. Each trial failed.
Bears will admit there's something odd about Stimuvax if/when Merck and Oncothyreon announce a statistically significant boost in lung cancer patient survival -- in other words if/when the phase III study is successful. Until that happens, those of us on the other side of the Stimuvax story are more apt to sharply discount the optimistic and assumptive modeling based on incomplete knowledge of the phase III patient enrollment curve. Bears are more likely to believe that lung cancer patients in both arms of the Stimuvax study were always more likely to live a lot longer than Merck and Oncothyreon assumed due to factors apparent in the older phase II study. This "delay" in reporting results isn't a delay at all.
Lastly, @given2tweet asks,
"Why has Merck KGaA started hiring people preparing for an New Drug Application and launch?
Drug companies invest in post-approval activities all the time before ever having in hand results from pivotal clinical studies. Prepping regulatory filings, investing in new manufacturing and hiring commercial/sales people can take a long time so almost by default these investments have to be started early. If a drug works, these investments can be accelerated; if a drug flops, companies throttle back, plans are changed, new hires are laid off. It happens all the time.
Tuesday's column
Six Drug Stocks Unworthy of Biotech Bull Market
set the Hostile React-o-Meter aflame.
"Peterpmf" was succinct in his criticism: "Go
Bleep yourself."
"Adam Gaystien" has issues: "You bald
bleep go kill yourself
bleep."
Other readers were a bit more constructive. "Native American Fans" writes,
"You never really do research or present cogent arguments when you mention Regeneron (REGN) - Get Report. For instance, when you predicted their launch of Eylea would fail without giving any reason(s). You obviously had no clue what you were talking about then. As far as the REGN valuation is concerned, how much you think big pharma would be willing to pay to buy them out? Is this your way of trying to wipe the egg from your face since you got the drug launch completely wrong?"
I never predicted a bust for the Eylea launch. What I said, and still believe, is that Regeneron's $9 billion-plus valuation is excessive even if you assume a successful Eylea launch and peak sales of $1 billion. Regeneron is a stock that has worked for investors and analysts love it, but at some point, pushing Eylea estimates higher and higher to justify increasing price targets and valuations becomes unsustainable.
Kenneth double-dog dares me:
"Adam, how about stating categorically, in writing, that you have never, nor would ever, comment on a stock as a practice of assisting short sellers in their quest to make a quick buck? It would be something that you could put in writing, and then the SEC could probably just pick up and go away because 'that would be that'. Oh wait, you may not want to do that because it would clearly not be an accurate statement... I don't have any skin in the game of these companies but I routinely keep up on research of biotechs and it is remarkable the amount of times AF steps in to bash a company that appears to be doing good. Seems to me that Mr. AF is developing a measurable pattern that the SEC should eventually be able to decipher and take action on..."
Ken, I have never, nor would I ever, comment on a stock as a practice of assisting short sellers in their quest to make a quick buck.
BuggyFunBuggy asks,
"How could you leave out HEB?? Still listed on AMEX and hasn't been near a buck in years????"
Ah yes, good ol'
Hemispherx Biopharma
(HEB)
. Amazingly, the stock is up 65% this year for reasons that defy logic or explanation. More evidence of a biotech bubble.
Hairy Beary (nice nickname) asks,
"Adam, can you please give me your thoughts on Sanofi (SNY) - Get Report discontinuing the Prochymal graft-versus-host disease program? It seems this would raise a red flag given this drug's past."
More like a red invisibility cloak since
Osiris Therapeutics
(OSIR) - Get Report
, which owns Prochymal and licensed the
to Genzyme (now Sanofi) has said nothing publicly to its shareholders or investors about the demise of the graft-versus-host-disease partnership.
Sanofi disclosed the discontinuation of the Prochymal program in the early morning hours of Feb. 8. As I write this column on Thursday at noon, Osiris has said nothing, even though GVHD is the linchpin of its Sanofi partnership.
Update: Late Thursday night, Osiris finally issued a press release in which it claims Sanofi never told the company about pulling out of the Prochymal-GVHD partnership. Osiris is now free to seek a new partner "without restriction," the company says.
Good luck with that, Osiris.
--Written by Adam Feuerstein in Boston.
>To contact the writer of this article, click here:
Adam Feuerstein
.
>To follow the writer on Twitter, go to
http://twitter.com/adamfeuerstein
.
>To submit a news tip, send an email to:
.
Follow
TheStreet
on
and become a fan on
Adam Feuerstein writes regularly for TheStreet. In keeping with company editorial policy, he doesn't own or short individual stocks, although he owns stock in TheStreet. He also doesn't invest in hedge funds or other private investment partnerships. Feuerstein appreciates your feedback;
to send him an email.