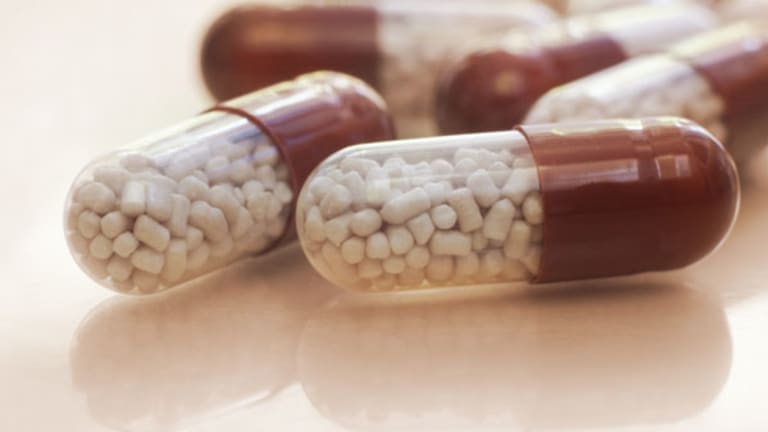 Biotech Stock Mailbag: Celsion, Navidea, AP Pharma, Sarepta
Biotech columnist Adam Feuerstein answers readers' questions about health-care companies
Biotech columnist Adam Feuerstein answers readers' questions about health-care companies
BOSTON (
) -- A word on Celsion to start this week's Biotech Stock Mailbag:
Celsion's
(CLSN) - Get Report
Thermodox failed to delay or halt the re-growth of liver tumors. The negative results from the phase III study, announced by the company Thursday morning, caused Celsion shares to fall 81% to $1.51.
"It was not close," CEO Michael Tardugno said of the Thermodox study results, details of which were not disclosed. With a description like that, there's no reason to dwell on the possibility of a second chance. It's safe to say Thermodox is done.
I'm happy to see Celsion not spinning or trying to data-mine negative results. The company admits the Thermodox data do not support approval filings in the U.S. or Europe. I wish more small-cap biotech and drug companies were as willing to acknowledge bad news.
Whichever side of the Celsion bull-bear battle you were on, the take-home lesson is the same: Seek out, learn and understand the other side of the trade before you put capital at risk.
The
was summarized in a Mailbag column I wrote on Dec. 20. The bull thesis was covered extensively on a
maintained by investor Siavoche Siassi.
Perhaps the argument against Thermodox made by my fund manager source -- he was short Celsion -- wasn't convincing to you. That's fine, but dismissing the short's work as the malfeasance of a criminal, stock-manipulating "basher" -- as many Celsion bulls did -- was foolish. It's particularly shortsighted in biotech investing, where we know the failure rate is so high.
Biotech investing is hard. Nobody makes the right call 100% of the time. That's true for longs and shorts. Learn from your mistakes, and respect the other side.
One more lesson from the Celsion Thermodox failure:
Joking aside, I expect a small-cap cancer drug stock to break the
eventually, but it hasn't happened yet, so I'm basking in the glow.
@bzshadow asks, "Any opinion on NAVB?"
I covered
Navidea Biopharmaceuticals
(NAVB) - Get Report
last year and my thesis hasn't changed. FDA is likely to approve Lymphoseek in April, but the product is a commercial failure. Read the detailed explanation for why
Lymphoseek sales will disappoint
. More discussion of
Navidea's pipeline and why it's not worth much is here
.
On that latter point, a Medicare advisory panel voted Wednesday there was insufficient evidence to support the broad use of
Eli Lilly's
(NAVB) - Get Report
Alzheimer's imaging agent Amyvid. This negative vote was bad for Navidea's AZD4694.
Regarding
Anacor Pharmaceuticals
(ANAC)
and its toenail fungus drug tavaborole, @invest4bio asks, "So, does the FDA approve on this data?"
Tavaborole met the primary endpoint
of the phase III study. If a similar result comes from the second phase III study in March, Anacor can seek FDA approval and I assume the drug is approvable. The problem is tavaborole doesn't appear to be commercially viable because it's barely better than Penlac, a currently marketed toenail fungus treatment, and inferior to
Valeant Pharmaceuticals'
(VRX)
efinaconazole. FDA is reviewing efinaconazole now, with an approval decision date of May 24.
Anacor shares dropped Wednesday
because of the poor commercial prospects for its drugs. If you're looking ahead to an eventual FDA approval, trade accordingly.
@jb498 asks, "What do you think about APPA and HEB?"
I have followed the
AP Pharma
(APPA)
story for a while now, tweeted about the stock occasionally and favorably, but haven't written on it mainly because of two related concerns: 1) The high concentration of hedge funds that essentially own and control most of the outstanding shares; and 2) valuation.
AP Pharma's anti-emetic drug APF530 is under FDA review with an approval decision expected March 31. I believe FDA will approve the drug. I'm also a believer in APF530's commercial potential and the Medicare pricing advantage over Eisai's Aloxi, which I won't discuss here because Larry Smith does a good job of it in a
. Read that.
With that said: AP Pharma is controlled by a gaggle of hedge funds -- Baker Brothers, Tang Capital, BVF, Perceptive Life Sciences and Iszo Capital. These are really smart guys, but they own this company, and you, as a little retail investor, are at their mercy when they decide to sell.
AP Pharma isn't a cheap stock, either. I know shares trade for around 80 cents, but the company has somewhere in the ballpark of 500 million shares outstanding if you take into account warrants, options and last fall's financing. A stock that trades under a buck looks cheap but balance sheets and valuation matter eventually.
The twitter buzz on AP Pharma has grown louder this year with the stock up almost 50% since Dec. 31. Fundamentally, there's a lot to like about APF530 -- just trade accordingly given the hedge fund/valuation issues.
On
Hemispherx Biopharma
(HEB)
: FDA will be rejecting Ampligen today, if the agency hasn't already done so. Since FDA doesn't announce drug rejections, we're at the mercy of Hemispherx to disclose. Given past history, there is no reason to believe Hemispherx will be honest or prompt with any announcement of Ampligen's rejection.
Meantime, Hemispherx's board awarded CEO Bill Carter a $242,000 bonus for 2012. Incredible.
Sanofi
(SNY) - Get Report
and
Isis Pharmaceuticals
(ISIS)
will price their newly approved HoFH drug Kynamro at $175,000 per year, which is less than the $250,000 per year that
Aegerion Pharmaceuticals
(AEGR)
will charge for its competing drug, Juxtapid.
The pricing disparity prompted @hydrogenblimp to ask, "Do you think Juxtapid will be repriced? I don't think they want to get edged out."
While it bears watching, I don't have too many concerns about Aegerion losing market share to Sanofi/Isis over price. Aegerion's Juxtapid is superior on all measures over Kynamro -- efficacy, safety and convenience (a daily pill vs. a weekly injection.) Those measures matter more than price.
I also suspect Aegerion is not surprised at all that Sanofi and Isis are trying to undercut on price. Aegerion set the Juxtapid price at $250,000 only after consulting with insurers and understanding that a premium-priced drug wouldn't hurt them commercially.
I'm actually surprised Kynamro is priced as high as it is. I thought Sanofi and Isis would go lower, perhaps to $100,000 or $125,000 a year.
@HemPaddy asks, Will Sarepta face a panel if FDA allows AA
accelerated approval submission?"
It's reasonable to assume FDA will convene an advisory panel to review eteplirsen if the agency allows
Sarepta Therapeutics
(SRPT) - Get Report
to file for accelerated approval. I'd say a panel is a near certainty, given the novel exon-skipping mechanism of eteplirsen and the lingering controversy over the small number of Duchenne muscular dystrophy patients with the drug to date.
I don't see an eteplirsen advisory panel as a negative. In fact, I'd wager that a panel would bolster the drug's chances of being approved early. The convincing efficacy and safety data generated already, coupled with powerful patient testimony, would make it extremely difficult for any expert sitting on the panel to vote against eteplirsen.
I say, bring on FDA panel. It's a positive for Sarepta.
-- Reported by Adam Feuerstein in Boston.
Adam Feuerstein writes regularly for TheStreet. In keeping with company editorial policy, he doesn't own or short individual stocks, although he owns stock in TheStreet. He also doesn't invest in hedge funds or other private investment partnerships. Feuerstein appreciates your feedback;
to send him an email.