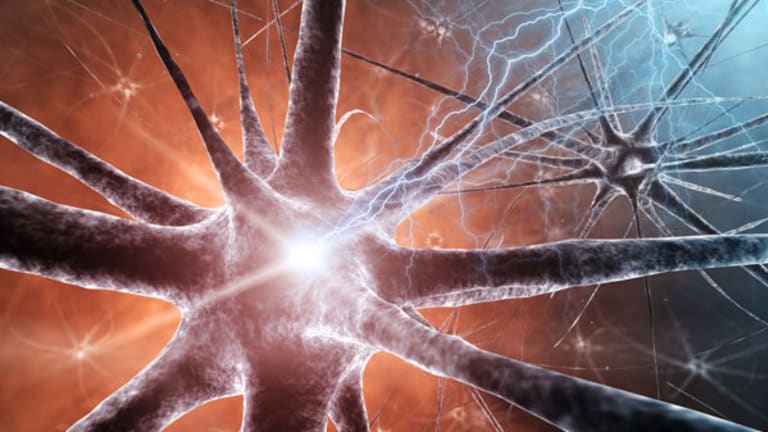 Biotech Stock Mailbag: Celldex, Exelixis, Geron, NPS Pharma
Biotech columnist Adam Feuerstein answers readers' questions about health care companies.
BOSTON (
) -- This week's Biotech Stock Mailbag opens with a couple of tweets about
Celldex Therapeutics
(CLDX) - Get Celldex Therapeutics, Inc. Report
:
Here's the one-year chart for Celldex Therapeutics. Impressive!
data by
This week, I
Leerink analyst Howard Liang for increasing his estimate of Celldex's market value by $1 billion based solely on the prospects for an experimental cancer drug lacking human clinical data. This doesn't mean I dislike Celldex. I just like ribbing sell-side analysts for using increasingly outlandish reasons to justify higher price targets on covered companies.
Analysts have two choices when a covered company blows through a price target: 1) Downgrade, or 2) raise their price target. Since very few sell-siders have the job security or cojones to downgrade stocks on valuation, the only real option is the latter.
The big jump in Celldex's stock price is easily explained. Health care investors are in love with two drug development trends today: 1) Drugs to treat rare, or orphan, diseases, and 2) drugs which release the brake on a patient's immune system in order to more effectively kill cancer i.e. the PD-1s from
Bristol-Myers Squibb
(BMY) - Get Bristol-Myers Squibb Company Report
and
Merck
(MRK) - Get Merck & Co., Inc. Report
.
Celldex has two drugs in its pipeline hitting on each of these trends. CDX-1135 is targeting dense deposit disease, a rare kidney disorder. As I wrote in July,
investors were buying Celldex on the prospect that CDX-1135
could be like
Alexion Pharmaceuticals'
(ALXN) - Get Alexion Pharmaceuticals, Inc. Report
Soliris. The second Celldex drug, CDX-1127, works by stimulating T cells to better recognize and destroy cancer cells. CDX-1127 may not be very effective on its own, but Celldex believes CDX-1127's home-run potential could be in combination with a PD-1 "checkpoint inhibitor." A similar "combination cancer immunotherapy" approach is already being tried -- Bristol is running cancer trials combining Yervoy with nivolumab -- two checkpoint inhibitors.
This was the thesis cited by Leerink's Liang to raise his price target on Celldex this week.
Investors also love companies with near-term catalysts, and Celldex checks this box. The first, early-stage study of CDX-1127 in patients will be presented at a medical conference Nov. 7 to 10. A small, proof-of-concept study of CDX-1135 is expected to read out at the end of the year or early in 2014. Celldex will also be presenting additional phase II data on its brain tumor vaccine candidate rindopepimut in late November.
I asked the manager of a large health care fund why he owns Celldex. He can't be quoted by name, but his top reason for owning Celldex is CDX-1127, the company's cancer immunotherapy candidate.
"It's all about CDX-1127. Celldex is really the only small-cap immuno-oncology play," he told me. The rest of Celldex's assets, collectively, were attractive, he added, but his focus was CDX-1127, despite the fact that we still haven't seen human clinical data yet.
It should be noted that this manager runs a large fund so Celldex is a very small portion of his overall portfolio. He can afford to take a risk on an early-stage drug. Main Street investors don't have that luxury.
There are compelling reasons to own Celldex but the valuation is getting ahead of itself. That's the way I see the stock today. Now take note: Valuation shorts are dangerous, never more so in an environment where investors want to own biotech and drug stocks and are happy to take on greater risk to do so. Biotech and drug stocks only sell off today for two reasons: 1) a clinical trial blows up, or 2) the FDA rejects a drug or an advisory panel hands down a negative vote. Celldex is not in danger of either of these two things happening in the near future.
A related email from "HeyMikey99":
Would like to hear your thoughts on Celldex and their phase III drug rindopepimut, especially considering your recent article on Agenus.
"Rindo" is the most advanced cancer therapy in Celldex's pipeline but it's also the product most likely to fail, according to sentiment checks I made this week with buyside investors.
Cancer vaccines don't work.
Dendreon's
(DNDN)
Provenge is the lone exception, and it has been a commercial failure, in part because many oncologists are skeptical of the data upon which Provenge was approved. Rindo is a cancer vaccine that targets a mutated protein, EGFRv3, present in about one-third to one-half of brain cancers. Rindo is designed to train a patient's immune system to recognize and attack cancer cells containing EGFRv3.
Celldex is one of three companies developing cancer vaccines against brain cancer and the only one with data showing promise.
Agenus
(AGEN) - Get Agenus Inc. Report
and
Northwest Biotherapeutics
(NWBO)
are a lot less impressive and seem more interested in promoting their stocks than developing drugs.
You can take a look at the rindo data presented to date on Celldex's Web site. All the phase III studies are single arm and match rindo against historical controls. The absence of controlled data is a risk. What's most interesting is the consistency in the rindo results across three different studies. Remember,
Pfizer
(PFE) - Get Pfizer Inc. Report
once licensed rindo but gave the drug back to Celldex in 2010,
after
much of the phase II data were known.
Celldex is conducting a phase III study of rindo in newly diagnosed brain cancer patients, but enrollment isn't expect to finish up until the end of the year and results won't be ready until 2015.
A phase II study combining rindo with
Roche's
(RHHBY)
Avastin in patients with recurrent brain cancer is also underway.
My sense, speaking to institutional investors, is that rindo is far from the most compelling reason to own Celldex.
"PaulW56" writes:
You haven't mentioned Exelixis (EXEL) - Get Exelixis, Inc. Report in a long time, Adam, so I wonder if you saw the news that the COMET-1 study has reached its full enrollment criteria. What is the impact of this news, if any, and do you have a thought on the drug's potential in prostate cancer? Thanks for your time.
This two-year chart of Exelixis versus the Nasdaq Biotechnology Index is atrocious but I believe it will start to get better for the company. Exelixis has been sorta forgotten by a lot of health care investors but that's about to change.
data by
As Paul mentioned, Exelixis announced Thursday patient enrollment in the COMET-1 study of cabozantinib in advanced, post-chemo, prostate cancer patients has completed. Importantly, Exelixis will have results from an interim analysis of the study this year, and perhaps the final analysis, too, if necessary.
This means Exelixis CEO Michael Morrissey now gets to stand up in front of investors and tell them the release of pivotal cabozantinib data is a near-term event. He'll find investors receptive to this message this fall and especially in January at the big J.P. Morgan healthcare conference.
With Exelixis shares stuck in the $5 range, the risk-reward for the COMET-1 study looks favorable.
This is not to say there is no risk in the COMET-1 study (or the COMET-2) study. I just see the bull-bear battle over whether cabozantinib works or not in prostate cancer being waged in 2014 at a higher Exelixis stock price than where it sits today. Remember, too, the drug is already approved in medullary thyroid cancer and phase II studies in prostate cancer have yielded plenty of positive data.
If you've forgotten about Exelixis in 2013 -- and who can blame you -- it's time to take another look.
It's helpful to start with the big-picture view of
Geron
(GERN) - Get Geron Corporation Report
. Since going public in 1990, the company has racked up an accumulated deficit of more than $875 million. No drugs approved, no drugs even close to being approved. Geron's stem cell program -- gone. Cancer vaccines -- gone. Imetelstat, Geron's telomerase inhibitor, is hanging on by a thread despite multiple clinical trial failures.
Yet Geron, stubbornly, refuses to die. The latest -- and perhaps last -- comeback attempt has the company betting it all on imetelstat in myelofibrosis. The Mayo Clinic is running a small, early-stage study and recently informed Geron that at least two responses to imetelstat were reported in two different dosing cohorts of 11 patients each. A third cohort of patients is now enrolling in the study.
The principal investigator of the imetelstat study is Dr. Ayalew Tefferi, which will make investors who pay close attention to myelofibrosis drug development either cheer or jeer. He's a polarizing guy.
Tefferi will be presenting these interim imetelstat data at the American Society of Hematology (ASH) annual meeting in early December. Geron has already told investors that it will likely start its own multi-center study of imetelstat in myelofibrosis, based on what it believes are promising results from the Mayo study.
I'd caution to wait until we see these Tefferi imetelstat data at ASH before reaching any conclusions about Geron's viability.
But remember what I said above about investors wanting to own biotech stocks regardless of the risks involved? Well, imetelstat hasn't been declared dead yet officially, which explains why Geron's chart looks like this for the past three months:
data by
Geron's fully diluted market cap today is approaching $500 million, which is what
Gilead Sciences
(GILD) - Get Gilead Sciences, Inc. Report
paid to acquire YM BioSciences and its myelofibrosis drug CYT387 (since renamed momelotinib.) The difference is that momelotinib was ready to enter phase III studies when Gilead picked it up. Geron's imetelstat isn't there yet and we have no real clue if the drug's efficacy and safety are comparable to competing myelofibrosis drugs.
If momelotinib isn't more effective or safer than
Incyte's
(INCY) - Get Incyte Corporation Report
Jakafi, for example, Geron will have a tough time justifying the expense of moving the drug forward.
You're right, the
about insurers pushing back on
NPS Pharmaceuticals
(NPSP)
due to the high cost of Gattex were wrong. NPS has done very well with the Gattex launch and the stock has reacted accordingly:
NPSP
data by
I still believe the risk of insurers putting more reimbursement restrictions on high-priced orphan drugs exists, but I admit evidence of a clampdown to date is scant and I was clearly wrong about NPS Pharma. To their credit, my colleagues at
TheStreet
Jim Cramer and David Peltier have both been enthusiastic supporters of NPS this year.
-- Reported by Adam Feuerstein in Boston.
Follow Adam Feuerstein on
.
Adam Feuerstein writes regularly for TheStreet. In keeping with company editorial policy, he doesn't own or short individual stocks, although he owns stock in TheStreet. He also doesn't invest in hedge funds or other private investment partnerships. Feuerstein appreciates your feedback;
to send him an email.