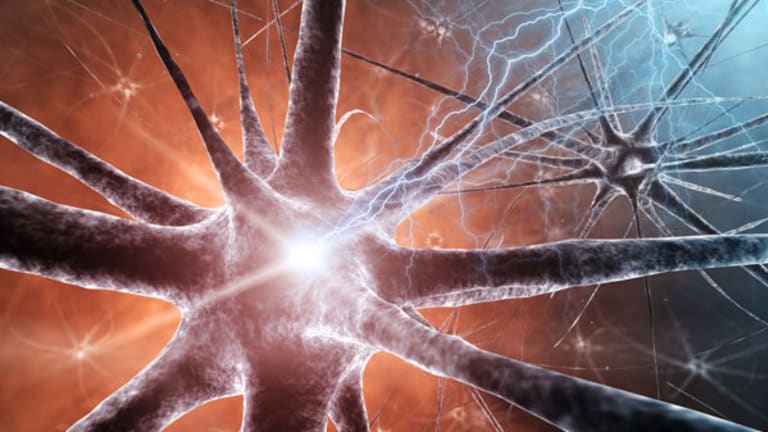 Biotech Stock Mailbag: Cell Therapeutics and the Ariad Hostile React-o-Meter Meltdown
Biotech columnist Adam Feuerstein answers readers' questions about health care companies.
BOSTON (TheStreet) -- In this week's Biotech Stock Mailbag, it's time to revisit Cell Therapeutics (CTIC) - Get CTI BioPharma Corp. Report.
The current investment thesis for Cell Therapeutics centers on pacritinib, an experimental Jak-2 inhibitor for myelofibrosis. In November, Cell Therapeutics signed a development and marketing partnership for pacritinib with Baxter (BAX) - Get Baxter International Inc. Report. A phase III study of pacritinib in myelofibrosis is underway, with a second phase III study expected to start shortly.
Nothing else in Cell Therapeutics' pipeline has any significant value. Assume all other pipeline drugs fail. I'd also assign minimal value to the approved lymphoma drug Pixuvri because Cell Therapeutics will struggle mightily to generate sales in Europe and the drug isn't ever likely to receive U.S. approval.
Today and into the future, Cell Therapeutics is pacritinib. Those who know me and my combative history with Cell Therapeutics may be shocked at the next statement, so sit down.
Pacritinib could be a real myelofibrosis drug.
Sorry if that freaks you out a little, but it's true.
Based on the phase II data presented to date, pacritinib appears to be a bit less effective than Incyte's (INCY) - Get Incyte Corporation (INCY) Report Jakafi but perhaps better tolerated. Jakafi causes low platelet counts and anemia, often requiring myelofibrosis patients to discontinue treatment or lower the dose. For the same reason, doctors are hesitant to prescribe Jakafi to myelofibrosis patients with low platelets at baseline.
Pacritinib doesn't appear to have a negative effect on platelet counts, so the most reasonable (conservative) assumption to make is that the drug, if approved, could find a niche as a treatment for myelofibrosis patients with 1) baseline low platelets, or 2) who are intolerant to Jakafi.
Of course, this pacritinib profile needs to be confirmed in the ongoing phase III studies. Pacritinib is not without its own safety concerns, either. The drug causes relatively high rates of diarrhea, nausea and vomiting, based on the phase II data. Whether these gastrointestinal side effects adversely affect the drug's tolerability profile overall (and efficacy) is something to consider.
Incyte doesn't report fourth quarter and 2013 financial results until next month but it looks like Jakafi will generate roughly $400 million in worldwide sales. This is the drug's second full year on the market since launch in November 2011.
Street consensus for 2014 U.S. Jakafi sales is approximately $330 million. Add in another $200 million or so in ex-U.S. sales and call Jakafi a $500-$600 million drug next year.
What does this mean for pacritinib sales? Hard to say without any phase III data on hand, but a reasonable -- generous -- assumption would be $300 million in myelofibrosis sales two years post approval. In other words, pacritinib sales will be about half of Jakafi.
Why half? It's a nice, round number. Jakafi has a healthy head start and a better oncology drug marketer behind it (Novartis (NVS) - Get Novartis AG Sponsored ADR Report) than pacritinib will with Baxter. I don't believe pacritinib will demonstrate superiority to Jakafi so it's going to be more of a second-line myelofibrosis drug. Half may prove overly optimistic if Gilead Sciences (GILD) - Get Gilead Sciences, Inc. (GILD) Report secures approval for its myelofibrosis drug momelotinib. That's another wild card to keep in mind. And then there's Geron (GERN) - Get Geron Corporation Report and Imetelstat -- don't forget those guys.
What's pacritinib sales of $300 million in 2017-2018 worth to Cell Therapeutics today? Using reasonable assumptions, risk adjustments and sales multiples, my NPV calculator spits out an enterprise value of $400 million.
Cell Therapeutics' enterprise value today: Just about $400 million. 
Valuation is a subjective art, but I don't see a lot of fundamental upside in Cell Therapeutics from here. The stock will certainly be volatile around the release of pacritinib phase III data later this year, so trade accordingly.
My explanation of the Ariad Pharmaceuticals (ARIA) short thesis countering the rumor of an imminent takeover by Eli Lilly (LLY) - Get Eli Lilly and Company (LLY) Report or some other large pharmaceutical company caused the Hostile React-o-Meter to melt.
Most of the comments I received were along these lines: "Go [bleep] yourself you illiterate bald [bleep.]" I recommend reading the messages published under my Ariad blog post. Angry Ariad speculators have fallen prey to confirmation bias. You should also read Kid Dynamite's wise take on the subject.
A couple of readers did post intelligent comments supportive of the Ariad takeover thesis.
"Kong" offered multiple reasons why Ariad is a good buyout candidate. I'll post each one followed by a response.
Kong: Ariad is exactly the kind of small biotech that the Big Pharma are looking for to augment their pipelines and drug development programs.
Me: Perhaps, but the same can be said for many other small biotech companies. Those with promising platform technologies or drugs that are growing, not regressing, are more attractive than a company like Ariad.
Kong: A proven commercial tyrosine kinanse inhibitor drug for CML [Iclusig] that is probably the best in class and already bringing in revenues.
Me: Hmm. Iclusig is not best in class. The drug has been re-introduced to the market with a restricted label for a small portion of CML patients with the T315i mutation. Iclusig's revenue potential has shrunk considerably. The drug will never be used in the CML front-line setting, as previously hoped.
Kong: [Iclusig] looks very promising for GIST (refer to the melting liver mets presentation, available online.) Same drug may have potential in several other cancers -- just needs clinical trials to verify.
Me: Ariad may expand Iclusig's use to other cancers, but the drug's troublesome toxicity profile remains an overhang. There is plenty of competition in GIST.
Kong: Late phase clinical ALK Inhibitor drug [AP26113] showing excellent results on NSCLC including brain mets and low toxicity -- may be best in class.
Me: The efficacy of Ariad's ALK inhibitor AP26113 in lung cancer is no different from Novartis' LDK378. This week, Novartis announced that LDK378 was filed for U.S. approval as a treatment for ALK-positive lung cancer patients who no longer respond to Pfizer's (PFE) - Get Pfizer Inc. Report Xalkori. Ariad is only just starting a pivotal study of AP26113, so the drug is far behind.
AP26113 might be differentiated by its ability to better treat lung cancer patients with brain metastases, but comparable data from LDK378 has never been published, so we don't know if AP26113 is unique in this regard.
There is also substantial competition from ALK inhibitors under development by Roche, Tesaro (TSRO) - Get TESARO, Inc. Report and others.
Kong: Proven NME and drug development platform and team. Can develop a drug from candidate selection to commercialization in half to a third of the time it takes a typical Big Pharma to do so.
Me: Again, this is not unique to Ariad and therefore not a compelling reason for an acquisition. It won't be lost on any potential suitor that Ariad's only drug development success to date has been marred by an marketing withdrawal, albeit temporary.
Kong: Close to $300 million in cash, good credit and tax-loss credits that can be applied.
Me: This is not significant enough to move the needle at a large pharmaceutical company.
Kong: Enough cash to continue operations, but not enough to go it alone without large infusion of funds.
Me: Ariad's shaky financial health makes it desperate, not attractive. 

Kong: The good will of the global thought leaders and influencers in the medical field on CML -- publicly verified.
Me: Really? You don't think doctors are alarmed by Iclusig's toxicity? I agree with you that doctors generally want Iclusig to remain on the market to treat their most sick CML patients, but beyond that, I think you're stretching.
Kong: Clear regulatory guidance from FDA, label can only broaden as the new clinical data will come in, based on the recent ASH presentations.
Me: Again, you completely ignore Iclusig's toxicity. The alarmingly high rate of blood clots matters. Don't expect FDA to roll over easily and allow Ariad to broaden Iclusig's label.
Kong: The good will of the patient -- proven after the clinical halt with public support of patients and advocacy groups.
Me: Irrelevant to a potential acquirer. 

Kong: FDA removed hold after only two months -- strong indication that the company has credibility with FDA.
Me: FDA removed Iclusig from the market because relations with Ariad had deteriorated badly. The drug was only re-introduced because of pressure from patients and doctors. FDA doesn't trust Ariad.
Kong: New drug to be presented mid-2104, per the company.
Me: Let's hope it's a blockbuster because nothing else in Ariad's pipeline is very attractive.
Kong: Massive global free publicity after October so that MDs that may not have been familiar with Iclusig are most likely to have the drug in theory awareness, and in association with the very positive ASH presentations.
Me: Or, docs say, "Iclusig? Isn't that the drug which causes blood clots and was pulled off the market by the FDA?"
Kong: So why is it implausible to assume that more than one of the Big Pharma that have weak [phase III] pipelines or that want to expand into CML, GIST, NSCLC, etc. would be keenly interested?
Me: An Ariad takeover is not totally implausible, just highly unlikely. There are many, more attractive candidates for Big Pharma to choose from.
The biotech bull market has generated great wealth for investors but it's also created a false and dangerous sense of entitlement in which inexperienced retail investors believe they can buy highly speculative penny stocks without worry or protection against catastrophic losses. Some people have forgotten that biotech stocks can be volatile in both directions and that raging bull markets bring out the worst types of stock-touting promoters.
With that said, I received emails from two people this week blaming me for their own foolish investment decisions in Provectus Biopharmaceuticals PVCT. I don't know if the circumstances described in these emails are true or made up for dramatic effect, but the emails should be read by all as a warning of what can happen when greed, laziness and inexperience overtake common sense.
Gary M. writes:
For the past 2 days you have written thingsabout PVCT that has had severe damage to the stock and peoples' lives. I'm not a big stock market person but I heard about this stock from my a friend and my wife and I had to watch our parents die to certain cancers. I did a lot of research on the drug they are making and we decided to invest all our retirement savings and all our childrens' college money into a stock that will hopefully save many lives. We put in over $100,000, every penny I have worked for my entire life. I bought in at $4.40 and more as it went up, even bought in near $6.00 yesterday. Then after I got home from work we were in complete shock to have lost almost everything and saw it was because of an article you wrote.

I just wanted to write to you because I don't know if you realize how much damage you can cause by what you write. My wife had to stop me from killing myself last night as I saw a lifetime of sweat and pain of all the money I spent 50 years of my life saving just disappear in just one day. Your words have destroyed my life and my families. You have no idea the pain you have put me through. My retirement plans are now gone. My childrens' lives will be changed forever. How can you write such things when you are not 100% sure what the outcome will really be? That is up to the FDA to decide. Please think before you write things and think about the damage it may cause on so many lives.
Dr. James H. writes:
I hope this email makes it to you and I thank you beforehand for taking the time to read it. I am writing to you in the aftermath of Thursday's (1/23) expose article on Provectus that crashed the stock over 64% that day, destroying one half a billion dollars worth of wealth for committed investors and sullying a company and group of people pursuing cancer treatment and the easing of pain and suffering. I myself lost over $80,000 that day, along with literally thousands of people involved with this stock. All these people have hopes and dreams for this money (I have two children in diapers and two in college), and you have hurt them all unquestionably. Furthermore, you have possibly irreparably hurt a company that has a product that is safe, works well on secondary tumors, and is relatively inexpensive when compared to alternative therapies. As a physician, I can tell you the science is sound and the unique lysosomal lytic action of the rose bengal solution is remarkably effective as a chemotherapeutic agent. The real reason for your article seems to stem from your being stood up for an interview with the company. I apologize for them in advance, but was the subsequent financial holocaust you unleashed really necessary? I think not, and have NO idea how you will ultimately reconcile your work with the damage you've done to humanity. I have seen too much suffering as a physician, and know you now have exponentially increased its future toll with your work last week.
Don't let the biotech bull market turn you into a victim like these guys. Be smart.
Quick hits:
Ahn's a smart guy. He's taking Jim Cramer's advice: Sell Galena (GALE) .
Post H. asks:
Can you comment on Oramed (ORMP) - Get Oramed Pharmaceuticals Inc. Report in your Mailbag? The prospects of an insulin pill seem to be huge, and the market cap of Oramed is only $250 million. Is this a good investment?
No. Oramed pulled a bait and switch this week, promising to release data from a one week safety study of its insulin pill, but then reneging. The company said the study was positive but offered no details whatsoever. Lame.
Insulin pills are a blue-sky idea with a very low probability of ever succeeding. If you still want to make a small investment bet on an insulin pill, buy Novo Nordisk (NVO) - Get Novo Nordisk A/S Sponsored ADR Class B Report because at least it's a real company with expertise in diabetes. Oramed is an Israeli penny stock with unproven technology and an over-inflated market value.
Adam Feuerstein writes regularly for TheStreet. In keeping with company editorial policy, he doesn't own or short individual stocks, although he owns stock in TheStreet. He also doesn't invest in hedge funds or other private investment partnerships. Feuerstein appreciates your feedback;
to send him an email.