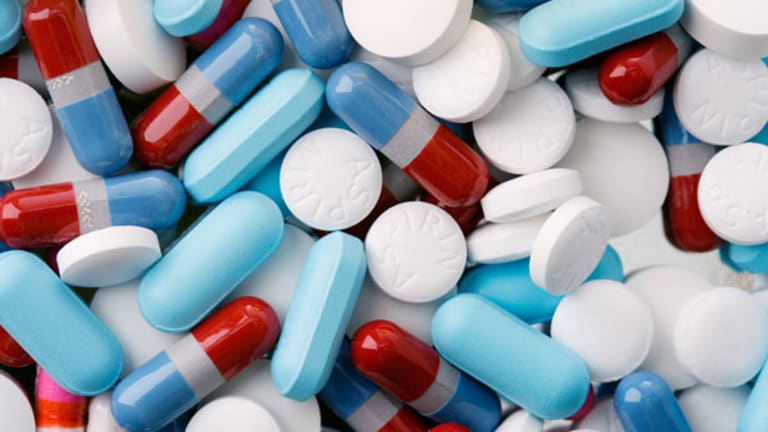 Biotech Stock Mailbag: Catalyst Pharma, Amarin, Star Scientific
Biotech columnist Adam Feuerstein answers readers' questions about health-care companies
BOSTON (
) -- The Biotech Stock Mailbag is open for business.
@scramjet asks, "How do you feel about $CPRX?"
Ambivalent. The upcoming phase IIb study of CPP-109 (vigabatrin) in cocaine addiction is an important catalyst for
Catalyst Pharmaceutical Partners
(CPRX) - Get Catalyst Pharmaceuticals Inc. Report
but guessing the outcome is challenging. Results from the study, even if positive, may be hard to interpret.
I haven't noticed traders glomming onto Catalyst yet as a "run-up" trade into the vigabatrin study results expected between now and November 15. Catalyst has been trading flat in the $1.50-to-$1.60 range since the beginning of the month. The big move in the stock from 50 cents to $1.40 occurred in July after Catalyst set the CPP-109 study results for September -- earlier than expected. When September came and went with no results, Catalyst pushed the date back to the first half of November.
Vigabatrin has been approved for decades as an epilepsy/seizure medicine. The drug works by blocking an enzyme responsible for the breakdown of the neurotransmitter GABA in the brain. This increases GABA levels. In addiction, increased GABA levels dampen the effect of dopamine, the neurotransmitter responsible for the "pleasure and reward" perceptions that comes when someone snorts cocaine. GABA also induces relaxation and sleep, which may reduce addictive cravings.
CPP-109 is Catalyst's formulation of vigabatrin. The phase IIb study enrolled 200 patients undergoing treatment for cocaine addiction. After a short pre-treatment screening period, patients are randomized to receive CPP-109 or placebo in addition to addiction counseling for nine weeks.
The primary endpoint of the study is the proportion of patients in each treatment group who are cocaine abstinent during the last two weeks of treatment. Secondary endpoints include the number of days in which cocaine was used and clean urine screens (both measured during the nine-week treatment phase).
Patients are also being followed for another 15 weeks after treatment with CPP-109 or placebo ends. During this followup period, the study will measure the percentage of patients in each arm who relapse.
This is the second phase II study of CPP-109 in cocaine addiction that Catalyst has conducted. The first study was disastrous: 186 patients were enrolled but only 67% completed the 12 weeks of treatment with either CPP-109 or a placebo. Forty-eight percent of patients completed the full 24 weeks, which included a follow-up phase. During the last two weeks of treatment, 8% of patients in the CPP-109 arm were cocaine free compared to 5% in the placebo arm. Needless to say, the result was not statistically significant.
Catalyst sifted through the failed results from the phase IIa study and discovered that only 40% of the patients were compliant with treatment. Patients weren't monitored during the trial and were asked to self-report if they took the study drugs. For those patients who were compliant, CPP-109 did increase cocaine abstinence and reduced overall cocaine use compared to placebo.
Armed with this information, Catalyst designed the ongoing phase IIb study to improve compliance. Patients are monitored to make sure they take CPP-109 or the placebo when scheduled. The patients were also recruited from cocaine addiction treatment centers, meaning they have a greater willingness to overcome their addiction. The company also shortened treatment duration to nine weeks from 12.
I don't know if all this study optimizing will produce positive results for Catalyst and CPP-109. I do believe CPP-109 needs to hit on more than just the primary endpoint for the results to be clinically meaningful. The follow-on abstinence endpoint is particularly important.
One note on safety: Vigabatrin at higher doses and longer exposure causes vision loss. Catalyst says the low vigabratin dose in CPP-109 shouldn't accumulate enough to cause a loss of vision, and to date, no such cases have been detected in previous addiction studies. Obviously, this is something to watch when Catalyst announces results from the phase IIb study next month.
Peter G. writes, "You should reconsider your negative articles on
Amarin
(AMRN) - Get Amarin Corporation plc Report
, it might have a secondary benefit other than for the heart. Someone suggested it might grow hair on bald men. Now that would be a big market for some, don't you think????"
I thought insults about male baldness lost their sting 20 years ago? Seriously, look around. The only person bothered by being bald today is Donald Trump.
Sticking with Amarin, Thomas P. asks, "What happened to the Adam Feuerstein who called Vascepa 'best in class' and referred to its clinical results as 'spectacular'? Your recent parsings of supposed subtle changes in statements of the company regarding NCE status amount to a distinction without a difference. I call to your attention last year's Shareholder Letter. Zakrzewski stated then quite clearly that he thought the company had good arguments, but that he could not guarantee that the FDA would accept them. Pretty much what is being said right now. And what, pray tell, would be so awful about going it alone? It's not black and white, after all. Talks would likely continue, and perhaps intensify after the sNDA Anchor filing expected early next year, which could expand the market opportunity tenfold."
The folks screaming at me now for being bearish about Amarin (you're not screaming Tom, I appreciate that) have short memories. As Tom notes, I was an early Amarin bull, writing about the
blockbuster potential of AMR-101
(now Vascepa) as far back as May 2010. Amarin shares were worth about $2.50 back then. I was firmly in the Amarin bull camp through the release of the
the
and FDA approval. I also believed initially that FDA would grant Vascepa New Chemical Entity (NCE) status.
But I also know better than to be wed to a stock. When facts change, opinions should change. That's why I'm more bearish on Amarin now. The facts have changed. Delay after delay signals FDA isn't likely to grant NCE status to Vascepa. Amarin has not found a commercial partner for Vascepa, nor has the company been acquired (despite being shopped around for a long time). Amarin executives have sold significant chunks of stock at prices higher than where shares trade today.
Troubling signs, all, which is why I changed my mind about the stock. You and others might disagree with me. I respect that. Markets are made up of people with opposing views. I'm doing the best I can to be right about Amarin. My track record so far is pretty darn good. I hope that run will continue.
With regard to Vascepa's NCE status, on Thursday, the health care research firm Marwood Group issued a note to clients predicting FDA would deny Amarin's request. The report is detailed but here's the summary:
Marwood believes that the FDA will determine that Vascepa is not an NCE because the active ingredient in Vascepa is also contained in Lovaza, and therefore has been already approved by the agency previously. We believe that Vascepa does qualify for three years of market exclusivity, based on the new clinical data that was part of the application.While the FDA has shown some latitude in the past in its definition of NCE status, we believe that Vascepa does not fall into a category that would qualify for NCE status. Previously FDA awarded NCE status to Lovenox (a low molecular weight heparin product), hyaluronidase products, pancreatic enzymes and Vyvanse, which were cases where some ambiguity existed regarding previous approval of the active moiety. In contrast the FDA did not award NCE status to conjugated estrogen products. We believe that the Vascepa decision more closely aligns with the conjugated estrogen example.
One more Amarin email, this one from Trez45, "What will you do if Amarin announces a buy out next month timed to its third-quarter conference call?"
I will congratulate Amarin longs, assuming the acquisition price is at a significant premium to the company's recent $15-per-share high. I will admit my recent bearishness was overdone. I will also be incredibly surprised because I don't believe Amarin is going to announce a buyout on its third-quarter conference call.
Amarin's third-quarter earnings release and call are important. Vascepa was approved in late July but the company has still not made public the drug's commercial launch plans. Amarin can't delay forever because investors are already growing impatient. If Amarin has a partner lined up to help launch Vascepa, then management needs to disclose. If not, then step up and admit that they're moving ahead on their own.
If the latter happens, Amarin shares will take another hit. Amarin shares price in a solo launch today more than they did this past summer but I think the stock will fall further into the single digits if Vascepa launches without a partner (or if Amarin isn't acquired.)
The silver lining: All the bad news will be wrung out of Amarin and the stock may become safer to own again.
Anthony M. writes, "Dear Mr. Feuerstein, I have read
and also the
Star Scientific
(STSI)
/Roskamp press release. I can't understand what your gripe is about. Has Star upset you in some way? There are millions of diabetes sufferers in the world and in the event it proves, which Star does not claim at the moment, that 25% of them may be helped with Anatabloc, either to get off entirely or reduce the metformin they take then this is a giant leap and is to be welcomed."
Wouldn't it be great if a dietary supplement sold at GNC stores could somehow cure diabetes? Too bad it will never happen.
@biostockfly asks, "You don't like this drug from $KERX either? Thought data looked good?"
I'm assuming you're referring to the phosphate binder Zerenex since that's the only drug left in
Keryx Pharmaceuticals'
(KERX) - Get Keryx Biopharmaceuticals, Inc. Report
late-stage pipeline following the perifosine blowup.
I'm willing to assume the long-term safety study of Zerenex comes back clean when results are reported later this quarter. You can probably trade around this catalyst if that's your thing.
But once the buzz dies down, Keryx goes dark as it waits a year for Zerenex to be filed with FDA and reviewed. In that downtime, Keryx will raise money. And even if Zerenex is approved, the drug will not sell. Dialysis providers operating under the cost constrictions of a "bundled" Medicare reimbursement system will flock to cheaper, generic phosphate binders. Zerenex will be left in the cold.
--Written by Adam Feuerstein in Boston.
>To contact the writer of this article, click here:
Adam Feuerstein
.
>To follow the writer on Twitter, go to
http://twitter.com/adamfeuerstein
.
>To submit a news tip, send an email to:
.
Follow
TheStreet
on
and become a fan on
Adam Feuerstein writes regularly for TheStreet. In keeping with company editorial policy, he doesn't own or short individual stocks, although he owns stock in TheStreet. He also doesn't invest in hedge funds or other private investment partnerships. Feuerstein appreciates your feedback;
to send him an email.