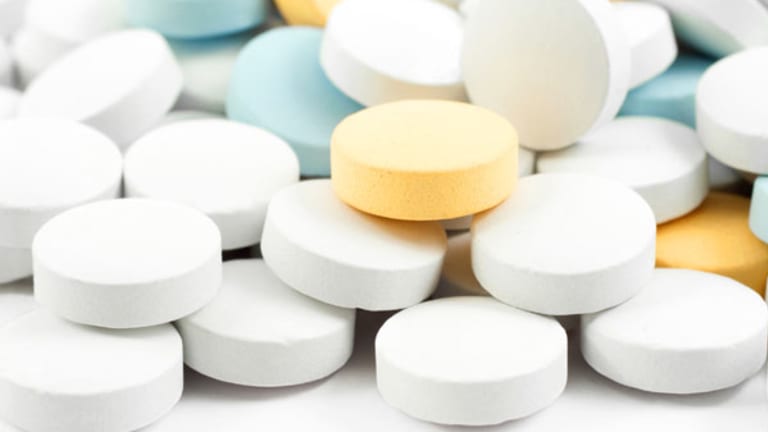 Biotech Stock Mailbag: Cadence Pharma
Biotech columnist Adam Feuerstein answers readers' questions and concerns about health care and drug-related stocks.
BOSTON (
) -- An email and an argument over
Cadence Pharmaceuticals
(CADX)
kick off this week's Biotech Stock Mailbag.
Ryan C. writes,
"You were quick to jump on Cadence Pharmaceuticals after FDA approval. Almost seemed like you had your article ready to fire as soon as the approval was announced to push the price down. They announced today that they are now in over 200 hospitals and have reached 10% of their target market in 2 months. I wonder if you will be releasing an article saying you were wrong? How does that crow taste? The short squeeze you and your friends will experience over 2011 should be fun to watch."
>>Biotech Stock Mailbag: Special Radient Edition
Ryan and I had a "strenuous" email debate last week about the accusatory tone of his email and the intent of a column I wrote last November immediately after
Cadence received U.S. marketing approval for Ofirmev
, an intravenous formulation of the pain reliever acetaminophen for use in hospitals.
Ryan believes I wrote the story to help my "short-selling buddies" bring down Cadence's stock price following the FDA approval. Not true, I said, trying to explain to him that I wrote the story in response to a slug of emails from readers who were confused about why Cadence's stock price was falling on good news. I was trying to explain Cadence's fall and what was needed to reverse it, not cause the stock to fall further.
"When is a drug approval reason to sell a stock?" I wrote in that
. "Answer: When the drug's approval was widely expected and when the company planning to market the approved drug faces significant challenges convincing doctors or hospitals to buy it."
The column continued: "Cadence and Ofirmev fit both scenarios, hence the stock's significant weakness. Cadence is being penalized further because the company needs money to fund the Ofirmev commercial launch… the challenge for Cadence is cracking U.S. hospital formularies, which can be a slow process… For these reasons, investors are in wait-and-see mode until Cadence raises money and starts making progress on Ofirmev's launch."
As expected, Cadence raised money and launched Ofirmev earlier this year. Last week, the company reported fourth-quarter results, notable for the encouraging, early signs from the Ofirmev launch. Cadence said 200 hospitals have added Ofirmev to their formularies in the three months since Ofirmev's launch -- progress that's coming faster than expected. Cadence would like Ofirmev inside 800-1,000 hospitals by the end of the year, representing about 50% of the market.
Getting on a hospital formulary is a necessary first step, but the end game is Ofirmev sales -- something not yet reported by Cadence. I'm in agreement with Ryan that last week's progress report was encouraging, but don't go full-bore bullish until Cadence follows through with revenue. Not all hospital formulary drugs are used by doctors.
Cadence shares have moved higher to around $8.60, still not back to the $9-plus level before the drug's approval but a definite improvement from when the stock was mired in the low $7s earlier this year.
Ryan thinks I should eat crow for my November column. We'll agree to disagree.
Via Twitter, @5redheads asks,
"Any reason for the poor price action on $DNDN? Only see good news on the horizon but shorts only ones willing to commit $$."
Investors are focused most on real patient demand for
Dendreon's
(DNDN)
prostate cancer therapy Provenge. What happens when the supply constraints that cap Provenge sales today are lifted in the middle of the year? Will demand for Provenge from doctors and patients take off? And if demand spikes, can Dendreon handle the increased logistical and manufacturing load?
A look at consensus sales estimates for Provenge in 2011 underscores the importance of the back half of the year for Dendreon. Provenge revenue is expected to hit $28.6 million in the first quarter; the Street's consensus forecast increases to $59.4 million, $97.7 million and then $177.4 million in quarters two, three and four, respectively.
To meet its own forecasts, Dendreon has to receive on-time approval from FDA to boost Provegne manufacturing capacity. The FDA approved an expansion of Dendreon's New Jersey facility Thursday. After that, the FDA needs to approve the two additional Provenge plants in Atlanta and Southern California, expected midyear.
Investors are not concerned about the Medicare National Coverage Decision expected at the end of the month.
It's a long wait for fourth-quarter Provenge sales so in the interim, watch closely to see if Dendreon can meet or beat the consensus estimate for second-quarter sales. With the N.J. plant at full capacity, Dendreon can roughly triple Provenge manufacturing capacity and therefore should be able to triple sales (roughly) from the first quarter to the second quarter -- $28.6 million to $59.4 million.
Accomplishing this feat would demonstrate that supply constraints are a true gating factor on Provenge revenue, not patient demand. Investors would also have more confidence that when Dendreon triples manufacturing capacity again in the middle of the year, Provenge sales will follow suit.
If Dendreon turns in a strong second-quarter performance, the stock should react well.
A couple of tweets on
BioSante Pharmaceuticals
(BPAX)
: @jdbear asks,
"What do you think of the pancreatic cancer vaccine phase II result?"
@superrfly tweets,
"Oh look, $BPAX offering again… I don't really have a comment other than… holy hell what a company."
These two BioSante events are related, of course. The company's announcement of pancreatic cancer vaccine data on March 3 was followed quickly by a $25 million financing consummated on March 4.
BioSante highlighted pancreatic cancer vaccine data published in the February issue of the
Annals of Surgery
even though the March issue of the journal is already out. Stale news or not, the BioSante press release on March 3 served its purpose, which was to turbo-charge the stock's trading volume to allow the investors in the next day's financing to flip their discounted stock for a quick profit.
The warrants received by these same investors were like a free dessert.
To answer @jdbear, I believe BioSante's pancreatic cancer vaccine data press release served its purpose quite well, which was to help BioSante raise more money. The actual data means little relative to the company's effort to develop Libigel, the female sexual dysfunction drug.
One more thing for those keeping score: BioSante raised money three times last year -- in March, June and December. With last week's financing, the company looks like its keeping to the regular schedule.
Somaxon Pharmaceuticals
( SOMX) reported a fourth-quarter loss of 42 cents a share last week. More importantly, Somaxon said net product sales of the sleeping pill Silenor totaled $1.4 million in the quarter -- a disappointing result. The Somaxon news triggered another pair to tweet:
@bgmaniak asked,
"What u think of @SOMX earnings?"
while @VexTrades (knowing my prior bearish stance on the stock) tweeted,
"Why be so hard on $SOMX? It's very early in the lifespan of Silenor. I don't think anyone was expecting outrageous #s this Q."
My skepticism about Somaxon and Silenor's potential is not malicious; it's based on my belief that a branded sleeping pill, even one that's marginally differentiated like Silenor, faces significant commercial challenges in a market filled with cheap generic sleep aids and insurers who aren't going to make reimbursement easy or cheap. Somaxon is doubly in the hole because it lacks the money and marketing partner to afford a saturation consumer advertising campaign.
This has been my position on Somaxon since Silenor was approved last year, and the flinty fourth-quarter sales proves the bear thesis correct. Even the most optimistic analysts covering Somaxon with buy ratings are now lowering their forward Silenor sales estimates. Jefferies cut its 2011 Silenor estimate to $30 million from $54 million; Oppenheimer reduced its Silenor forecast similarly.
These reduced forecasts are still optimistic based on Silenor's run rate and current prescription trends. Somaxon has a big job ahead and needs to start delivering better Silenor sales, starting in the current quarter. The best thing I can say about Somaxon today is that investor expectations are much more realistic now than they were last year prior to Silenor's launch. This could work in the stock's favor going forward if Somaxon surprises with better Silenor results.
@JosephRosen tweets,
"Can't Vivusundefined apply to the FDA for Qnexa to be a drug for men only? Wouldn't this solve the birth defect issue?"
Interesting idea, but women made up approximately 75%-80% of the patients enrolled in the Qnexa clinical studies. An obesity drug that's restricted to men only is an obesity drug with no sales.
Pelion2001 emails,
"It's time to set the record straight on Apricus Biosciencesundefined following a recent onslaught of Seeking Alpha articles by a variety of amateur analysts a.k.a pumpers who ignore facts."
Give credit where it's due, the biotech penny-stock touts have done a superb job pumping Apricus. None of the rosy predictions made by these promoters about Apricus and its drugs will turn out to be true, but that's not their goal, is it?
All the issues and
problems I raised about Apricus last November
still ring true today. Vitaros, the company's rub-on cream for erectile dysfunction, is a dud. I give Vitaros less of a chance of becoming a commercial hit than Somaxon's Silenor sleeping pill. At least Silenor is approved in the U.S., where it has a fighting chance. Vitaros can't be sold in the U.S. Even if FDA grants approval eventually, Apricus has no rights to the drug here. Apricus sold those off U.S. commercial interests in Vitaros to Warner Chilcott, which pays no royalties to Apricus.
The remainder of Apricus' drug pipeline is similarly questionable. Apricus is trying to convince FDA to grant a Special Protocol Assessment to conduct a phase III study of a liver cancer drug known as PrevOnco despite never before studying PrevOnco in a clinical trial enrolling liver cancer patients. PrevOnco is a reformulation of the prescription antacid Prevacid, which Apricus says kills liver tumor cells in mice. A third antifungal drug once partnered with
Novartis
(NVS) - Get Free Report
has also gone nowhere.
--Written by Adam Feuerstein in Boston.
>To contact the writer of this article, click here:
Adam Feuerstein
.
>To follow the writer on Twitter, go to
http://twitter.com/adamfeuerstein
.
>To submit a news tip, send an email to:
.
Adam Feuerstein writes regularly for TheStreet.com. In keeping with TSC's editorial policy, he doesn't own or short individual stocks, although he owns stock in TheStreet.com. He also doesn't invest in hedge funds or other private investment partnerships. Feuerstein appreciates your feedback;
to send him an email.