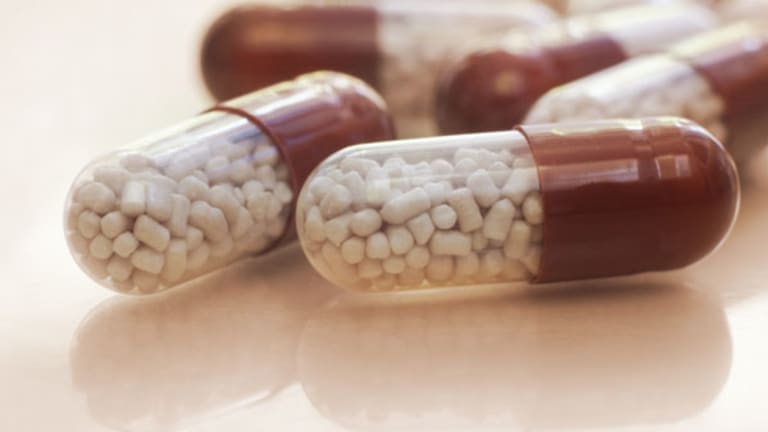 Publish date:
Biotech Stock Mailbag: Biotech Bull So Insanely Good It Will Make You Forget Week's Pain
Biotech columnist Adam Feuerstein answers readers' questions about health care.
Biotech columnist Adam Feuerstein answers readers' questions about health care.
BOSTON (TheStreet) -- It's been a painful week for most health care investors, so let's lighten the mood. This week's Biotech Stock Mailbag kicks off with biotech bull laid on so thick you can't help but laugh and applaud.
CMartin65 emails to ask, "You were right about Ampio Pharmaceuticals (AMPE) - Get Report. I wish I listened to you sooner. Is there any reason to believe the situation improves over time?"
Thanks, but sorry you got hurt in the Ampio blowup. The stock collapsed (again) on the failure (again) of the company's experimental osteoarthritis drug. This time, Ampio blamed negative study results on placebo patients reporting greater knee pain relief than expected. The previous knee-pain study imploded because Ampion was allegedly inactivated because the drug froze during shipment.
You picking up the pattern here?
Ampio held a conference call on April 23 to reassure investors that all was well with Ampion. The knee-pain study was actually successful when Ampion-treated patients were compared against themselves, the company claims. Hmmm ...
An expected Food and Drug Administration approval filing for Ampio by the end of the first quarter didn't happen. Now, the company says it will meet with the FDA "as soon as practical" to determine next steps for Ampion. Good luck with that, guys.
The best part of last week's Ampio conference call came when Vaughn Clift, the company's chief regulatory affairs officer, responded to a retail investor asking for an update on Optina, the company's diabetic macular edema drug. A study of Optina was completed last November, but Ampio still hasn't disclosed results. In February, Ampio said it didn't have time to analyze the Optina study because it was too busy with Ampion.
Here's what Clift said about Optina last week. Clift's run-on remark really must be read verbatim to appreciate his ability to spew class-A, Hall of Fame-worthy bull.
"Optina is very important to us and to be honest, personally, as a diabetologist, it would be wonderful if we had a tablet with no side effects that could be used for these patients. But the problem with Optina is that it is a much, much more complicated study for us to analyze than Ampion, our number one priority.

"Optina was a lesser priority. However, we have assigned a specific individual on staff to champion this analysis. It's important to know that unlike many drugs, we need to understand the blood level that the back of the eye was exposed to. To do so, we need to analyze blood samples for the patients and to do that we had to find a lab and create a validated assay. That is still ongoing.

"Once that's done we will analyze several thousand samples, and unfortunately, that's not the end of the analysis. We then have to correct for the presence of hormones and proteins in the blood before we can accurately understand how much [Optina] was being exposed to the back of the eye. Then we can begin the process of looking at the effect [Optina] has had on our patients, with the present belief that we are going to show a range which is effective. We will report that but this is going to take months."
Slow. Clap.
Funny thing, the Optina study design is actually quite simple. Diabetic macular edema patients are treated with Optina or a placebo. After 12 weeks, an eye test is administered to see whether Optina improves vision over placebo.
You asked whether there was any reason to believe Ampio's outlook might improve over time. No, there is not.
Jordan B. asks, "Are you still confident about Vertex Pharmaceuticals (VRTX) - Get Report winning at the FDA advisory panel which is coming up next month? Does this increase the chance Vertex is approved for cystic fibrosis?"
The FDA is convening a panel of outside experts on May 12 to review Vertex's combination therapy for cystic fibrosis, which now goes by the brand name Orkambi. I've learned from experience (sometimes painful) never to take an FDA advisory panel for granted, but I believe Vertex should emerge with a recommendation for the approval of Orkambi. The benefit for cystic fibrosis patients is clear.
I also believe investor sentiment leans strongly in the same, positive direction, so Vertex shares may not get much additional lift.
(I wrote in detail last June about the Orkambi phase III study results which will be reviewed at the May 12 FDA panel. Also note that FDA will post its own review of the Orkambi data on May 8. You'll be able to find that review here.)
Most of the questions related to Orkambi on Vertex's Wednesday night earnings call focused on the commercial launch later this year. Pricing and reimbursement for Orkambi remain a bit of a concern, which is not surprising given the recent pushback against high-priced drugs from insurance companies and pharmacy benefit managers.
If approved, Orkambi will be used initially to treat a pool of roughly 20,000 cystic fibrosis patients with two copies of the f508 mutation. Sales in this indication could top $5-6 billion or more and should propel Vertex into profitability. (The timing and extent of Vertex's profitability was also the subject of questions on Wednesday's call given the company's reputation as a profligate spender.)
If the May 12 advisory panel goes well, as expected, the FDA's approval decision is due on or before July 5. Orkambi had Breakthrough Therapy Designation status, so don't be surprised if the FDA approves it sooner.
Ross writes, "Adam, do you have any ASCO stock plays yet?"
Nothing under the radar yet, but mostly because I haven't started to really think about ASCO. The American Society of Clinical Oncology annual meeting is coming up soon, May 29 through June 2, in Chicago. Before we get to the biggest cancer meeting of the year, research abstracts offering early peeks at drug data will be posted publicly on Wednesday, May 13 at 8 p.m. EDT. The release of the ASCO abstracts often sets cancer drug stocks alight more than the actual meeting, so pay attention or you'll miss all the action.
Celldex Therapeutics (CLDX) - Get Report is one of the most interesting "ASCO plays" for presentation of final results from the Rintega "ReACT" study in patients with recurrent (previously treated) brain cancer. I covered the details about the Rintega data and the possibility of an earlier-than-expected FDA approval filing in a February Mailbag.
Like most recent cancer meetings, immunotherapies will dominate this year's ASCO. Bristol-Myers Squibb (BMY) - Get Report snagged a spot in the plenary session to present the results from the Checkmate-067 study of Opdivo plus Yervoy in melanoma. There will also be important presentations of Opdivo data in liver and lung cancer at the meeting. Merck (MRK) - Get Report will counter with presentations of its competing checkpoint inhibitor Keytruda in head-and-neck, lung and skin cancers. Expect to see AstraZeneca (AZN) - Get Report and Roche (RHHBY) and their respective checkpoint inhibitors get a lot of attention, too.
I'll have more to say about ASCO in the coming weeks.
Adam Feuerstein writes regularly for TheStreet. In keeping with company editorial policy, he doesn't own or short individual stocks, although he owns stock in TheStreet. He also doesn't invest in hedge funds or other private investment partnerships. Feuerstein appreciates your feedback; click here to send him an email.