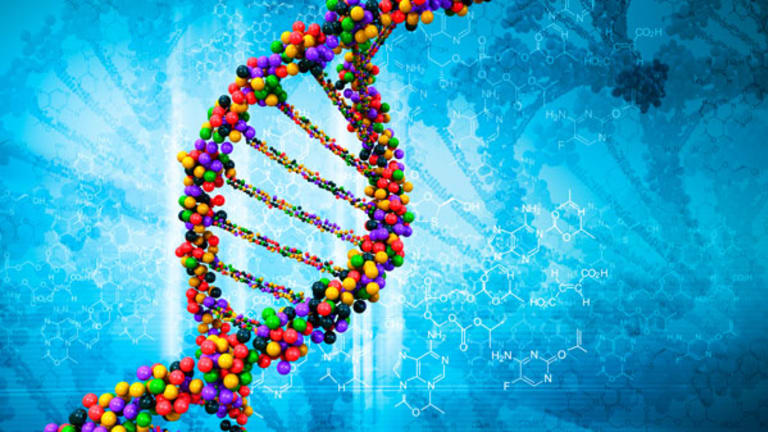 Biotech Stock Mailbag: BioSante Pharma
Biotech watchdog Adam Feuerstein addresses readers' questions about BioSante and other healthcare stocks.
BOSTON (TheStreet) -- Welcome back to the regular Friday edition of the Biotech Stock Mailbag. I hope everyone read Thursday's bonus Mailbag, which included an update of the Biotech Stock Mailbag Readers' Portfolio.
Craig N. emails to ask, "
I thought you wrote a very good, thoughtful article on BioSante Pharmaceuticals (BPAX) in 2008. I'm wondering about your thoughts on the company since the safety factors are looking good and the company seems to have enough cash to get LibiGel to a new drug application in mid 2011. Are you thinking of doing another article on them?
"
I'm not entirely sure, but this is probably the
Craig refers to.
The safety profile of BioSante's LibiGel does look clean. Post-menopausal women using the low-dose testosterone gel as a treatment for female sexual dysfunction (FSD) are not dropping dead of heart attacks and they're not prone to more breast cancer. Independent safety monitors told BioSante to continue LibiGel's phase III safety study, which is being run in tandem with two phase III efficacy trials.
BioSante announced the positive update on its LibiGel program Monday -- at which point the stock sold off. Shares closed at $1.60 at the bell on Thursday.
Investors didn't rush to buy BioSante this week because there's not much debate about the efficacy and safety of LibiGel in FSD. Use of low-dose testosterone has previously been shown to be a moderately effective way to boost the libido of post-menopausal women.
Proctor & Gamble
(PG) - Get Procter & Gamble Company Report
demonstrated this already with a testosterone patch known as Intrinsa. BioSante's LibiGel is the same product, only in a more convenient gel form.
Safety is a minor, unresolved overhang, but even here, any concerns that LibiGel use will make women more prone to heart attacks or cancer is also likely overplayed. So far, the LibiGel safety study isn't picking up any problems and I think most investors don't expect that to change when the final data are analyzed.
What investors are worried about when it comes to BioSante is how the company is going to commercialize LibiGel if (when) the FDA approves the product. (This is the same concern I voiced in that 2008 article.)
Back in 2004, the
was brilliant. The company was going to bring LibiGel to market
after
P&G launched Intrinsa with hundreds of millions of dollars in consumer advertising to build awareness and demand for a testosterone-based FSD treatment dubbed the "female Viagra."
In other words, BioSante was going to ride the P&G coattails into the market with LibiGel, which women would find easier to use than Intrinsa.
Unfortunately, P&G put
. This left BioSante without a competitor (good) but it also meant that P&G's deep pockets weren't going to produce and buy all those "female Viagra" commercials on Lifetime Television (very bad.)
That leaves BioSante needing to find a P&G-type partner with cash to spend to market and commercialize LibiGel. BioSante CEO Stephen Simes preaches patience and says the company will get its deal. He's been saying that for a long time, maybe a bit too long, which is why BioSante's stock price looks like it needs a testosterone boost.
BioSante's stock will move higher if the company lands a LibiGel partner with proven consumer-focused drug marketing expertise. Not much else really matters at this point.
Sean S. asks, "
Am I crazy, or did Biomedreports.com erase the stories from their web site where they pumped Novelos Therapeutics (NVLT.OB) ?
"
No, you're not crazy.
Biomedreports
, a web site that appears to exist solely to promote biotech penny stocks, has apparently removed a story penned by the site's co-founder, M.E. Garza, last December in which he predicted Novelos and its lung cancer drug NOV-002 to be one of the "big winners" of 2010. He disclosed that he owned Novelos shares and advised his readers to buy it, too.
That column, titled "Novelos Therapeutics' (NVLT.OB) CEO Is Eyeing 'Revolutionary' Phase III Study Results," is no longer available on
Biomedreports'
web site. Also gone from the site is a follow-on column from Garza posted days later that repeated his Novelos promotion.
I was able to find a
cached version of the latter Novelos column
, in which Garza writes:
"I recently spoke, at length, to the CEO of Novelos and he's expecting a Dendreon type move for the share price of NVLT as he eyes 'revolutionary' Phase III results for the company's NOV-002 oncology treatment compound. I rarely hear a CEO talk so openly and bullishly about their own companies (mostly due to strict forward-looking rules and laws). After studying all the information and recent filings by the company, it's easy to see that these guys are very excited about their drug compound. It's become pretty obvious, even to the most casual observer, that the patients involved in the trial are living longer than expected and that is one of the reasons why investors have begun to take more interest in the company and their Phase III study."
So much for that. Wednesday's
failure of the phase III study of NOV-002
makes it pretty obvious even to the most casual observer that patients treated with NOV-002 did not live longer than expected.
Biomedreports'
Garza was spectacularly wrong on Novelos. That's not a reason, however, to criticize him. Everyone in the biotech stock-picking game screws up from time to time. Everyone. What's not excusable, however, is ducking accountability for the bad calls, especially by trying to erase evidence that the bad call was made in the first place. That tactic is shameful and totally inappropriate.
Taylor writes, "
Something seems to be on the horizon for InterMune (ITMN) in March. Can you comment?
"
An FDA advisory panel is meeting on March 9 to review the efficacy and safety of InterMune's pirfenidone as a treatment for the progressive and fatal lung disease idiopathic pulmonary fibrosis (IPF).
This FDA panel meeting is high stakes for InterMune. If the panel gives the thumbs-up to pirfenidone, it will likely become the first drug for IPF approved by the FDA or its counterparts in Europe. With well over 200,000 IPF patients in the U.S. and Europe, InterMune could transform pirfenidone into a highly profitable drug with more than $1 billion in peak sales.
The potential hitch in the plan is that InterMune conducted
two phase III studies of pirfenidone in IPF patients
. One study was positive, but the other was negative. InterMune will argue that the combined data from both studies demonstrates pirfenidone's benefit for IPF patients. This is likely to be the major discussion point at the FDA panel meeting on March 9.
My prediction (for what it's worth): The FDA isn't going to be entirely pleased with the mixed pirfenidone data and the agency will voice that displeasure when the pirfenidone briefing documents are released publicly a couple of days before the advisory panel meeting. Some investors will panic at the sight of a negative FDA review and InterMune's stock will fall.
However, at the actual advisory panel meeting, the point will be driven home that doctors today have no good treatment options for patients with IPF. It's a fatal disease. The pirfenidone data, while not perfect, is convincing enough. The experts on the FDA panel, therefore, will likely side with InterMune and vote to recommend pirfenidone's approval.
Via Twitter, @BioStocks tweets, "
Check this out, it's a response by Health Discovery (HDVY.OB) to your recent article. These guys are full of it.
"
Was that really Health Discovery's response to my Mailbag column last week? It read more like another attempt at dodging my questions.
Health Discovery devoted much of its release to castigating the efficacy of the PSA blood test for prostate cancer. Hey guys, if you bothered to read my column, you'd know I wasn't defending the PSA test. Instead, I was raising questions about claims made by Health Discovery and its supporters that the company's urine-based prostate cancer test was going to replace the PSA test.
What did Health Discovery have to say Monday about the validity of its urine-based prostate cancer test? Nothing.
Health Discovery did say that CEO Stephen Barnhill has had "hundreds of confidential conversations" with the company's partners about the "nature of scientific discovery" and that my "tabloid story" didn't have access to these chats.
I guess that's true, but I did try to have two phone conversations with Barnhill, set up by his investor relations guy Tom Gallagher. Barnhill was MIA both times. I found it much easier speaking with all three of Health Discovery's partners, none of which indicated that the commercial launch of a urine-based prostate cancer test was 1) imminent or 2) aimed at replacing the PSA test.
If I wanted to go "tabloid," I would have consulted
Dead Elvis
or
for answers to the mysteries of Health Discovery's urine-based prostate cancer test. Instead, I picked up the phone and called the company and its partners.
How boring, I know.
Again via Twitter, a tweet from @jq1234t: "
What's your thought on Aryx Therapeutics' (ARYX) strategic option? Currently, it trades at $40 million market cap. Budiodarone should be worth as much.
"
Aryx (and budiodarone) looks cheap today because the company announced last week that no partner was willing to sign a deal for the atrial fibrilation drug. Aryx has brought in an investment bank to explore its "strategic options" -- the not-so-subtle code for surrender.
Given my previous lecture about accountability, I'll note here that Aryx was a stock I liked, although
Aryx's fortunes were already on thin ice
to due not-so-hot data from a clinical trial of its blood-clotting drug tecarfarin announced last July.Risk-taking investors might be tempted to bite into Aryx today on the off chance the company does find a buyer for its drug assets. I've never had luck advocating that strategy with other stocks, including the now-defunct
Panacos Pharmaceuticals
and
Xoma
(XOMA) - Get XOMA Corporation Report
(another one of my bad calls).
Finally, a spelling lesson for Santana P. He writes, "
Did you see Cel-Sci's (CVM) - Get CEL-SCI Corporation Report comments on its ground-breaking rheumatoid arthritis drug? You just want to bash the stock but CEO Geert Kersten is going to run you over with simple facts. Looser.
"
Santana, please, repeat after me....
"I am a l-o-s-e-r."
"I am
not
a l-o-o-s-e-r."
-- Reported by Adam Feuerstein in Boston.
Follow Adam Feuerstein on
.
Adam Feuerstein writes regularly for TheStreet.com. In keeping with TSC's editorial policy, he doesn't own or short individual stocks, although he owns stock in TheStreet.com. He also doesn't invest in hedge funds or other private investment partnerships. Feuerstein appreciates your feedback;
to send him an email.