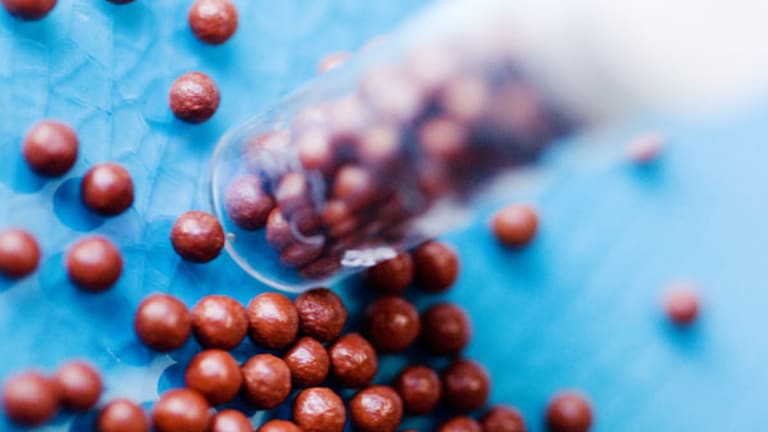 Biotech Stock Mailbag: Biogen's Alzheimer's Update, Celgene Patent Worries, Receptos, MannKind
Biotech columnist Adam Feuerstein answers readers' questions about health care.
Biotech columnist Adam Feuerstein answers readers' questions about health care.
BOSTON (TheStreet) -- This week's Biotech Stock Mailbag opens with Biogen (BIIB) - Get Report and its Alzheimer's drug candidate BIIB037.
Denise B. writes, "I saw a headline about Biogen announcing more results from its Alzheimer's drug study this month. Is that true? Is it unusual to have more information provided about a drug so soon after the last time?"
Biogen will be presenting additional data on its Alzheimer's drug candidate BIIB037 at the American Academy of Neurology (AAN) annual meeting on April 22. Recall, Biogen presented the initial results from the phase I study last month. 
The new analyses of the phase I study will parse '037's cognitive benefit by ApoE4 gene status. Alzheimer's patients who carry the ApoE4 gene are at higher risk for more aggressive disease than patients without the gene. At AAN, we'll see the magnitude of '037's cognitive benefit relative to placebo in patients who are ApoE4 positive and negative.
Alzheimer patients who carry the ApoE4 gene are supposed to respond better to beta-amyloid lowering drugs like '037.
ApoE4 patients are also more susceptible to brain swelling, or ARIA. We saw that in the phase I results already presented, where 55% of the ApoE4-positive patients treated with the highest and most effective 10 mg dose of '037 experienced ARIA events. This brain swelling may have unblinded the study and biased results -- one of the lingering concerns which emerged from the initial presentation. At AAN, these concerns would be assuaged if ApoE4-negative patients also show relatively strong cognitive benefit because it would suggest ARIA events didn't bias results.
The April 22 AAN presentation will also break out response rates based on patients with prodromal (very early stage, or "pre-Alzheimers") versus patients with mild disease. Beta-amyloid supporters believe identifying and treating patients at the earliest signs of Alzheimer's disease is best. Conversely, they believe other beta-amyloid targeted drugs failed because trials enrolled patients with disease that was too advanced.

Did you short Receptos (RCPT) ? Congrats if you did, since the stock hit an intraday high of $203 on the day of your tweet. [The stock closed April 1 at $173.] Since then, Receptos shares are down to $148.
Media reports on April 1 of buyout interest for Receptos caused the stock to spike, so the retrenchment in the absence of an actual deal isn't all that surprising. Receptos remains one of my favorite mid-cap biotech stocks based on the fundamental strength of its lead drug RPC1063 for multiple sclerosis and colitis. The company owns all rights to RPC1063, which makes it a juicy target for a lucrative partnership or outright acquisition.
Scott A. asks, "Do you have an explanation for Celgene's (CELG) - Get Report recent weakness?"
Funny timing. One year ago, another reader asked me almost the same question. The answer then is the same today: Celgene's stock weakness is related mostly to investor concerns about the patent life of the multiple myeloma drug Revlimid, still the company's most important profit driver despite efforts to diversify the revenue stream.
On May 7, the European Patent Office is holding a hearing on the validity of a Revlimid composition of matter patent which expires in 2024. I'm not going to get into the weeds of the case (frankly, a lot of the patent legalese is just gibberish to me) but a loss for Celgene would mean European generic entry two years earlier in 2022, according to ISI Evercore analyst Mark Schoenebaum, in an email to clients earlier this week (assuming Celgene's appeal also fails to overturn the adverse decision).
Investors hate uncertainty, which explains why Celgene is under-performing the broader biotech market leading up the European patent hearing. There's also a larger investor concern that a Celgene loss in Europe could also accelerate entry of generic Revlimid in the U.S. Celgene is telling analysts and investors that ongoing patent cases in Europe and the U.S. are not related.
That might be true, but for investors, the Revlimid patent issues are an ongoing overhang on Celgene's stock, which also trades at the higher price-to-earnings range among the big-cap biotechs. You also hear investors talk about how first-quarter earnings are typically weakest for Celgene, plus there are whispers of skepticism about mongersen, the company's experimental Crohn's disease drug.
Remember a few years back when Gilead Sciences (GILD) - Get Report shares under-performed on investor worries about a looming patent cliff for its core HIV drug business? Then, Gilead bought Pharmasset for $11 billion and transformed itself into a hepatitis C powerhouse. Celgene is going through similar issues today.
The company has done a remarkable job on the business development front, partnering with exciting, smaller companies like Bluebird and Acceleron Pharma, among so many others. But until these drug development bets pay off, Celgene is still heavily reliant on Revlimid as the main profit driver.
Maybe Celgene should do a transformative deal like Gilead did with Pharmasset?
Everyone knows Al Mann is eyeballs deep in MannKind (MNKD) - Get Report. He named the company after himself. He's invested (lost?) at least $1 billion already. When Mann's business epitaph is written, MannKind will be seen as his Waterloo. It's a shame because he could have invested that $1 billion into research for a diabetes cure instead of chasing the folly of an insulin-dispensing whistle.

The point I was trying to make with the tweet was that nothing stops current MannKind executives, notably CEO Hakan Edstrom, from NOT selling stock. 10b5-1 trading plans can be cancelled. [And by cancelled, I mean totally cancelled, not just temporarily.] If Edstrom really believes Afrezza will be successful and MannKind shares are under-valued, STOP SELLING STOCK! Better yet, he should be buying MannKind shares.
Lord knows, beleaguered MannKind longs need something to cheer them up. Afrezza's slow launch is painful to watch. Marketing partner Sanofi (SNY) - Get Report reports first-quarter earnings on April 30. Unless the company makes an exception, Afrezza sales will be immaterial and not disclosed. That leaves MannKind to disclose Afrezza sales when it reports first-quarter financials in the middle of May. Maybe someone will ask executives why they're not buying their own stock.
Sunesis Pharmaceuticals (SNSS) - Get Report has been relatively quiet since the presentation of the controversial vosaroxin phase III data in elderly AML patients last December. The company has guided to a regulatory filing decision in the middle of the year.
I wasn't a fan of the vosaroxin data, but the Food and Drug Administration and its counterparts in Europe seemed inclined to be lenient when it comes to reviewing negative study results.
Adam Feuerstein writes regularly for TheStreet. In keeping with company editorial policy, he doesn't own or short individual stocks, although he owns stock in TheStreet. He also doesn't invest in hedge funds or other private investment partnerships. Feuerstein appreciates your feedback; click here to send him an email.