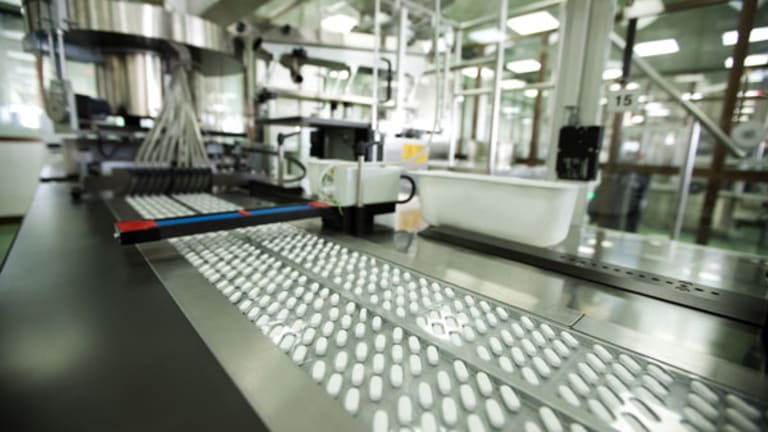 Biotech Stock Mailbag: Bio-Hazards
Biotech columnist Adam Feuerstein answers readers' questions and concerns about health care and drug-related stocks.
BOSTON (
) -- The accumulated deficits of
Telik
(TELK)
,
Xoma
(XOMA) - Get XOMA Corporation Report
,
Genta
( GNTA),
Cell Therapeutics
(CTIC) - Get CTI BioPharma Corp. Report
,
Discovery Labs
(DSCO)
and
Cel-Sci
(CVM) - Get CEL-SCI Corporation Report
total $4.6 billion.
Think of the good all that money could have accomplished had it been invested in real medical research.
Investment capital is a precious resource, so it shouldn't be wasted on drug and biotech companies that have proven their incompetence over years, even decades. Somewhere between 300 and 400 publicly traded biotech companies operate in the U.S. today. That's way too many. I'd venture to say we could cut that roster in half, at least, and not suffer any negative effects. In fact, the money saved by not investing in the laggards could be pumped into a smaller number of biotech firms worthy of support. That would help the sector, not hurt it.
The biotech sector needs a chopping-block equivalent of the Judge's Table from the reality TV show
Top Chef
. At least once a year, a group of companies representing the biotech sector's perennial loser losers would face elimination by a panel of objective and steely eyed judges. After listening to these bio-bums confess their crimes against good medical research, the judges would force one or more of them to shut down permanently. Any cash and assets remaining would be sold off and returned to shareholders.
I nominate myself chief justice.
"Xoma, pack your test tubes and go."
"Cell Therapeutics, Genta, put down the beakers and scram."
Lest anyone get the wrong idea, I'm not criticizing failure. Drug development is risky, so some (even most) drugs that seem promising early will blow up late. Smart, successful drug development is often borne from failure.
Genentech
wouldn't have developed Avastin or Herceptin without setbacks and clinical trial failures; the same goes for
Human Genome Sciences
( HGSI) and Benlysta.
A phase III study that goes kaboom doesn't automatically warrant a spot at the biotech Judge's Table. What does is an unbroken string of clinical trial failures, multiple FDA rejections, broken promises, unchecked shareholder dilution, general bamboozlement and a management philosophy that views a corporate balance sheet as an executive ATM machine.
What got me thinking about forcing half the biotech sector to fold up and go home? Last week marked my 10-year anniversary covering biotech stocks. I've figured out a lot about biotech in the past decade, but there is one mystery I still don't understand and probably never will: How is it that so many companies can crash and burn time and time again yet still manage to raise more money and reinvent themselves? Amazing.
David B. asks,
"Any comment on Cleveland BioLabs' (CBLI) - Get Cleveland BioLabs, Inc. Report anti-radiation drug?"
I fail to see how Cleveland BioLabs will fare any better than
Hollis-Eden Pharmaceuticals
.
Does anyone remember Hollis-Eden? In the aftermath of 9/11 when people were obsessed with the threat of terrorists detonating nuclear dirty bombs, the small San Diego drug company was thrust into the spotlight for its work developing an anti- radiation treatment.
Hollis-Eden executives lobbied Washington D.C. law makers hard
and secured Pentagon and Defense Department research contracts. Heck, Hollis-Eden even managed to land a high-profile story about its radiation drug on
60 Minutes
.
All this work and promotion was supposed to lead to a huge bioterrorism stockpiling order for Hollis-Eden's anti-radiation drug. Except it didn't. In 2007, the U.S. government canceled its contracts with Hollis-Eden, sending the stock plummeting and essentially destroying the company.
and eventually changed its name to
Harbor BioSciences
(HRBR)
, trading on the bulletin boards.
To me, Cleveland BioLabs is an exact replay of Hollis-Eden. The drugs might be different, and worries of nuclear-armed terrorists have been replaced with fears about a broken Japanese nuclear power plant, but the overall script is the same. Cleveland BioLabs has been and may continue to be a great trading stock, but I don't see this endgame working out any better than it did for Hollis-Eden.
A friend who runs the Web site Biotech Investment Paradigm conducted an
interview recently with Cleveland BioLab's CEO
, if you're interested in more.
Readers sent in a lot of suggested additions to my early
ASCO 2011 cancer drug target list
. Thank you all for contributing. It's going to be a tad quiet at ASCO this year because a lot of small and mid-cap biotech companies are in the middle of, or just starting, pivotal cancer drug clinical trials and therefore won't have meaningful new data to report at the meeting.
Stocks in this "quiet category" include
Cyclacel Pharmaceuticals
(CYCC) - Get Cyclacel Pharmaceuticals, Inc. Report
,
Sunesis Pharmaceuticals
(SNSS) - Get Sunesis Pharmaceuticals, Inc. Report
,
OncoGenex Pharmaceuticals
(OGXI)
,
Nektar Therapeutics
(NKTR) - Get Nektar Therapeutics Report
,
Arqule
(ARQL) - Get ArQule, Inc. Report
,
Keryx Pharmaceuticals
(KERX) - Get Keryx Biopharmaceuticals, Inc. Report
and
Aeterna Zentaris
(AEZS) - Get Aeterna Zentaris Inc. Report
.
Delcath Sytems
(DCTH)
, another stock suggested by readers, was in the ASCO spotlight last year but won't be a big part of this year's show because the company has moved on to seeking FDA approval.
Robert P. emails,
"I e-mailed you last fall about Vanda Pharmaceuticals (VNDA) - Get Vanda Pharmaceuticals Inc. Report and you did respond. So here we are five months later and nothing has changed. Vanda doesn't take calls nor answer them. Why does a company have an investor relations department that doesn't respond to shareholders? Sounds like a cushy job. I'm beginning to think that Novartis has written them off. And the shelf offering. Any idea on the purpose? In any case, in my 45 years of investing, this company has the worst record of treating shareholders with any respect. The only good thing is I'm still up on my investment."
I'm happy to let you vent, Bob. Unfortunately, no one at Vanda is listening.
Scott writes,
"What are the chances of Amylin Pharmaceuticals'( AMLN) approval of Bydureon in the next few months with the European regulatory authority? I think they should be giving a ruling shortly. What effect do you think it will have on the stock price? I was a little surprised when InterMune (ITMN) went up 150-200% in a month. Do you think Amylin could potentially do that since some think it could be a real game changer."
With all the attention and controversy surrounding the FDA's rejection of Bydureon last fall, I forgot that Amylin's partner
Eli Lilly
(LLY) - Get Eli Lilly and Company (LLY) Report
filed for Bydureon's approval in Europe. A decision could come in the first half of the year.
I don't have a complete sense of investor expectations for Bydureon's chance of a European approval, but I did talk Thursday with a buy-side source who has been short Amylin since before the FDA rejecton. He gives 50-50 odds for a European approval of Bydureon, and for that reason and others (the stock is relatively close to his price target), he's been covering.
A biotech analyst who asked not to be quoted by name told me that he thinks Bydureon has better than a 50% shot getting approved in Europe, mainly because he doesn't believe European regulators are as concerned about the drug's safety issues that bogged down the drug at the FDA.
If Bydureon is approved in Europe, Amylin shares will rise, but I wouldn't expect a doubling in the stock price like you saw with InterMune when pirfenidone was approved across the pond. Pirfenidone is the only drug available to treat idiopathic pulmonary fibrosis. Bydureon, of course, has lots of competition in diabetes, even if the weekly injection is more convenient than its closest competitor,
Novo Nordisk's
(NVO) - Get Novo Nordisk A/S Sponsored ADR Class B Report
daily injectable Victoza.
Sarah N. asks,
"Anything left with Xoma (XOMA) - Get XOMA Corporation Report or is the stock dead?"
Dead.
XOMA '052 flopped in diabetes this week, so now Xoma management is moving to plan B, which is to develop '052 as a cardiovascular therapy based on data showing the drug lowers levels of C-reactive protein. Merely showing some improvement in an inflammatory biomarker isn't enough to get a cardiovascular drug approved, and I have no confidence at all in the ability of Xoma or its partner Servier to do anything right when it comes to '052.
Xoma didn't even have the decency this week to release the relevant details from the failed six-month '052 diabetes study. No mention at all of '052's impact on blood glucose levels, other than to say there was no benefit compared to placebo.
The only way Xoma moves significantly higher again is if management, notably CEO Steven Engle, resigns. Xoma is a company desperately in need of an activist shareholder willing to make noise and clean house. Unfortunately, Xoma may be too small, too irrelevant for any investor of size to care enough to do anything.
For those keeping track, Xoma's accumulated deficit over 30 years of drug development futility is $853 million.
In lieu of hate email this week, you have to check out the
blizzard of bizarre comments, insults and conspiracy theories
posted by fans of
Radient Pharmaceuticals
( RPC) in reaction to my most recent story. Hilarious.
--Written by Adam Feuerstein in Boston.
>To contact the writer of this article, click here:
Adam Feuerstein
.
>To follow the writer on Twitter, go to
http://twitter.com/adamfeuerstein
.
>To submit a news tip, send an email to:
.
Adam Feuerstein writes regularly for TheStreet.com. In keeping with TSC's editorial policy, he doesn't own or short individual stocks, although he owns stock in TheStreet.com. He also doesn't invest in hedge funds or other private investment partnerships. Feuerstein appreciates your feedback;
to send him an email.