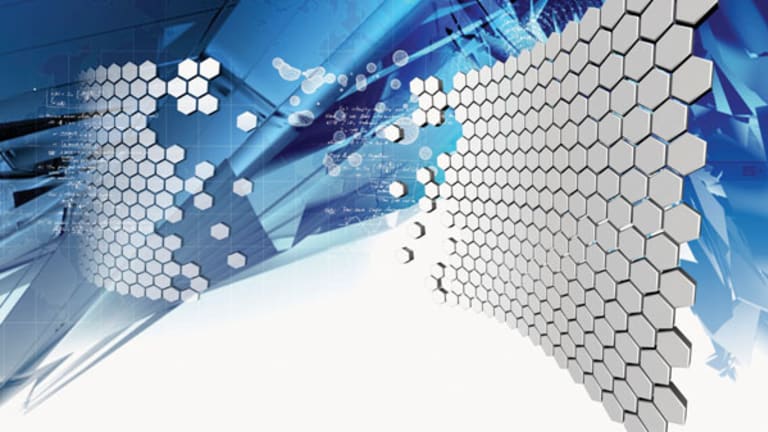 Biotech Stock Mailbag: Aveo, Anthera, Amarin, MAP Pharma
Biotech columnist Adam Feuerstein answers readers' questions about health-care companies
BOSTON (
) -- Happy Thanksgiving! An early Biotech Stock Mailbag:
Nico asks, "
Aveo Pharmaceuticals
(AVEO) - Get Report
has to be oversold at this point, right? Is FDA likely to make a big stink about a small unfavorable trend in 1-year overall survival data even though (a) median OS has not yet been reached; (b) all kidney cancer drug approvals have been based on progression-free survival (PFS) and tivozanib showed the single-highest PFS ever shown in a phase III clinical trial; and (c) the overall survival trend is easily explained by the crossover trial design."
Aveo is a cautionary tale in oncology drug development. The company deserves huzzahs for running a pivotal study in kidney cancer comparing tivozanib against an active comparator --
Onyx Pharmaceuticals'
(ONXX)
Nexavar. We see far too few clinical trials that compare one active drug against another.
Unfortunately, the mixed data that emerged from Aveo's tivozanib study have raised a lot of uncomfortable questions and caused the company a ton of trouble, which may explain why head-to-head drug studies are so rare.
Tivozanib delayed the time before patients' kidney cancer started to grow (progression-free survival) by a median 11.9 months compared to 9.1 months for Nexavar -- a difference that was statistically significant and which achieved the study's primary endpoint. Tivozanib was also better tolerated than Nexavar, with fewer dose reductions and treatment discontinuations due to adverse events.
But (and you knew this was coming), the analysis of overall survival -- a key secondary endpoint in the study -- was problematic. At one year, 81% of Nexavar patients were still alive compared to 77% of tivozanib patients. A second look at overall survival conducted a two years yielded a similar result.
Oops.
Aveo believes survival trended against tivozanib because more than 60% of the patients randomized to the Nexavar arm "crossed over" to receive tivozanib or some other therapy upon tumor progression. These Nexavar crossover patients are living longer because they benefited from treatment with two active kidney cancer drugs, Aveo argues. Meantime, only 24% of patients chosen to begin the trial in the tivozanib arm went on to a subsequent therapy.
This explanation of the wrong-way survival benefit makes sense but FDA will be the ultimate arbiter. The agency has "expressed concern" with the survival trend analysis and has told Aveo to expect these data to be considered during the agency's tivozanib review, according to the company's regulatory filings.
Here's the risk statement in Aveo's 10-Q that freaked out investors:
"Overall survival is a key secondary endpoint in our phase 3 clinical trial. Based on our early discussions with the FDA, we do not expect the FDA to require that we show a statistically significant improvement in overall survival in patients treated with tivozanib in order to obtain approval by the FDA... The FDA has expressed concern regarding the overall survival trend in the TIVO-1 trial and has said that it will review these findings at the time of the NDA filing as well as during the review of the NDA."
Aveo filed tivozanib with FDA on Sept. 28, which means the company should hear back from regulators about the acceptance of the application on Nov. 28. Aveo shares have been weak in front of the FDA acceptance catalyst because of investors concerns about the tivozanib survival data. Broader market selling hasn't helped.
The tivozanib survival trend controversy is going to be an interesting debate topic at an FDA advisory panel next year but it's not a problem serious enough to prevent FDA from accepting the drug's application.
FDA acceptance of the tivozanib application on or around Nov. 28 should be the dose of good news needed stop the slide in Aveo's stock price. The ultimate approval and commercial outlook for Aveo's kidney cancer drug are still hazy but the company's $100 million enterprise value bakes in much of the risks.
Michael J. asks, "Isn't it highly likely that with
Amarin
(AMRN) - Get Report
there are two prices for the buyout of the company, one with three-year exclusivity and one with five years?"
Sure, it's possible, but also equally possible is Big Pharma suitors, if they exist, aren't interested in buying Amarin if Vascepa receives three years exclusivity. At $10, Amarin is already a $1.5 billion company. We're not talking about pocket change here, particularly for a drug with significant generic risk regardless of the market exclusivity period.
The bulk of Amarin's Vascepa patent estate consists of method of use patents, harder to defend, easier to navigate around, than composition of matter patents.
What if the offer price for Amarin is $15 per share? Would this be acceptable? A 50% premium to the stock's current price is decent but is only on par with Amarin highs reached right after Vascepa was approved in July.
Amarin executives and insiders sold $12 million of company stock
at $13-14 per share right after Vascepa was approved, so why not sell the entire company for $15 per share?
David B. writes, "In response to your
I am unsure what you mean when you say that Amarin will have a difficult time going against the deep pockets of
GlaxoSmithKline
(GSK) - Get Report
when it comes to marketing Vascepa on its own. Vascepa is clearly a superior product when compared to Lovaza (which you always fail to mention). I think doctors would be negligent to prescribe Lovaza when there is a superior alternative out there with no harmful side effects (which Lovaza has.)"
Prescriptions for triglyceride-lowering fish oil pills are flattening and some doctors, buoyed by new research, are now questioning the drugs' cardiovascular benefits, reports Forbes' Matt Herper. His column,
Could a Fish Oil Backlash Wash Out Amarin?
is very much worth reading.
@hakujin, "Your cherry-picking of data, what was said in conference call et al, is sublimely low-brow journalism, fitting of AF."
Drew writes, "You suck at writing. You don't know
bleep and you look like an idiot."
@mthester writes, "You are gonna be the laughingstock of Wall Street when Amarin gets bought out."
@garbucci asks, "Please dude, can you give me a some kind of idea of what is going on at
Anthera Pharmaceuticals
(ANTH)
? It's still getting punished. Is their drug that bad?"
Anthera shares are down 90%, making it the worst performing biopharma stock in 2012. A phase III study of Anthera's cardiovascular disease drug varespladib was halted for futility in March. In June, the company's lupus drug blisibimod came up lame in a phase II study. While Blisibimod demonstrated some positive response trends among certain lupus patients, the mid-stage study overall was a failure.
The few supporters Anthera has left believe blisibimod could be as effective, perhaps more so, than Benlysta, the lupus drug developed by Human Genome Sciences and later acquired by GlaxoSmithKline. Unfortunately, Benlysta is a mediocre lupus drug and a commercial flop. At $3 billion, Glaxo way overpaid for Human Genome.
The prospects for blisibimod don't look much better. Any hope that Anthera would find a partner to help develop blisibimod was dashed when the company raised cash in July to fund the phase III trials. Given the lackluster phase II data, the blisibimod phase III trials are super high risk and won't report any data until 2015.
Charles W. asks, "With respect to
MAP Pharma's
( MAPP) resubmission --
you mentioned it being odd in your article
that the FDA had not replied in the 14 days. Why wouldn't the FDA just have rejected their resubmission? Also, do you think it might have been possible that the FDA requested an additional piece of information without doing a rejection. Does this happen?"
MAP Pharma resubmitted Levadex to FDA 35 days ago. Still no word from the company about whether or not FDA accepted the re-file. The silence is very strange, if not bordering on the absurd.
Under FDA regulations, the agency takes 14 days to notify a company about acceptance of a drug resubmission. The FDA is under no notification time clock if a resubmission is deemed unacceptable. Charles, I'm as baffled by the MAP Pharma situation as you, but it's hard to view the protracted delay as a positive.
-- Reported by Adam Feuerstein in Boston.
Adam Feuerstein writes regularly for TheStreet. In keeping with company editorial policy, he doesn't own or short individual stocks, although he owns stock in TheStreet. He also doesn't invest in hedge funds or other private investment partnerships. Feuerstein appreciates your feedback;
to send him an email.