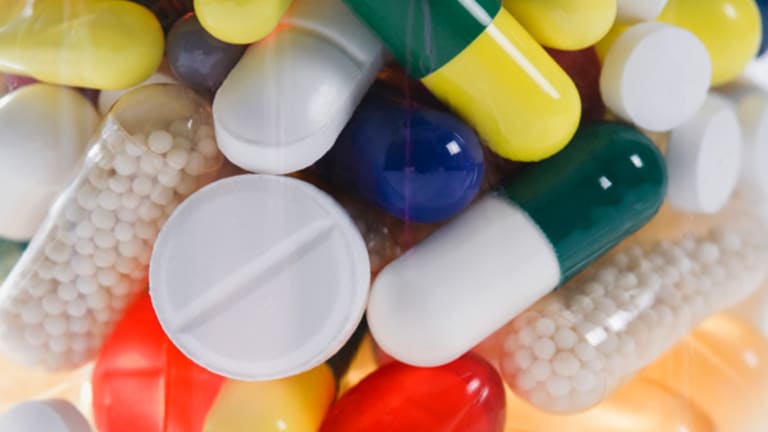 Biotech Stock Mailbag: Astex Pharma, My Essential Twitter Follows
Biotech columnist Adam Feuerstein answers readers' questions about health care companies.
BOSTON (
) -- Summer's over but the Biotech Stock Mailbag remains. Chris M. emailed Wednesday with a request about
Astex Pharmaceuticals
(ASTX)
:
Can you wait until Friday to publish the bear thesis? Or at least until the end of trading day on Thursday?
Request granted.
Astex shares rose 25% Wednesday (and remained flat Thursday) following the release of interim results from a phase II study of SGI-110, a next-generation DNA-hypomethylating agent under development for acute myeloid leukemia (AML) and myelodysplastic syndrome (MDS) -- two forms of blood cancer that affect myeloid cells.
SGI-110 is an important element in the Astex bull thesis because Dacogen, currently approved to treat MDS (and used off label to treat AML) just went generic. SGI-110 is supposed to be an improved version of Dacogen, that if approved, would be preferred over the cheaper generic by oncologists.
Astex is conducting a phase II study of SGI-110 enrolling 200 patients with AML and MDS. On its last quarterly conference call held Aug. 1, Astex executives said results from this study would be presented at the American Society of Hematology's annual meeting in December.
But surprisingly, Astex decided on Wednesday to report interim (more like incomplete) results on 67 patients enrolled in the study with at least three months of follow up as of June:
-- Eight adult patients of 50 with relapsed/refractory AML reported a complete remission. That's a 16% complete remission rate.
-- Nine elderly patients of 17 with treatment-naive AML reported a complete remission, or a 53% complete remission rate.
A couple of sell-side analysts -- RBC Capital's Michael Yee and JMP Securities' Mike King -- urged investors to buy Astex shares on their belief that Wednesday's data showed SGI-110 to be better than Dacogen.
Yee:
Data much better than older Dacogen: As cross-trial comparison, in the phase III study for Dacogen which is approved in treatment-naive (elderly) pts in Europe, Dacogen showed a 27% CR+CRi+CRp rate versus 56% sic for SGI-110 today... So SGI-110 clearly looks much more active at this stage vs older Dacogen.
Or not.
Yee's cross-trial comparison is a stretch too far. That phase III study of Dacogen enrolled 485 AML patients (242 treated with Dacogen, 243 with cytarabine or supportive care.) Concluding that SGI-110 is better than Dacogen based on an interim look at just 17 patients is silly. That 53% SGI-110 response rate will not hold up once the cohort of elderly, treatment-naive AML patients reaches full enrollment (50 patients.)
The Dacogen study also failed to demonstrate a survival advantage over control despite higher response rates.
Overall survival was the primary endpoint. Astex submitted Dacogen to the FDA as an AML therapy based on these phase III data, regardless. FDA rejected the drug. European regulators approved it.
I can also search the medical literature to find other published studies of Dacogen in AML with response rates that are as good or nearly as good as those reported for SGI-110 on Wednesday.
Here's a
study of Dacogen (scientific name: decitabine)
in which 102 adult patients with relapsed/refractory AML reported a 16% response rate. Fifty-two elderly, newly diagnosed AML patients reported a 40% response rate.
Here's a
(sold by Sanofi as Clolar) with a 46% complete response rate in 112 elderly, newly diagnosed AML patients. FDA rejected Clolar as a treatment for AML in 2009.
It's premature to say much of anything about SGI-110's activity in AML relative to Dacogen based on the paltry and incomplete data released by Astex on Wednesday. By the way, Astex said nothing about SGI-110's safety in Wednesday's release. We'll get a more accurate picture of SGI-110 at the ASH meeting in December when more AML data will be presented. Data from the MDS patient cohorts in the phase II study won't be reported until next year.
One last bone to pick: What compelled Astex to provide investors with a look at the SGI-110 data yesterday when the study isn't fully enrolled? Astex reported data on 17 elderly, treatment-naive AML patients. Why not wait until all 50 patients in this cohort were enrolled and followed for a sufficient time?
"The data was material and ASH just cleared us for top-line data release without violating the embargo," Astex spokesman Tim Enns told me via email. He added: "9/17 treatment naive overall response or 53% is very material."
Okay, but Astex didn't specifically mention the 53% response rate in Wednesday's press release. If this data point was so material news for investors, why omit it?
And how could results from an incomplete cohort of a mid-stage study be material information when investors had no expectations of seeing data until December?
Here's Astex CEO James Manuso speaking about the SGI-110 phase II study on the company's second-quarter conference call Aug. 1:
"We are also on track to present data from the AML patients in the Phase II expansionsegment of the trial at the ASH meeting in December."
On the same call, Astex Chief Medical Officer Mohammad Azab addressed the same issue:
"Preliminary SGI-110 Phase II AML data will be submitted for presentation at the American Society of Hematology, or ASH, conference in December, and additional data on other patient cohorts will be submitted for presentations at later meetings like AACR and ASCO conferences next year."
Huh. No mention at all that investors should expect an interim release of SGI-110 data in the third quarter. Unless Astex felt the need to give its stock price a little pop?
Mission accomplished.
It's Labor Day weekend, so let's veer away from individual stocks to talk about my growing admiration for the biotech Twitterverse.
I meant what I tweeted Wednesday night. Sincerely. Instead of "skeptics" I could have said "independent thinkers." The high level of analysis and insight into biotech stocks being discussed on Twitter these days --
MannKind
(MNKD) - Get MannKind Corporation Report
,
Arena Pharma
(ARNA) - Get Arena Pharmaceuticals, Inc. Report
,
Pharmacyclics
(PCYC)
,
Celgene
(CELG) - Get Celgene Corporation Report
, to name a few -- is surpassing anything you'll hear or read from the sell side and in many instances rivals buyside analysis. For a long time, Twitter was mainly the place for traders to keep tabs on hot stocks. Today, I'm seeing tweets from people expertly versed in deep fundamental analysis of clinical data and financial information. "Bio-Twitter" is maturing into an absolutely essentially investment resource.
You know what they say -- adapt or die. Investment banks better quickly figure out a Twitter strategy because their research departments are becoming obsolete. Mutual funds and hedge fund managers who, for various reasons, either are Twitter-blocked or scoff at it, are already at a significant disadvantage. Ironically, retail investors, facing no compliance issues with Twitter, are actually benefiting more than a lot of Wall Street right now.
I have long hesitated to share a list of my favorite/essential biotech Twitter followers because, invariably, someone important is omitted and feelings get hurt. With that caveat, however, here are 16 people -- all non-journalists -- contributing fantastic analysis and information to the Twitter biotech stream. I learn something from these people almost every day. If you follow them, you'll benefit too.
Alfredo is a professor in neurobiology. Read his tweets and learn.
Andy is non-stop vacuum cleaner of biotech information. The man doesn't sleep. He sucks up essential biotech data and retweets it to everyone. For free.
Patrick wants to be as skeptical as I am, but c'mon, no one is going to out-cynic the king of all cynics! Co-founder of Chimera Research Group, which is an good example of how quality, independent biotech research is coming of age via Twitter.
Zach is a buyside health care analyst who straddles the worlds of fundamental analysis and trading. I'm endeared to his snark and contempt for sell-side B.S.
Roy distrusts everything and everyone. It's why I love him.
Ian is another buyside vanguard on Twitter. If you want to know what Wall Street is thinking, saying or doing about a biotech stock, Ian is the guy to follow.
@sport234a2b loves to dig. Deep knowledge. Great researcher.
Bruce is a Boston venture capitalist/rock star. He doesn't tweet enough, maybe inclusion on this list will prompt him to tweet more. Essential insight into private health care investing.
I appreciate Brad's optimism and his leadership on corporate governance issues. His long-term, fundamental approach to biotech investing is a welcome pushback against the short-term trading tide.
Dr. Ben Davies: Urologic Oncologist. Surgeon. Steelers fanatic. Braggart. Funny as hell.
David Sobek is a contributor to TheStreet's biotech coverage for good reason.
Andrew is always deep in the biotech conversation. Excellent source for background information and stays crazily up-to-date with a long list of biotech stocks.
Vikram is a relatively new Twitter follow for me. I've been impressed so far.
JL lives inside SEC filings.
JQ works in the bio-pharma industry. He knows where the bodies are buried.
Following Bio Stocks is like having a direct connection to the
Bloomberg
newswire. I sometimes think he tweets headlines before they're even published.
That's my list. Yes, I left off some really good people so apologies. No offense intended. You should check out my
-- folks are on there for good reason.
-- Reported by Adam Feuerstein in Boston.
Adam Feuerstein writes regularly for TheStreet. In keeping with company editorial policy, he doesn't own or short individual stocks, although he owns stock in TheStreet. He also doesn't invest in hedge funds or other private investment partnerships. Feuerstein appreciates your feedback;
to send him an email.