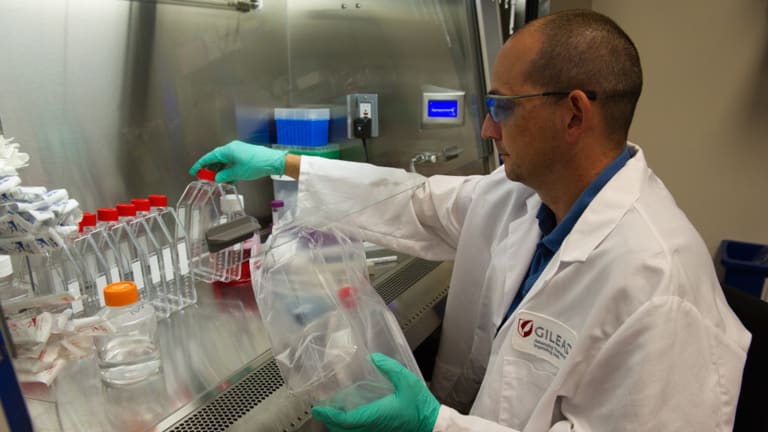 Biotech Stock Mailbag: ASCO Preview, CAR-T stocks, MannKind, Hate Mail!
Biotech columnist Adam Feuerstein answers readers' questions about health care.
BOSTON (TheStreet) -- Troy D. writes, "Are you attending the ASCO cancer meeting? What do you think will be the biggest moving stocks to come out of it?"
Absolutely. I'm flying to Chicago in a week to attend the American Society of Clinical Oncology annual meeting. This will be my 15th gathering of the ASCO cancer research tribe. You can expect a flurry of cancer drug stock stories, tweets and, for the first time this year, Periscopes, from me starting next Friday afternoon through Tuesday, June 2.
I'll probably tweet about the local beer I'm drinking, too.
In no particular order of importance, here are some (not all) of the stock-related ASCO story lines I expect to follow next week.
How effective and different is Oncothyreon'sundefined ONT-380 from other Her2-blocking breast cancer drugs, most notably Puma Biotech's (PBYI) neratinib? The current valuation gap between Oncothyreon and Puma is Grand Canyon-esque. A strong showing by ONT-380 at ASCO could generate a lot of investor interest in Oncothyreon.
Does Puma's neratinib have a meaningful role to play in the extended adjuvant breast cancer treatment setting? The presentation and interpretation of data from Puma' neratinib phase III ExteNet study will be a controversial ASCO event.
The competition between Clovis Oncology (CLVS) and AstraZeneca (AZN) over their respective drugs to treat T790-mutated lung cancer is fierce. The fight continues next week when Clovis presents an update from its ongoing study of rociletinib.
I'm excited to see and hear an update from Celldex Therapeutics (CLDX) on its EGVRvIII-targeted cancer vaccine Rintega. Investors will be focused on updated survival data from the ReACT study in patients with recurrent brain tumors. The company may also have something to say about its regulatory plans for Rintega.
Checkpoint inhibitors! Checkpoint inhibitors! Checkpoint inhibitors! This year's ASCO will once again inundate us with new data on Merck's (MRK) Keytruda, Bristol-Myers Squibb's (BMY) Opdivo and the rest of the PD-1/PD-L1 blocking cancer immunotherapies. Frankly, the sheer volume of data coming next week is overwhelming and difficult to parse (for me, at least.) I'll do my best.
It depends on your definition of "recently." The one-month chart of CAR-T stocks
Juno Therapeutics
(JUNO)
,
Kite Pharma
(KITE)
,
Bellicum Pharma
(BLCM)
and
Ziopharm
(ZIOP)
is a bit down in the dumps.
Based on a quick canvas of institutional investors, there are multiple reasons for the recent weakness in CAR-T stocks: Valuation relative to the commercial opportunity in hematological cancers. Ongoing concerns about toxicity, including new reports of adverse event-related patient deaths. Uncertainty about the role CAR-T can play in the treatment of solid tumors. The potential for intellectual property fights. Did I mention valuation? Yes, but again, it's important.
Ambivalence might be the best word to describe the way investors spoke to me this week about Juno, Kite, Bellicum and Ziopharm. There is legitimate excitement for the CAR-T technology but less enthusiasm right now for the stocks. Closely followed healthcare hedge funds (not all) reduced their exposure in CAR-T stocks, according to the most recent 13Fs filed last week. I'm generalizing, but it fits with what I'm hearing. I also have no idea how long this ambivalent sentiment remains or when it shifts. Sentiment, like biotech stocks, is volatile.
Thank you so much. My live blog of the Vertex Pharma (VRTX) FDA panel generated a tremendous amount of reader traffic, including a sizable audience of cystic fibrosis patients and their families. The inclusion of the cystic fibrosis community to the live blog was very informative and much appreciated.
Next up this fall, hopefully, will be the FDA advisory panel for Duchenne muscular dystrophy featuring Biomarin PharmaBMRN and Sarepta Therapeutics (SRPT) . The live blog for this FDA panel will be record breaking and epic. I cannot wait.
Harry O. writes, "MannKind (MNKD) is up 10% for second straight day and not a peep out of you. Probably hiding under a rock with Kramer [sic], slimeball. Your [sic] proven wrong again about MannKind and your credibility is shot. I hope you rot, never say another word."
Wipe away the hostility and Harry is a fan of mine. His email arrived Monday night, probably written after consuming an adult beverage, or two. MannKind investors haven't had much to celebrate since Afrezza was approved last year, so go ahead and take your victory lap because of two consecutive days in which MannKind's stock price rose 20%.
I didn't write anything about MannKind's stock performance over the past week because I generally don't write about short-term volatility. I try to let more time pass before grading my work, bullish or bearish. On May 11, MannKind closed at $3.63, the lowest closing stock price since April 2013. Afrezza was approved on June 27, 2014. The next trading day, MannKind closed at $10.96 per share. Almost 11 months later, MannKind's stock price is down almost 60%.
Maybe Harry bought MannKind share at their recent nadir and he's sitting on profits. Congrats if that's the case, but calling me wrong for being bearish on MannKind doesn't ring true given Afrezza's slow launch, the continued weak condition of the company's balance sheet and the stock's underperformance over time. I don't make a habit of patting myself on the back, but the column I wrote almost one year ago predicting the rise and inevitable fall of MannKind's stock price before Afrezza was approved was pretty darn prescient.
When I am wrong, I admit my mistakes. Accountability is important when you spend your days at a keyboard offering pointed analysis and opinions, like I do. In this line of work, I'm going to be wrong frequently. I didn't believe Afrezza would be approved. I was wrong about that. Maybe MannKind's marketing partner Sanofi will eventually figure out how to transform Afrezza into a blockbuster product. Maybe MannKind shares will rebound to where they were almost one year ago or even move higher. I haven't seen evidence of a turnaround, in fact, the company's fundamentals are at higher risk today, but we'll let time be the judge. More than two days, please.
No. Still bearish on Galena Biopharmaundefined. Same reasons.
Joe, an IsoRay (ISR) fan with an AOL email address, writes, "Total loser."
Thanks. I'm impressed you spelled "loser" correctly. Most people get the word wrong -- "looser."
Jim F., another IsoRay fan, writes, "I hope you get cancer and die you [bleeping] POS."
You're too kind.
One more IsoRay investor, Danny K., emails, "You are a worthless [bleep]bag."
I feel the love.
Have a good Memorial Day weekend. Remember, next week is ASCO.
Adam Feuerstein writes regularly for TheStreet. In keeping with company editorial policy, he doesn't own or short individual stocks, although he owns stock in TheStreet. He also doesn't invest in hedge funds or other private investment partnerships. Feuerstein appreciates your feedback; click here to send him an email.