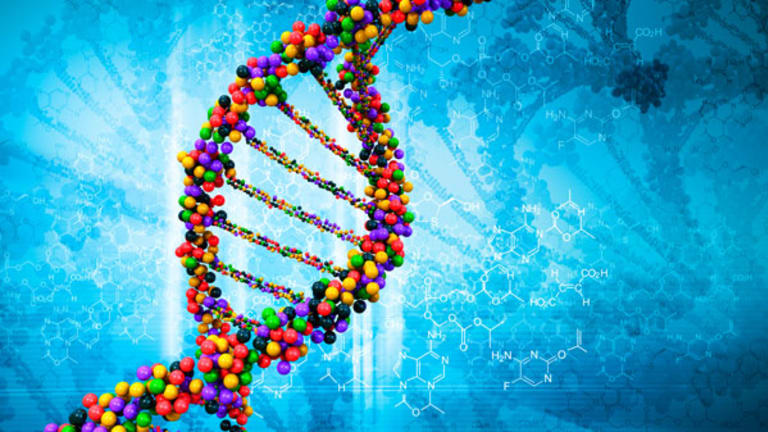 Biotech Stock Mailbag: ASCO, Celldex, Obesity Drug Game-Changer
Biotech columnist Adam Feuerstein answers readers' questions about health-care companies.
BOSTON (TheStreet) -- This week's Biotech Stock Mailbag focuses on two big topics, the upcoming ASCO cancer meeting and Celldex Therapeutics (CLDX) - Get Celldex Therapeutics, Inc. Report (with some Galena Biopharma (GALE) thrown in for kicks).
I also take a rare detour from biotech stocks to write about
Zafgen
, a privately held obesity drug company. Let's start with ASCO.
Phil K. asks, "What are your expectations for the ASCO meeting now that the abstracts have been released? What will you be focusing on when you get there?"
By this time next week, I'll be on a plane to Chicago to cover the American Society of Clinical Oncology's (ASCO) annual meeting. This is my 12th ASCO meeting. ASCO is the biggest, loudest cancer drug meeting of the year, although some are more investor-worthy than others. Based on recent chats with professional health-care investors, ASCO 2012 is a relatively low-priority affair because the number of stock-moving data presentations is limited.
ASCO meetings, just like life, have their ups and downs, and this year is definitely a more subdued ASCO.
Nothing wrong with that, and investors and scribes like me will still find plenty of interesting data presentations. I'm looking forward to ASCO this year because I may actually have the time to slow down and learn something new instead of sprinting from session to session trying to cover all the news as quickly as possible.
With that introduction, here is my take on the three ASCO data presentations most likely to make waves with investors when trading opens on Monday, June 4.
1.
Johnson & Johnso
(JNJ) - Get Johnson & Johnson Report
,
Medivation
(MDVN)
and
Dendreon
(DNDN)
, also known as the prostate cancer triumvirate.
J&J will present data from the "302" study of Zytiga in pre-chemo prostate cancer patients. This phase III study was stopped early due to a statistically significant progression-free survival (PFS) benefit favoring Zytiga over the control arm. We also know that overall survival (the more important co-primary endpoint) favors Zytiga but is not statistically significant.
The key question for the ASCO presentation: What's the actual survival benefit in the Zytiga "302" study? The line of demarcation is four months -- that's the survival benefit of Dendreon's Provenge in basically the same prostate cancer patient population. If Zytiga's survival benefit is greater than 4 months (let's call it 5-7 months) J&J and Medivation win and Dendreon loses.
If the survival benefit of Zytiga comes in lower than Provenge, Dendreon wins and J&J and Medivation lose.
What does Medivation have to do with all this? Remember, Medivation is developing MDV3100, a drug similar to Zytiga but with efficacy that (so far) looks better. So, what's good for Zytiga should be even better for MDV3100.
One more important point of focus for the Zytiga "302" data: Why isn't the survival benefit statistically significant and what does that mean for the overall analysis and interpretation of the data? It will be interesting to hear from the presenters on this point and to see how oncologists react once all the data is aired publicly.
2.
Ariad Pharmaceuticals
(ARIA)
: The six-month update of the pivotal study of ponatinib in chronic myeloid leukemia patients. Expectations are for higher response rates to be shown at ASCO compared to what was presented last December at the three-month look.
3.
Array BioPharma
(ARRY) - Get Array Technologies Inc Report
: Investors want to get a much closer look at the phase II data on selumetinib in hard-to-treat patients with KRAS-mutant non-small cell lung cancer. The research abstract showed a median overall survival in the selumetinib/docetaxel arm of 9.4 months compared to 5.2 months for docetaxel alone -- a difference of 4.2 months but not statistically significant. Response rate (37% vs. 0%) and progression-free survival (5.3 months vs. 2.1 months) both favored selumetinib/docetaxel over docetaxel alone with statistical significance.
Honorable mentions:
Onyx Pharmaceuticals
(ONXX)
and the deeper look at response rates in its pivotal trial of the multiple myeloma drug carfilzomib;
Pharmacyclics'
(PCYC)
BTK inhibitor ibrutinib; the PD-1 immunotherapy from
Bristol-Myers Squibb
(BMY) - Get Bristol-Myers Squibb Company Report
; the BRAF inhibitor dabrafenib from
GlaxoSmithKline
(GSK) - Get GlaxoSmithKline Plc Report
; and data on the breast cancer drug T-DM1 from
Roche
(RHHBY)
and
ImmunoGen
(IMGN) - Get ImmunoGen, Inc. Report
.
Shares of Celldex Therapeutics closed up 5.2% Thursday, a day after the company released interim results from a phase II study of its breast cancer drug CDX-011. Given the high investor expectations for these data and the real potential for a sell-on-the-news reaction, Celldex's rising stock has to be seen as a victory and an optimistic signal from Wall Street for the future potential of CDX-011.
I wrote about the
Celldex data in a story posted Wednesday night
. What I like about the CDX-011 data were the positive signals of efficacy in breast cancer patients who over-express the GPNMB protein and in triple negative disease. The latter group of breast cancer patients is particularly important because of the complete lack of treatment options currently.
CDX-011 is an antibody targeted at cancer cells that express GPNMB so tumor response that is directly correlated with increased levels of GPNMB expression makes a lot of sense. The analysis of patient subgroups around GPNMB expression levels (5%, 25% and 50%) and triple negative disease was prospectively defined before the study was started. That's important.
Legitimate concerns and/or stuff we don't know yet that is potentially risky: 1) Small numbers of patients, especially when looking at some of the subgroups. You have to be worried that the positive signals seen in the study may be diminished or disappear in a larger study with more patients.
2) Celldex hasn't disclosed response rates in patients with greater than 50% GPNMB expression levels. The company told me that results were fairly consistent and suggest that higher GPNMB expression levels resulted in greater response rates. That's fine but Celldex still won't tell us the response rate in the third bucket of patients with greater than 50% GPNMB expression levels.
I want to see those data because if what Celldex says is true, it will further verify the mechanism of CDX-011 and increase the chance that this is real drug. Celldex may be reticent at this time to give us these data because the patient numbers are too small, but it's still important information and somewhat bothersome that the data are being kept from us.
Let me be clear before you start yelling at me: I'm more optimistic about Celldex and CDX-011 today than I was before the data were released. The company deserves kudos for the way it handled Wednesday's announcement. But that doesn't mean CDX-011 is a guaranteed success. Far from it, we've still only seen a sliver of data that leaves important questions and risks on the table.
Stay tuned for more CDX-011 data in December, likely at the San Antonio Breast Cancer Symposium.
Sticking with Celldex, @ColfaxCapital asks, "Adam, do you think CDX-011 is a better drug than $GALE's breast cancer drug?"
Yes, from the data we've seen so date, CDX-011 has more potential as a breast cancer drug than Galena Biopharma's NeuVax vaccine. One caveat, the two drugs are very different and are being developed in different breast cancer patient populations.
Jay R. writes, "Adam, I am a big follower of your writing and generally I am fan of your reporting on biotech companies. Your article today about Celldex surprises me. While there are indeed 'silver linings' in these data, the company was clearly data mining. As you know, this is a process by which companies sort through their clinical data to find the best possible story to tell investors and the FDA. While it is logical that these patients would do best, if the company felt so strongly then the trial should have been prospectively designed to only look at these patients. In addition, there are only 35 patients in the analysis of triple negative, high expressers. When
Keryx Pharmaceuticals
(KERX) - Get Keryx Biopharmaceuticals, Inc. Report
tried to pump their perifosine colorectal results, you cautioned investors about the small size of their trial. Shouldn't you be consistent here Adam?"
Jay's concerns are certainly legitimate, particularly about the small numbers of patients in the CDX-011 story. I raised the same issue above. Celldex, however, did design this study prospectively to enroll patients who over-express GPNMB. They also pre-defined, or stratified, patients into three big buckets based on the level of GPNMB expression (5%, 25% and 50%). For this reason, I don't have concerns about the cutoff points of GPNMB expression used in the analysis and I don't consider it to be data mining.
Keryx, on the hand, absolutely data-mined positive results from its phase II study in order to come up with a colon-cancer patient population to study in the phase III trial. The result was predictable -- a failed phase III study.
Speaking of Galena, Avi B. writes, "So you are promoting Celldex with a 19% effectiveness versus 14% control group study on all patients in the trial and yet you continue to
write negatively against Galena
who's results were much stronger. CDX-011 has shown significant improvement in a subset of patients, so does NeuVax, yet you discount the data presented by Galena and tout Celldex. Your agenda is now evident and your reporting lacks professional consistency. "
Yes, I am, and I believe my divergent views on Celldex and
are professionally consistent. While an imperfect measure for sure, the enterprise values of the two companies (Celldex $170 million; Galena $50 million), suggests "the market" sides with me.
The mechanism of CDX-011 makes sense and is validated; Neuvax does not and is not. Celldex conducted a small, but well-designed phase II study (no data mining!); Galena's phase II study was sloppy, imbalanced and
.
Peter G is mad again, so mad that he forgot to check his spelling and grammar:
"Adumb, You managed to do it again with GALE. I am afraid you have step over the line this time with GALE. After all should we believe you or Dr. Peoples??? Thats a dumb question even you can answer. Oh by the way who was shorting prior to your BS article? I think the SEC stock watch will like to know. Good luck your gonna need it this time."
A nicer note from Ken L.:
"I very much enjoy and appreciate your thoughtful articles, your balanced approach and communication, as well as your active engagement with your readership. I've also always been impressed by your maturity in dealing with (more accurately -- NOT dealing with) the vocal community of conspiracy theorists -- true believers rather than truth seekers. Couldn't believe your measured response to these zealots--you're a better man than I!
Seems like it's getting to you recently. Let me encourage you to stay above it and not get frustrated! I'm certain the vast majority of your readership appreciates your work immensely and would be sorry to lose it! I'm a bit too much on the inside to participate actively in the conversation, but please know that reasonable people around the world are behind you."
Thank you, Ken. Good advice.
Lastly, I spent an hour this week with Tom Hughes, CEO of Zafgen, developer of the weight-loss drug beloranib. Zafgen is a small, privately held company so you'll probably never get the chance to invest in it. Hughes and his venture capital backers want to sell Zafgen to Big Pharma instead of going public on its own.
Still, Zafgen is a company worth following because beloranib may fundamentally change the way obesity is treated -- perhaps more so than the current crop of publicly held companies like
Vivus
(VVUS) - Get VIVUS, Inc. Report
,
Arena Pharmaceuticals
(ARNA) - Get Arena Pharmaceuticals, Inc. Report
and
Orexigen Therapeutics
(OREX)
.
What makes beloranib different is its mechanism of action. I'm simplifying here, but as Hughes explained to me, the drug works in the liver to reset or normalize a patient's metabolism. Obese people, especially those who are morbidly obese, have livers that work overtime converting food into stored fat instead of energy to be burned off by muscle. When these obese patients are treated with beloranib, their livers stop making fat and instead start converting food into energy, like the metabolism of a lean person.
This is different from the way drugs like Vivus' Qnexa or Arena's lorcaserin work, which is by altering brain chemistry so that obese people feel satiated or have less of a desire to eat.
Beloranib-treated patients lose weight and they feel less hungry. In two phase I studies to date, patients lost about 1 kilogram of weight per week over the course of a one-month trial. The studies only enrolled a handful of patients, but they all lost weight.
Hughes says Zafgen is now gearing up to start a larger phase II study of about 120-150 patients that will dose beloranib for 12 weeks. The study will take about a year to complete.
Beloranib requires twice-weekly injections just under the skin so it's not as convenient as pills. But Zafgen is developing the therapy for patients with potentially life-threatening obesity -- BMIs in the mid 30s to as high as 50. These are the same patients who are eligible for bariatric, or stomach-reducing, surgery. The numbers are big: 400,000 bariatric surgeries are performed in the U.S. every year; 15-18 million people eligible for the surgery.
Hughes is hopeful that beloranib can produce sustained 25-50% weight loss, which is on par with what doctors achieve with bariatric surgery. Obviously, Hughes' hopes need to be borne out in longer and larger clinical trials that have yet to be conducted.
Still, belonarib is a really interesting drug and perhaps the first clinically meaningful medical treatment option for obesity. Watch to see if Zafgen is acquired by Big Pharma in the next year or two.
--Written by Adam Feuerstein in Boston.
>To contact the writer of this article, click here:
Adam Feuerstein
.
>To follow the writer on Twitter, go to
http://twitter.com/adamfeuerstein
.
>To submit a news tip, send an email to:
.
Follow
TheStreet
on
and become a fan on
Adam Feuerstein writes regularly for TheStreet. In keeping with company editorial policy, he doesn't own or short individual stocks, although he owns stock in TheStreet. He also doesn't invest in hedge funds or other private investment partnerships. Feuerstein appreciates your feedback;
to send him an email.