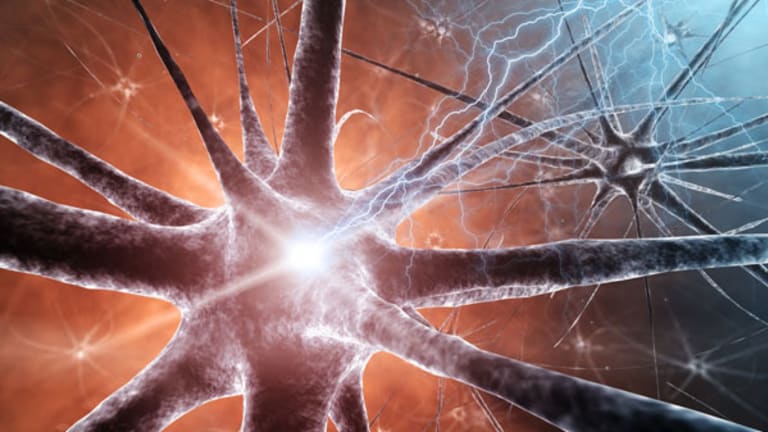 Biotech Stock Mailbag: ASCO
Adam Feuerstein answers readers' questions about health care- and drug-related companies.
BOSTON (
) --The
American Society of Clinical Oncology
(ASCO) annual meeting ended Tuesday with nearly all of the biotech and drug companies that presented at the big cancer drug confab trading off sharply. Good data or bad, stocks were down on a surge of post-ASCO selling.
For those new to investing in so-called "ASCO stocks," the breadth of the selling probably came as a shock. Veterans to this game know better. Post-ASCO selling is the norm, not an exception.
One of the biggest post-ASCO losers was
Delcath Systems
(DCTH)
, whose shares have dropped 37% this week. Delcath, maker of a drug/device that clears tumors from the liver, was also at the center of the
ASCO confab's biggest kerfuffle
. Bulls and bears argued over the clinical data presented by the company Saturday and the commercial prospects for its device.
I've been in the bear camp on Delcath mainly because I believed the stock, which was at $15-16 a share heading into the ASCO meeting, was over-valued.
Nothing I saw from Delcath's presentation Saturday or heard from melanoma experts at ASCO altered my view. Expressing that opinion on my
over the weekend caused the Hostile React-o-Meter to spin out of control!
Via Twitter, @stt2318 asks, so where is it
Delcath undervalued?
I peg fair value for Delcath today in the $5-7 range. That's lower than what I wrote in the
May 14 Biotech Stock Mailbag
when I expressed more comfort with the stock around $10.
A realistic revenue projection for Delcath from its Delcath Chemosaturation System (CS) is probably in the $40-50 million range.
Independent melanoma experts I spoke with at ASCO, including Dr. Eric Whitman of the Atlantic Melanoma Center in Morristown, N.J., said between 1,000 and 1,500 ocular melanoma patients in the U.S. have metastases confined to the liver.
At a cost of $20,000 per CS procedure and each patient undergoing 2.5 CS procedures on average (those are Delcath's numbers), Delcath's potential market ranges from $50 million to $75 million.
I'll assume, generously, that Delcath can achieve a 50% market share amongst ocular melanoma patients with liver-only metastatic disease.
Many of these patients will be too sick to tolerate the CS procedure. That was underscored in the Delcath clinical trial where only 7 of the 93 patients enrolled had an ECOG performance status of 1 on a physical evaluation scale that ranges from 0-4. The rest of the patients in the study were ECOG status 0, or the "healthiest" of cancer patients.
Cutaneous melanoma is more commonly diagnosed but cases where metastatic disease is confined to the liver are exceedingly rare. Again, the Delcath study proves that, with only 12% of the patients enrolled fitting this category. (The rest of the patients had ocular melanoma.) It took years for Delcath to find the 11 cutaneous melanoma patients to enroll in the study.
Throw it all together and Delcath is looking at peak ocular melanoma sales of the CS system in the range of $25 million to $38 million. Throw in another $10 million in cutaneous melanoma sales for good measure and round up with a heavy thumb on the scale: $50 million.
Discount those $50 million in sales back a couple of years at a price-to-sales multiple of six and Delcath is worth $5-7 a share. Included in that estimate is partial credit for expanding CS into neuroendocrine and/or primary liver tumors.
Let me put the valuation question another way: In order to justify Delcath at $10, the CS procedure would have to net about $130 million in sales. To justify Delcath's recent high of $16, CS peak sales would need to reach about $225 million.
Delcath executives say the total melanoma market opportunity is almost $800 million with a long-term market opportunity growing to almost $7 billion.
To me, those numbers are just nuts. Delcath has plans on international sales, but without survival data, regulators in Europe are going to give CS a rough time. Pricing and reimbursement issues are also more complicated in Europe and Asia.
Lisa K. asks, "Who were your winner and losers at ASCO this year?"
Two easily identifiable winners:
Bristol-Myers Squibb
(BMY) - Get Bristol-Myers Squibb Company Report
and
Celgene
(CELG) - Get Celgene Corporation Report
. The former grabbed the biggest headlines for the
; the latter scored big with data establishing a new standard of care for multiple myeloma patients treated long-term with Revlimid as maintenance therapy.
Celgene is hitting all its numbers and had a great ASCO but the stock is trading near its lows for the year. Doesn't make sense to me, but then big-cap biotech, in general, is so out of favor right now.
In the under-$5 stock category, the best data I saw at ASCO was from
Ziopharm Oncology
(ZIOP) - Get ZIOPHARM Oncology, Inc. Report
and its experimental drug palifosfamide in soft-tissue sarcoma. A phase III study is expected to start in the middle of this year.
Thank you, Wilford D.W. III! He emails , "Adam, when people are so negative in their comments towards you, they need to take their negativity somewhere else. The
Sunesis Pharmaceuticals
(SNSS) - Get Sunesis Pharmaceuticals, Inc. Report
and Delcath Systems people were particularly vitriolic in their negative comments. Frankly, if I were you, I would not publish any of the demeaning comments directed your way. These small-minded people apparently cannot tolerate any comment that does not extol the virtues of their darling stock.
"People make money when they can objectively evaluate a company. Blind devotion to any company (or any cause for that matter) will cloud any objectivity towards that company. I thought your reporting was even-handed and fair. I appreciate the job you did at the
ASCO show and continue to do in your column. My only wish is you would write your column more often."
Don't get personally involved or emotionally connected to your risky biotech stocks! Good advice from Wilford.
@BioRun tweets, "You have dealt with
Cell Therapeutic
(CTIC) - Get CTI BioPharma Corp. Report
nut jobs, Delcathers can't be nearly as bad.
I prefer the term "Delcathians." True words, BioRun, except for this guy:
Stephen K. writes, "Thanks for
bleeping all of us shareholders in the Delcath fiasco. You're a real
bleeping winner. This isn't the first stock that you have screwed up for me. Is it really worth the money that they pay you to screw over people? I hope someday that I get to meet you in person; see I am dying of cancer and emphysema so it doesn't matter if I go earlier since you just totally
bleeped up my finances. You better go and retract all your negative comments on Delcath. I hate you. I am retired military.
Bleep you and enjoy my money that you stole through the hedge funds for me."
Sad. No other comment necessary.
Moving on. Pablo writes, "Congrats for your superb job with the
. Since I'm not cool enough to know how to use Twitter, I'm sending you a very old fashioned email. Now that the ASCO conference and post sell-off craziness is over (at least I hope so because I was one of the schmucks who bought high and kept holding the bags) would you be kind enough to give your target range for some of the stocks I hold: Ziopharm Oncology,
Oxigene
(OXGN)
,
Celldex Therapeutics
(CLDX) - Get Celldex Therapeutics, Inc. Report
, Sunesis Pharmaceuticals,
Aeterna Zentaris
( AEZN) and
Hana BioSciences
(TICKER)
(HNAB.OB)
."
That's quite a speculative list of biotech stocks, Pablo. I hope these holdings make up a small percentage of your overall investment portfolio. Don't risk money you absolutely need in small-cap biotech stocks -- that would be my over arching advice to you.
I like Ziopharm the most from your list. I think Celldex had a fine ASCO in terms of phase II data on its brain tumor "vaccine" but the company is in a bit of dead zone while it waits for partner
Pfizer
(PFE) - Get Pfizer Inc. Report
to design and start the phase III study. The rest of Celldex's drug pipeline is totally overlooked and probably deserves more credit.
Sunesis has two issues to deal with -- raising money to move its lead drug voreloxin into a phase III AML study and then getting the study started. Aeterna didn't make an impact clinically at ASCO; future value depends on the outcome of phase III studies underway for its lead drug perifosine, outlicensed to
Keryx Pharmaceuticals
(KERX) - Get Keryx Biopharmaceuticals, Inc. Report
.
Oxigene? Meh. I didn't follow Hana at ASCO.
@lomu_j tweets, "Surprisingly, Delcath hasn't raised cash and they probably need it more."
@johnwelshphd adds, "Delcath and Celldex are getting shorted at will because they did not do their shelf before ASCO and got greedy after big runs."
Both guys make good points. Delcath has less than $30 million in the bank and will raise money, either through stock sales or a partnership.
The bet is on the former, which is another reason why the stock sold off after ASCO.
Ziopharm raised about $33 million at $5 a share right before ASCO. At the time, investors were emailing me a bit miffed and puzzled at the company's decision sell stock before ASCO. Today, the offering looks smart.
@moorepd1 tweets, "@adamfeuerstein, your analysis of Delcath from ASCO was incorrect. Go listen to
CEO Eamonn Hobbs' Jefferies presentation."
Along the same vein, Thomas O. complains, "The Delcath data at ASCO got better, survival is extended and patient lives are being saved, yet you still find ways to trash it. No doubt you're working hard to help your short-selling hedge fund buddies. Shame on you."
The Delcath data presented at ASCO appeared to get better, but it didn't.
Treatment with Delcath's CS procedure delayed the time before liver tumors started to grow or death by 6.5 months compared to patients treated with best alternative care, according to the ASCO presentation by lead investigator Dr. James Pingpank.
That data topped results reported by Delcath in an April 21 press release, which pegged the benefit for CS patients at just under 5 months compared to best alternative care.
Except Delcath pulled a data switcheroo. The results from the CS phase III study announced April 21 were confirmed and verified by an independent lab; while at ASCO, Pingpank presented his own analysis of the data, which was not independently confirmed.
The FDA, of course, only considers independently confirmed data, which means Pingpank's presentation at ASCO (6.5 month benefit) exaggerated the true efficacy of Delcath's CS procedure (about a five month benefit.) The independent data are still fine, but just not as good.
To address Thomas's point about survival, the true answer is no, Delcath's CS procedure did not result in a survival benefit. That's because more than half of the patients receiving best alternative care crossed over once their tumors started to grow and received treatment with CS.
Delcath says that patients randomized to the CS procedure initially reported a median overall survival of 298 days compared to just 124 days for patients treated with best alternative care who did not cross over to receive a CS procedure.
The problem with this survival analysis is that it skews in favor of the healthiest BAC patients likely able to cross over to CS, while under-counting very sick BAC patients who probably couldn't tolerate the CS procedure and therefore didn't cross over.
I'm more than willing to view Delcath's CS data as strong enough for approval since the bear thesis focuses more on the commercial market than efficacy and safety. With that said, two patients treated with the CS procedure died from neutropenic sepsis. Likely, this means some of the ultra-high dose of the chemotherapy melphalan used to kill liver tumors escaped the filters in the CS device and got into the patient's blood stream.
The FDA previously placed Delcath's CS clinical trial on hold due to a safety issue. That hold was lifted and the study was completed, but the disclosure of the two deaths from neutropenic sepsis may concern FDA enough to delay the system's approval until the agency is satisfied that the melphalan filters are doing the job.
Delcath said this week that the FDA approval filing will be completed in October. Assuming a six-month review, the FDA's approval decision date will come next April. Before that, expect an FDA advisory panel to review the CS data.
Next week: Non-ASCO questions! Promise.
-- Reported by Adam Feuerstein in Boston.
Follow Adam Feuerstein on
.
Adam Feuerstein writes regularly for TheStreet.com. In keeping with TSC's editorial policy, he doesn't own or short individual stocks, although he owns stock in TheStreet.com. He also doesn't invest in hedge funds or other private investment partnerships. Feuerstein appreciates your feedback;
to send him an email.