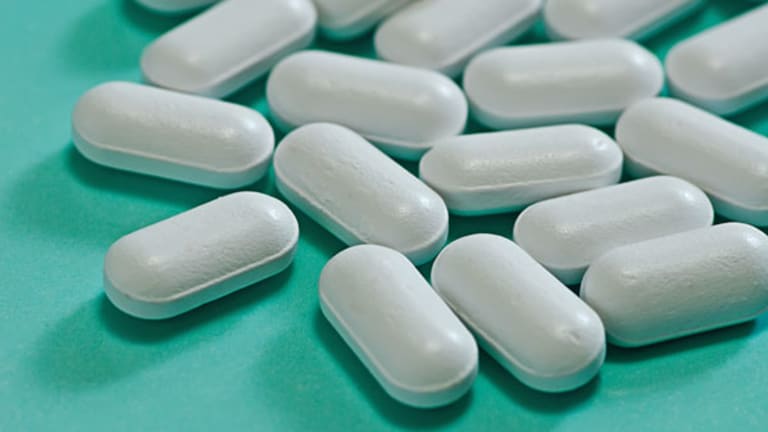 BOSTON (TheStreet) -- The Biotech Stock Mailbag is nine years old. 
SThomas65 writes, "Your knee-jerk hatred for Arena Pharmaceuticals (ARNA) - Get Arena Pharmaceuticals, Inc. Report is blinding you to the huge potential of [APD334]. This drug could easily be the best of the bunch and generate billions of dollars in sales for Arena."
It's refreshing to get a question about Arena that doesn't involve the obesity pill Belviq. I also appreciate your enthusiasm for APD334's potential as a new treatment for autoimmune diseases Crohn's and ulcerative colitis. Long-suffering Arena shareholders need something to get excited about to make up for Belviq's poor commercial performance. Given the relatively sparse data disclosed to date, however, it's premature to call APD334 best in class. I wouldn't dismiss the drug's potential, either.
Let's step back for some perspective. Crohn's disease, rheumatoid arthritis and ulcerative colitis are examples of autoimmune disease, so named because a patient's own immune system attacks healthy tissue as if it were foreign. Drugs approved to treat autoimmune diseases generally work by modulating the autoimmune response.
APD334 belongs to a class of oral drugs that target the S1P1 receptor found on immune cells known as lymphocytes. Activating the S1P1 receptor prevents lymphocytes from migrating from lymph nodes into the bloodstream so that they can't seek out and attack healthy tissue.
Novartis' (NVS) - Get Novartis AG Sponsored ADR Report Gilenya is an oral S1P1 receptor modulator approved for the treatment of multiple sclerosis with annualized sales of $2.6 billion. Gilenya is a blockbuster drug, but it's also saddled with some undesirable cardiac and liver side effects tied to the drug's mechanism of action which have lowered commercial use. Most significantly, Gilenya causes bradycardia, or a slowing heart rate. The drug's label carries a strong warning for bradycardia which requires patients to be monitored in a doctor's office for at least six hours after the first dose.
Gilenya's shortcomings leave an opening for other companies to develop a superior S1P1, meaning efficacy equal to Gilenya but without the bradycardia (and without a requirement for patient monitoring). Such a drug, if approved, would probably become a commercial blockbuster, particularly if approved for multiple autoimmune diseases.
Arena and its fans believe APD334 is that new, best-in-class S1P1. That's an aspirational attitude, but it's not supported by clinical data disclosed to this point.
On Jan. 7, Arena announced results from a phase 1b multiple ascending dose study of APD334. Describing APD334's safety profile, Arena said, "There were no clinically significant safety findings with respect to heart rate or rhythm or pulmonary function, and no clinically significant elevations in liver enzyme tests."
At last week's J.P. Morgan Healthcare Conference, Arena CEO Jack Lief included the following slide in his presentation depicting the heart rate data from the APD334 phase 1b study measured across 21 days:
Consistent with other S1P1 drugs, APD334 does lower a patient's heart rate more than a placebo (the red line) does. Arena says the difference in heart-rate reduction between its drug and a placebo isn't clinically significant, but it's impossible to quantify based on this chart.
Remember, doctors and regulators are most concerned about heart-rate changes associated with the first dose of a S1P1 drug. That would be day one on the APD334 chart above. Arena must have hour-by-hour heart-rate data for the patients in this phase 1b study, especially on day one, but has chosen not to disclose that at this point.
Without detailed, day-one data on heart-rate changes, it's very difficult to compare APD334 with other S1P1s.
Check out Receptos' (RCPT) S1P1 drug candidate, RCP1063, if you want to get a better feel for a more accurate depiction of heart-rate changes. (Receptos' investor slide deck here.) Receptos discloses detailed data looking at the first-dose effect of RCP1063 on a person's heart rate over six hours. Receptos has also conducted and disclosed a study examining RCP1063's effect on heart rhythm over 24 hours -- a so-called thorough QT study. The RCP1063 heart safety data look good and suggest the drug has advantages over Gilenya (which need to be confirmed in larger, ongoing phase III studies).
If Arena has conducted a similar heart-rhythm study of APD334, it hasn't been discussed or results disclosed. Calling APD334 best in class without more heart-safety data is an empty claim.
Arena raised about $100 million in a follow-on stock sale earlier this week.
One more point to make on S1P1 competition. Receptos is conducting a phase III study of RCP1063 in multiple sclerosis and will start a phase III study in ulcerative colitis and a phase II study in Crohn's disease this year.
Arena has phase II studies of APD334 in Crohn's disease and ulcerative colitis plannned for 2015. The company is well behind Receptos.
Pete D. emails, "What's your beef with Cramer over Agenus (AGEN) - Get Agenus Inc. Report ? Not terribly smart of you to disagree with the boss, Adam."
This will be my 15th year writing about biotech stocks. Longevity blesses me with a historical perspective of biotech companies and drug development. I remember when Agenus was Antigenics. Back in 2001, the year I went from covering technology to covering biotechnology, Antigenics' pipeline featured Oncophage, a personalized, therapeutics cancer vaccine that was in two phase III studies of melanoma and kidney cancer patients. Antigenics was also planning or conducting phase II studies of Oncophage in colon cancer, lung cancer, non-Hodgkin lymphoma, among others.
Oncophage flopped. The kidney cancer and melanoma studies failed. Most of the other Oncophage studies were terminated. Antigenics sought European approval for Oncophage with negative data and was turned down. For obvious reasons, a Food and Drug Administration approval plan was scrapped. Russia approved Oncophage to treat kidney cancer, but Antigenics was never able to line up reimbursement. Sales never materialized.
Several other products in Antigenics' research-and-development pipeline were similarly abandoned. Only Qs21, a vaccine adjuvant, has met with limited success through partner projects. (If these Qs21-containing vaccines are successful commercially, the royalties paid back to Antigenics are minimal.)
In 2011, Antigenics, with its stock trading for around $1 per share, changed its name to Agenus. Oncophage (yes, the failed cancer vaccine is still in the pipeline) became Prophage. Qs21 became Stimulon. A herpes vaccine known as AG-702 was renamed HerpV. Same company, same management, same poor drug development track record but with new branding.
One year ago, Agenus tried to reinvent itself again by acquiring 4-Antibody, a privately held cancer immunotherapy company. The deal allowed Agenus to ride the coattails of checkpoint inhibitor owned by Bristol-Myers Squibb (BMY) - Get Bristol-Myers Squibb Company Report and Merck (MRK) - Get Merck & Co., Inc. (MRK) Report , even though none of 4-Antibody's products had begun human clinical trials (and still haven't).
If 4-Antibody's cancer immunotherapy technology was so promising, why sell to Agenus, which had no history of developing cancer drugs successfully?
Since buying 4-Antibody, Agenus has signed deals with Merck and most recently Incyte (INCY) - Get Incyte Corporation (INCY) Report to assist the companies in developing cancer immunotherapy drugs. No tangible results (read: clinical data) have emerged from any of these programs, just optimistically worded press releases.
I believe a company's track record and the credibility of management matter more than popular buzzwords. It's not enough for Agenus to say it's involved in cancer immunotherapy. If you bought stock in Antigenics/Agenus when I started covering biotech in 2001, you'd be down more than 90% today. Antigenics/Agenus has promised investors a lot but delivered very little. "This time is different" isn't a confidence-inspiring investment thesis.
About Jim Cramer: I love the man. He's a mentor. When it comes to biotech stocks, we don't agree all the time. That's a strength in our relationship, not a weakness.
Samuel L. writes, "I guess you can switch the incomplete for EnteroMedics (ETRM) on your [2014] report card to a failing grade because FDA approved Maestro. Nice job."
I like the snark.
I have been bearish on EnteroMedics and its fat-zapping electrical medical device, but I also recognized the possibility of an FDA approval. Indeed, Enteromedics secured FDA approval for Maestro on Jan. 14. Read the FDA's statement, which doesn't exactly sound very encouraging.
The next challenge for EnteroMedics will be to finding doctors and obese patients willing to undergo the surgery necessary to implant Maestro. The company also needs to secure insurance coverage for the $15,000 device.
EnteroMedics shares are trading lower today than last June following the positive vote from the FDA advisory panel. Isn't that worth a passing grade?
Adam Feuerstein writes regularly for TheStreet. In keeping with company editorial policy, he doesn't own or short individual stocks, although he owns stock in TheStreet. He also doesn't invest in hedge funds or other private investment partnerships. Feuerstein appreciates your feedback; click here to send him an email.