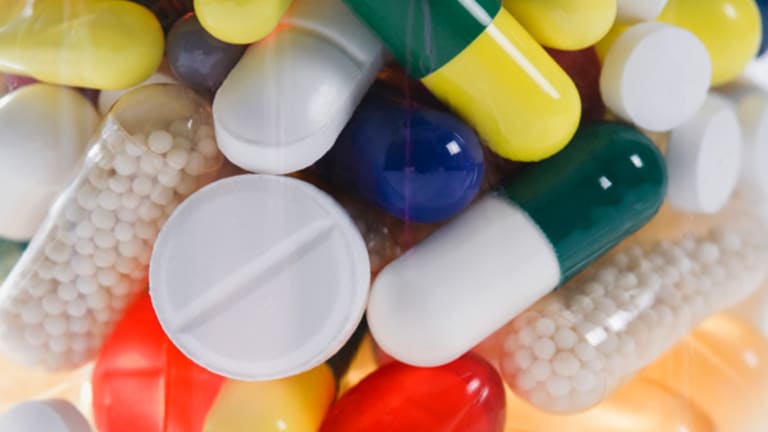 Biotech Stock Mailbag: Apricus, Avanir
Biotech columnist Adam Feuerstein answers readers' questions about health care companies.
BOSTON (
) -- An abbreviated Biotech Stock Mailbag for this holiday week.
Aaron L. asks:
I'm interested in your outlook for Apricus BioSciences (APRI) . The new management seems to have a better handle on the company in that lots of the old drugs have been sold off and now they intend to focus on Vitaros and Femprox. Is this a good strategy for Apricus?
Apricus has done a good job cleaning up the mess left by departed CEO Bassam Damaj, who basically ran the company into the ground with a series of disastrous product acquisitions.
Damaj resigned on Nov. 7, 2012. Two months later, Apricus announced plans to focus on Vitaros for erectile dysfunction and Femprox for female sexual disorder.
Investors seem to be responding positively to Apricus' new direction. The gains this year are modest but better than steady losses racked up in the past.
APRI
data by
Apricus' considerable challenge moving forward will be to turn Vitaros into a successful ED product. Vitaros is a cream containing alprostadil, which works by diluting blood vessels. Using Vitaros, however, is not as easy as smearing the cream on the penis and waiting for the erection to happen. To be effective, Vitaros has to be applied inside the head of the penis, through the opening to the urethra.
It's a five-step process according to Apricus' instruction sheet:
1. Wash hands. Ready Vitaros dispenser (which resembles a syringe without the needle.)
2. Grasp tip of penis and "gently manipulate" the opening.
3. Apply as much Vitaros cream as possible to the opening of the penis by holding tip of dispenser above the opening and slowly depressing the plunger over 5-10 seconds.
Apricus warns men
not
to insert the Vitaros dispenser into the penis.
4. Hold the penis upright for approximately 30 seconds to allow the cream to penetrate.
5. Wash hands because the cream can be irritating to the eyes.
Doesn't that sound like fun? I won't harp on it here, but Vitaros' main side effects are localized burning sensation and skin irritation -- neither of which are necessarily the nicest feelings to experience while trying to have sex.
Apricus isn't stupid. The company knows Vitaros is not a convenient or desirable ED therapy compared to
Pfizer's
(PFE) - Get Report
Viagra or
Eli Lilly's
(LLY) - Get Report
Cialis. It's going to be a niche product used only by men cannot take the ED pills for medical reasons or for whom ED pills don't work. Apricus believes this slice of patients is financially significant, but it's up to the company to prove it.
Alprostadil-containing "pellets" -- inserted inside the opening of the penis -- have been approved years but generate minimal sales due to competition from the ED pills.
Vitaros was approved in Canada in 2010 but has still not been launched commercially. Apricus signed Abbott (now
Abbvie
(ABBV) - Get Report
) as a Canadian marketing partner in January 2012 but the drug's commercial launch has been delayed because of formulation problems. Abbott is trying to create a shelf-stable formulation of Vitaros that won't require refrigeration. The latest launch date is 2014, or more than two years later than expected.
Apricus has partners lined up to launch Vitaros in Germany and Italy, but there, the drug will have significant marketing challenge from generic versions of Viagra expected soon.
In the U.S., Apricus sold rights to Vitaros to
Warner Chilcott
(WCRX)
in 2009.
Actavis
(ACT) - Get Report
is in the process of acquiring Warner Chilcott. The drug is not approved here yet but even if FDA does approve eventually, Apricus receives no royalty on U.S. sales, only manufacturing revenue if Actavis/Warner Chilcott decide to buy Vitaros supply from Apricus.
You see now why Apricus has real challenges ahead with Vitaros.
I won't get into Femprox here, except to say Apricus still hasn't disclosed its regulatory filing strategy for the U.S. The company conducted a phase III study in China. Whether these data are sufficient to warrant an approval filing in the U.S. isn't clear.
PMTaster writes:
I notice you were having fun last night on Twitter with Avanir Pharmaceuticals (AVNR) and its deal for OptiNose, but seriously, do you think this device has any value?
Avanir isn't paying much for OptiNose (yes, the best device name -- ever), which is the nicest thing I can say about the deal right now. For a $20 million upfront payment, Avanir gets North American rights to OptiNose's nasally delivered migraine therapy, which reportedly has all the data collected already that will be necessary for an FDA approval filing in the beginning of next year.
Avanir is on the hook for another $90 million in payments to OptiNose tied to regulatory and sales milestones. In conjunction with this licensing deal, Avanir took on $50 million in new debt, which will be used to pay for the $20 million upfront payment and pay back $30 million in old debt.
I was making fun of this OptiNose migraine device because it looks ridiculous. OptiNose has blocked the ability to embed user videos but here is a link to a
Youtube video showing the device in use
. After watching the video, you'll understand this tweet from Tuesday night:
And this one:
Alternative methods of delivering commonly used oral migraine medicines have been tried. None are very successful.
Allergan
(AGN) - Get Report
bought Map Pharmaceuticals and its Levadex inhaled migraine treatment, but the product was recently rejected by FDA.
Nupathe
(PATH)
received FDA approval for a migraine armband known as Zecuity in January, but the company has so far failed to land a marketing partner and a launch isn't even expected until the end of the year.
"Today marks a transformational day for Avanir as we further diversify our CNS product line... This product aligns extraordinarily well with our current infrastructure and if approved has the ability to contribute significant revenues alongside our rapidly growing NUEDEXTA PBA business," said Avanir CEO Keith Katkin on a Tuesday night conference call explaining the deal.
Investors said, "Meh." Avanir shares closed down TK on Wednesday.
-- Reported by Adam Feuerstein in Boston.
Adam Feuerstein writes regularly for TheStreet. In keeping with company editorial policy, he doesn't own or short individual stocks, although he owns stock in TheStreet. He also doesn't invest in hedge funds or other private investment partnerships. Feuerstein appreciates your feedback;
to send him an email.