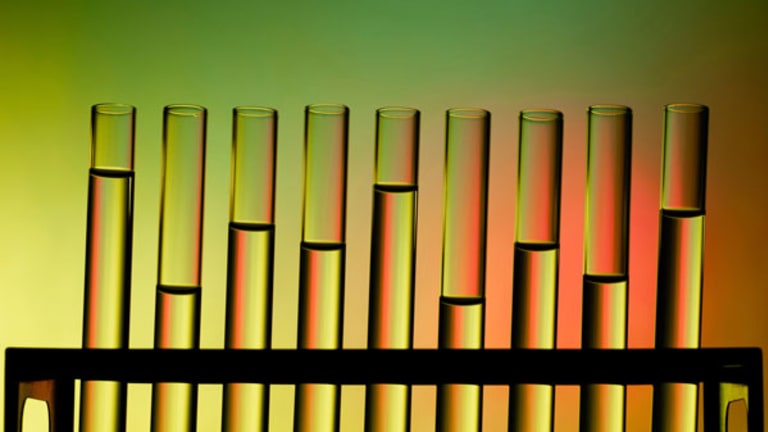 Biotech-Stock Mailbag: Amylin
Don't rush into buying the drugmaker just because it may be unfarily beaten down by safety concerns for diabetes drug Byetta.
Editor's note: In the coming weeks be on the lookout for a brand new product from Adam Feuerstein and
TheStreet.com
! Should you wish to hear more about this special invitation and how you can take advantage of some exciting pre-launch offers please email.
This column originally posted on
RealMoney.com
at 7:01 a.m. EDT. For more information about subscribing to
RealMoney
, please click here.
The Biotech Mailbag is open.
Amylin Pharmaceuticals'
(AMLN)
diabetes drug Byetta appears to have a more serious safety problem with pancreatitis (severe swelling of the pancreas) than previously believed.
Six new cases
were disclosed this week, and all required hospitalization. Two of the patients died. The Food and Drug Administration is considering strengthening the Byetta label to warn doctors and patients about the pancreatitis risk.
The news prompted a couple of emails. Glenn Y. wants to know how bad this is going to get for Amylin, and what impact it may have on
Novo Nordisk
(NVO) - Get Novo Nordisk A/S Report
and its drug liraglutide, which is currently being reviewed by the FDA.
John G. wants to know if it's smart to start building a position in Amylin today (the stock was at $28 when his email hit my inbox), or if it is better to wait for any further weakness.
I don't see the need to rush into buying Amylin on the premise that the stock is being unfairly pounded to ground by the Byetta safety issue. I'm no expert chart reader, but it looks like there's support for the stock around $24, so I'd at least wait for it to get down there before thinking about a buy.
From a fundamental perspective, how do these latest case reports of pancreatitis (and yes, it's a serious safety issue -- two patients died) not affect Byetta prescriptions in a negative way? Let's not forget that Byetta scripts weren't exactly going gangbusters before this renewed worry about pancreatitis. Byetta is an effective drug, and the number of pancreatitis cases compared to overall Byetta patients is still small, but diabetes is a very competitive drug market that gives doctors and patients a lot of choices.
The 21% drop in Amylin's value from Monday through Wednesday (where it closed at $26.91) may price in whatever loss in Byetta sales are to come, so I can understand the rationale of investors like John G. who want to buy now. I'd still be cautious, however, because the bigger looming worry, to me, remains the FDA.
Will the regulatory agency want to look more deeply into whether or not pancreatitis is a class effect of the GLP-1 diabetes drugs such as Byetta? And what's the impact on Byetta LAR, Amylin's long-acting (once weekly) version of the drug? Amylin won't seek approval of LAR with the FDA until next year, but perhaps regulators will want more safety data on pancreatitis risk with LAR, especially since the drug stays active in a patient's system longer than Byetta (a twice-daily injection).
Amylin's share price, while in the red all year, was on the rebound prior to this week, in part because of renewed conjecture that its Byetta and Byetta LAR partner
Eli Lilly
(LLY) - Get Eli Lilly and Company Report
might acquire the entire company. Deutsche Bank pharma analyst Barbara Ryan has been skeptical of the takeover talk, and after this latest pancreatitis problem, I'd have to agree with her.
Novo Nordisk is feeling the ill effects of Byetta too, although nowhere near as much as Amylin. The stock was off 5% from Monday through Wednesday because liraglutide is also a member of the GLP-1 class of diabetes drugs. There have been cases of pancreatitis reported by liraglutide patients in the drug's pivotal studies, with slightly higher incidence rates than in placebo patients. However, the difference was not statistically significant and, according to Novo, the overall incidence rate of pancreatitis is within the bounds of what you'd expect to see in diabetes patients (who are more susceptible to pancreatitis, generally).
The FDA approval decision date for liraglutide is March 23, 2009. Whether or not liraglutide is approved on that date seems to depend on the FDA's comfort with the drug's safety profile, particularly any increased cardiovascular risk associated with the drug.
Data suggests that liraglutide can actually be heart healthy, but given the FDA's publicly stated concerns about the linkage between diabetes drugs and cardiovascular side effects, will regulators ask Novo to conduct a pre-approval study to better assess safety? Or is that something that regulators will allow Novo to do
after
liraglutide is approved and on the market?
No one really knows the answer to these questions, and that is why there is some uncertainty about liraglutide's near-term future. Now, add in the pancreatitis issue, and everything gets murkier.
Liraglutide is a once-daily injection. This may actually help the drug's case with the FDA if pancreatitis is deemed a side effect risk for the entire GLP-1 class of diabetes drugs, because it stays in a patient's system for far less time than Amylin's Byetta LAR.
Next, an email from Jon H.
"Thank you always for your easy-to-understand biotech columns. I appreciate your objective insight into a very difficult industry. I just finished re-reading your
Aprilcolumn
on
AMAG Pharmaceuticals
(AMAG) - Get AMAG Pharmaceuticals, Inc. Report
and the company's most recent quarterly conference call transcript, and I am having trouble understanding a crucial part to the AMAG story: Is it positive or negative that an FDA advisory panel has not been called (or at least not yet)? Will the FDA just meet on Oct. 19 and decide ferumoxytol's fate at that point?"
Jon, great question. As September nears, it seems all but certain that the FDA will not be convening an advisory panel to review ferumoxytol, AMAG's intravenous iron therapy.
Does this imply that the FDA is comfortable with ferumoxytol's efficacy and safety, has no big questions or concerns and is more likely to approve the drug on Oct. 19? Or is the situation the opposite -- regulators have big problems with ferumoxytol, so much so that there's no point in bringing together outside experts to discuss because the drug's approval is going to be delayed regardless?
This is one of those moments where I wish my psychic powers were a bit more realized. Absent that, I'm going to have to take an educated guess. I'm going with the bullish view on ferumoxytol: that the FDA is OK with AMAG's data, and the drug will be approved on time on Oct. 19.
About 35% of AMAG's float is sold short, so clearly there are plenty of people who think otherwise. To say I'm nervous about my call would be an understatement.
In the last month or so, AMAG has made a nice move from $33 to $45. The stock was at $35 when I wrote that column in April. A Ferumoxytol approval should ignite a nice short squeeze, sending shares a lot higher. Of course, any delay in approval will probably cut the stock in half.
Isn't this why we all love biotech investing?
Last email from Randy G.
"I own
Cell Genesys
(CEGE)
. You were negative on the stock back in May. Since then, some additional phase II data has been published. Has any of this data changed your opinion on the stock?"
Randy's time line is a bit off. I was bearish on Cell Genesys in
and
. The
with
Takeda
at the end of March didn't change my outlook, nor does any of the incremental data on the GVAX Prostate vaccine that has come out since. I still believe that the ongoing "VITAL-1" phase III study of GVAX Prostate vs. Taxotere will fail.
Mailbag update: I'm taking some much-needed vacation time next week, so the Mailbag is going on a short hiatus. It will return Sept. 5.
Adam Feuerstein writes regularly for TheStreet.com. In keeping with TSC's editorial policy, he doesn't own or short individual stocks, although he owns stock in TheStreet.com. He also doesn't invest in hedge funds or other private investment partnerships. Feuerstein appreciates your feedback;
to send him an email.