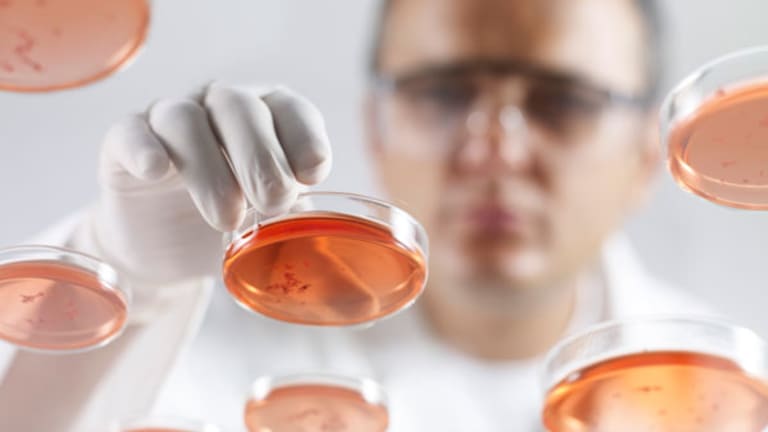 Publish date:
Biotech Stock Mailbag: Amicus, Amarin, Oncothyreon
Biotech columnist Adam Feuerstein answers readers' questions about health-care companies
Biotech columnist Adam Feuerstein answers readers' questions about health-care companies
BOSTON (
) -- This is the last Biotech Stock Mailbag for 2012. I've been writing this column for six years, but without your emails and tweets, the Mailbag wouldn't be possible. Thank you for all your comments, questions and criticism. Merry Christmas and Happy New Year. The Mailbag will return, rested and re-energized, in 2013.
@biotechmoney18 writes, "Hey, AF! Nice call on bullish $FOLD on 11/30. Maybe you should do some real DD instead of listening to your
bleep boss."
I got
Amicus Therapeutics
(FOLD) - Get Amicus Therapeutics, Inc. Report
wrong. I regret
.
I expected Amicus' Fabry disease drug Amigal to demonstrate a statistically significant kidney response compared to placebo at six months -- the primary endpoint of the pivotal phase III study.
Kidney response was defined as 50% reduction or more in kidney GL3 level at six months.
As
, the 41% kidney response rate for Amigal patients surpassed the 28% response seen in placebo patients, but the difference was not statistically significant. The study failed. Amicus shares fell by nearly half Thursday.
The outcome is absolutely discouraging, and I'm not surprised to see the sharp selloff in Amicus. It's deserved. But I'm also unwilling to write off Amicus because the results of the study are just as frustrating and confusing as they are negative. There seems to be a signal of activity with Amigal that needs more detailed explanation. Unfortunately, Amicus chose not to hold a conference call to discuss the study results. I'll blame its partner
GlaxoSmithKline
(GSK) - Get GlaxoSmithKline plc Sponsored ADR Report
for that idiotic decision -- typical Big Pharma bull---t.
A full presentation of the Amigal study results is scheduled for the Lysosomal Disease Network World Symposium from Feb. 12 to 15.
The 28% response rate in placebo patients is much higher than expected. Why? Female Fabry patients have a lot more variability in GL3 levels, so this may have contributed to the miss. Two-thirds of the enrolled patients in the study were female, but we don't know the breakdown of female responders in each arm.
Lower-than-expected baseline GL3 levels (skewed toward the placebo patients) may also have played a role in boosting the placebo response rate higher than normal. Or, variability in the kidney biopsy samples, from which response is determined. Again, we don't know the answer but should get more clarity at the medical conference in February.
The study also measured, as a pre-defined secondary endpoint, the absolute percent change in kidney GL3 from baseline to six months. The result: Amigal 41% reduction compared to placebo 6% reduction. Again, the difference was not statistically significant but it sure seems like Amigal is doing what's it's designed to do.
We'll leave the debate about the magnitude of GL3-lowering effect for another time.
I can't wait to see in February how a median 6% reduction in kidney GL3 led to nine of 32 placebo patients posting a response of greater than 50% reduction. Those nine placebo patients must have been super-duper responders.
Also important: 12-month kidney response rates from the study. We'll want to see if the GL3 reductions seen in Amigal-treated patients remains or improves further, while placebo patients switched to Amigal at six months show similar improvements.
Until then, Amicus is down but not yet out.
I couldn't close the Mailbag for 2012 without one more comment on
Amarin
(AMRN) - Get Amarin Corporation Plc Sponsored ADR Report
and its prescription fish-oil pill Vascepa.
Anyone still fixated -- mistakenly -- on the idea that Amarin is going to be bought out imminently should read
Forbes'
Matt Herper's
announced Thursday from a large cardiovascular outcomes study of
Merck's
(MRK) - Get Merck & Co., Inc. (MRK) Report
niacin combination pill Tredaptive.
The fallout from the failed Merck study -- the niacin combination pill didn't reduce heart attacks, strokes and deaths
and
caused more serious adverse events -- is now engulfing Amarin.
No drug maker will open its wallet to buy Amarin without first seeing positive data from the ongoing Vascepa outcomes study in high triglyceride patients. Unfortunately for Amarin, that study won't be completed until 2016.
Moreover, I'd say odds that FDA approves an expansion of Vascepa label into the "Anchor" population of high triglyceride patients just went down. I could see FDA wanting to see positive data from the outcomes study as pre-approval requirement following the failure of the Merck Tredaptive study.
Dave J. asks, "Is there any value left in
Oncothyreon
(ONTY)
now that Stimuvax has failed? Where do you see the stock trading in the coming months?"
Let's start the discussion with the baseline assumption that
, as is ONT-10, the company's next-generation cancer immunotherapy. Maybe you believe there's life still in these drugs, but the market certainly won't.
That leaves Oncothyreon with the experimental cancer drug PX-866, a PI-3K inhibitor. PI-3K is a sexy molecular target right now but more so in hematological cancer than solid tumors. To date, all the clinical work with PX-866 is in solid tumors. Results from randomized phase II studies in non-small cell lung cancer and metastatic colon cancer are expected in the first and second quarters of 2013.
We'll see what those data tell us about PX-866 soon enough.
Not all PI-3K inhibitors are the same. Right now, the buzz enveloping
Gilead Sciences'
(GILD) - Get Gilead Sciences, Inc. (GILD) Report
idelasib,
Infinity Pharmaceuticals'
(INFI) - Get Infinity Pharmaceuticals, Inc. Report
IPI-145 and
Pharmacyclics'
(PCYC)
ibrutinib (a closely related BTK inhibitor) has not spread to PX-866.
Paul T. writes, "I'm interested in knowing more about websites and other sources of information for deeper knowledge in biotech stocks and investing. What are your favorites ways to do research? Thanks."
Great question. Here's a list of my favorite biotech-related websites and resources. Some of these I use almost daily, others less frequently. Take a look and figure out what works best for you.
The basics, all free services:
The
for access to regulatory filings. Indispensable. You have to read a company's 10-Qs, 10-Ks and 8-Ks, always.
I use
for basic stock price and related information, plus access to press releases. My web browser's home page is a customized MyYahoo! page with real-time stock quotes and biotech and drug industry news. Stock traders likely have more sophisticated setups but MyYahoo! has always worked well for me.
for keeping tabs on ongoing clinical trials.
Get to know your way around the
. For specific drug information, including approved drug labels, use the search engine at
. The FDA also maintains a page for
, which is helpful.
for looking up publishing clinical studies and research papers. I've also had good luck with
.
: Like it or not, Twitter is an entrenched part of Wall Street these days, certainly for active investors and traders. I'm particularly fond of StockTwits' "Signals" tools like sector heatmaps. I check the health-care heatmap every day to see which biotech stocks are capturing the most social media buzz. On a related note, check out
for curated Twitter conversation threads. They do a great job of capturing much of the biotech talk that passes through Twitter.
for tracking institutional and hedge fund stock ownership through 13F filings.
Subscription or paid services:
: Hands down, the best, most complete database of historical clinical trial data and upcoming clinical and regulatory catalysts I've ever used. BioMedTracker is geared toward institutional investors but if you're a serious retail trader or investor, the price pays for itself.
I use
for company and sector financial and valuation data, access to sell-side research, conference call transcripts and full stock-screening capabilities. Another excellent research tool geared toward institutional investors but well worth it, especially if, like me, you're without access to a Bloomberg terminal.
: Real-time stock news, delivered via email. I'm a breaking-news junkie, of course, which makes StreetAccount the most valuable tool in my everyday work toolbox.
Biotech stock research services:
There's a small cottage industry of independent biotech research services out there. Many, thankfully, are priced reasonably enough for retail investors. Learning to do your own research is a great investing skill but the following subscription services, geared toward traders and more fundamentally oriented investors, are definitely worth considering.
: David Miller and Alan Leong have been doing in-depth, fundamental research on small, development-stage biotechs for a long time. With most sell-side shops abandoning coverage of smallish biotech companies (or covering them only for banking reasons), Miller and Leong's independent research is even more valuable.
: Relative newbies but definite up-and-comers. Chimera does a good job of melding "geek" science research with options and active trading advice. These days, it's hard to make money in biotech investing without a bit of both.
is run by a seasoned biotech trader, Dan Rosenblum, who acts and thinks more like a fundamental investor. It's a profitable mix of skill sets.
is for biotech traders, particularly those who like to trade biotech catalyst events such as FDA drug approvals and pending clinical trial results. Founder Mark Messier knows how to trade biotech stocks and he's built an online community of fellow active traders.
: Tony Pelz is a biotech options-trading guru and a member of the Chimera Research crew.
Full disclosure: Dan Rosenblum, Mark Messier and Tony Pelz are contributors to
TheStreet
.
Other helpful websites:
New England Journal of Medicine
,
,
,
,
and
.
Happy holidays and see you again in 2013.
-- Reported by Adam Feuerstein in Boston.
Adam Feuerstein writes regularly for TheStreet. In keeping with company editorial policy, he doesn't own or short individual stocks, although he owns stock in TheStreet. He also doesn't invest in hedge funds or other private investment partnerships. Feuerstein appreciates your feedback;
to send him an email.