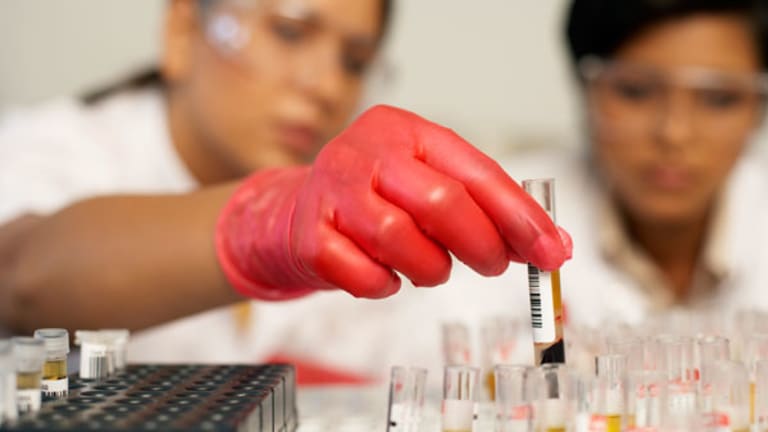 Biotech Stock Mailbag: Amarin, Sarepta
Biotech columnist Adam Feuerstein answers readers' questions about health-care companies.
BOSTON (
) --
Amarin
(AMRN) - Get Free Report
received good news Thursday night --
FDA approval of its prescription fish-oil pill Vascepa
. The news prompted Ken M. to ask, "Thanks for the Amarin scoop… Any advice for the near future (like as near as today) on that stock would be welcome here."
Vascepa's approval is obviously a nice win for Amarin but also expected and the easiest of the three major hurdles facing the company.
The other two being the decision on New Chemical Entity status and Vascepa's commercialization strategy - both still unknown.
My quick take on the Vascepa approval and label: Strong. In particular, the FDA allowed Amarin to include data and language in the label that describes LDL neutrality, meaning no increases in "bad" cholesterol, as well as reductions in ApoB. Both these benefits differentiate Vascepa from
GlaxoSmithKline's
(GSK) - Get Free Report
Lovaza in a good way and help Amarin strengthen the patent estate around the drug.
What's missing from the label? Not much. No mention of the "Anchor" data in high triglyceride patients but inclusion would have been a surprise gift from FDA. Amarin will still move forward with plans to expand Vascepa's label through an expanded approval.
What's left to do and worry about? First on the list is the length of Vascepa's market exclusivity -- five years or three years -- via a decision on New Chemical Entity (NCE) status. It would have been nice had this decision been made and announced Thursday night but Amarin said (not unexpectedly) that NCE status would be announced in the middle of next month when FDA updates the Electronic Orange Book.
Sell-side analysts who cover Amarin have been de-emphasizing the importance of NCE status in relation to the growing strength of Vascepa's patent portfolio. That's true to some extent but I still believe gaining NCE status and the five-year market exclusivity is significant for the drug and the stock because it keeps generic competitors at bay longer. Without NCE status, generic drug company will be able to file paragraph IV challenges to Vascepa's patents on an accelerated basis. Amarin will fight generics in court, obviously, but that overhang and uncertainty will weigh on the company's stock price, in my opinion.
Lastly, Amarin hasn't told investors how Vascepa will be marketed. All three options disclosed previously -- selling the company, partnering with a large pharmaceutical company or selling the drug on its own -- are still being considered, Amarin said.
This was a letdown to me. Not that I expected Amarin to pair last night's approval announcement with a spectacular takeout deal, but more clarity on commercialization would have been welcome. Amarin did say it will move ahead with plans to hire 200-300 sales reps in the fourth quarter and wants to launch Vascepa in the first quarter 2013.
As I've said previously, investors want Amarin to sell the company. That's the preferred exit strategy. Barring a takeout, a boffo partnership would be a legit consolation prize. If Amarin goes it alone with Vascepa's launch -- disaster.
@NRamos10 asks, "@adamfeuerstein Out of the drugs approved in past month, which of the follow do you believe has most upside? $ARNA $VVUS $HZNP $AMRN"
Horizon Pharma's
(HZNP) - Get Free Report
Rayos -- also approved Thursday night -- has the lowest investor expectations in terms of sales. Personally, I don't see much reason to believe Horizon can deliver upside with Rayos but the stock will move much higher if it can. Expectations for
Arena Pharmaceuticals
(ARNA) - Get Free Report
,
Vivus
undefined
and Amarin are already much higher.
If you're asking me which drug do I believe will deliver the most sales at peak, I'm going with Amarin's Vascepa from this group. Rayos isn't even close and the weight-loss pills -- Arena's Belviq and Vivus' Qsymia -- are over-hyped.
Matthew B. asks, "Your article on
Sarepta Therapeutics
(SRPT) - Get Free Report
was very interesting and as a stockholder, I want to know if you think that they are cherry-picking results? I know there were so few subjects in the test so the results can be easily manipulated. I'm hoping these are truly positive results not only for the company but for people who suffer from the disease
Duchenne muscular dystrophy. I knew someone who had it and he suffered greatly before he passed. I've bought the stock at many different prices and feel there's more room to run and was interested if you thought so too."
I was very encouraged by the
eteplirsen data announced by Sarepta
this week. I used the term "breakthrough" in the headline of my story, which struck some as premature given the small size of the study and the interim nature of the results. Criticism acknowledged but the improvement in walking ability demonstrated by eteplirsen to date is dramatic and that's something to be genuinely excited about both for patients and investors.
You can be encouraged and excited about a drug (and a stock) while also being worried about unsettled risks that may blow up the entire endeavor. That pretty much sums up the current state of Sarepta at this point.
The paramount concern is the small trial size -- four DMD patients dosed at the highest 50 mg eteplirsen dose for 36 weeks compared against four "control" patients dosed with a placebo for 24 weeks followed by 12 weeks of eteplirsen. With so few patients, variability of response can muddy interpretation of results.
For this reason, the next look at the data after 48 weeks of is critically important. Some benefit observed in the six-minute walk test favoring eteplirsen over control at 36 weeks should be maintained at 48 weeks. It's okay if eteplirsen patients lose some additional walking ability, as long as the rate of disease progression observed is slower than that measured in the control group of patients.
Let's talk about the control patients for a second because they're just as important. Remember, these patients crossed over to treatment with eteplirsen after 24 weeks, so some benefit from the drug should be measurable by week 48. That means the steep rate of disease progression observed in the control patients through 36 weeks should start to ease up at 48 weeks.
This may sound counter-intuitive, but a narrowing of the walking distance benefit favoring etiplirsen patients over control patients at 48 weeks could be positive because it suggests that control patients are starting to benefit from eteplirsen as well.
A sustained benefit from a small number of patients isn't going to be enough to assuage all doubt so Sarepta also needs to show that eteplirsen-treated patients have measurable increases in dystrophin levels --- the missing or malfunctioning protein that causes DMD. Any data that correlates increased dystrophin production to improvements in walking ability will go a long way towards demonstrating the efficacy of eteplirsen.
I mentioned in my story this week the possibility that Sarepta could seek accelerated approval of eteplirsen based on positive 48-week data. For this option to be viable, Sarepta needs the dystrophin production data to support the walk benefit. Even if all the data work in Sarepta's favor, the odds that FDA would approve eteplirsen based on this small study, even under new and more lenient regulations for orphan drugs, are small. In other words, don't count on accelerated approval. Consider it upside. It's not a negative if FDA asks Sarepta to run another study before approval as long as the 48-week data look good.
Sarepta needs to raise money. Who cares? At its current valuation, Sarepta is a great, speculative biotech story. Selling stock to raise much-needed money doesn't make Sarepta any less interesting. In fact, an offering may actually spur more investors to take a look at the stock. Having more money on hand will definitely help Sarepta if the management decides it wants to partner eteplirsen.
Eteplirsen has the potential to treat about 15% of the 12,000 DMD patients in the U.S. Let's do some simple math: 1,800 patients times $300,000 (a guesstimate of eteplirsen's cost but certainly not outrageous for a therapy serving a rare, genetic disease) yields a potential treatment market valued at $540 million. That's just the U.S., I'm not including Europe or the rest of the world.
The 48-week eteplirsen data are expected in October.
Paul A. emails, "I read your tweet where you said the
Biocryst Pharmaceuticals
(BCRX) - Get Free Report
results from its gout drug sucked. I don't understand why you feel this way because everything seems very positive to me. Care to explain?"
BioCryst's ulodesine (BCX4208) may compare favorably against placebo in its own phase II studies, but the drug's efficacy and safety profile is weaker than Ardea BioSciences' competing gout drug lesinurad, which is already well into phase III studies. AstraZeneca bought Ardea for $1.23 billion last April. BioCryst needs to find a partner for ulodesine but who will want to acquire or license a gout drug that is behind and inferior to a competitor?
Lastly, a voice from the choir of stupid. What's funny about the following email is that it was sent Thursday night,
after
the Amarin approval, which I predicted correctly. In fact, I went a perfect 5-0 in my
Summer FDA Drug Approval Contest
.
Bernard A. writes:
"Dear bald head -- I have never seen anybody in my entire life who makes more bad calls on stock approval than you. Aren't you the same moron who know somebody who can guess the outcome of the advisory committee, aren't you the one who guess Arna will not get approved, or maybe you are the one who talked an investor a few weeks ago she told you Amrn will not get approved. You are a moron!!"
Thanks for sharing, Bernie.
--Written by Adam Feuerstein in Boston.
>To contact the writer of this article, click here:
Adam Feuerstein
.
>To follow the writer on Twitter, go to
http://twitter.com/adamfeuerstein
.
>To submit a news tip, send an email to:
.
Follow
TheStreet
on
and become a fan on
Adam Feuerstein writes regularly for TheStreet. In keeping with company editorial policy, he doesn't own or short individual stocks, although he owns stock in TheStreet. He also doesn't invest in hedge funds or other private investment partnerships. Feuerstein appreciates your feedback;
to send him an email.